Curling's 'Definitely Band' is a history of the last five decades of music while forging the young band's own voice.
— —
It's not exactly common place to hear Jade Tree Records and The Beatles referenced by the same band. While plenty of artists embed a sense of classic rock into their emo-tinged indie rock, it doesn't feel nearly as organic as Curling does on their brand new album, Definitely Band. The Oakland-based band incorporates a number of influences to create their own sound that's rooted in power-pop, but stretches out into '60s pop, math rock, and psychedelia. Definitely Band is influenced by everyone from American Football and My Bloody Valentine to Led Zeppelin and The Byrds. All of those pieces fall neatly into place throughout Curling's sophomore record.
Listen: 'Definitely Band' – Curling
---
Atwood Magazine is proud to be premiering Curling's Definitely Band, out everywhere this Friday, August 3, 2018. The album kicks off with "Still Green" a song that melds the technicality of math-rock with the intensity of power-pop. The saxophone solo is certainly the standout of the track, as it seems to double the guitar, and for some moments you wouldn't even know it was a sax. Speaking on "Still Green," Curling said:
"We wanted to kick off the record with something loud and punk-y. Musically, this one is kind of an homage to some of the 90s Jade Tree stuff and early Don Caballero that we used to listen to a lot. The tune starts off with one of Jojo's Tascam guitar demos and gets a big boost in the second half with a ripping sax solo from our friend Daniel Richardson."
Some of the most fun tracks on the album utilize this up-punching sound. "Love Song" is straightforward fun, even if it isn't exactly as it's advertised:
"We wrote this song back in 2016 while we were touring to support our last record. Bernie's girlfriend had been asking him to write a "song for her" for a while and, while the lyrics didn't really end up being so sweet, the chord progression and arrangement are very much an ode to love. Our friend Graham Patzner came by the studio and added some layered violin harmonies to take it over the top!"
And, "Bloom" brings back the saxophone in a more front-layered way to serve as a soft outro to one of the album's loudest tracks:
"Bloom was another song we were playing around with back on tour in 2016, albeit in various different forms. This is one of the few songs that we've written in the past few years in standard guitar tuning! The outro section of the song was completely improvised, but Bernie added a really cool repeating harp-like guitar figure and Daniel came back to play his saxophone again and came up with a great solo."
"Home" sees the band really flaunting some of their pop-guitar chops. The guitar solo certainly is a product of glam rock, but since this song is so forward facing, it is most reminiscent of Rozwell Kid:
"This was another attempt at writing a kind of Nowhere Man-esque short-but-sweet pop song. There's a great string arrangement played by Liana Berube during the bridge and some especially jangling Nashville-tuned guitars arpeggiating along with the chords. The lyrics to this song are about being homesick, but also remembering reasons that you don't really want to go back home."
This album's rowdier tracks easily veer towards Curling's more modern influences, but some of their classic rock appreciation shines through. In the lineage of bands like Weezer and Rozwell Kid, they know their contemporaries, but they're unshy about looking towards the past.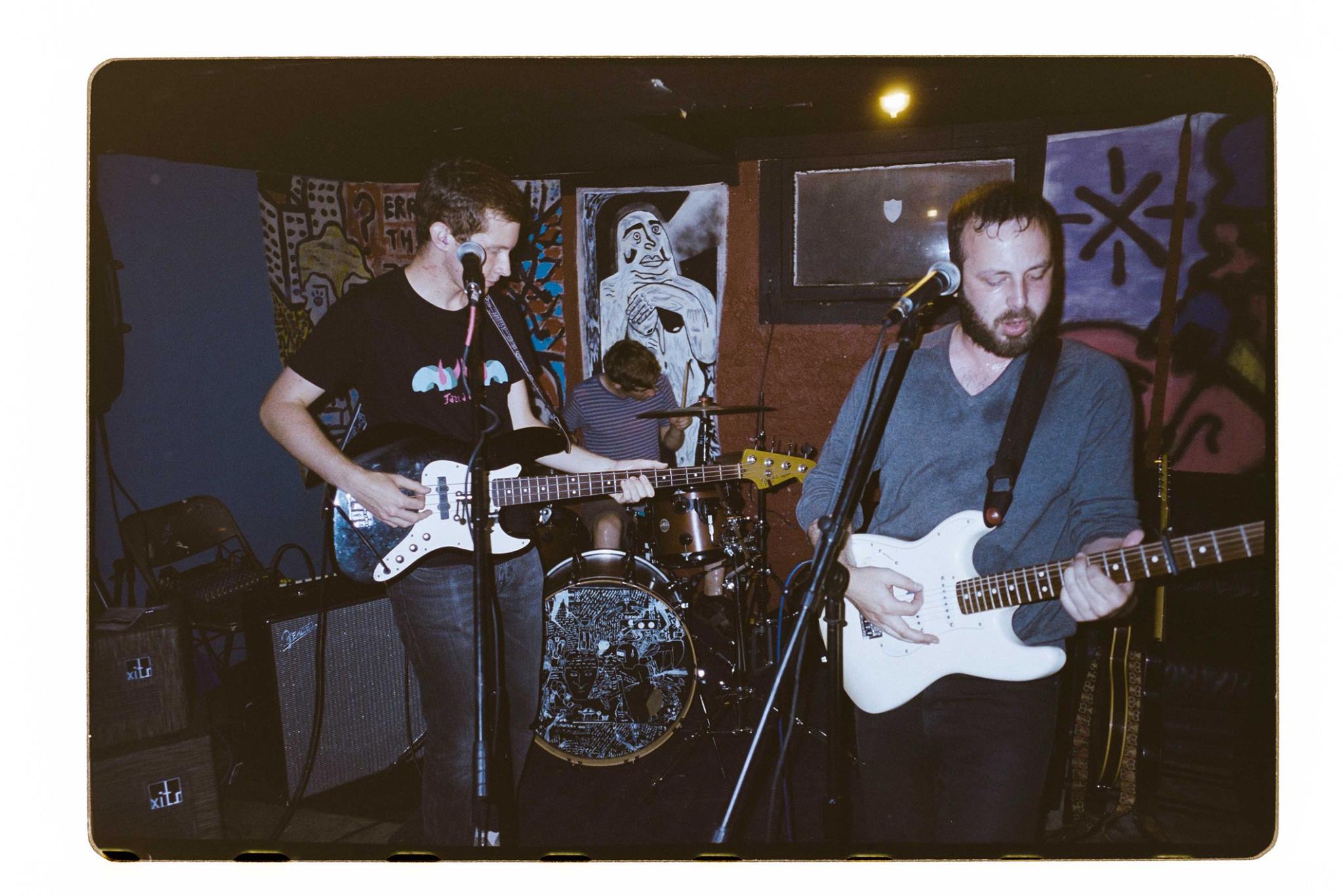 As the album continues, it shows the band is just working its way backwards through the history of rock music. Even though "Flutter" is an homage to late 80's and 90's shoegaze, the band incorporates elements of mid-60's Beatles songs into it:
"We're big fans of MBV and this song was all about combining that influence with some more power pop-y songwriting and melodies. The bassline in particular has got a very McCartney-esque vibe to it. One of the lyrics refers to "English sunshine," which is an overheard colloquialism for "rain."
These elements follow through the a number of tracks on the album. "Evaporation" and "Love Song" both share qualities with math rock and power-pop, but lean more towards the 60's and 70's, respectively. The layered violin in "Love Song" along with the chord progression makes it sound like the perfect marriage of Weezer and Cheap Trick. The tongue-in-cheek titling of "Four" is easily a product of the band's punk influences, but this is very much a classic piece of psychedelic indie rock. The band channels The Doors' "The End" along with the Ravi Shankar quality of the guitar:
 "This song almost never came to be. We called it "Four" because our drummer didn't show up to record in the studio until 11pm. After spending about an hour and a half getting drum sounds, our loyal and amazingly patient engineer (thanks Sean!) stayed up with us until about 4am tracking this tune. It turned out pretty cool! Jojo got a friend to help write some lyrics in Japanese and we added a bit of mellotron during the choruses to give it a kind of Blonde Redhead vibe."
This transitions nicely into the summer-shimmering "Radio King."
"Sometimes a piece of gear can totally inspire you to play a certain way. In this case, a recently acquired Rickenbacker 12-string guitar gave just the right amount of jangle and chime to inspire some of the particularly Byrds-y meets XTC (by way of Television) riffs on this tune. Our tone secret: the live guitar track is a Telecaster into an AC30, but the 12-string was actually run direct into some nice studio compressors. We stole it from Roger McGuinn and now you can steal it from us!"
The album's closing track is the most perfect blend of shoegaze and classic rock. The band embraces noise and drones, but the song starts off with a riff that sounds almost like "The Sound of Silence" by Simon and Garfunkel:
"We actually recorded a couple of different versions of this song before we ended up with this one. Once we finished tracking it, we knew it had to be the last song on the album. The song starts with a softer verse sung by Bernie that he wrote when his mom got a terminal cancer diagnosis. The song builds into an almost dreamlike state (augmented by a lot of reverse reverb and feedback) before Jojo takes over and sings about coming to terms with death. There are a lot of really cool guitar textures and basslines on this song, but our favorite part is the stuttering organ intro where you can hear each organ track punch in separately."
Bernie Gelman's vocals also end up the punchiest here than on any other track on the album. His distinctive yelps are the moment he shines most as a singer, where most of the album he blends and uses his voice and harmonies with Joseph Brandel as an instrument.
The perfect blending of the band's appreciation of contemporary rock and classics from the past five decades is the album's penultimate song, "Pleasure." It ends up feeling like a 90's alt-rock jam, but it's really the most forward facing:
"There were a lot of pretty funny references being thrown out while we were tracking this like "the acoustic guitar needs to sound more Led Zep" or "this guitar solo needs more Black Hole Sun," but overall the tune turned out pretty cool. Jojo played a really amazing guitar solo and Bernie wrote some intense lyrics that deal with self-loathing (but are hidden behind a pretty melody)."
The song is all at once pleasant and soothing, yet scaling a wall of sound. The album also has the band's most raw moments, the simple voice and acoustic guitar intro, then lone distorted guitar outro are some of the album's highlights. The quick transition reminds the listener that Curling isn't a band that you can lean into expectations for. Each song on Definitely Band is a journey and going through each makes the listener sit and wonder who Gelman and Brandel were listening to when they wrote these songs. They take pieces of a variety of artists and add qualities that are undeniably their own to forge their own sound. Definitely Band is out this Friday via Copper Mouth Records and Making New Enemies.
— —
— — — —
? © 2018
:: Stream Curling ::