Recommended If You Like: Young Rising Sons, The Wombats, Bleachers, Walk the Moon
always living life like it was fine
haunted by the ghosts of 1999
We all live with ghosts: Shadows of a recent or distant past, some ghosts are manifested from memories of former friends and lovers, while others are carbon copies of our old selves. These ghosts can be our friends or our enemies – there's a good reason humans are prone to 'dwelling in the past'; memory is a powerful thing – but regardless of how we perceive these mind and time-made phantoms, we're stuck with them; there is no escape. As Selahphonic teach us in their new single "Ghosts of 1999," it's our responsibility to ourselves to learn how to live with these "ghosts" as we continue to lead our lives.
laid the guns on the floor of the bleeding heart room
reluctant to see that you could stay
Listen: "Ghosts of 1999" – Selahphonic
---
Our individual "ghosts" are very personal and often times a private matter – most of us don't speak openly about those things that hurt us the most. "Ghosts of 1999" is comfort food dressed in music garb, in that it highlights the universality of this individual plight. As Kanye West once said, "We all self conscious – I'm just the first to admit it." Knowing that everyone goes through similar situations can help one feel less alone with his or her individual battle, and "Ghosts of 1999" serves as a reminder that we all have our ghosts. "It could have been you were hurt before; somebody took what you were fighting for," croons lead singer Jamie Coyle. "or you stayed too long at the racetrack, where you lost it all…" It doesn't matter what's haunting you – it can be anything – and that's okay! Selahphonic create a safe space to which all can connect.
it could have been you were hurt before
somebody took what you were fighting for
or you stayed too long at the racetrack
where you lost it all – even the shirt right off your back
Of course, the lyrics are only half the battle, and it's in their musical presentation that Selahphonic truly seal the deal. A self-described indie pop band from the Sunshine Coast in Queensland, Australia, Selahphonic use a shiny mix of overdriven guitars and whirling synthesizers to create a warm melodic soundscape. The deeper meaning beneath "Ghosts of 1999" is partially disguised by the song's upbeat tempo: It's easy to bob one's head to the emphatic beat, courtesy of drummer Joel Boldero and bassist Dave Meikle's perfect in-the-pocket performance.
Yet there's an urgency that anyone searching for meaning in music can immediately pick up on: Coyle's evocative singing reveals a certain desperation – a need for release. Once one notices it, the longing in Coyle's voice resonates loud and clear. Extra emphasis is given to bring out a swarm of emotions in the anthemic, infectiously catchy chorus:
nice to see you, it's been a long time
living in the past not present time
haunted by the ghosts of 1999
pleased to meet you, let's not be sorry
always living life like it was fine
haunted by the ghosts of 1999
Coyle nearly screams these words, and in letting himself loose, he boosts "Ghosts of 1999" to ever-higher heights. Underlying everything is a sense that our "ghosts" can take over our psyches  – fill our thoughts and consume our days – such that we end up living for days gone by, rather than for the present moment. Narrated in the second person, "Ghosts of 1999" can feel like a direct conversation between Selahphonic and the listener if one needs it; either way, the words are all the more emphatic because they tell the story externally, rather than internally.
No one said living with ghosts is easy, and Selahphonic aren't offering any answers. "Ghosts of 1999" is not a cure-all; better to leave that to the experts. Time heals all wounds, though, and through time alone we learn to live with (and through) loss.
Watch: "Ghosts of 1999" – Selahphonic
---
Selahphonic's "Ghosts of 1999" music video is an excellent display of how we learn to live with loss. Mixing comedy with the song's darker elements, the video perfectly captures both Selahphonic's energy, as well as the humanity of "Ghosts of 1999." Jamie Coyle plays the main character/narrator who goes about his day haunted by his own ghost – portrayed in the video by a giant human rabbit (or rather, a human wearing a rabbit head).
Perhaps it's a nod to David Lynch (this is unlikely, but why not throw it in anyway)?
The rabbit brings a sense of comic relief to a song in dire need of release. Coyle wakes up with the rabbit comically watching him in bed. At the breakfast table, Coyle's "ghost" pours milk into his cereal. In the bathroom, the rabbit – on the toilet, mind – hands Coyle his toothbrush.
The apparition is everywhere Coyle turns, and everywhere he goes. It looks like he and his ghost are getting on well with one another as they sit together on the couch – Coyle even shows the rabbit a picture, giving a face as if to say, "Not bad, eh?" The ghost may be a former best friend; it doesn't really matter.
It seems like things are going well for the two – the rabbit packs Coyle's supermarket cart with carrots and Coyle just shakes his head – until Coyle snaps while riding his bike. What at first seemed to be coexistence transforms into constant stalking and tormentation: Coyle cannot escape his ghost, so after unsuccessfully trying to ditch the rabbit on his bike, he pushes the rabbit off its own bike and to the ground.
The suffering shows vividly in his eyes.
The chase continues; after Coyle thinks he's ditched the rabbit, the spectre appears next to him as he and the band perform "Ghosts of 1999." Violence ensues as the rabbit comically takes the mic from Coyle's hand and assumes the lead, but things take a turn for the worst when Coyle chokes the rabbit to death and ends up burying the rabbit in a dark forest.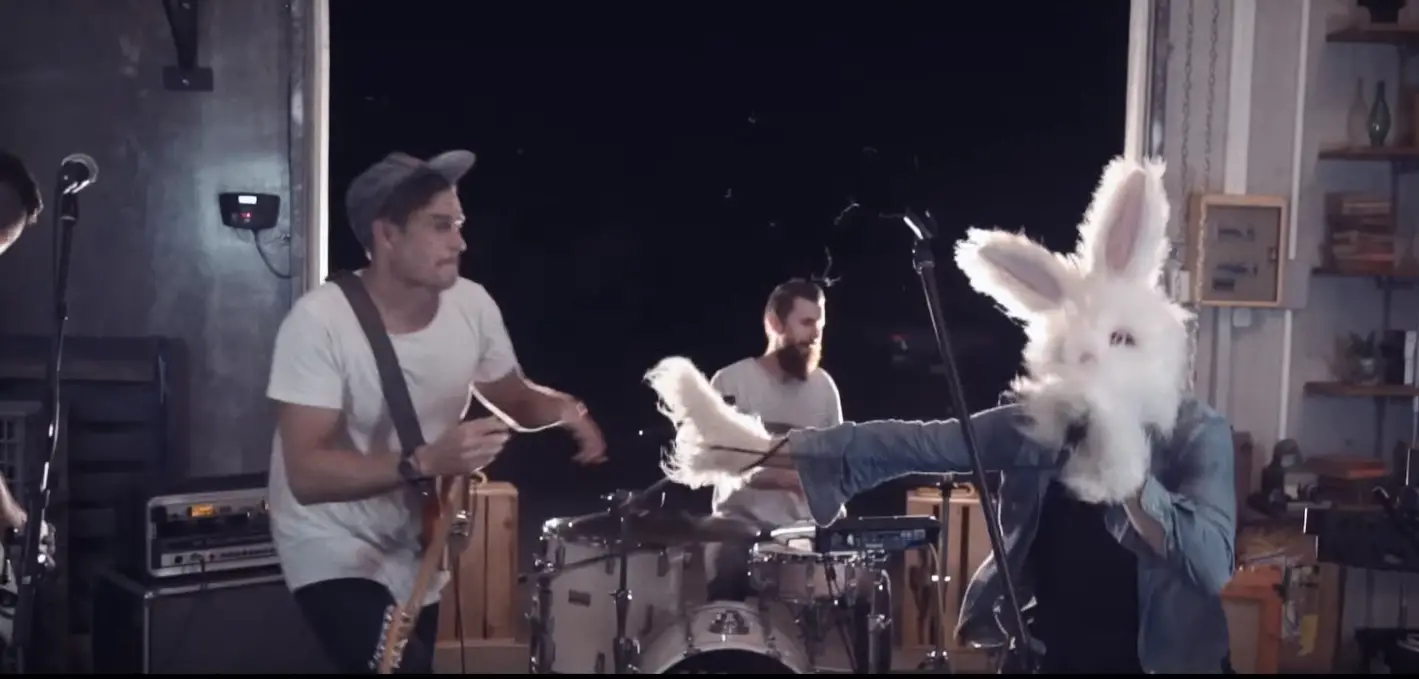 Is Coyle finally at peace? Of course not.
After washing his face and hands of the dirt, Coyle makes his way to bed. Throwing off the covers, Coyle finds his old rabbit friend there in bed. Shrugging his shoulders, Coyle gets in bed with the rabbit, spooning it as they both drift off to asleep.
didn't have to stay too long in your space
feel the burn or taste your bitter tongue
it could have been you were hurt before
somebody took what you were fighting for
you memorized all their mistakes
like a weapon to use when you fall down on your face
We can learn a lot from Selahphonic's music video, but its most important lesson is also the most obvious: You cannot escape your ghosts.
Don't bother trying to "fix" your past by escaping from it; escape won't work. All we can do is make peace with ourselves and with our histories. Selaphonic's message is clear as day, and it resonates through high-octane bars that pack a punch. Mixing electric music with a deep and universal notion, "Ghosts of 1999" is engagingly fun and insurmountably real. Put it on both your happy and sad playlists – it's fit for both occasions – and stay tuned for more great tunes: "Ghosts of 1999" is only the beginning of a Selahphonic-filled 2016.