"Coming home / your idols live / behind a screen / inside a fantasy world"
It could be the result of an existential crisis or a recent obsession with Radiohead; maybe it's the sign of a band's coming-of-age with the desire to appeal to broader audiences; perhaps Young Rising Sons have simply been on the road too long. New Jersey's freshest rockers made a major announcement today in a very non-traditional way. After a week of teasing their social media following with cryptograms, Young Rising Sons today announced the release date of their sophomore EP, The Kids Will Be Fine, on October 16th on Dirty Canvas/Interscope Records. The five-track EP will consist of songs "Coming Home," Atwood favorite "F**ked Up," "Flesh and Bone," "Ghost of Me," and "Somebody."
Young Rising Sons also announced they will head out on a fall headlining tour. The band, who seemed ready for a bit of downtime when we interviewed them just last month, kick off the Let The Kids Riot Tour on October 28th in Santa Ana, CA with direct support from Night Riots and openers The Mosers. A full list of Young Rising Sons' tour dates is below.
Every big announcement needs a hook, and Young Risings Sons know that well. Staying in line with their recent cryptic style, the band debuted their new song "Coming Home" with an eerie music video.
"The truth got buried alive, but I still smell the fire." – Young Rising Sons, "Coming Home"
Shot with a low-quality camcorder in the passenger seat of a dark car, "Coming Home" opens with a focus on the driver. A hooded figure wearing a clown mask, the driver turns to look at the camera while putting the car in gear. A somber piano entrance starts the moment the dehumanized driver has its masked face fully in the frame.
With the music, there also comes text on the screen. Large, white block letters read "COMING HOME," but what would otherwise seem like a standard title quickly gains deeper value and meaning as more words follow. As the car gets in motion, the camera moves away from the driver and onto the dark, dimly lit road ahead; it will remain on this unexciting depiction of suburban travel for the bulk of the video.
This mundane visual subject matter is the perfect basis for a separate story told through text. With Andy Tongren's smoothe, wistful voice singing wholeheartedly in the foreground and that dark road in the background, a message broken into a slow, steady stream of words takes center stage.
COMING HOME
YOUR IDOLS LIVE
BEHIND A SCREEN
INSIDE A FANTASY WORLD
THEY ARE
LIARS
THIEVES
& CHEATERS
THEY ARE LOST
AND CONFUSED
Ominous, dark and foreboding, this text lights up the screen with a message of caution. Interpretations can and will vary; are Young Rising Sons addressing their own homecoming experiences post-tour, or are they offering up a cautionary tale for others? Are there any specific idols the band wish to denigrate?
A similarly foreshadowing story unfolds in the song's lyrics:
I wasted most of my life looking over my shoulder
And all I've become is a runaway boy
I met a medicine man who said he could save me
But my soul's too scarred to ever be saved
I'm coming home to you
The concept of "home" is so often cast as a shelter or refuge. To "come home" is to be safe and sound; to be in a familiar place; to be comfortable. Andy Tongren approaches "home" as a place to pause and take a breath from the madness of the outside world, but "Coming Home" is deeper than that: What happens when home is no longer that safe haven? When things become foreign? When you no longer recognize the person in you driver's seat? "Home" ceases to be itself, per its definition.
The realization that nothing ever stays the same – or rather, that everything changes – can be unsettling to those with strong physical or temporal attachments. When paranoia sets in, your world feels like a parallel universe. Suddenly, "coming home" seems to hold little merit; the ones you love, the things you love, the places you love – they become strangers.
What do we do after we've realized one of life's greater, scary "truths"? According to Young Rising Sons, relish in the knowledge:
LET THE TRUTH
SET
YOU
FREE
AND YOU'LL BE
JUST FINE
These final words flash onscreen before the end of the music video depicts the clown mask being thrown to the car's floor. Off goes the Band-Aid – and with it, the fright?
I'm not totally convinced that this is an especially comforting notion. It promotes independence, but it is also heavily inclined toward skepticism, cynicism and suspicion. A mild fascination with the occult often results in strong music, and "Coming Home" is barely borderline (if at all) occult. It does, however, make perfect sense that a band who spent the majority of the past eighteen months on the road would pen a song questioning the significance and existence of the fabled "home;" how better to deal with a sense of unsettlement, than to embrace it?
Don't let us make that decision for you, though. "Coming Home" is purposefully vague; it is meant to spark deeper thinking, creative consideration and intelligent conversation; it is open for individual interpretation. Read the song's full text and watch the music video to form your own opinion on Young Rising Sons' "Coming Home."
:: "Coming Home" music video text ::
COMING HOME / YOUR IDOLS LIVE / BEHIND A SCREEN / INSIDE A FANTASY WORLD / THEY ARE / LIARS / THIEVES / & CHEATERS / THEY ARE LOST / AND CONFUSED / THEY ARE TINY / FLOATING BUBBLES / IN AN INTANGIBLE LAND / A LAND OF MAKE BELIEVE / WHAT IS REAL? / AND WHAT IS FAKE? / WHO ARE THE WOLVES? / & WHO ARE THE MARTYRS? / YOU'LL NEVER KNOW / THE MAN / BEHIND THE MASK / YOU'LL NEVER KNOW / THE GIRL UNDER THE SHEETS / LET THE TRUTH / SET / YOU / FREE / AND YOU'LL BE / JUST FINE
Watch: "Coming Home" – Young Rising Sons
[youtube=https://youtu.be/fSSrNGjLYzM?t=0s]
:: YOUNG RISING SONS TOUR DATES ::
Let The Kids Riot Tour (featuring Night Riots and The Mosers)
Oct 28th – Santa Ana, CA – Constellation Room
Oct 29th – Los Angeles, CA – Club Bahia
Oct 30th – Phoenix, AZ – The Crescent Ballroom
Oct 31st – El Paso, TX – Lowbrow Palace
Nov 2nd – Austin, TX – The Parish
Nov 3rd – Dallas, TX – House of Blues – Cambridge Room
Nov 4th – Houston, TX – Fitzgeralds Downstairs
Nov 6th – Atlanta, GA – The Loft
Nov 9th – Detroit, MI – The Shelter
Nov 10th – Chicago, IL – Double Door
Nov 11th – Cincinnati, OH – Southgate House
Nov 12th – Cleveland, OH – Grog Shop
Nov 14th – Buffalo, NY – The Waiting Room
Nov 15th – Toronto, ON – The Mod Club Theatre
Nov 17th – Baltimore, MD – The 8×10
Nov 18th – South Burlington, VT – Higher Ground Showcase Lounge
Nov 19th – Albany, NY – The Hollow
Nov 20th – Hamden, CT – The Space
Nov 21st – Philadelphia, PA – The Foundry @ The Filmore
Nov 22nd – Brooklyn, NY – Brooklyn Bowl
Nov 24th – Long Branch, NJ – Brighton Bar
tickets at letthekidsriot.com
— —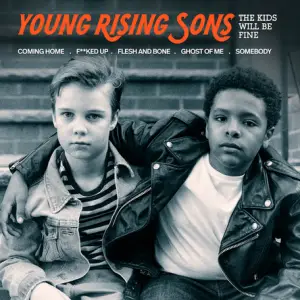 You can follow Young Rising Sons on Facebook, Instagram, Twitter and Tumblr.