Kramies turns himself inside-out through moving music laced with enchanting imagery on his EP 'Of All The Places Been & Everything The End', a stirring journey of nostalgia and sorrow, self-discovery and renewal.
— —
Something happens to me when I start to write. I am able to go deep into a mental fairytale of sorts where the lines between imagination, emotion and sound all blend together.
Kramies Windt always felt like he was a writer first; that music-making came second in his life. "I believe that creating music was a way to give my short attention span a blank canvas to write these mysterious short stories." It's an interesting revelation from the Cleveland-raised, Dutch-American artist, but it's not an entirely surprising one: Over the past decade, Kramies has brought audiences along for deep dives into illustrative music, weaving together majestic folk dreams often embedded with profound emotion and tinged with a melancholy edge. The tireless troubadour's lyrical prowess has known no bounds; in premiering his work "I Wish I Missed You" a year ago, Atwood Magazine remarked, "What poetry; what sheer finesse and beauty."
Setting up shop in an 18th century Irish castle, the ever-inspired artist struck upon a special concept and waited for words to flow – but unlike the usual outpouring, they trickled slowly. "This EP was a different experience for me and a personal challenge to create. The story came to me quickly, like a vision – but it was difficult to put into words." Out now, Kramies' EP Of All The Places Been & Everything The End (10/19/2018 via Hidden Shoal Records) is the artist's most personal and powerful record to date. The final product plays out with dramatic intensity and moving grace, but getting there was no easy task.
"This EP was different," Kramies explains. "I was actually living inside the story, within the history of an old Irish castle… So it became difficult to put to paper. As time moved slowly during my stay at the castle it became more about the rise and fall of emotions. I felt as though while submerging myself in the landscapes, the story fell into my thoughts and through my heart."
Of All The Places Been & Everything The End is a stirring journey of nostalgia and sorrow, self-discovery and renewal, and so much more. Kramies brings us into the castle with him, turning himself inside-out through moving mythical music laced with fantastical, enchanting imagery. "Lyrically, I started writing with a strong clashing between tension and love. Musically, decided for the first time to bring in a new artist to help create the clash between tension and beauty. In the past I normally would do all instruments on my own, yet David Goodheim is a brilliant composer and great friend, so I trusted him to add pieces of sound to the eeriness and story. I also was lucky enough to have Jason Lytle of Grandaddy, Jerry Becker of Train, and Todd Tobias of Guided by Voices all as producers and who add bits to the sound as well. I've always been alone in creating my art and music, but this time I felt it was necessary to help build this EP and comfortable enough with the people involved."
Kramies continues, "In the end, and after a lot of time writing and piecing this together, I've watch this EP travel… From Ireland to Colorado, to California and Ohio, it's seen a lot of history already. Only recently, after about a year, I realized that this story was possibly an abstract personal diary. From the years I spent struggling through drug addiction and into a life of sobriety… It was time to let go of my past story."
My time spent at the castle as an artist and writer helped me write something with a much deeper meaning… then, [to have] it surface into my art and finally, let it all go…
Kramies emerges from stormy soundscapes and dark atmospheres to start anew on EP closer "The Hill Dweller," closing the gate on years past with the simple, refreshing phrase, "Now I'm home." And with that, we feel one door close and another one crack open. Experience the full record below as Kramies goes track-by-track through Of All The Places Been & Everything The End!
'Of All The Places Been & Everything The End' – Kramies
:: Inside Of All The Places Been & Everything The End ::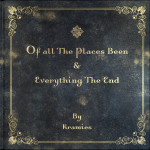 — —
The Woods The Storm The Tale
The words are set in a bit of whimsical darkness like a repeating memory. I saw a dimly lite cabin and felt the fear of not being able to stop the longing for another. A tension that seems to dance above emotional elements like moonlight off of towering storm clouds.
Of All The Places Been
This was the first song I wrote and finished besides the song "Ireland." As I wrote, I had felt an overwhelming enchantment to a powerful contrast in this song. To this day I have always remembered seeing the old 1977 Hobbit cartoon. The music had a 'wobbly' reel-to-reel projector sound to it, which for some reason influenced my as a young kid. Without knowing, I feel like I captured a piece of that memory in this song. The lyrics fall at the beginning of the story, where an elderly man in an old European town spends years walking from his cottage to the town every day… Unable to break his routine, in fear he might miss the return of someone he loved.

Ireland
"Ireland" was actually written a few years before while in Europe on tour. The length and prominence of this song lyrically makes it the musical and narrative backbone of this collection of songs. The story continues while along that daily path the elderly man would pass a beautiful rolling forest and bits of the sea. Until one day, after waiting years for that someone to return, he saw a light coming from the forest. For that split second, he decided to veer off the path, off his routine, and head into the woods. He walked and followed that light for days. Finally he came upon a fairytale of distractions that made him feel very alive again. While tucked in these woods, he tried to remember that person's face but was losing the beautiful image. Having an urge of letting go and entering a place of unknown.
The Writings
This was actually written as the ending to another song, but became a song on its own. I always believed that emotional words should have a map of sorts, a movement, that is pulled in different directions. East, West, North, South, whatever the course, but using polar opposites between the words and the way they're sung. "The Writings" was my continued attempt in trying to capture that. Trying to relate a relief of heaviness into a slight turn towards optimism.

Everything The End
One of my favorite songs on the EP. This is one that Jason Lytle produced and added synths to. When he sent the rough mix, I could finally feel the EP taking shape. When I first wrote this I played the guitar part over and over maybe 100 times. It never seem to leave my head. The words are an unearthly tale of time and loss, merged with a vision of optimistic imagination. I somehow found the subtle romance in the EP with this song, a touch of happiness. The lyrics symbolize a lost wanderer in a world surrounded by landscape and a new energy of life. A crossing of boundaries between eerie, mythical scenery and dreamy, fairytale-laden folklore.
The Hill Dweller
Also one of my favorite songs on the EP, I wrote & recorded this song in the old farmhouse where I would sleep at night while at the Castle. I recorded just the acoustic guitar & vocals then sent them to producer Jerry Becker of Train. He worked on the track for a while and when he sent it back to me I was floored. It was meant to be a short middle track or even a hidden track but it had so much closure lyrically and so much happiness I knew right away it was the closing track.
— — — —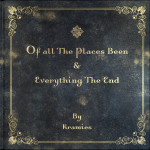 ? © Elli Nonemacher
:: Stream Kramies ::