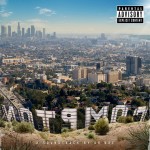 An everyday music fan can react to the release of Compton: A Soundtrack with at least two obvious questions:
1. "Hmmm, is this really the soundtrack to the new N.W.A. movie?'
2. "So, what took so long, Dre?"
To answer the first question: not exactly. A partially valid analogy can be made to the Jay-Z album, American Gangster, released in late 2007 in tandem with the Ridley Scott crime thriller of the same name. None of the music here is actually featured on the recent hit blockbuster, Straight Outta Compton, and yet the album recycles many of the key themes and rough edges of its companion film. Dr. Dre has certainly captured the gritty street mentality of his native Compton across the length of his new record, just as director F. Gary Gray achieved in his biopic of the group which first earned Dre his cultural relevance nearly three full decades ago.
As for the second question: who can rightfully say? Sixteen years have passed since Dre last released an album, and the purported follow-up, Detox, was hinted at, delayed, shelved, and hinted at again almost incessantly throughout the bulk of that time span. Before long, most realistic rap fans had given up hope: too much time had passed, Dre had gotten too old, and selling headphones was clearly far more lucrative. Detox went from being rap's Chinese Democracy to being its Austin Powers 4: a project that was just never going to come out, despite previous hopes to the contrary, so why waste time worrying about it?
So the shock that struck the music community when Compton: A Soundtrack dropped essentially without warning was tremendous, roughly on par to that which Beyonce achieved by releasing a digital LP out of nowhere in late 2013. As it turns out, Dre had decided that since Straight Outta Compton was about to promote the origins of his music career to the world, the time was right for that same career to come full circle with the release of one final album of brand new material. In spite of its flaws, Compton: A Soundtrack makes it clear why Dre has managed to stay so accomplished and respected throughout 30-some years of music-making: his hard work and dedication, his never-flailing inventive spark, and his willingness to collaborate with artists young and old across the hip-hop spectrum.
Naturally, most listeners will expect exceptionally strong production on the new Dre record– his previous efforts, The Chronic and 2001, are two of hip-hop's standout sonic feats, after all. While the production here may not be as revolutionary as that of its predecessors, no one should be disappointed in this department: the music always boasts plenty of character, and the combination of bass, percussion, guitars and keyboards provide impressive texture and complexity to the record's accompanying raps.
Although Compton: The Soundtrack is only six minutes shorter than Dre's last album, 2001, it actually feels quite a bit sharper: the skits are gone, the filler is substantially reduced, and the over-the-top raps on sex and weed– which kicked in five minutes into 2001 and rarely let up for much of the ensuing hour– are kept to a minimum this time around. More meaningful topics get coverage here instead, including the police brutality to which America has tragically been subject in recent times, as well as the trials and dead ends which Dre and his peers have encountered both in their own neighborhoods and within the music industry. Dre also strives on several tracks to make further peace with Eazy-E, his comrade-turned-rival who died of AIDS before the two had the chance to make full amends. Boasts and braggadocio are thrown in aplenty with all of that, to be sure, but this is still the most lyrically mature entry in the Dr. Dre album trilogy by a mile.
A plethora of guest artists, both world-famous and lesser-knowns, make their way onto this album, as was the case on both The Chronic and 2001. Yet while those previous records were hampered by a few too many unflattering verses by pedestrian guests, this flaw has distinctly been tempered on Compton: The Soundtrack. Even obscure artists like Marsha Ambrosius and Anderson. Paak make significant contributions on several occasions, and veteran Dre collaborators such as The Game, Xzibit, and of course Snoop Dogg, all turn in some of their better work in recent memory on tracks like "Just Another Day," "Loose Cannons," and "Satisfiction."
Kendrick Lamar became the Hottest Rapper of 2015 months ago with the release of To Pimp a Butterfly, but Dre's greatest post-Eminem protégé fortifies his claim to that title with two excellent cameo appearances: first on "Genocide," one of the strongest songs on the whole record, and then with even more deft rhyming ("I'm a C-O-M-P-T-O-innovator, energizer/ Inner-city bullet, fly that bitch on auto-pilot") which kicks in on "Deep Water" and "Darkside/Gone."
As for Mr. Mathers himself, his cameo on "Medicine Man" inevitably falls shorts of the sky-high standards of his original duet with his mentor, "Forgot About Dre," but his verse here certainly has its merits. In the style of "I Need a Doctor," yet another Shady-Dre collabo, the rapper details his longtime partnership with Dr. Dre and offers a sincere homage to the man who helped him become a legend. Closing out this record without an Eminem appearance just wouldn't have been right.
Compton: The Soundtrack features familiar flaws from within its author's catalogue: the lyrics take backseat to the beats on occasion, and Dre sometimes lets himself get too crowded out by the guest artists surrounding him. Yet given that this is his first release since the last millennium, and an all-around impressive one at that, there is far more to be pleased with here than to quibble over. It remains to be seen whether Dre can achieve his goal of becoming hip-hop's first billionaire– he has $300 million to go, as of this writing– but after the success of Compton: The Soundtrack, he has achieved a terrific trilogy of solo albums beyond any reasonable challenge.
Compton – Dr. Dre
:: Compton tracklist ::
1. Intro
2. Talk About It (ft. King Mez & Justus)
3. Genocide (ft. Kendrick Lamar, Marsha Ambrosius & Candice Pillay)
4. It's All On Me (ft. Justus & BJ The Chicago Kid)
5. All In A Day's Work (ft. Anderson .Paak & Marsha Ambrosius)
6. Darkside/Gone (ft. King Mez, Marsha Ambrosius & Kendrick Lamar)
7. Loose Cannons (ft. Xzibit & Cold 187um)
8. Issues (ft. Ice Cube & Anderson .Paak)
9. Deep Water (ft. Kendrick Lamar & Justus)
10. One Shot One Kill Jon Connor (ft. Snoop Dogg)
11. Just Another Day The Game (ft. Asia Bryant)
12. For The Love Of Money (ft. Jill Scott & Jon Connor)
13. Satisfiction (ft. Snoop Dogg, Marsha Ambrosius & King Mez)
14. Animals (ft. Anderson .Paak)
15. Medicine Man (ft. Eminem, Candice Pillay & Anderson .Paak)
16. Talking To My Diary 
Learn more about Dr. Dre online at www.drdre.com
You can follow Dr. Dre on Facebook and Twitter.