To Jamie Morgan, the face is more important than the clothes. In one photograph from his Buffalo Classics collection, a boy no older than twelve with one pierced ear and chapped lips squints provocatively at the viewer. Nonmodels bring an unprocessed element into glossy magazines. He finds it refreshing to work with untrained faces, rather than big names like Nike, Armani, and Taylor Swift. The Buffalo movement, as this aesthetic is known, created a new genre of street photography that can now be seen everywhere from Vogue to Humans of New York. Morgan is a Renaissance man. He works in film as well as still photography, writing songs for his videos and therefore mixing his love of music and imagery. He is now planning to launch a retrospective featuring 30 years of his work.
---
How did you make the transition from reportage to fashion photography? Well, really, I started having an attraction to girls. I was working for this fashion photographer (Terence Donovan), so I was learning fashion photography as a job. And then I started going out with one of the models. I began to like the beauty of fashion. So I took that fashion beauty into the reportage style. That's why my fashion is more edgy. I don't always go for pretty girls; I go for characters, because that was my original thing.
How would you describe your work?
I would say my type of photography is fashion portraiture. So I'm not a straight-up fashion photographer, in the sense that there's one picture with similar repeats of the same picture. I like to make each shot a very specific portrait, rather than a series of fashion images around the clothes. It's always the person. It's fashion conscious, but it's essentially a portrait.
Why portraiture?
I'm more interested in people than in fashion fantasy. So I like to mix it. You see, my portraits are fashion fantasy in the sense that you are creating a character. Underneath that, integrity of the person is really key for me. It's like finding the most interesting side of them and then mixing it with a vision. For instance, if you look at my early Buffalo stuff, I take these very raw males, generally street guys who weren't models: it might be a guy who works in a local shop, drives a van, you know, really street guys. He's not a model but he's still an amazing character and if you take him out of context and put him in your world and then use his face and the fact that he's a very proud character, he's got amazing eyes, he's got this really strong jaw, he's a real person. When you take that concept and mix it you get a very powerful image. Whereas some models pose like this every day. For them…there's no real integrity to who they are. It's just a job for them. You got occasional models like Kate Moss or at the moment Cara, these girls that have so much of their own personality that they can do portraiture. Most of the models, though, are working, going from one shoot to another and it's a bit boring for me.
How do you deal with someone who doesn't give you a lot to work with?
It's quite tough really, you've got to know exactly what you want to do and you've just got to go for it, get in there and get what you can; you can sort it out later. It's not a particularly fun way to shoot, not very creative, but these characters have so little time, and they really want to control their image.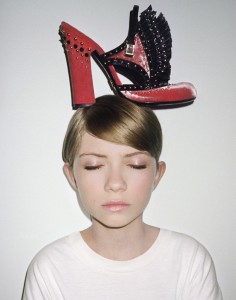 I think young people, before they get spoiled by too much pressure, have an ability to not be scared.
You've shot some young artists, including Tavi Gevinson and Taylor Swift. Can you tell me about those experiences?
I'm always looking for interesting characters. Tavi was one I thought was amazing. She was very, very young, only had been going for six months. I liked the idea of using a young girl who had her own style and identity, looking at fashion in a different way. It was a collaboration. If you look at each image, it's a different character. She's wearing wigs, one time she's dressed as an old fashion granny, you know, shoes too big. And Taylor, that was kind of ridiculous really, that shot was ten minutes in a hotel somewhere in Milan where she was doing loads and loads of press. Not really what I like to do normally. In a way she's got her own thing, so she's not going to let you create something poignant and interesting.
So you prefer to photograph those with less experience.
Yes, I love shooting someone who's never been shot before. I was very into youth culture, and I still am.I think there's a point in people's lives, in their teens, when they're really, really passionate about what they like. I love shooting young people. These incredibly strong faces at the same time have an innocence about them. I think young people, before they get spoiled by too much pressure, have an ability to not be scared. I like to do work with people who are really daring, who are really open to doing something different, like Tavi was, and at the same time they have a classic face. We used to have a saying, when you find the face the rest will fall into place. It's all about the face.
How do you prepare for a shoot?
I prepare a lot for a shoot, actually, but at the same time I really like to be spontaneous. I like to have options. The other day I was shooting this girl Binx for Dazed and Confused, she's the hot model of the moment, young but very cool. When I went in I had loads of lights, I was going to shoot some large format digitals, flash lighting… I had all this stuff prepared but in the end I shot on film in daylight, no lights at all. If I'd decided she looked much better very well-lit, high style, I would have gone with that. But as it was I enjoyed her being natural. You need to decide what you are going to do, roughly, but be prepared to completely throw it away if it's not right.