Born out of intimacy and illusion, Baerd's "Crete" is a vivid alt-folk adventure through chasms of the mind.
— —
Foreboding and inviting all at the same time, Baerd's "Crete" is a song born out of intimacy and illusion: A vivid 'alt-folk' adventure through chasms of the mind that blends myth and reality together for an otherworldly escape.
Didn't happen overnight
You used to keep em so close
And now your digging all these holes
Listen: "Crete" – Baerd
[soundcloud url="https://api.soundcloud.com/tracks/432822408?secret_token=s-kkIDq" params="color=ff5500&auto_play=true&hide_related=false&show_comments=true&show_user=true&show_reposts=false" width="100%" height="166″ iframe="true" /]
---
Atwood Magazine is proud to be premiering "Crete," the second single and title track off Baerd's upcoming sophomore album, Crete (independently out Summer 2018). Led by singer/songwriter Isaiah Beard, the seven-piece, Boston-based Baerd occupies an intentionally unique space in music defined by musical exploration, fusion and expansion. They define themselves as a progressive folk/Americana act, but such a description fails to acknowledge the classical, jazz and other influences present in their music – elements of which can be felt throughout "Crete."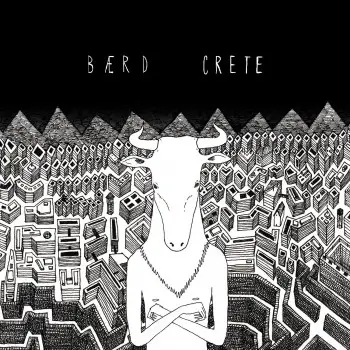 Baerd's new single is an epic folk-tinged journey akin to the likes of Fleet Foxes: "Crete," which follows the Greek myth of King Minos and the Minotaur and uses it as an allegory to real life, takes its listeners through myriad of musical doors, each with its own distinct melodies and characterizations.
You buried them well
Dead or alive you couldn't tell
Built a maze around it all
Hope you don't get lost
Don't you know there's
thoughts too tall to climb
You can't help but try and try
Misguided and confused
The labyrinth swallows you
"The bulk of Crete was written while we where traveling to the studio in North Idaho, some whole camping in the Badlands of North Dakota, some of while at a cabin in western Montana, and finished finally during the recording," recalls Isaiah Beard. "The inspiration came from [the] Greek myth of King Minos, who hid his wife's illegitimate son, the Minotaur, by hiring Daedulaus to construct a labyrinth around the island, putting the Minotaur at the center. I related to this myth in that I felt that in order to wall off my own feelings or experiences I was ashamed of, I construct a labyrinth in my mind, and get lost inside my thoughts. I wanted the feeling and the production of the track to be both mythic and illusory, to feel at points as if you are in a maze."
Mistaken is there turning back
Familiar have you seen this yet
Wondering how much time you have
Catching up to you so you wish
You hadn't buried them so fast
Taken the time you didn't have
Whispering nothings to yourself
Hoping that someone hears and helps
Baerd bring us deep into the belly of the beast on "Crete," however, it takes a few listens to truly appreciate the layers of both music and metaphor rippling through the dazzling track: It feels at times like a song collage, a perfect copy-and-paste job whose movements seamlessly coalesce with one another. Singer Beard has the voice and lyrical aptitude of a captivating storyteller, winning us over with both words and emotions as he tells two tales: One, a myth from the Greeks passed down to us through centuries and civilizations; the other, a personal admission from his own heavy heart.
Each of us has reason to run from ourselves; no matter the cause or reason, shame and regret are natural parts of our emotional spectrum. The beauty of "Crete" lies in Baerd's ability to turn the regular into supernatural; in doing so, they provide a means for us to feel inspired by the everyday. Stream Baerd's stirring new single exclusively on Atwood Magazine; "Crete" is out everywhere this Friday, 4/27/2018!
— — — —
? © Michelle Coco
:: Stream Baerd ::