Awash with warm harmonies and soulful guitars, Creature Comfort's spellbinding song "Darkside" captures deep, dark existential introspection and wonder through bright blurs of sweet, feel-good indie rock.
Stream: "Darkside" – Creature Comfort
---
It's not quite Laurel Canyon, and it's not your classic southern rock, either; Creature Comfort are a singular band with a sound that beats and glows like the radiant summer sun. Nowhere is this more evidenced than on the band's latest record, a sun-drenched haze of reflection: Awash with warm harmonies and soulful guitars, "Darkside" captures deep, dark existential introspection and wonder through bright blurs of sweet, feel-good indie rock.
How I spend my time pondering
When all that I want is to have nice things
And put them in my home
Where I live alone
And get to sleep
What's the point of doing anything?
It's not like I remember all of my dreams
Or what the future holds
Or so what I've been told
Happens to me
Atwood Magazine is proud to be premiering "Darkside," the fourth single taken from Creature Comfort's upcoming sophomore album Home Team. Consisting of Jessey Clark, Cole Bearden, Taylor Cole, Charlie Hickerson, and Alex Robinson, Creature Comfort have been actively blending indie rock, Americana, country, and pop music since the early 2010s. The band have grown in leaps and bounds since releasing 2013's debut album Fox Tales and 2016's Echoes and Relics EP, and they showcase their vibrant colors with flare, tact, and grace throughout Home Team.
"Think of it as Fleet Foxes for people who grew up bailing hay, or your favorite indie record—if that record were scattered, smothered, and covered, of course," the band say of their sound.
Following the release of their fiery and well-received singles "Arcade Fire" and "Black Cat," "Darkside" brings out the best of Creature Comfort's lyricism and increasingly diverse sound. A mid-tempo dance groove built off steady, heated drums and smooth guitar licks sets up a colorful backdrop, upon which Clark and the gang deliver a barrage of dazzling, easy melodies. The track's natural flow makes it an all the more compelling listen.
"'Darkside' was written during a time in my life when I was living alone and had just gotten my first 'big boy' adult job," lead singer and songwriter Jessey Clark tells Atwood Magazine. "I was making more money than I ever had and found myself filling my life with objects to make my house look nice. It was also a time where I was free to my vices and was drinking and partying a lot. In a sense, that was my dark side, which kept me from fulfilling my goals or achieving 'enlightenment.' The song is really a 25-year-old questioning where he is in his life. 'What the hell is next? Is this when I settle down or is this when I explore what's out there?'"
"How I spend my time pondering, when all that I want is to have nice things and put them in my home," Clark sings candidly, questioning his purpose and place with wide eyes and an open mind. He goes on to poetically express his experience in the chorus:
And so I let the poison drip off of my lips
Well your feelings failed to mention
that they might end up
Feeling like this
He continues, "The song was also penned as a part of a project called "The Daily Two" between me and a group of friends who challenged each other to record two minutes of music every day. It could be anything from writing a new song, testing out a new recording technique or figuring out tones on your guitar. I primarily used it to create songs and learn how to write a lot of songs in a short period of time which made the songwriting process easier for me."
Now I'm turning to the dark side
I reached for the fork but I grabbed the knife
I wouldn't hurt a fly
Just watch me bat my eyes
What do you think?
When and where will my trip begin?
I feel like the beginning has reached the end
The waving of a hand
Is something I can't stand
To ever see
Despite coming from a place of isolation and loneliness – the doldrums of a quintessential quarter life crisis – "Darkside" is anything but dark. Its rollicking tones and moments of heavier overdrive come out as droplets of sunshine; it truly is tailor-made for long summer days, and though Home Team won't release until later this year, Creature Comfort's sophomore album is sure to be a staple of our 2021 summertime.
For now, we're left to bask in the buoyant grooves and feel-good tones of "Darkside." Stream Creature Comfort's new single exclusively on Atwood Magazine!
And so I let the poison drip off of my lips
Well your feelings failed to mention that they might end up
Feeling like this
Feeling like this
Feeling like this
Feeling like this
Feeling like this
Feeling like this
Feeling like this…
— —
Stream: "Darkside" – Creature Comfort
— — — —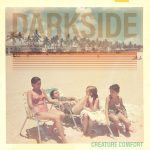 ? © Daniel Chaney
:: Stream Creature Comfort ::
---