Memphis rap artist Daz Rinko released his debut EP Black Boy Joy a few short weeks ago, and it's already made waves among the hip-hop community. In short, Black Boy Joy is refreshing, soulful, and full of depth. Rinko approaches black identity with care and delicacy throughout his musical narrative.

It's not the hustle and flow, Three 6 Mafia, or hardcore rap that has branded the city's genre for years. "Liam Gallagher," "Blessings from Above," and "Black Boy Joy" stand out as tracks with personal derivations turned societal commentaries. With bluesy-undertones, "Liam Gallagher" explores Rinko's struggle with the unbalanced societal scale of effort not equaling success – or at the least stability. His consistent hard-work fails to reap any benefits, and you can tell by listening that it's tough for Rinko to keep up the positive outlook. "Blessings from Above" uses heavy bass lines and a soulful chorus to remind us that even with hard situations there are always blessings in the madness. Rinko exposes the negatives and the obstacles of his life, but concludes with a spirit of happiness.

Today, Atwood Magazine wanted to share the title track "Black Boy Joy," because of its irresistible bouncing beat and relevant socio-political message.

Listen: "Black Boy Joy" – Daz Rinko

"Black Boy Joy" paints us a picture of Daz's personal relationship to joy as well as his friends'. He itches to find true happiness that is not ignited by drugs or improved by physical appearances. Rinko pushes on despite the circumstances that continually attempt drag him down like eviction notices and absent parents. Furthermore, Rinko hands us the alluring image of a happy black man, one that is too often missing from all forms of media. He combats a national debate through an honest storytelling of his experiences. "Black Boy Joy" channels a bit of Chance the Rapper's lyrical style, but adds a Memphis twang and a jazzy edge.
I wanna know what really make you happy
Weed when you feel crappy.
Or weave when yo hair nappy
Or growing up and never had a daddy
Now you stunt on ya papi
That's what you call black boy joy
– "Black Boy Joy," Daz Rinko
During the second verse, Rinko mentions his aspirations for greatness and the growth he knew he needed to undergo in order to achieve those goals. It seems that at the end of this long journey of the pursuit of happiness, Rinko realizes his elation is found through music. He recognizes his differences from the people around him by formulating a story about his ambitions. Rinko's reflections on the past lead him to plans for the future; he's done with the "booty shakin" and sets off to drive down the road of distinction.
Black Boy Joy, both the EP and the track, were eloquently produced with snaps, graceful piano, and drum knocks that stabilize the landscape. The added synthy whistles and GameBoy sounding chimes speckle and sparkle the tune. It's musical bliss for both your ears and your mind. Although "Black Boy Joy" only lasts a short 2 minutes, Daz Rinko utilizes a jazz led rebounding melody and confronting lyrics to design a joyous and intriguing debut.
— — — —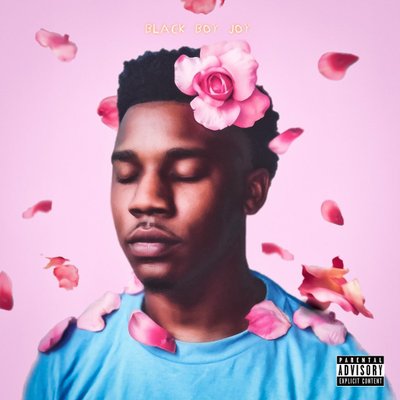 :: Black Boy Joy EP – Daz Rinko ::