Mitch Welling invited us all into his room once again.

This is, of course, a metaphor. Every flatsound album has been a personal invitation into creator Mitch Welling's personal space, his bedroom, his mind. And each time we find that something is different, that the lamp has been shifted, that the bed's been angled in a specific way, that the light streaming in through the window is not the light we glimpsed last time we stepped in. That is, perhaps, one of the most powerful aspects of Mitch Welling's artistry—we are in continual growth with him, from Losing the Interest and Truth I Had in You to Four Songs For Losing You, from Sleep to Did Everything Feel Beautiful When You Let Go of the Idea of Being Anything at All, and now we arrive at I Stayed up Until Sunrise but Got to Fall Asleep to the Sounds of Birds Singing, our fists clenched, our minds spinning at the prospect of delving further into Mitch Welling's exploration of our collective humanness, of his (and our) very human condition. If nothing else, you've really got to give it to him—he knows how to name his albums.

Catapulting to significant fame through social media platforms like Tumblr and Soundcloud in 2012-2013, Mitch Welling actually began making music as flatsound way back in 2007. His website simply puts forward his idea behind flatsound: "my only goal is to create something honest."  One of the many reasons why flatsound has the kind of cult following and admiration that it does is because Mitch Welling combines his deeply affective poetry with his recordings, both of conversations and ordinary sounds as well various musical instruments, creating the complex, layered, devastatingly unique and poignant music style that flatsound pioneered when it came into being.

This Plath-like, confessional-bare-it-all genre has gained popularity in recent years, relying on digital engineering and simple instrumentation to create a musical-diary entry, a page out of someone's head (see Lontalius and Elvis Depressedly). Why then does Welling continue to rivet us this way? Perhaps it is because he creates an honest, open space for the discussion and expression of issues of mental health; perhaps it's because he is attuned to the invariable complications of being alive, of suffering, of loving; or perhaps, simply, because nobody else can do what he does.

With the release of I Stayed up Until Sunrise but Got to Fall Asleep to the Sounds of Birds Singing (released independently on 7/7/17), a forty-track compilation of previously unheard songs he put together between 2008 and 2013, we are welcomed into a world of softer sound, of stuttering laughter and sunlight. We enter both giddy and uncertain, wondering: who will Welling be in these songs? What will he be saying to us? What are the images he will bring to us? Grounded in a strong poetic core, all of his songs experiment with sound, pitch and clarity—taking lightly from their predecessors but distinctly altered, reshaped and entirely distinct. There is no superficiality to this—perhaps because there is no glamour to it. And here again, we have Welling, stripped to his very bones, at his most vulnerable even, lyricizing the constancy of loneliness, of love, of light, attempting to negotiate relationships, memories and feelings, all of which form him, all of which inform us. He balances between poetry and music daringly, dazzlingly—is he then creating a hybrid form, taking cues from spoken word poetry and low-fi ambient collectives, making "poetry" more accessible, making music more personal? Welling allows us to feel, gives us the silent space and sometimes, fills it with his own experience, narrativizing and cementing his own tract on being human.
From a messy "Intro" that is more messy, more static than actual sound, "I Lost Control (Dusty Cassettes Version)" takes on this static and transforms it with the help of organ-like chords and a slow beat, sharpened by the achingly simple lyric : "I left the house for the first time in months, for the first time in months," a sentiment that'll resonate with anyone who has experienced or knows those who experience social anxiety, who know exactly how crippling and terrifying it can be.

"Distance," the third track, has its history firmly located in flatsound's repertoire of seamless, muted pieces, built across a slowing beat and the layering of chords. Miscommunication lies at the centre of "Distance," its anxiety very palpable, intensified by the heavy mood of the song itself. This is followed by "Broken Down Shell," which has some beautiful strumming, mildly reminiscent of The Front Bottoms' opening to "Twin Size Mattress."   

"I'll Be Anything" has some of the best lyrics to offer from this album (though it's never an easy choice), and they emerge as a perfect sort of interruption, rattling and jarring all at once:
Boy you have to understand
You're not the only one
Who's feeling anxious about the bullshit that's attached to growing up
All those things you learned along the way
Nothing compared to the things that stayed in your heart
Since the day you were born
Tell the man not to worry
It doesn't matter when you die
It'll always be the longest that you've ever been alive
For that you should be grateful, yeah for that you should be scared
And for that, you should find at least one excuse to fight your fears
Because if not, you've already died
– "I'll Be Anything," flatsound
"I am different, I am free, I am what you need," is the evocative reverb of "I'm so Concerned About the Ending That I Don't Even Know the Plot," which limits itself to Welling's wearied vocals and a guitar, stripped to the bare necessity of creating and communicating.
"Under the Bridge" is a soft ballad that has its own heaviness and carries a feeling of tiredness and regret. It is perhaps the ending contrast of soft strumming and the edge of harsher vocals that lends to the affective nature of the track. Particularly painful is the lyric: "Did you die when you were seventeen?" "I'll Get Over This" is jumbled and consists of sounds emerging, the quiet guitar strum, Welling's humming and a buzzing noise that is climbing somewhere. There is "definite" meaning here, just layers and layers of recording and instrument, noise and humming that sits rather well together, that makes for an unusual break in tracks.
"Irreparable Pieces" is lesser panic, more calm as if the day is closing in on itself. "I haven't left the house in ages, I'm so scared that I'm dying, I pray to God I'm not ready" is fraught with intensity, but of a quieter, fading kind. The leveled timbre of his voice smoothes itself over the guitar, as the electronic instrumentation kicks in, lighter chords digging deep as layer upon layer unwinds in lazy, sleepy seconds. "The Spongecake Has Gone Stale" is a brief interlude of recordings that brought Explosions in the Sky and "Quiet" by This Will Destroy You to mind. Boasting stilted sounds, eerie even, the guitar, that is a constant and a pitched symphony that imitates the violin—the track is lingering,  faintly emotive, fading into the distance of the next track.
"Crowded Parks" is memorable, both because of it's simple instrumentation and it's brilliant lyricism: Welling and an echo draw us in with "go away, I'll go, go away,"a hypnotic chant-like entry into the song. Working on unbearably nostalgic lyrics like, "do you miss your mother's face?" and "stay strong, I too have felt betrayed," "Crowded Parks" feels a little bit like a friend reaching out to touch your arm, offering you their shoulder, pulling you back into a hug. The lyric "Go away, I'll go go away" is not a threat, just a fact, a simplicity. Distinctly bittersweet, the track has a very strange rhythm to it that one could nod along with, even sing along to. The refrain of "I'll go, go away" is almost as hard to forget as is the most striking lyric of the track "I still hear your voice in crowded parks," from where both the hopelessness and the song-title seems to come.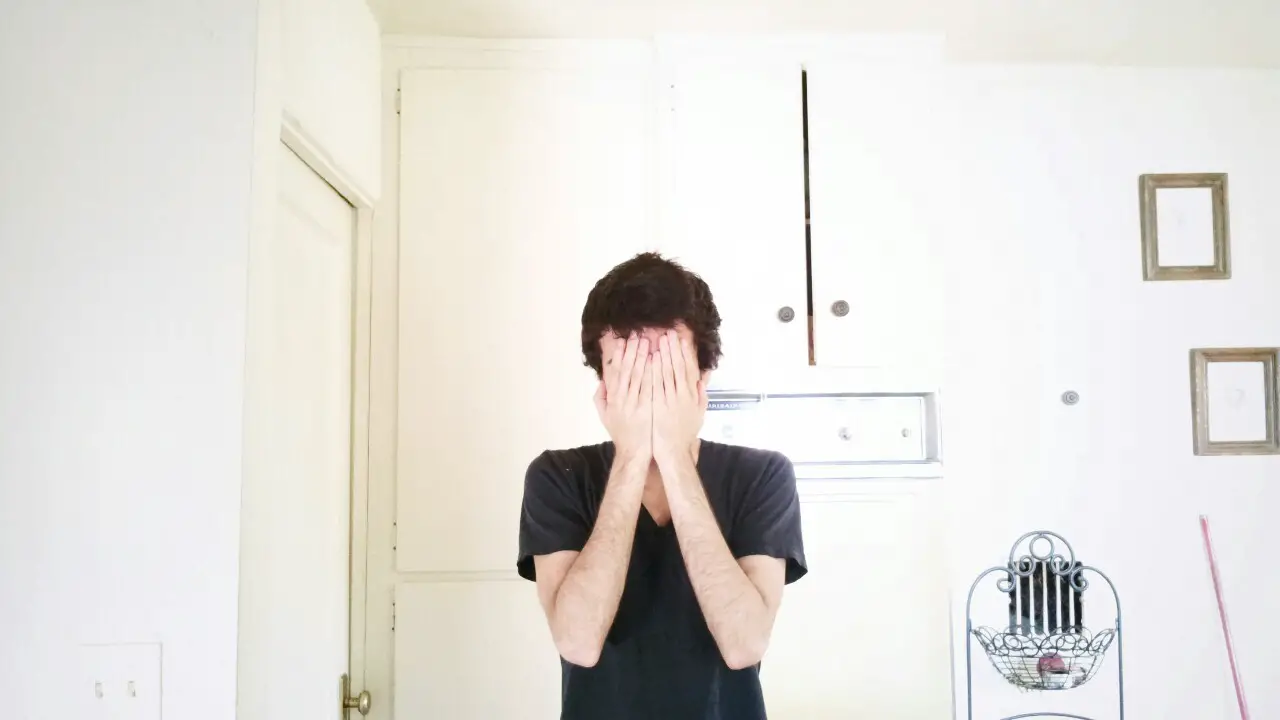 While "Nothing Is Alright" starts off like most flatsound tracks, it is certainly not what you'd expect and the ending is why: the song transforms into a carnival-esque, cymbal-crashing celebration of "nothing is alright", bringing to mind Florence Welch, not because of the music per se, but the feeling—of some sort of strange, sad and potent celebration.
Stuttering chords and a far more certain guitar introduces "The Art of Not Thinking About It," its fragility captured beautifully in the refrain that is repeated throughout—"I'm not alone, I'm not alone"—that is both testament and prayer, that is both reassurance and fear. The violin-accordion recording in the background, like a wave coming back to the shore, bolsters the guitar ballad and lends to it's complex and layered emotionality. Welling also leaves us jittery with the line, "I'll be fine as long as nothing stops this heart from loving."
Listen: "The Art of Not Thinking About It" – flatsound
"Morning Sun" opens on "You said life is beautiful, beautiful if you come outside, I promise you you'll be fine," and cushions us, the lullaby-like chords and tone of voice melding into a warm embrace almost. Relying once more on just his voice and his guitar, Welling offers us the occasional electronic disturbance but retains the delicacy of the track. "Morning sun, morning sun, shine your light on those you love," is the mellowed anthem of hope and it feels as if one is turning back into one's bed to the arms of some lulling sleep, having just felt the faintest warmth of the sun.
You said life is beautiful, beautiful,
If you come outside,
I promise you you'll be fine,
"Be Yourself "is a powerful and extremely clear spoken-word piece, a kind of instruction, Welling's monologue that incorporates clever wordplay with the word "self". It is both care and caution, and has more understanding in it than one would realize at first. "Self-inflicted pain is self-defense" is a dense, painfully striking statement Welling makes but still, he allows for comfort, for hope when he says, "When you've hit rock bottom, every movement is a self-improvement."  It is almost as if a face appears in the window at which we've been staring and reminds us that even in the most glaring isolation, we aren't really alone. It offers us a hand, a hope.
"Happy Birthday" is bruising. It carries a heavy, almost physical force. It builds steadily, as if finding its own way of saying what it wants to say. It's the chorus that bears the brunt of the weight, that is laden with so many different instruments—the heady synths, the flute-like melody, the twanging guitar, the thudding beat; each evoking—drawing out a different kind of feeling. There is a bitter sense of loss, of some nagging emptiness that cannot be dismissed or ignored here. With each lyrical repetition, the instruments propel the track forward and it burgeons, nearing some kind of breaking point before vanishing into uncertain static, debilitating to the very end, leaving us thoroughly disoriented. The desire to listen to it again, if only to try and grasp its meaning, its most essential sound, immediately returns within seconds.
Listen: "Happy Birthday" – flatsound
"The Day I Took What Was Yours" has a very obvious electronic sound, not something you'd expect on a flatsound album. With its marching beat and its heaving instrumentation that resembles some kind of metallic sigh, it is hard not to draw parallels with tracks like "The Mighty Rio Grande" by This Will Destroy You, and it is hard not to notice the burning similarity to the experimental post-rock sound. Startlingly different from flatsound's usual makes, "The Day I Took What Was Yours" brings the forty-song collection to a defiant, expelling finish that seems to be a living, breathing sort of ending. Welling's decision to close the album with this track makes one curious, though not bewildered because there is a sense of completion to this, a finality even. It feels like a closing.
— — — —
What does Welling's artistry achieve, then, when he invites us in? Is it his popularisation of the poetic form that sets him apart from other young twenty-somethings making music today? Is it because he has no specific formula, that he relies heavily and takes from all his voice recordings, sound recordings that can be as diverse as morning birdsongs to friends laughing? Is it because he opens his door for all of us and helps us initiate a conversation about things as stigmatised and difficult to talk about as mental health? Or is it because Welling's bedroom, his music, his art becomes a space that we can occupy and be present in, knowing that we are really, truly accepted—whether we're okay or not, whether we're happy or not, whether we know or don't know? What does Welling do for us when he pens those lyrics or decides the chords? What does he do for us when he hits record and laughter comes spilling or static breaks through? Sure, we're getting to know him, but we're also getting to know ourselves. It is in his process of growth, of change that we are growing and changing too. It is his music, his writing that allows us to experience both of these lives at the same time, his and our own, inextricably combined and complicated, across countries and states, time zones and whatnot. When we listen to flatsound, we don't just live Welling's human condition, but our own too.
Welling, it seems, brings us all together.
By writing and singing about his own experience of mental health issues, of various insecurities and failings, of the struggle to carry on, of the loss and the love, Mitch Welling emerges as an all-too-familiar, all-too-human figure of important creative self-expression and control, something vastly pertinent in our age of digitized self-fashioning that, more often than not, aggravates our doubts and fears. Welling reminds us that it's okay to not to be okay, that healing in any shape or form is not instantaneous but a process of hard work, that some days are going to be worse than others but that we will have each other, even in suffering, that the morning sun will come for us, no matter what we're going through or how bad it gets for us and we will find our way back to ourselves again, together.
Not all tracks have been reviewed in detail, it should be noted, but then, Welling has invited us all into his room. So really, it's time for you to step in.
— — — —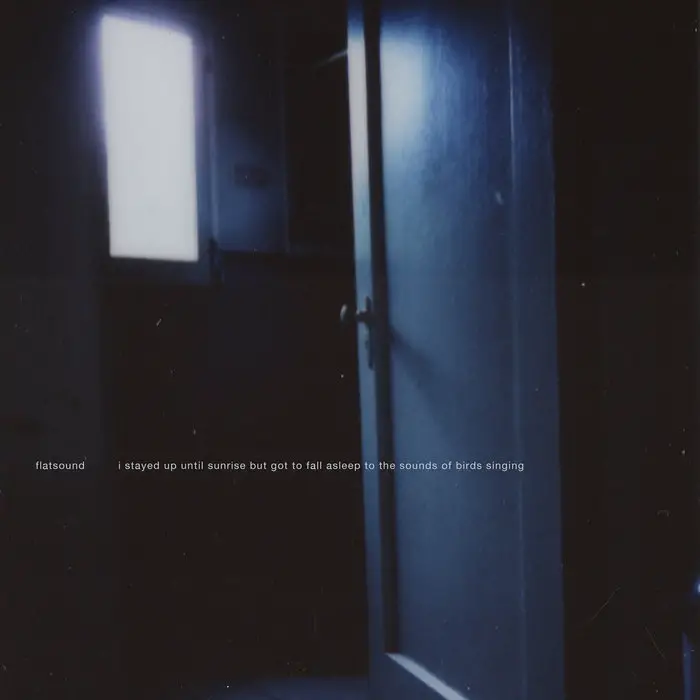 Cover: flatsound © 2015
:: I Stayed up Until Sunrise but Got to Fall Asleep to the Sounds of Birds Singing – flatsound ::