The 2010s are coming to a close, and with them ends an exciting era of musical innovation and societal transformation. The past ten years have seen the breakdown of genre, increased accessibility for content creators, and new modes of access for music consumers. Downloads bowed to streams in the West, and artists like Justin Bieber, Drake, and Taylor Swift rose to international superstardom – but this is just the tip of the iceberg of a busy, busy age; it seemed like the more connected we were, the more disconnected we felt. Music was a means of transcending distraction and hardship; a vessel of understanding that lent us stability for moments of stress and doubt.
How better to capture a decade in music than in the words of those who lived it and breathed it? Atwood Magazine is proud to present Our Favorite Albums of the Decade, in no particular order (you can jump directly to an artist by clicking their name above, and return to the top of the page by clicking any album art below). For ten weeks, our writers will be breaking down the music of the 2010s year by year. These are the records that shaped the people we are today: The music that carried us through pivotal milestones, the songs that together form the soundtracks to our lives. We have grown and changed, matured and evolved, but in this time of reflection, we can still feel the sense of wonder we felt as listeners pressing "play" for the very first time.
This week we celebrate 2016 in all its enchanting glory: From Beyoncé's game-changing Lemonade and The 1975's monolithic sophomore album, to Chance the Rapper's unifying Coloring Book and Bon Iver's mystifying 22, A Million, albums by Ariana Grande, Glass Animals, Tove Lo, Andy Shauf, and more.
Mitch Mosk, Editor-in-Chief
— —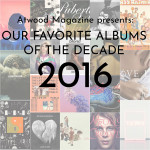 Our Favorite Albums of 2016
If you're a frequent Atwood reader, you'll know I'm a sucker for all things Tove Lo – so it comes as no surprise that she's ranking as one of my favourite albums of 2016. I fell for her in Queen of the Clouds, where she introduced her expert way of telling stories in albums via thematic divisions, a delicious lack of filter when it came to lyrics, and just excellent pop music to back it all up.
On Lady Wood, Lo, more confident and well-renowned after her hits "Habits" and "Talking Body", really allowed herself to lean into her artistic vision and different modes of storytelling. For the first time, she made two short films to accompany the album's release – Fire Fade and Fairy Dust, named after the two halves of the album – and basked in the glory of the darker, more dance-inspired pop that was only hinted at on Clouds. It's an album that travels from drug-fueled parties to the intimacies of her mind, and turns maybe the ugliest, most feral sides of the human experience into something to be celebrated.
She also coined the phrase Lady Wood, a female equivalent to the man's boner, making her the ultimate cool girl. – Nicole Almeida, Philadelphia
---
No one could have anticipated the breadth and depth of Glass Animals' How to Be a Human Being, but its colorful, engaging (and catchy) array of sounds and thoughtful portrayal of humanity (and technology) made it one of the best albums of the year.
"If you listen to an album from start to finish, then it should be much more powerful than just any of the songs on their own," Glass Animals frontman Dave Bayley told me in our interview two weeks before the English group's sophomore record was released. This holds especially true for Glass Animals' own music: How to Be a Human Being is an impressive work of art that combines unique sonic tapestries with diverse storytelling, complex characterization, and clever songwriting. The genre-defying "indie"/"electronic" band employ everything from heavy tribal drums to psychedelic textures and even video game sounds in what one might describe as a carefully-constructed series of human vignettes: Each song is a different story about a different character, a concept that came out of the band's heavy touring and "meeting hundreds of people daily."
What's most fascinating about How to Be a Human Being is its exploration of humanity. Our feature on Glass Animals dubbed their record "The Musician's Guide to Human Beings" because of the band's impressive ability to create these ten multi-dimensional personas, and then go on to share their stories in such a way as to evoke strong feelings and connections in the listener. "Life Itself" opens the record with a first-person narration of quasi-destitution; I say quasi, because the narrator seems content in this life, exhibiting few (if any) regrets. Album closer "Agnes" brought me to tears more than once in its poignant plea to a drug-addicted friend; Glass Animals were not previously known for their lyrics, but Dave Bayley approached How to Be a Human Being completely the opposite from how he approached the band's sonically-focused debut Zaba, this time crafting vocal lines, vocal melodies and lyrics first and then pushing the sounds around it. As a result, Glass Animals' sophomore effort is both lyrically and musically rich, allowing for listeners to connect to the music and the band on multiple levels.
How to Be a Human Being goes well beyond the boundaries of a music album. Glass Animals' inspired redefinition of music consumption in the 21st century finds the band giving each character from each track their own website (at the time of this writing, three out of ten websites are available). The band went so far as to give the lazy day, couch potato song "Season 2 Episode 3" its own video game. Music has for too long been a one-dimensional experience; Glass Animals, like other pioneers in their field, were experimenting with ways of breaking the mold, to interact with fans on new levels that go well beyond a Spotify stream or iTunes download.
However we chose to consume this album, the songs ultimately spoke for themselves. Through the incredible storytelling in "Life Itself" and "Youth," the punchy musicality of "Season 2 Episode 3" and "Pork Soda," or the pained heartache of "Agnes," How to Be a Human Being won both our hearts and our minds. It remains a mastercraft of musical creativity and human emotion, a meaningful record for all who venture into Glass Animals' world. – Mitch Mosk, New York
---
The first time I heard "The Magician," I knew the album attached to it would be nothing short of extravagant. I wasn't wrong. The Party is an album nonpareil—its method of storytelling unique and unchallenged. The wallflower approach, jumping from perspective to perspective, party goer to party goer as pieces of the night begin to be set in place, crafting a whole image of "abnormal characters, life-changing confessions, and doleful realizations." It's an album that, even after a few years past its release, I knew I had to write on. Andy Shauf did it once again with this album, each subsequent track just as gorgeous as the last, if not more so, and further unveiling the secrets of the evening.
"The Magician" is a mind-boggling experience in the sense that I never knew I could fall so madly in love with a song. "Early to the Party" is accompanied by a gorgeous string arraignment that elevates the track to new heights, its beauty on full display. Further in the album, confessional tracks like "To You" start off seemingly sweet—a melodic ballad of a burning secret that must be shared. This secret is of a love building, but Vae Victis, the feeling is not shared. Embarrassment, shame, regret—all rear their ugly heads while beautiful melodies surround this weary soul. But to close out the night, Shauf employs "Martha Sways" to lull listeners back down from a night of debauchery and salacious moments. The spotlight now rests on two lone dancers, and the lyricism Shauf placed on this track is outstanding. The purity behind this track is blissful, and a perfect close to an imperfect night. The Party is an album I'll cherish for life and an album I fall back in love with each new listen.- Adrian Vargas, Seattle
---
Few artists have the sort of raw sensibility that Mitski does. While she certainly polished off a number of the rougher corners of her music with 2018's Be The Cowboy, Puberty 2 is a testament to what a good artist she is. It's accessible in the way that a Lorde record is, but it has some of the grit of the basement shows that Mitski cut her teeth doing. A song like "Your Best American Girl" encapsulates that in the best way, both beautiful and chaotic. It's a transitionary track that stands above so much of the rest of her work. It's the glue that holds a song like "Happy" and "My Body's Made of Crushed Little Stars."
While Puberty 2 implies a massive life change, and it's really a sort of defacto album for anyone that's ever felt like the world just didn't really fit right around them. Hearing Mitski scream a line like "I should tell them I'm not afraid to die" is a true 2016 energy. In a year where the worst came out of America and so many people in it, hearing Mitski scream affirmations like "Crushed Little Stars" were validations of rage, gently tempered with tender tracks like "Thursday Girl" or "Happy." – Jimmy Crowley, New York
---
Many could writeoff Matty Healy's antics, if not the 1975's entire marketing playbook (re-erase social media accounts→rebrand in the dark→announce next project in cryptics), as foppish, new-millennium Britrock pretentiousness and then roll their eyes at the naked truth: Damn, The 1975 are good.
The second record's release cycle notwithstanding, this is a bid for artistic credibility while maintaining the forward momentum of candied music, but where The 1975 was synthesized as a slightly overlong indie rock record with smatterings of funk and electro, I like it when you sleep, for you are so beautiful yet so unaware of it is a hodgpodge mixture of new wave, synth rock, shoegaze, ambient and alternative R&B impulses constituting a 73 minutes and 55 seconds runtime equal in its titular and genre-curious ridiculousness (and this is the last time the writer will indulge its ridiculous title). There is no stone unturned by Matt Healy, Adam Hann, Ross MacDonald or George Daniel, who committed most of 2015 to record their hydralisk sophomore effort and, ostensibly, decided to keep everything in it.
The record is long, and the session is arduous, listening with the wrong type of over-ear headphones might even cause the ears to cramp and cry out for release, but listening well is a rewarding experience, a tragicomedy in three acts of pop(ular music) with a coda of singer-songwriter postscripts citing sex, drugs and Greek philosophy to the lay young adult listener, simultaneously stimulating their libido and their intellect. It is concerning to the writer that he can both mock Oasis and admire The 1975, when they represent the same thing: the gateway drug to alternative, if not independent, rock. The arena's impression of the music that underground, hole-in-the-wall indie venues must play and accrue so much grassroots support from. This is no knock, The 1975 have good taste—as did The Smashing Pumpkins, as did The Police—equally knowledgeable of The Cocteau Twins, Peter Gabriel, Blue Nile and Modern English, among others, and they communicate it to their audience, whomsoever that might be, the writer included. – Ben Niesen, Pacific Northwest
---
Perhaps the year's briskest, most enjoyable 40-minute session of pop music came in the form of Ariana Grande's third release, Dangerous Woman. Lead single and title track had exemplified what a powerful vocalist Ariana remained six years after her Nickelodeon-aided rise to prominence. That impression was further emphasized throughout the record, as Grande struck such astonishing chords on highlight tracks such as "Greedy," "Into You" and "Be Alright." Moreover, Dangerous Woman demonstrated what an effortless collaborator its author could be: "Side By Side" remains the fiercest and finest of her many great duets with Nicki Minaj, while Lil Wayne helped make a dark and sexy delight out of "Let Me Love You."
Dangerous Woman has since been overshadowed by its even better follow-up, Sweetener, and the violence that occurred on the Dangerous Woman Tour in Manchester, England. But upon returning to the album itself, there are plenty of rewards to be discovered and enjoyed throughout. Ariana Grande was demonstrating her consistency not just as a reliable hit-maker, but a full-fledged album-crafter who could maintain our attention and enthusiasm throughout a full LP time and time again. – Josh Weiner, Washington, DC
Lemonade changed the game. The is zero debate in that. Not only musically, with the choices Beyoncé made stretching her abilities to the furthest corners she could with everything from pop to country to rock to what made her, hip-hop. Somehow, even with almost every big genre of music in there, Lemonade, is one of the most unique, cohesively sound albums that has ever been made.
Private in her life, she bared all with this album and film. She did what only artists are brave enough and capable enough to do, she made herself completely vulnerable in order to speak her truth, and hopefully help a few along the way. From poetry weaving in and out of the songs to five-minute acceptance ballad "All Night." We say this a lot, but it holds far more truth with Lemonade than most others; this is an album that needs to be listened to from start to finish. It is a story. It is heartbreak, betrayal and eventually forgiveness. It is a completely honest diary from one of the most revered people on this planet. But that's not why it's my pick for 2016. The music alone. These songs – the care and craft that was put into them is so evident. It is perfect. I would be hard-pressed to find a better album than, Lemonade, this decade. – Kelly McCafferty, New Orleans 
---
Yeah, Acid Rap was fun, but it's here, on his first masterpiece, that Chance the Rapper evolves — from buzzy SoundCloud rapper to pop visionary. Release alongside juggernauts like Drake's Views and Ariana Grande's Dangerous Woman, it's still somehow Coloring Book that feels like the greatest monument of that cultural moment — a harbinger of the streaming age and a blip of glistening optimism before the world collectively lost its mind. And the more we roll into that steaming cesspool of a future, the more it glows in retrospect. Kanye mar have billed that winter's Life of Pablo as "Gospel with a whole lot of cursing" but it's Chance that perfects the "God dream," picking up where his "Ultralight Beam" verse leaves off and breaking into a sprint.
It's kind of baffling just how much of this mixtape's hour runtime is both snapping tweetable ("I don't make songs for free, I make 'em for freedom" or "Jesus' black life ain't matter/I know, I talk to his daddy") and baked with soul-swelling hope. From the show stopping opening number "All We Got" (a sonic thank you from Ye himself elevated by the heavenly hymns of the Chicago Children's Choir) it's a rollicking Sunday service, a celebration as preaching of hope as it is critical of it.
It's the joyous radio bops that everyone remembers — the bounding high of "No Problem" and the race floor fodder of "All Night" — but it's in the quieter moments that the genius of Chance's poetry shines through. "Blessings and its reprise evoke church sanctuary community and collective vulnerability, while "Same Drugs" reflect on loss and coming of age through a wistful Peter Pan allegory.
Wide-eyed kids being kids
Why did you stop?
What did you do to your hair?
Where did you go to end up right back here?
When did you start to forget how to fly?
Unlike the Wendy his Peter forlornly calls to though, the vivacity of Coloring Book suggests Chance will never forget how to fly. A Grammy for Best Rap Album (the first ever for an album without a physical release), sold out arenas, and devoted philanthropy for his hometown of Chicago cement him as one of the defining voices of modern hip-hop — one as inspiring as his magnum opus.
In a time of family separation and impassible political polarization, Coloring Book feels more prescient than ever. It offers a vision of America where joy isn't as hard to come by as it seems. Social action may seem the biggest and most obvious way of engaging with the injustices we experience, but through the sublime simplicity of tracks like "Finish Line" and "Smoke Break" (featuring self-care advocation from an uncharacteristically zen Future), Chance reveals smaller ways we can let the light in. Paste Magazine's Ellen Johnson said it best: "Whenever I listen to Coloring Book, I feel more hopeful about America's future, and just in general." Us too. – Anthony Kozlowski, Los Angeles
---
The summer of 2016 was the summer I fell in love, with Michael Kiwanuka. Upon the release of his second studio album, Love & Hate, indie stations were broadcasting the album's eponymous 5th track with just the right amounts of frequency and scarcity to make it exciting to catch an earful. With strong yet sensitive lyrics like :
She won't take me somewhere I'm not supposed to be
You can't steal the things that god has given me
No more pain and no more shame and misery
You can't take me down
You can't break me down
It's not surprising that "Love & Hate" was chosen as the opening song to HBO's series "Big Little Lies." To be true, I didn't happen upon Mr. Kiwanuka on my own. I had help.
It was just before the sun's first light when my phone meeped, alerting me to a message from one of my favorite tune peddlers. I opened one eye (I was sleeping) and saw a link followed by a text that read, "I listened to this with your ears and they loved it." Now, if this song had come from anyone else, I would have waited and listened with my morning coffee. However, this peddler always had something exciting up his sleeve. Still dreaming, I reached under my pillow, grabbed my ear buds and pressed play. Cue swooning.
I remember delighting at the sun's choreography as it began to rise alongside the album's opening.  A piece called "Cold Little Heart" ushered in by a fluttering string swell, punctuated by a choir of sighs, let me know, my treasured tune peddler was right, my ears loved Love & Hate immediately.
I spent the rest of the day up to my ear-balls in Michael Kiwanuka's creations, munching through his discography like it was a bag of potato chips. I delighted to find that Mr. Kiwanuka's 2012 debut album, Home Again, was just as yummy, and a slightly different flavor to boot. See, Love & Hate sounds exactly like it's cover art explains.  Its black and blue synesthetics displaying a petrified heart, dripping stalactic tears, represent the album's strongly melancholic and soul filled vibe. Home Again, shows a side of Mr. Kiwanuka that is heavier on the folk/blues tilt and filled with warm and creaky acoustic instruments. Love & Hate on the other hand takes listeners by the ears and woos us into a life and love  evaluating state.
After releasing his third and most recent album, KIWANUKA, produced by Danger Mouse and Inflo, (who also produced Love & Hate), with its groove riding and jazzy soul filled vibe, we get to listen to yet another side of Mr. Kiwanuka's heart. With lyrics like,
All I know is
My oh my, this kind of love
It's taken me from my enemies
Don't let the pressure get to me
My oh my, it's bad enough
Could you stay with me?
Don't let me go
Sadness and fury is all I know
It's clear that while Mr. Kiwanuka has the ability to alter his sound, his heart is set still on the same mission: to find, understand and express the pulls and pushes of the empathic heart. If you like good music, you'll love everything Michael Kiwanuka has to offer. Period. – Ilana Kalish, New York 
---
It truly feels like opening someone else's diary when you start listening to Tom Odell's second studio album, called Wrong Crowd. The album soaks you into another world – a world full of deep emotions, guided through by Odell's angelic voice, pouring out his heart. The lyrics talk about the beauty of our daily lives, issues and magic that everyone has expected: From hanging around people that do not suit you in "wrong crowd," Odell sings on top of his lungs: "I can't help it, I don't know how, seems like I've always been hanging with the wrong crowd," to being deeply in love with someone in "somehow".
The emotions that appear on the record are the ones that we are all familiar with love, heartbreak, jealousy, loss or being uncomfortable or comfortable, we have all experienced it with our fragile hearts. It is no secret that listening to his songs feels like an exclusive insight in a private diary, full of exceptional and deep written lyrics. He communicates strong feelings the way they truly feel: heavy, sometimes even heart-breaking.
Love, the base of everything can fulfill our souls with magic like the song "somehow" says:
I don't speak the language that you speak
There're some words I know I'll never reach
But when I see you smiling back at me
Somehow, somehow
I know exactly what you mean
Somehow, somehow
I know exactly what you mean, oh
Odell writes about the magic of love exactly how it feels: you don't need to speak, you just need to feel. That's all that matters.
Even though love can be the dreamiest feeling on the planet, it also has the power to destroy us, especially when it is unrequited love in the song "Magnetised". Unrequited love feels like you still gravitate to that other person like a magnet, even though that other person gravitates away from you:
Cause it's not right, I'm magnetised
To somebody that don't feel it
Love paralyzed, she's never gonna need me
But sure as the world keeps the moon in the sky
She'll keep me hanging on
She keeps me hanging on
It is a beautiful anthem about how broken your heart be from something that never happened, the desire to run away from it all to the pure anger at the feelings and situation:
North to south, white to black
When you love someone
that don't love you back
Tom Odell manages to combine sounds and beautiful lyricism in order to communicate our deepest feelings, desires and dreams in his album. Odell, the piano man with a love for suits is a true storyteller. Whatever the song, he keeps telling the stories of our hearts. – Nina Schaarschmidt, London
---
How do we even begin to discuss Bon Iver's experimentally-glorious, technologically challenging and overall fascinating album 22, A Million? The third full-length release from the Wisconsin-based "indie folk" band is awash in symbolism, numerology, and metaphysical questioning – and that's just the album cover. Deeply personal thoughts and feelings are shrouded in cryptic lyrics and chaotic music, but that doesn't stop 22, A Million from being a profound, oddly accessible work of art.
22, A Million is truly far more than the sum of its parts, best listened to in its entirety rather than through individual singles. As emotionally complex as it is sonically creative, the album feels quite like the right thing at the right time, a convoluted and often confusing mesh that mixes Bon Iver's traditional soft and acoustic sound with often harsh, sonically scattered electronics. Sometimes the old sound gets lost in the new one; warm pianos and guitars fade while cold, frightfully indecipherable sounds take over, as on the otherwise lovely "21 M♢♢N WATER." But elsewhere on the album, be it the digital voice-fueled "715 – CR∑∑KS" or the captivating ballad "29 #Strafford APTS," Bon Iver seem to strike a satisfied balance between acoustic and electronic instrumentation. Nevertheless, a battle brews throughout 22, A Million between the two distinct, often categorically and culturally separate "types" of music, and Bon Iver portray that well.
In hindsight, 22, A Million was a signal of times a'changing: The breaking of a mold whose passage was long overdue. There is beauty in chaos, and there is beauty in beauty; Bon Iver found a way to blend those worlds, taking back their identity and proving (yet again) to all who cared that art defies household labels. Most of all, this album reminds us that art is not a puzzle for us to solve; it is an experience for us to receive. Everyone may take something different out of 22, A Million, and that might be one of Bon Iver's greatest achievements. – Mitch Mosk
---
Under all the lights and all the smoke in a 2004-era Las Vegas, Nevada, were Brendon Urie and his childhood friends creating music for their new band, Panic! At The Disco. With over-the-top instrumentation, a flamboyant yet powerful voice, and the undeniable talent for turning lyrics into full-on narratives, Urie brought his unique way of storytelling through song to the forefront of the pop-rock music scene. In 2016, the band's fifth album, Death of a Bachelor debuted at Number 1 on the US Billboard 200 – the band's best sales week and their first Number 1 album in history.
With the entirety of the record written by Urie in his own home, he reveals that most of the album's sound was inspired by his musical hero Frank Sinatra. Urie says, "I attach his music to so many memories: Opening presents on Christmas day, my grandparents teaching the rest of the family to swing dance." The record is unparalleled when it comes to detailing and painting pictures of the most pleasant moments in life through songs like "Golden Days" or "Victorious" to some of life's most excruciating moments as revealed in songs like the heartbreaking, "Impossible Year." The album's title track, however, is the one where Urie's tribute to Sinatra is most prominent. The song took over mainstream radio and its popularity led to a Grammy Nomination for Best Rock Album at the 59th Annual Grammy Awards.
Looking back on it now, Death of a Bachelor is a stamp in time, not only for the band and their sound but also for their fans, as the jump from this record to Panic! At The Disco's current chart-topper, "High Hopes," feels like an extravagant one. Death of a Bachelor proved Urie's vocal range is unmatched, his songwriting consistently clever and astonishing, and his shamefulness for his art portrayed as something you can't imagine ever dying. – Erica Garcia, Los Angeles
---
As quickly as they came to us – they vanished. MOTHXR, a Brooklyn-based four-piece formed in 2014 and comprised of Penn Badgley, Simon Oscroft, Darren Will, and Jimmy Giannopoulous, had an ostensibly fleeting existence, but one that nonetheless made an impact. Their debut and only record, Centerfold, was released in the beginning of 2016, and proved MOTHXR to be a tour-de-force of indie greatness.
Initially rated on Atwood Magazine in March of 2016 as a 9.1/10, Centerfold is astutely erudite, effervescent, and enigmatic. The album seamlessly marries together beguiling instrumentation with haunting vocal tones that vary from high to low, showcasing Penn Badgley's impressive range while simultaneously shining light on the band's knack for music-making. Centerfold captures the magnetism of desire and companionship with ease, with such variant songs like the uptempo "Stranger" or "Touch," or the slower, deeper "Victim," and "Wild Ride" aiding in creating an intoxicating record that captivates from start to finish.
Though MOTHXR's existence was short and their overall releases were minimal, they nonetheless made magic with what they were able to put out into the world. Centerfold brilliantly brings together a mesh of genres, transcending them altogether, and creates an enchanting album that helped cement MOTHXR's place in music. As acknowledged back in 2016, Centerfold is an addictingly melancholic dream, a glimmering indie gem that should not be ignored. – Maggie McHale, Philadelphia
---
Before Kanye West sacrificed his life to God and made a full-on gospel album, there was 2016's The Life of Pablo. At the time of its release, West referred to the project as a "Gospel album with a whole lot of cursing," and a "living, breathing, creative expression." Atwood Magazine's editor-in-chief Mitch Mosk may have had the best description though; "a masterclass of musical turbulence." Whichever way you look at it, The Life of Pablo will live on as an intriguing entity filled with constant edits, needless controversy, and surprisingly great music. Like any other recent West album, the events surrounding the record's formation were just as captivating as the content itself. Even with the Taylor Swift feud, "Famous" is still a phenomenal hype track courtesy of Swizz Beats' yelps and Rhianna's poignant chorus. "Real Friends" simultaneously acts as an anthem for fake friends and an enthralling story about the time West's cousin stole his laptop to sabotage his legacy. Real rich-people problems.
The Life of Pablo's greatest strengths lie in Ye's booming drum programming, distorted percussion ("Highlights" and "Feedback), and phenomenal guest list. Chance the Rapper stakes his claim as Chicago's heir to the throne with a two-minute hymn about fame and fortune through spiritual guidance. Sia adds much-needed melody to "Wolves," a track that features some more rich people problems. (You tried to play nice, everybody just took advantage / You left your fridge open, somebody just took a sandwich). One of the best intros of the decade comes from Metro Boomin's infamous tagline on "Father Stretch My Hands Pt.1;" despite some of West's cringiest bars to date. Then, there's Kendrick Lamar being Kendrick Lamar on "No More Parties in L.A." The bar-for-bar energy both titans bring is something of legend, and probably will never happen again. What will happen again is another "living, breathing, creative expression" from Ye. No one can tell him what to do anymore. The Life of Pablo embodies that evolution. – Ryan Feyre, Salem, MA
---
There seems to be an undercurrent of apprehension whenever someone describes an album as a "masterpiece." Visual mediums like film and visual art can coin the title easily but music, can only be heard and therefore requires more convincing. Let's subvert this notion and say that Frank Ocean's 2016 album Blonde is a fucking masterpiece. channel orange, Ocean's debut album, was one filled with character and integrity through honesty talking about smoking crack, the futility and hypocrisy of "party culture" and scratching the surface of Ocean's bisexuality. Although, while all of those tenants create beautiful art, they still feel stilted, as if Ocean could never say exactly what he wanted to say.
Blonde was the solution. An album oozing vulnerability and emotional cognition, every track giving generous insight into Ocean's trauma, self-induced or not. By the end, you feel like you've danced in Ocean's personal Versailles with beautiful similes, color symbolism, and vitality for life. "Some tattooed eyelids on a facelift (thought you might want to know now). Mind over matter is magic. I do magic If you think about it, it'll be over in no time, And that's life"and "I came to visit, 'cause you see me like a UFO". Specifically "Good Guy" comes to mind  as a track that is a true testament to Blonde's power. It's an anthology, talking about the heartache that comes with instant attraction, that manages to encapsulate the entirety of modern dating all in one second. Not to mention "Good Guy"  ends with a recording of two men breaking convention and talking about how they feel about romantic intimacy.  Blonde is an album that will stand the test of time as its nuanced complexity always finds a way to make you feel seen, but mostly heard. – Jesse Herb, Los Angeles
---
Flume followed up his hypnotizing 2012 debut with the multi faceted and surprising Skin in 2016. The album utilizes much heavier industrial production, wider instrumental moments and plenty of contrasting elements throughout its 60 minutes. The warbling, avante garde audio ties into Flume's desire to make an album that "sounds like the universe is tearing apart."
With a varied and heavy hitting roster of features like Vince Staples, Tove Lo and Little Dragon, Skin keeps its listener intrigued and wondering what the next turn will bring. Experimental hip hop is prevalent on tracks like "Lose It" with Vic Mensa and "Numb & Getting Colder" with Kučka. But the album as a whole displays a grandiose but thoughtful and artistic approach to Flume's bass led, R&B focused and fully futuristic mindset we discovered on his self titled debut. And while Skin can feel scattered amongst star studded tracks and lofi instrumentals, there's plenty of beauty to be found. The best moments are a bit of both, particularly "Free," "Smoke and Retribution," which boasts a killer verse by Vince Staples, and closing track "Tiny Cities," which builds to a flourishing climax alongside Beck's vocals.
Skin is an auditory quest of Flume finding his place in an electronic universe that expected much from him after his first LP. He gets softer on cuts like "Take a Chance," led by Little Dragon's pleading vocals, weirder on bubbling and skittish "Pika," and recreates some of the best parts of his first album with "Never Be Like You" featuring Kia as well as the enigmatic "Wall Fuck". Personal revelation or not, Flume impressed and intrigues across his 16 tracks on Skin. He melded the gritty and industrial with the bright and luminous, and gave us innovative electronic music to both enjoy and ponder while he was at it. – Alex Killian, Northern California
---
In feer. – Baylee Less, Memphis
When Phife Dawg sadly passed away in March 2016, hopes for any further activity from A Tribe Called Quest at first seemed to have died with him. Eighteen years had passed since this group had last released a proper album, after all, and to suddenly record one without one of its key members would likely seem disingenuous at best. But then, a short eight months later, out came We Got It from Here… Thank You 4 Your Service, with Phife Dawg featured prominently throughout. It turns out that the beloved hip-hop act had been playing with the idea of recording new music together for some time before Phife's untimely demise. Painful though that event was, it provided the surviving members with the motivation to hammer the record into shape and make their final statement as a group a triumphant, not a tragic one.
"Comeback records" of this nature don't always work out, as music groups can often lose some of their chemistry and innovation after too many years apart. But in this case, it definitely turned out to be the right call. The new music shifted liberally between soothing and head-bobbing just as much as some of the group's earlier records, such as Midnight Marauders and The Low End Theory, had done. The Tribe serviced their longtime fans with their familiar style of nimble rhyme-trading backed by the occasional Busta Rhymes appearance, while also updating their output to fit in with the 21st century. This was achieved by speaking to topical themes of the current moment, as heard on "Dis Generation" and "We The People…." while also making room for contemporary guests such as two Californian heavyweights Anderson. Paak and Kendrick Lamar, both of whom made enormous contributions to "Movin Backwards" and "Conrad Tokyo," respectively. After appropriately giving Phife Dawg the final word on album closer "The Donald," it was clear that We Got It from Here… Thank You 4 Your Service had been as fitting of a swan song for A Tribe Called Quest as could have reasonably been anticipated. – Josh Weiner, Washington, DC
— — — —