In their sophomore album 'Flower of Devotion,' Dehd find themselves going through hell and laughing their way out. Atwood Magazine spoke with the band about being lighthearted in the face of despair, their unique camaraderie, and the process of refining their craft.
Stream: "Loner" – Dehd
---
Last year, Chicago trio Dehd found a gateway to heal from their individual griefs and through it found a way to be lighthearted in the face of despair. The result was their newest album Flower of Devotion, out now via Fire Talk, and little did they know its release would come during a time when the rest of the world would be mourning their own traditional lives.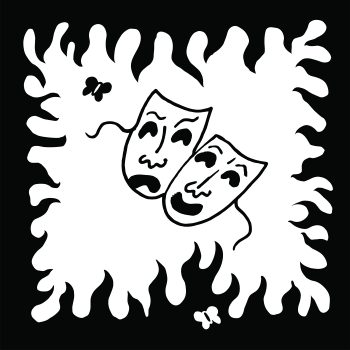 Prior to forming Dehd, members Jason Balla and Emily Kempf were weaving themselves within the Chicago's indie rock scene in different bands, Balla as the vocalist and guitarist for Ne-Hi and Kempf as the bassist in Lala Lala and soloist in Vail. The two formed Dehd out of the foundation of their romantic relationship and added drummer Eric McGrady to the group. Their eventual breakup as a couple would emerge as the theme for their 2019 album Water, featuring Balla's distinctive jangly, lo-fi guitar and vocals that duel and harmonize with Kempf's to create a sound echoing that of The Velvet Underground. On Flower of Devotion, the group sharpened these elements and launched themselves to a new level of polished and synth-forward tones.
An Atwood 2020 artist-to-watch, Dehd introduced this transformation with their first single, "Letter," a song beginning with one synth-driven note that's later carried by Kempf's vigorous, throaty vocals and spirited howls. The track is a bridge between albums as it's the rare song on Flower that broaches the subject of their previous relationship. In its video, Kempf gets actual tattoos along her body, a process that's intimate, painful, and a complete encapsulation of the song's emotions. This vulnerability runs through the veins of the album and it's unveiled by the tragedy and comedy theme that dawns their album cover. The third track off the album, "Haha," is the substance of laughing through tears:
How does one get here
When did we cross the line
When it comes to falling, yeah
I'm falling all the time
Don't want to talk about it
Oh yeah I'm doing fine
It's best to fight about it
Yeah boy I love to cry-ah-ah-ah-ah-ah-ah-ah
Balla and Kempf's cheeky banter flow out like a B-52s interplay over cosmic country guitar lines that twang; their countermelodies complimenting each other. Their second single, "Loner," is one that should be seriously considered for Song of the Summer for both its subject matter and danceability. Kempf croons, "I've had enough of each other. Want nothing more than to be a loner" as she struggles with her debilitating attachments to those around her. A year later, that sentiment would manifest into physical isolation for her and the rest of the world.
Given the current stay-at-home era, the conversation with Kempf and Balla was conducted over a Zoom call while both were at their home bases in Chicago where they've also been active in the Black Lives Matter movement, having volunteered their tour van to haul supplies for protestors. The chat didn't go without its lost connections and low batteries but even with the interruptions, their natural playfulness wasn't hard to get through.
— —
Stream: 'Flower of Devotion' – Dehd
A CONVERSATION WITH DEHD
ATWOOD MAGAZINE: YOUR NEW ALBUM FLOWER OF DEVOTION WAS WRITTEN LAST YEAR DURING A TIME WHEN THINGS FELT BLEAK FOR YOU BOTH. HOW DOES IT FEEL NOW THAT, DURING THE TIME IT'S RELEASED, IT'LL BE RELATABLE TO EVERYONE IN A COMPLETELY DIFFERENT WAY?
Jason: I guess it's kind of pretty convenient!
Emily: Yeah, I'm like, it's good!
Jason: We had the crystal ball.
Emily: Yeah we didn't mean to be on the nose but we were. Obviously it benefits us for our success but I like feeling helpful in any way so if art that I created with my friends is relatable then I've won. That's enough for me, truly. I like that part of it. If people listen to the album and they're like, 'this got me through today because today sucks because of the pandemic, and the uprising, etc.' it's like cool, if our band can help provide any comfort or feeling of joy then I think that's great.
Jason: I second that too, the whole point is creating something that people can connect to so the fact that people can do that is super rewarding that's kind of like the quote unquote why we're doing this. Aside from just doing something that brings joy to us, that's the other half.
YOUR SINGLE ''LONER'' WAS ESPECIALLY ON THE NOSE. YOU HAD BEEN TOURING PRETTY EXTENSIVELY AT THAT TIME SO WAS WRITING THAT IN RESPONSE TO FEELING BURNT OUT FROM TOURING?
EMILY: You know, yes but that's not what I was writing about! I'm going to add that to my definition. Yeah, I hate admitting that I was burnt out from touring. It's very difficult for me because I can say that I was burnt out from aspects of touring, but I love being on stage so the packaging around touring I dislike a little but being on stage is always just the best thing in the world. The song is more about not wanting to be obsessed with attachments to people whether it be romantic or any sort of attachment to other humans. Like meeting other people in this sort of way to survive. We do need a community and we need friends to talk to but I'm more referencing the unhealthy attachment to having my identity wrapped up with a partner or having my identity wrapped up with a best friend or having one person be a sole source of strength. The inability to be alone and be okay. The song was saying that I just want to be alone and be chill. I don't want to be obsessed with romance, I don't want to be obsessed with anyone, I just want to be my own best friend and be self sustaining but not like a hermit. Even though we have all become hermits to some extent. Definitely during this time the world has had to look at what being alone means and what it looks like and how to be alone with yourself and with others and we've all been forced into learning how to accept solitude, but loneliness and solitude are two different things.
I LOVE HOW WILD THE MUSIC VIDEO FOR IT IS. WHERE DID THE IDEA COME FROM?
Emily: Last year we were thinking of what our theme should be as a band for our record and we were toying with the idea of heaven and hell, angels and demons, and that sort of duality. But, because everything felt very apocalyptic, which has only increased, at the time we were on the verge of some sort of apocalypse vibes. It was noting that feeling like the world is on fire because of global warming, the President, and all this stuff going on and also being cheeky about it because, in the face of despair it's okay to be lighthearted which is definitely our vibe as a band but specifically this record is talking a lot about grief in different forms. There's also playfulness in different forms and it's all tied up in this one package so the video was me being direct in that there's an Angel and there's Satan whose like a stripper. It was an idea that came to me and I just was obsessed with the idea of having a choreographed dance in the desert, that didn't actually happen fully, but I wanted to go to the desert and I wanted to shoot Alex [Grelle] because I love him so I wanted to see him in this role. It just seemed like a fun video to make.
YOU GUYS INCORPORATED A SYNTHESIZER ON THIS RECORD WHICH YOU HADN'T USED PREVIOUSLY. WHAT MADE YOU WANT TO GO IN THAT DIRECTION?
Jason: I don't know exactly why but I bought this thing actually, holds up synthesizer, and that kind of opened the floodgates a bit. I think also listening to stuff like Broadcast and I was getting into the Cocteau Twins at that time too. There's just this sort of other magic to those instruments that when we started throwing them into the mix it seemed to find a home here in kind of a cool way. Since we are so simple, it was an interesting way to sort of be able to give us a little extra texture at times. Because, when we're playing, since it's the three of us each of our jobs are essential so if one of us stopped the song would just fall apart so this was like our extra bandmate. The synth and the drum machine are the fourth bandmate that can pick up the slack basically.
YOU'VE TALKED ABOUT HOW YOUR WRITING STYLE IS LIKE A STREAM OF CONSCIOUSNESS JAM SESSION THAT YOU DO TOGETHER. DID YOU GO INTO MAKING THIS NEW RECORD THE SAME WAY?
Jason: Yeah, definitely. Even with the drum machine it all felt really organic which is cool because even now that I'm home and starting to get back into writing music I feel like I'm getting locked into the drum machine and the rules that this machine is setting up. But, for us, we would just turn it on and turn it loud in the practice space and then ideas started happening and it all just kind of fell out over this little structure that we could kind of dance on top of.
WHEN YOU GUYS ARE SWITCHING VOCALS OR HARMONIZING WITH EACH OTHER, ARE YOU ALSO JUST RIFFING?
Emily: Definitely.
Jason: Yeah. In the writing process, that's a result of us literally having an idea at the same time and singing it and then we're like, that's cool! Then sometimes in the process of editing we're like, maybe we don't need to talk over each other for literally an entire song. But, we listen to each other and are aware of what everyone's doing in the room when that's happening. So, if Emily's saying something and I'm like, ooh that sounds way better than the thing that I'm doing, I'm going to step back and give it space to happen. I think vice versa too, everyone can kind of tell whose hot on the trail and then you let them lead the show a little bit until you get there.
Emily: Yeah, it's like informed riffing. We listen to each other, we've always been that way, we've always given each other space. All of us are constantly watching the billowing of the movement of the song and letting the song come through all of us. I like how Jason put it like, 'ooh hot on the trail,' and we kind of step back. If I'm really attached to my idea I'll shelve it for a different time. I don't think any of us need to be in a certain way. We're all fully engaged and supporting each other so it works because we just end up all getting supported and then the song ends up getting supported and it gets to come out in its purest, best form.
EMILY, YOU HAVE A VERY DISTINCTIVE, GUTTURAL VOICE. IT SEEMS LIKE YOU LET THAT LOOSE MORE ON THIS RECORD THAN YOU HAVE PREVIOUSLY. WAS THAT SOMETHING YOU WANTED TO PLAY AROUND WITH MORE THIS TIME AROUND?
Emily: I don't know if it was intentional, I just sort of vibe when I'm singing. But, I have often talked about how I see singing as definitely my main instrument and that my voices that I can channel or tune into are almost like outfits or they're little things on a shelf. I can try on different ones and I love experimenting with that. Usually I'll hear someone or be influenced by something and then I'll try stuff out in the practice space. Sometimes I really want to yell and be like, 'WOW,' you know, channel a rocker bro dude that's old school. Then I'll just see if I can and then I might admire someone who sings really softly and cute and then I'll try to channel that as well. It's whatever the song needs is which voice I might pick or I might be like, I'm going to pick this because it's a weird choice for the vibe right now. It's sort of like shopping or something. I feel like the reason it comes out more on this record is maybe because we advanced a little bit as a band in our writing process and also we've taken Dehd a little bit more seriously in the past year or so. We're a little bit more tuned in and we also got a little bit more advanced with our recording. We were intentionally trying to take it up a notch, but not too much of a notch, with adding the synth and adding the drum machine so it might be partially me, adding my voice, seeing what else I can do with it.
Jason: I wonder too if because we do write it all together in the room which gets loud and the PA is loud then if we're in this atmosphere where you can be loud it's okay because you're not in your apartment or in your bedroom with roommates or something like that. If you kind of noticed it when we did go into the studio because then sometimes you're even almost hearing some of the things clearly for the first time because it's not coming through a shitty PA speaker. Then you're like, oh how do I actually do this thing that sounds really badass to me when I'm in the practice space into this really clean, perfect mic in this fancy room.
Emily: Ugh.
Jason: That's probably the biggest challenge that we had recording.
Emily: Yeah because I love the shitty PA so much, that's the sound I always want to sound like. I think I genuinely like that sound, the shitty PA or the basement house show vibe. I feel much more comfortable sounding that way so when we're called to polish up or we call ourselves to polish up I'm like, 'oh god, I've gotta turn my reverb down.' It's so scary!
I SAW ON YOUR BANDCAMP THAT ONE OF THE TAGS YOU USE TO DESCRIBE YOURSELVES IS ''TRASHPOP'' AND I THINK THAT FITS IN REALLY WELL WITH THAT. IS ERIC, YOUR DRUMMER, SINGING ON ''APART''?
Jason: Yeah!
Emily: Yes! Finally!
WHAT GOT HIM TO FINALLY SING ON A SONG?
Emily: Only God knows really. We harass him all the time since we've been a band, we're always trying to get him to sing in the band or on his own because he does music on his own by himself and he's just very shy and has a lot to work through internally to get to the place where he feels comfortable singing out loud in front of people or just showing his songs to people so the fact that he was willing and able and ready to have this song on the album is a huge step for him and for us and we're really excited. I'm so excited for the world to hear it and for Eric to hear the world's response because he's such a good singer and such a good songwriter. I'm always like, 'c'mon let's sing together all three of us!' and then he just, gives a look that says no.
Jason: 2025. It'll just be an a cappella group.
YOUR PREVIOUS ALBUM WATER WAS CENTERED AROUND YOUR PAST ROMANTIC RELATIONSHIP. DOES FLOWER OF DEVOTION PICK UP WHERE THAT LEFT OFF OR HAVE YOU LEFT THAT ERA BEHIND?
Jason: I think really that Water was the period on the statement for that and then this was our opportunity to express ourselves as individuals and interfacing in this world and as a band obviously. Me and Emily were both going through separate things at the same time that were both hard in different ways so it was, if anything, our opportunity to say that we can sing about something else that's not a relationship. It is about relationships but not with each other.
Emily: This is often brought up, obviously, but yeah, our relationship ended and it's been three years now and we're friends and I like to try to focus energy on the fact that it's okay to be friends with ex partners, I mean maybe not all of them, but that we successfully had one relationship and it's just transformed into a different form over the years. While a lot of our writing in the beginning might've been informed by our relationship, our writing now is informed by our relationship in a non romantic way. I like the focus being more on the art itself and not so much on the external like, 'we're ex partners in a band.' "Letters" is the only song about that and we intentionally had that released first because it was sort of my closure song saying, 'alright everybody, and myself, we get it, and now we're moving forward and we hope to bring everyone with us into this new world of friendship and music.' Really, for us, the music is the main love. It's always been that way and it still is. Even though we're not partners in that way, now we're business partners and career partners and it's chill.
WHERE DOES THE TITLE FLOWER OF DEVOTION COME FROM?
Emily: It's actually a lyric from the last song. It's talking about a concept that I had when I was thinking about when you're in a relationship with someone. Thinking about flowers as emotions that show up on the mental landscape and seeing the flower of devotion come into fruition. Like a certain deepening of a relationship or intimacy, which again can be romantic or friendship or for us our band and how close we've become and how many things we've been through as a trio. I feel very devoted to the music and very devoted to Jason and Eric and devotion doesn't necessarily have to be romantic. At the time when I was writing that song it was about being devoted to someone that I was having feelings for. That's probably the best way I've described it!
— —
— — — —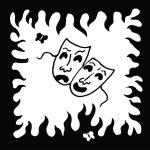 ? © Alexa Viscius
:: Stream Dehd ::
---