Recommended If You Like: The xx, James Blake, Sampha, Jack Garratt
Musical subtlety does not come naturally; it is a learned skill that must be practiced, honed and refined. London's Chris Kaz is a master of this art, a student of nuance who could make something out of nothing if he put his mind to it. The beauty of minimalist music is its ability to latch onto the most innocent of ideas or themes and exploit them to their fullest potential. Kaz takes this concept to the extreme in his music, repeating vocal lines until they assume new meanings whilst very gradually building soundscapes full of feeling. Mysterious and graceful, Chris Kaz's "Track 02" is a shiver-inducing display of electronic minimalism's powerful potential.
She put the knife in to lead you
In to a dark mountain cove
The score was settled we sail for the sea
With a gleaming light in the mountain cold
Watch: "Track 02" – Chris Kaz
---
Atwood Magazine is proud to be premiering "Track 02," the aptly named second release from half Greek Cypriot, half German Sri Lankan musician Chris Kaz. The artist, composer, producer and filmmaker may be a little bit of everything, but his unique blend of experimental electronica and future soul does more with less. On his 70,000+ streamed debut "Track 01," Kaz captured haunting emotions with little more than a vibraphone, electronic drum kit, and his own mesmeric vocals. "Track 02" is even trippier than its predecessor, with Kaz's silky vocals evoking a trance-like listening experience that begs us to open our own dark doors.
"Don't say nothing you've got nothing for me," repeats Kaz in the song's opening moments. His vocals start as nearly a whisper, fragile and light over a repeated chime-like vibraphone phrase that cascades upwards. Every iteration of those empowered words sheds a layer of darkness off the song, until the narrator's utter helplessness becomes plain to see.
Now who's living in a rush
Now who's leaving in a rush
As time passes your enough
Now who's leaving in a rush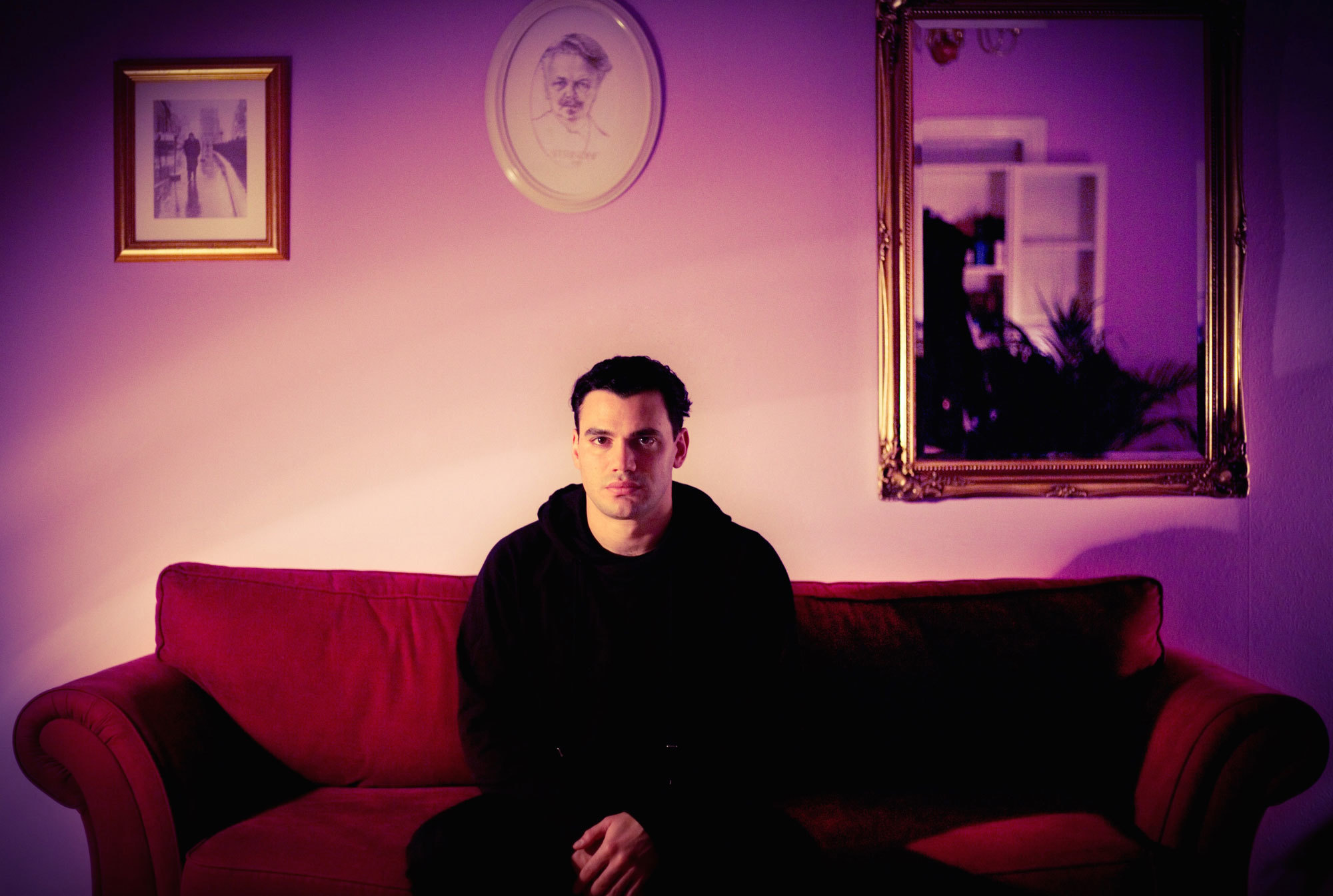 "Now who's living in a rush?" One need not seek the original meaning of these words, for they assume new meanings for each individual: Do you have your eyes open? Are you conscious and present to the world around you, or are you a humanoid robot, bound to your set programming within a small, derivative existence?
It's hard to be awake, but it's even harder to be alive. Most of us will go about our meaningless days thinking about purpose, without necessarily seeking it out. It takes a jolt to the senses to wake one up and put one on that pseudo-hero's journey of self-enlightenment, as is exhibited in the accompanying visual for "Track 02." Featuring footage from an unnamed film project provided by London-based Copi Media, the "Track 02" video revolves around one woman's search for meaning in obscurity.
Our main encounters with this lead lady occur in the strip club, where she dances around the pole, attracting the male gaze. We feel the animal eyes of onlooking men piercing her soul, beating her into nothing more than a sex object – and we see her holding onto that cold, metal pole for her dear life, clutching it like an anchor to her humanity. She's beat down and weary, doing coke in her dressing to numb herself before submitting her identity to pure objectification. The men cheer her on as she bends and brakes, her eyes closed to avoid acknowledging her own submission.
As an audience, one cannot help but wonder: How did it come to this? Who are you now, and who were you previously? Our questions fall into the void as we recall the song's opening line:
Don't say nothing you've got nothing for me
Only she has the power to change the world around her – a world which she clearly is trying to escape from. Scattered about the video are scenes of an open desert: We see the woman wandering, searching, aimless yet driven. Is it her dream – the world she sees when she closes her eyes on the dance floor? Or is it a future; her reality pushing her onward, toward some form of enlightenment and understanding?
"Copi Media thought the track and the visual were a great combination as ready-made art and the composition of sound for film," explains Kaz of the song's enticing visual element. "The story of the song translates well, as the song's narrative is about a lost but brave young girl." Lost could not fit the state of mind better: Angst and uncertainty, hope and hopelessness mix to form a tense reality.
Behind it all lies the subtle, sultry dark charm of Chris Kaz. He creates for us this world of distress, of determination, and most of all, of seeking direction and dimension, all while maintaining a mysterious, alluring veil. As a result, we are left to interpret his music more lucidly; we are forced to start thinking for ourselves, a blessing in and of itself. Look out for more from Chris Kaz in 2017, as the talented multi-medium artist-to-watch plans to release a full EP consisting of "Track 01," "Track 02," and much more via Brooklyn-based indie label Sermon 3 Recordings. Until then, enjoy Atwood Magazine's exclusive premiere of "Track 02."
— —
cover: Chris Kaz © Dieter Brandenburg

:: Watch: "Track 02" – Chris Kaz ::