A thrilling experience full of heartfelt emotion and colorful depth, 'Banshee & Hope' captures the rising alt-rock phenomenon that is California trio Of the Wild.
Stream: 'Banshee & Hope' – Of the Wild
---
An onslaught of electric energy; the urgent pulse of drums; a sense of wonder, hope, and adventure: The opening seconds to Banshee & Hope prove themselves as defining moments for Of the Wild as the band unleash their debut EP on an unsuspecting 2020 audience. A thrilling experience full of heartfelt emotion and colorful depth, Banshee & Hope captures the rising alt-rock phenomenon that is Of the Wild.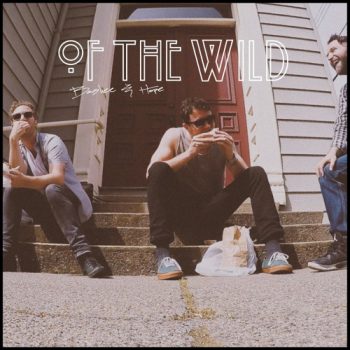 Where you gonna run to
Now that they're onto you
Where do we go from here?
The streetlight and cracked view
To hell with their curfew
Waiting to arrive
But I've been waiting for you
All my life
I've been waiting for you
All my life
Atwood Magazine is proud to be premiering Of the Wild's debut EP Banshee & Hope, independently out January 10, 2020. The Northern California-based trio of Brandon Holiday, Christian Park, and Lance Harrington, Of the Wild introduced themselves in August of 2019 through their bouncy debut single "Animals." They followed that in September with sophomore single "Heart Breaker," which Atwood Magazine's Meredith Nardino premiered at the time. Described as a "a rollicking soft-rock anthem helping Of The Wild stake their claim on the space carved out by alternative icons like Cold War Kids and Andrew McMahon In the Wilderness," "Heart Breaker" captures the band's penchant not only for clever lyrics, but also for sweet, engaging pop/rock melodies.
Produced by Andy Freeman and originally slated for an October 2019 release, Banshee & Hope fulfills on the promise found in Of the Wild's initial song releases. The six-track EP is bursting with what can only be described as a dynamic effervescence, asserting a controlled passion that comes in waves of catchy, feverish alternative warmth. Opener "All My Life" sets the scene with its fast pace and tight performance, followed in lockstep by the jovial pianos driving "Heart Breaker." "The Neighborhood" and power-pop track "Beverly Kills" find Of the Wild expanding their breadth through raw vocal performances, compelling riffs, and stunning instrumentals; meanwhile, the easily repeatable chorus in "Beverly Kills" is sure to get stuck in some heads. Closing out the EP with a more atmospheric ambience than its predecessor tracks, "Rain" showcases Of the Wild's softer side.
"So much of this record is about the piano," Brandon Holiday tells Atwood Magazine. "I had never played piano before making these songs, and every song on the record was composed on piano. This whole album has been a journey into learning this instrument, learning something new, and in a way honoring my family. The piano these songs were written on was originally my grandmother's. When she passed a few years ago, the family gave it to me. My childhood is filled with this piano. In fact, this piano is the first live instrument I ever heard, and [it] continued to be the predominant instrument of my life until I was given a guitar."
He continues, "Making this album was such an exploration into the unknown. It was so freeing. I had played guitar in all my other projects. When you play an instrument you kinda get used to it. It's familiar. Playing the piano was like throwing shit on the wall and seeing what stuck! I had no idea what was going to happen.  In this process I realized that I was not a guitarist, a drummer, a vocalist, or even a pianist for that matter, I was a song writer. I love making songs. I was learning about dynamics and melodies and harmonies, not just the raw energy of my previous projects. I was crafting something. I really like creating something from nothing. This album was my first real step into becoming that songwriter. And, as cheesy as it sounds, I think my grandma kinda gave me that opportunity. I feel like her piano is what brought me into this next phase of my art."
Filled with bright musicality and dramatic rock flares, Banshee & Hope asserts Holiday's forever-developing musical touch as he and his bandmates come together in style. Still, "I am not a singer/songwriter," says Holiday. "My music is all pop driven – it's melody first… These songs are composed of phrases I hear throughout the day or month or year which I place around the music to become a collage of words and melody. All of it is up for interpretation. All of it is open to the listener."
While there may be no strict "theme" or direct "meaning" assigned to Of the Wild's opening statement, there is still an unquestionable sensation surrounding this set of songs. The West Coast trio debut with a graceful magnificence – an alt-rock elegance of sorts. Their music is littered with fiery guitar licks and percussive rhythms that get stuck in the head on repeat; between the three of them, they know how to bring music to life, and to get an audience toe-tapping and melody-humming in the process.
As for how they even made it this far, drummer Lance Harrington expresses a wide array of emotions. "Recording art is challenging," he explains. "You play a song over and over and over again. Each time I sit down to the drums, the song is different. It doesn't matter that it's different, because what matters is that everyone making the song is locked into each other. It's in that moment of collective consciousness where all the players agree, right then, that this is the song; this is how it is. And yet when you record something, you only have one version of it. That one version is what people think of as the song. I have to hope it's the best version, and then let it go. For how much went into these recordings, I am happy."
"I always try to start simple and only add as much as necessary," he continues. "My style is simplistic. I don't think that speaks to my skill level; it speaks to what I like to hear. Music is about communication, and I like to communicate in a way that people can [easily interpret]."
Banshee & Hope is only the beginning for Of the Wild, and while we certainly cannot wait to hear more, we are more than satisfied with what we already have. Experience the full record via our exclusive stream, and peek inside Of the Wild's Banshee & Hope EP with Atwood Magazine as Brandon Holiday goes track-by-track through the music and lyrics of the band's debut!
Stream: 'Banshee & Hope' – Of the Wild
:: Inside Banshee & Hope ::
— —
All My Life
This song was written years ago. It is a great example of the collage style of writing [I'll reference below]. The opening line, "all the people just want to be equal," was inspired by the marches happening in SF around equal marriage. During that time I had been getting harassed by some creditors. I had recently moved and was excited to think I had shook'em. Obviously that is now how that works, and when they found me again I remember thinking the line, "well now where you gonna run to, now that they're on to you.." These songs are all composed of moments from my life. The moments may be different, but the art is in finding their right place with each other.
The Neighborhood
There was a community near down town Healdsburg. It was an apartment complex predominantly occupied by latinos and lower income families. The building is rare offering in upscale Healdsburg, and made even more rare during the intense housing crisis that was gripping the state a few years ago.
The story begins when developers from San Francisco buy the building. They had plans to renovate the whole site into high end condos. The evictions began. People were being told that they needed to move out. They were even told that the mere look of their poverty was detrimental. We could not believe how blatantly abusive the developers were.
Both the tenants and a massive community in Healdsburg began fighting the development. The city was in outrage. Protests were happening. People were marching and chanting. There was a call for justice. It felt like a fight for the tenants, and also a fight for just what was taking place in the Bay Area at that time.
Beverly Kills
I wrote Beverly Kills when I was working for Banshee wines and went to New York on a work trip. We were staying at the ACE hotel. It was bougie, and felt like it was just filled with fake people and a fake ambience. I didn't want to be a part of it. I wanted to get away from all the lights and noise and falsity. So I went up to my room, "sitting on the floor of my hotel room."
The name came from Beverly Healdsburg. It was a Facebook group for locals in Healdsburg, where I was living at the time. It operated much like NextDoor does now – a forum for local talk and gossip.
Animals
I wrote the lyrics for this song years ago, maybe in 2009. It was originally titled Robin Williams, read into that what you will, for I have no idea. The chorus was from another dream I had. I am a vivid dreamer. And this time I was dreaming in first person that I was an animal. Well I thought it was an animal. The general feeling was of being primal. It's like when people traditionally do Ayahuasca. They have visions of running through the jungle, they experience their ancestry on a cellular level. I was before me, I was the animal- not we dream of animals, "we dream in animals."
Rain
It's going to be hard to make this not sound cliche, but both the chorus and melody came to me while I was dreaming. I was dreaming of a summer day- ironic for the name of the song- where people were BBQing and sitting in lawn chairs. My friends and family were there. It was relaxed. I was super content. Everything felt good. And during all of this the melody came to me. I literally woke myself out of the dream to hum what I was hearing in my head. It was 3:30 or 4 in the morning, and I just got up and starting humming directly into my iphone.
That is how I write music. I am not a singer/songwriter. My music is all pop driven – it's melody first. So when I woke up from the dream I knew I had to record what I was hearing. I would take that and work the rest of the song in support of that chorus.
I should take the curtain down right now and just say that there is not a ton of meaning to be assigned to the lyrics on this album. What I mean is that I am not trying to tell someone something specifically. It's the listener who will ultimately determine what they hear from the song. These songs are composed of phrases I hear throughout the day or month or year which I place around the music to become a collage of words and melody. All of it is up for interpretation. All of it is open to the listener.
Stream: 'Banshee & Hope' – Of the Wild
— — — —
? © Craig Clement (Ten23 Productions)
:: Stream Of the Wild ::
---