Nina Mučibabić, aka DJ Pink Palindrome, poignantly embodies a meeting point between cultures in her musical vision as an artist in the local music scene in Sarajevo, Bosnia and Herzegovina.
Stream: "Pink Palindrome x FBLmusic"
[soundcloud url="https://api.soundcloud.com/tracks/1372505488?secret_token=s-rALRZ" params="color=ff5500&auto_play=true&visual=true&hide_related=false&show_comments=true&show_user=true&show_reposts=false" width="100%" height="300″ iframe="true" /]




---
"Music is an essential part of my life as it is my dear companion from morning till night and I am thankful for all the great artists which had the courage to create and share their art with others because that enriched my life and gave it new meanings, purposes, and passions."
– Nina Mučibabić, aka DJ Pink Palindrome
It was a cold late winter night and quite near midnight on Saturday December 3rd in 2022 when I first heard Nina Mučibabić, aka DJ Pink Palindrome, at Cafe Barometar in downtown Sarajevo.
It wasn't a plan to go to the cafe that night, but as we walked by on our way home from dinner the entrancing lights and sounds were so very inviting in that small cafe on Branilaca Sarajeva street across from the National Theatre. We ambled into the cafe which is transformed at night into a small nightclub atmosphere, and rather by coincidence found ourselves a seat on the hightop tables next to the DJ at work. As we settled into the vibe of the night, the evening became magical through the music and scintillating ambience that DJ Pink Palindrome was creating.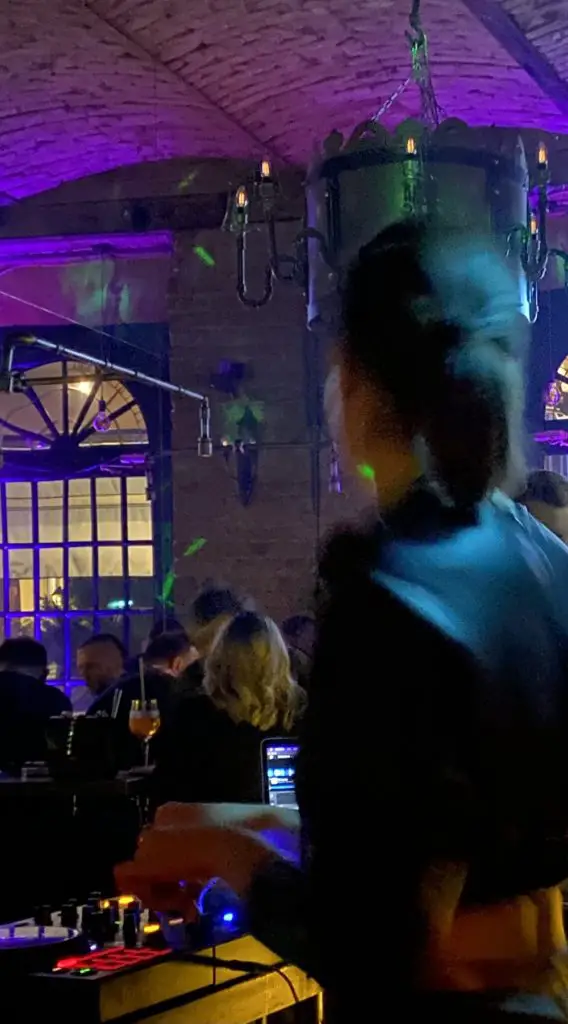 We were so very struck by her joy and happiness in curating the atmosphere through her vision and work as a DJ. Over the course of the evening we struck up a conversation, connected on Instagram, and to my delight she agreed to an interview with Atwood Magazine. I hope that our readers listen to her SoundCloud mixes, and spread the word of her engaging and visionary work as a DJ.
It is so very fascinating and significant to consider the local music scenes in countries such as Bosnia and Herzegovina, which inspire richer ways to think about culture, identity, and music as being continually porous and free-flowing between East and West. This sense and feeling enables greater forms of coexistence, affiliation, and connection through the universal harmony of music in today's world. These dynamics are deeply exemplified in the life and culture of Sarajevo as a meeting point of cultures, which Nina Mučibabić – aka DJ Pink Palindrome – poignantly embodies in her musical vision as an artist in Sarajevo's local music scene. Dive into our interview with Mučibabić below!
— —
Stream: DJ Pink Palindrome
[soundcloud url="https://api.soundcloud.com/users/1001460349″ params="color=ff5500&auto_play=false&hide_related=false&show_comments=true&show_user=true&show_reposts=false" width="100%" height="450″ iframe="true" /]




A CONVERSATION WITH DJ PINK PALINDROME
Atwood Magazine: Where were you born, and how did your interest in music begin?
Nina Mučibabić: I was born in a small town, Novi Knezevac, but grew up in (again, another small town) Bugojno, which is in the central area of Bosnia and Herzegovina.
Ever since I was a child, my father adored sharing his favorite vinyl records with me. Among them, the most represented genres were synth pop, disco and dance, all of which left an enormous impact on me. Music from artists such as Bee Gees, Boney M., Duran Duran, Depeche Mode, Sisters of Mercy, and Modern Talking were very present in our home. Later on, as I grew up, I started exploring more genres and realized that I like techno and house (especially funk and afro house) too.
When I heard you DJing at Cafe Barometar in Sarajevo in December 2022, I could definitely hear a remarkable synergy that you were creating through the diversity of playing Depeche Mode alongside an artist like Earth, Wind & Fire. Do you think that the initial impressions of your father's tastes in music were unique at that time, or quite common? Certainly, Bee Gees and Boney M. were immensely popular at that time, but artists like Depeche Mode and Sisters of Mercy spoke to a very particular audience that one had to seek out. How did artists such as Depeche Mode and Sisters of Mercy particularly speak to you as a child?
Nina Mučibabić: Thank you for such nice words. Yes, I agree with you, it is true that not all of those mentioned artists were quite common at that time. As a child, I adored the rhythm of Depeche Mode and Sisters of Mercy in their tracks. They are mysterious and dark, strange, and sometimes a bit scary too, but at the same time magnificent in their darkness and novelty – it was novelty to me as well as magic. When it comes to lyrics, I started understanding those when I was growing up and it took me time to analyze them and reveal all those intriguing meanings.
What led you to become a DJ in Sarajevo?
Nina Mučibabić: I had that wish for a few years. Generally, I like electronic music the most and a few years ago when I was an IT student and moved to Sarajevo, I regularly went to DJ parties and really enjoyed them. After a couple of years of active listening, I realized that it would be a great idea to try and learn more about DJing. In having such a specific music taste, an idea of wanting to show and share with others became aroused. The next step was finding out how to learn more about DJing itself and as well as from whom.
I learned that there is a DJ workshop in the club Silver and Smoke which was led by a prominent local DJ A Skitzo and it focused on electronic music. Later on, I was a part of another DJ course which was led by another prominent local DJ Soul and this time the focus was more on hip hop and R&B music. First, we started with analog equipment and later on switched to digital. The workshops were really informative and practical and I am really thankful to both of the DJ mentors for helping me expand my knowledge. DJing is actually one of the passions that I have along with a full time job.
Who do you think are the most innovative DJs in the world today, and what are the factors that set their music and skills apart from others? Do you find yourself influenced by the work of other DJs, or are you more so focused on your own creativity and innovation?
Nina Mučibabić: In my opinion the most innovative DJs nowadays when it comes to house, tech house and indie dance genres are Carl Cox, Maceo Plex, and Claptone. Carl Cox is a legend and magician who really knows how to make people dance and enjoy the products of his creativity – he mixes techno and house with such an ease. When it comes to sets from Maceo Plex, I like the fact that they are eclectic and full of surprises. I watched him DJing and it looks like he feels each and every second of his set fully and the audience follows him along the way and dances the whole time. Then, Claptone, who is able to cheer me up every time I listen to his tracks because they are joyful and catchy as well as dark and mysterious. Also I am a big fan of tracks which have wonderful vocals and meaningful lyrics and that is also what Claptone provides.
Actually what makes me really happy and what inspires me very much is the process of finding new music, new DJs' and producers' gems which I normally search and dig for on Beatport. The real joy is when I mix those new tracks with some old ones that I love, I think that I am passionate about that. So yes, I am influenced by the work of other DJs but I also have my own inner voice and I love the times when I just go with its flow.
Which artists have influenced your musical vision?
Nina Mučibabić: There are a lot of them, for example: Hurts, Depeche Mode, Boney M., Claptone, Purple Disco Machine, Ash, Fall Out Boy, Panic at the Disco, Sisters of Mercy, Kool and the Gang, Michael Jackson, George Michael, ZHU, Muse, Reyko, Forniva, and others.
It's so wonderful how you are able to put these highly diverse artists in conversation through your work and performance as a DJ which is very cross-generational and timeless. This seems very organic in how you create and DJ; did this come easily to you, or did you have to work to create this form of organic timelessness and cross-generational approach in how you DJ?
Nina Mučibabić: Well I think it comes natural to me, before I started with DJing I felt that such music that I listen to could go well together and that I really need to mix it on my own one day and show that to other people.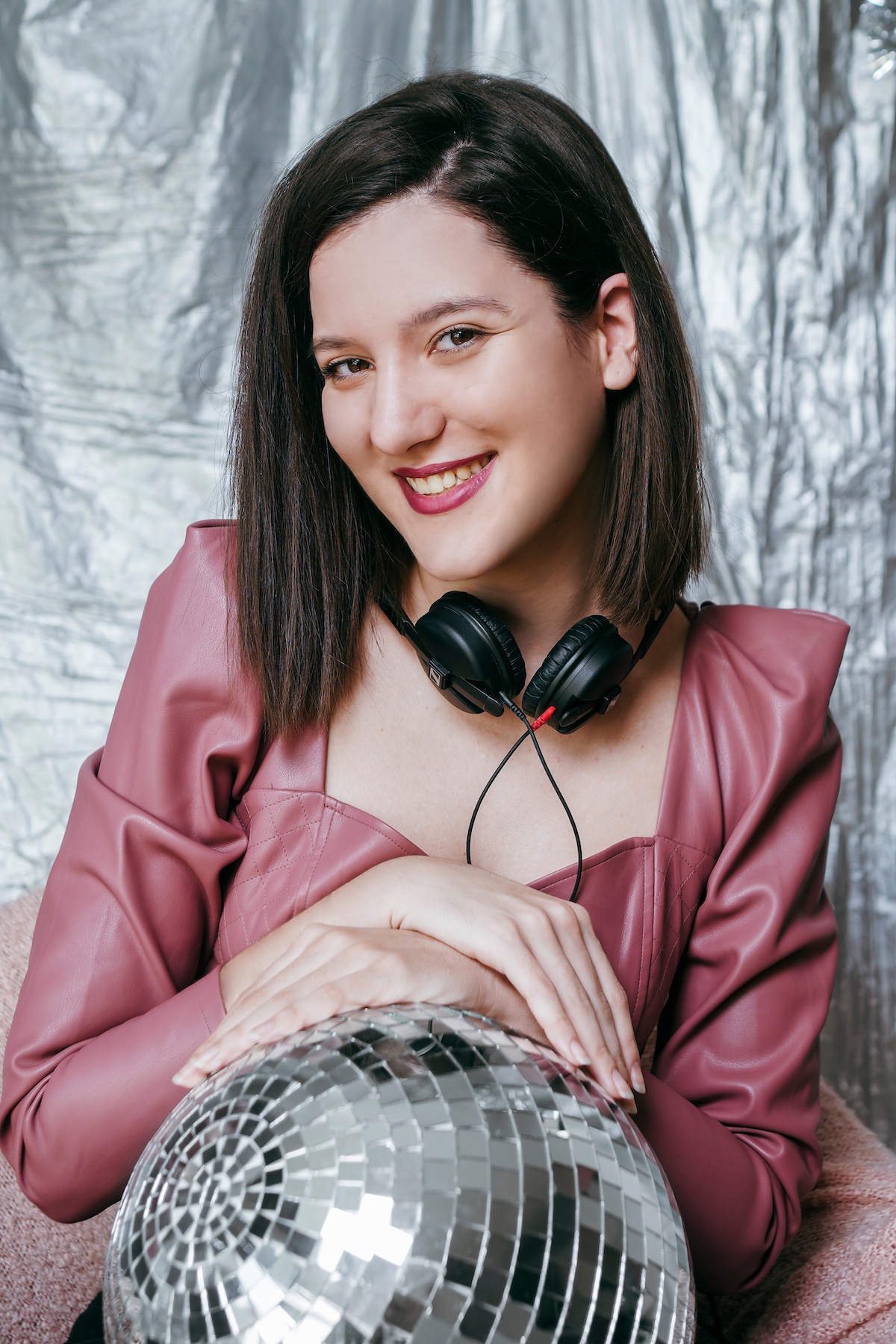 Do you face any cultural challenges working as a live DJ in Sarajevo?
Nina Mučibabić: Even though I am not originally from Sarajevo, I do not experience any cultural challenges here, I see myself as local too as it is the same country, mindset, tradition, etc.
How would you describe the mindset and tradition in Sarajevo and in Bosnia and Herzegovina? Are there any cultural tensions between more conservative outlooks as opposed to more liberal or cosmopolitan views? Does this differ from rural to urban spaces? Does this impact your vision of music in providing forms of liberation to people?
Nina Mučibabić: Bosnia and Herzegovina has a very diverse and rich culture historically as well as musically. Our music was created under the influence of all world winds and directions, and also arose from the autochthonous history of Bosnia and Herzegovina. In my opinion we should nurture, meet and greet the similarities among us rather than overanalyze the differences. The purpose of music is to create connections between people no matter what their nation, color or beliefs are. I am always open-minded. Of course it depends from one town to the other what the audience likes to hear, but there are always exceptions to the rule. I can take myself as an example. I grew up in a small town, but my father had such a great impact that it wouldn't have mattered where I grew up, as my music taste wasn't developed geographically.
Have you been able to DJ in other parts of Europe? If so, what cultural differences have you noticed in contrast to Sarajevo?
Nina Mučibabić: I had the opportunity to be a DJ in Croatia in Dubrovnik. It was a party for tourists from México. I saw that they really know dance moves and they freely express themselves. The contrast is that for example, people in Sarajevo are not really into dancing unfortunately. I enjoyed seeing Mexican people feeling the moment, dancing, singing and laughing. Also another contrast was that I expected that they would be more so interested in local music – European music, but they really wanted Mexican music which was completely fine and the party went great. We all had so much fun as they were so happy and with a wonderful vibe. I saw that they really love their own country and adore their own music.
Do you think that music and your own work as a DJ enables people to transcend cultural differences and connect in ways that might not otherwise be possible?
Nina Mučibabić: Yes, I think that music can create new magical connections between people all around the world because it is a unique and universal language which our souls can feel.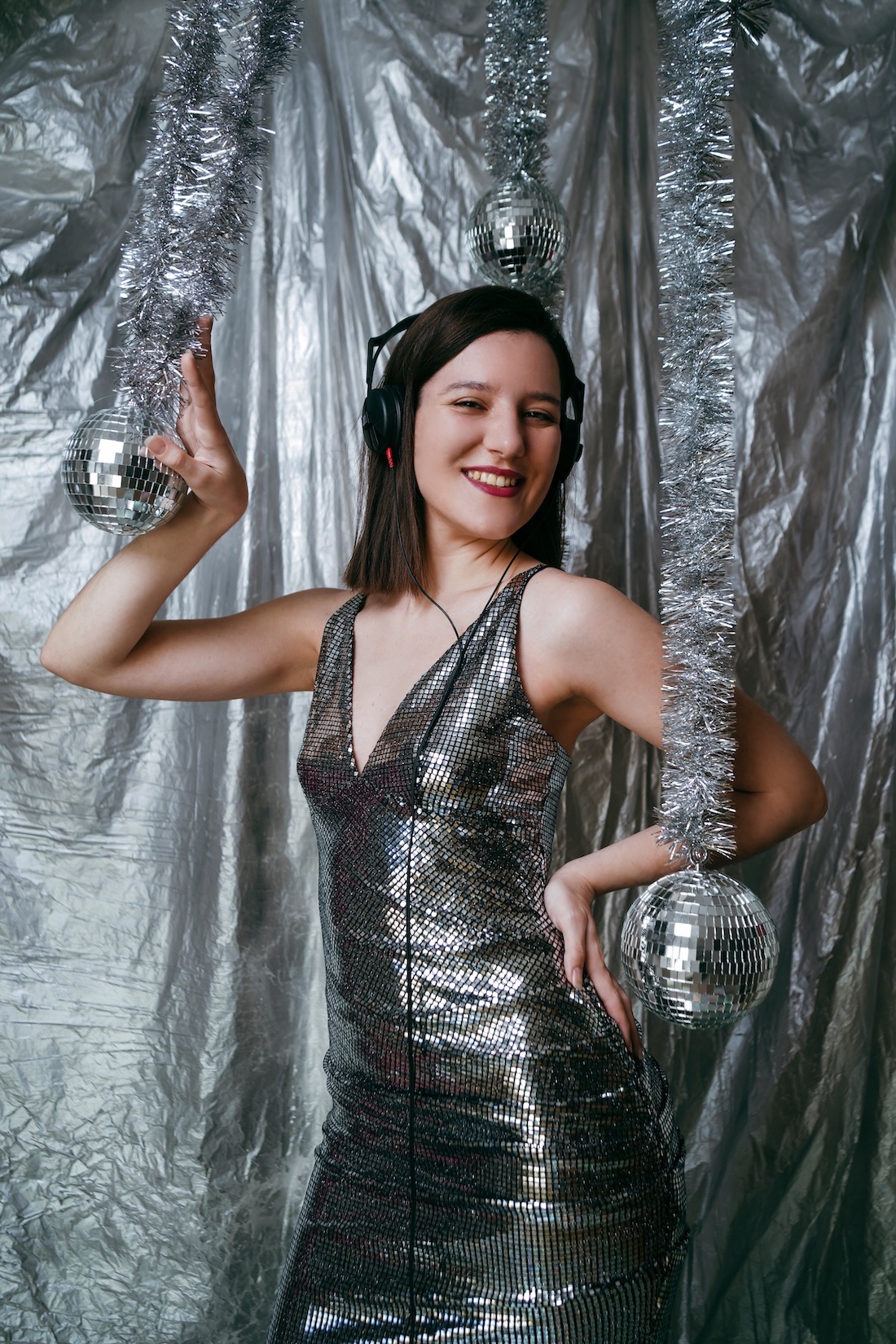 What do you hope that people experience when you DJ live?
Nina Mučibabić: I hope that they experience happiness, freedom, joy, liberation, and that I can provide them with some new insights – something brand new which they did not expect to hear but that they really like in the end, or even something that captures them to give a second thought or even think a lot about – whether it is the words, melody or any other idea that changes something inside the person. I like surprising people.
In this, how would you further characterize music and live performance as a DJ as a form of liberation?
Nina Mučibabić: During performance, the main state that I am in is liberation, as I am able to do literally anything I want with the music and equipment in front of me, and that freedom is very motivating. I am allowed to do anything, and others do not know what my plan is but the audience trusts me and stands next to me dancing, letting me set them free so we can go places together with the melodies we are listening to.
From your perspective, how has music culture in Sarajevo evolved over the years? How would you characterize music culture in Sarajevo today?
Nina Mučibabić: In former Yugoslavia, Sarajevo had a great rock scene and there were famous rock bands which were popular across the whole country. Many years passed and at the moment the most popular music, in the region as well as in Bosnia and Herzegovina and Sarajevo is trap folk.
The pioneer of electronic music in Bosnia and Herzegovina was the artist Adi Lukovac and I am so sorry because he died very young, in his thirties.
Nowadays we have a few small local festivals that started in the last few years and they are focused on electronic music. Bosnia and Herzegovina have wonderful nature and beautiful cultural and historical places and music festivals are held at such delightful places. Generally, I think that we are evolving and moving forward but very slowly.
Why do you particularly view electronic music as a way of moving forward? Do you think this is due to its origins, that provided a form of cultural and existential liberation in post-industrial England?
Nina Mučibabić: Well, as my focus is on electronic music I see it as one of the ways of moving forward along with rock, punk and similar genres but yes, I think that it is due to its origins, history and the influence it has had in other places in Europe. The fall of the Berlin Wall was an enormous historical event that opened the doors metaphorically as well as literally for this type of music.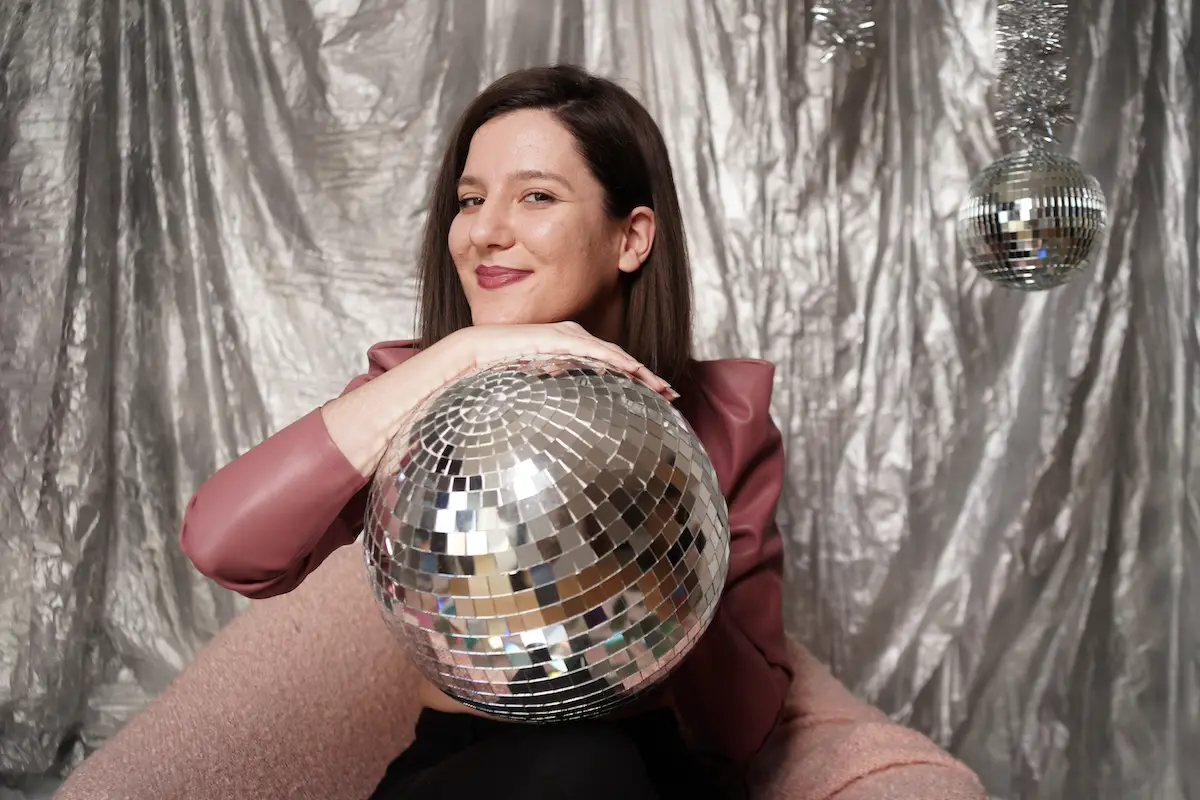 What are your further artistic aspirations in the music industry?
Nina Mučibabić: So I see myself in the future as a DJ and music producer as production is something that I really want to try out, and I have many ideas that could be realized through music production. I started DJing recently, in December 2021 so I am learning, experimenting, and enjoying the process —I think that I have enough time to achieve my goals.
We certainly hope that you are able to achieve all your goals, that you can DJ across the world at music festivals, and begin to work as a producer!
Nina Mučibabić: Thank you very much, I really appreciate it. I am honored that I had an opportunity to meet you and eventually to communicate with you.
Lastly, what is the significance of the power of music in your own life and aspirations?
Nina Mučibabić: I think that in music we are exposed to its ability to change our thoughts, to influence our behaviors and habits. Music is an essential part of my life as it is my dear companion from morning till night and I am thankful for all the great artists which had the courage to create and share their art with others because that enriched my life and gave it new meanings, purposes, and passions.
— —
— — — —
 © Tajana Dedić-Starović
:: Stream DJ Pink Palindrome ::
[soundcloud url="https://api.soundcloud.com/users/1001460349″ params="color=ff5500&auto_play=false&hide_related=false&show_comments=true&show_user=true&show_reposts=false" width="100%" height="450″ iframe="true" /]
---