A feel-good blast of sonic sunshine, Sammy Rae & The Friends' 'Let's Throw a Party' EP is an irresistible smile-inducing revelry inviting all to throw our worries away and bask in a space of connection and catharsis.
for fans of Jason Mraz, Lake Street Dive, Anderson East
Stream: "Let's Throw a Party" – Sammy Rae & The Friends
---
My hope is that it helps you revisit earlier, simpler concepts of young-adult and childhood optimism… You should dance to the whole thing on your living room floor.
Nothing compares to the energizing power of music: Wherever we are, whatever we're feeling, we can always turn to sweet songs to brighten our days and lift our spirits – to soothe our souls, if even for just a few minutes. We've needed music more than ever lately, and thankfully plenty of artists from around the world have come through with special tunes that meet the present moment head-on, including New York City's own Sammy Rae & The Friends. A feel-good blast of sonic sunshine, the band's latest EP – released nearly a year ago, to the day – is an irresistible smile-inducing revelry: Warm, passionate, and inspired, Let's Throw a Party invites us to bask in a space of connection, joy, and togetherness. Full of an irresistible funk/soul/jazz blend that's sure to get you moving and grooving, it's a welcoming outpouring of thoughtful reflections and good vibes ready to whisk us into our own dreamy, cathartic reveries.
I get nervous when the girls dress in their summer clothes
And anxious when the boys wear all them
button ups and sports jackets
I wore a t-shirt to a family party
Everybody overreacted
There comes a point when hiding out in all them
Haunted hallways and hidden staircases
Don't make you feel like a grown woman anymore
And it's true, and I'm sorry
Released January 22, 2021 via Nettwerk Music Group, Let's Throw a Party is a buoyant celebration of human connection and community: Of coming together for reasons big and small and celebrating life, love, good times and bad, the highs and the lows. Arriving just under a year after the COVID-19 pandemic's start, this dynamic and sunny five-track record isn't necessarily a "backlash" to all the contemplative, slower records of 2020 (though there's certainly some of that baked into the cake); rather, it's a resounding reminder of how special it is to be with the ones you love the most.
Sammy Rae & The Friends describe themselves as a family first, and a band second. The "family" consists of Rae alongside C-Bass Chiriboga [drums], James Quinlan [bass], Will Leet [guitar/keys], Myra Moon [backing vocals], Kaya Kulu [backing vocals], Max Zooi [tenor saxophone/synths], and Kellon Anderson [alto saxophone]. Their soul-inflected music can be likened, at least in part, to that of Lake Street Dive or Jason Mraz, and on Let's Throw a Party, they ensure a good time for all through radiant music that moves our spirits, lighting a fire deep down inside.
"I come from a bunch of different avenues of influence," the band's founder and frontwoman Sammy Rae tells Atwood Magazine. "I was raised on guitar heavy rock and roll, and found folk music, bluegrass, and jazz a little bit later in my young adulthood. I've always wanted my songs to be a culmination of those influences, and their production to be a culmination of the influences of my other bandmates. We are seven very uniquely talented musicians coming from the studies of jazz, hard rock, world and Latin music, and broadway scores. We try actively to not limit our material to specific genres and leave room for all of our flavors to mix together. The genre of Sammy Rae & The Friends is 'feel good'. We have a hard time boiling it down and explaining our genre. My hope is that this EP encompasses all of that, and that tunes like 'Let's Throw A Party' also challenge traditional song form!"
When it comes to her vision for this EP, Rae explains how she wanted the band's release to bring a little more light and life into this world.
"I had a feeling that we would get a lot of ballad-heavy records from other artists coming out of the major 2020 quarantine period," she explains. "Firstly, because everyone was focussing on feelings of loneliness or separation, or on the totally opposite side, hope and forward-thinking. Also, we weren't able to gather and I knew that writing artists would be doing a lot of creating on their own. We had a few songs already recorded for this EP ("Whatever We Feel" "Living Room Floor") and we decided not to rush the production process, and work as a full band when it was safe to do so. We finished the other three and I didn't spend much energy on trying to flow into those themes that I knew would be so prevalent with post-quarantine records (or trying to avoid them). I wanted to put out an EP that just made people feel good, and didn't actively make them think about, or forget about what global pain we had just endured and were still navigating. Just a feel good collection of tunes that would make you dance and sing."
"The title track is about approaching aging and time and disarray with a sense of humor and humility. It's all happening with or without your approval, so you may as well throw a party. In light of current times, I figured this song would make a great title track for our EP. With so much instability, pain, confusion and lack of clarity, all we can do is wait and be present in the moment. Wait for whatever comes after. We may as well throw a party while we're doing all that. So here is an EP in the middle of the madness. Here's a party for ya. I've said this at live shows; when absolutely nothing is in your control, it doesn't mean you can't do anything. It means you can do anything. So you might as well throw a party."
Let's Throw a Party is its own exhilarating jamboree, with electrifying twists and exciting turns around every corner. The band's instrumental work – from searing, soaring solos, to tasteful instrumental overlays, and the simply stunning rhythm section of C-Bass Chiriboga and James Quinlan – speaks not only to its individual members' talents, but also to their collective unity as one artistic identity. The EP's bookends "Whatever We Feel" and "Let's Throw a Party" are easy favorites listeners are sure to fall in love with hard and fast, but the same can just as easily be said of the smoldering, empowering queer anthem "Jackie Onassis" and the charming, bilingual enchantment "Creo Lo Sientes," which features a rap from the family's own C-Bass Chiriboga.
And now we're walking real close on the pavеment together
Wanna hit you with thе heavy when you're talking 'bout the weather
I'm telling you I wanna
Y no me dices nada
Can't tell what it means
How do I say what you already know?
Talk with my hands, maybe take it real slow?
Como se dice en español?
¿A dónde vas después del show?
And working the words out and walking your way
Hoping it works out and maybe someday
You'll let me know that it's all okay
Creo lo sientes, pero no se
"For one, writing a song hand-in-hand with C-Bass that featured lyrics in both English and Spanish was a great time," Rae says on the topic of her own favorites. "I'm conversational as a Spanish learner, but not fluent like C-Bass. We consulted our native Spanish-speaking friends as well as C-Bass' family members in order to write Spanish lyrics that could be easily understood across most Spanish dialects. It was an interesting challenge trying to focus on these grammatical and semantic limitations while trying to fit lyrics along with the melodies I had in mind. Like every time I would sing a line as I would in English, in a way that made perfect sense rhythmically and melodically, I'd have to ask C-Bass if it was grammatically correct in context, and several times, he quickly called up his mom. !Gracias, Mama Sonia! Also, we made a really wacky music video for the title track. It came together in six weeks of really hard work, and we got to visit a world that was important to me personally as a child; musical theater."
---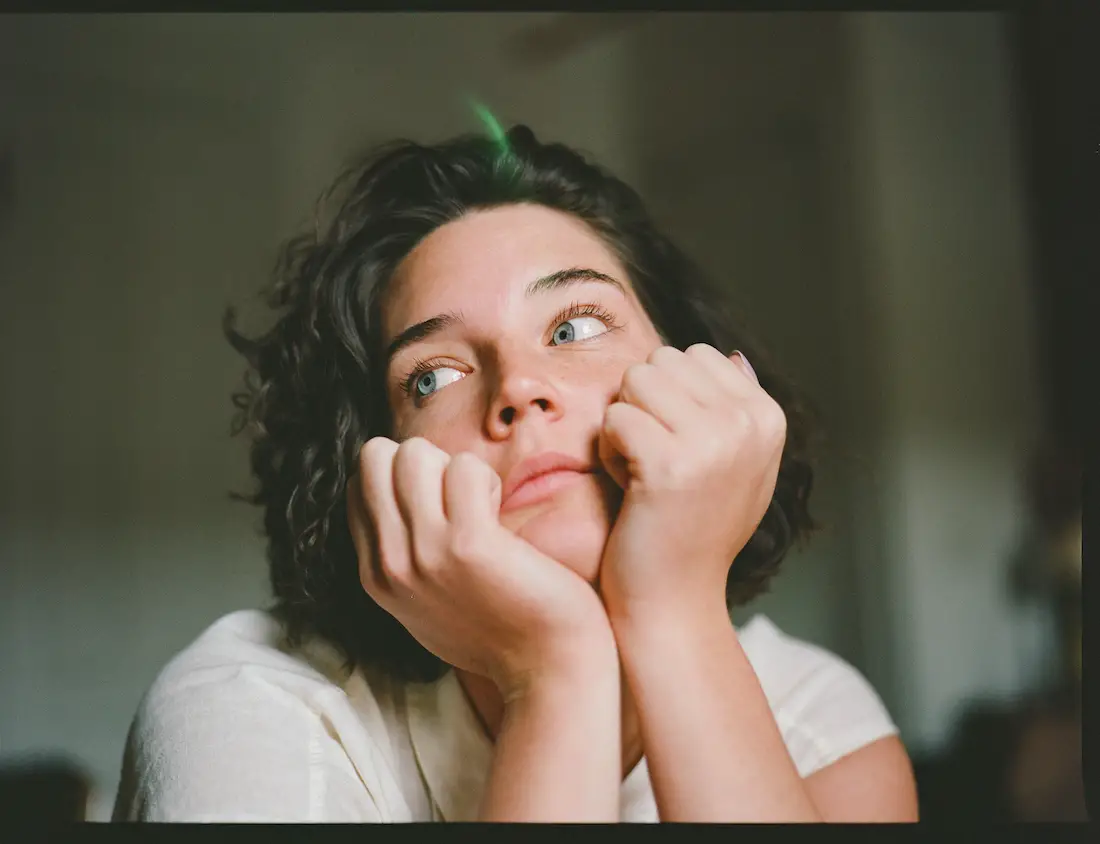 As a lyrically forward artist, Rae is quick to bring up the song "Jackie Onassis." "I'm deeply inspired by the hyper-detail-oriented folk rockers like Bob Dylan and Bruce Springsteen, and this song has lots of those pieces," she says. "It's very much a story-song, which is my favorite type of song. There's a little Paul Simon in there too. I think I hit a good balance here with just enough detail to give you an accurate picture of the story I'm trying to tell, and just enough space for you to insert the remaining details to make the song make sense for your own experience. This song also holds a lot of back and forth dialogue for additional content. 'When she found me I was in pieces, crying hard into my hat and she said "Mama you look lovely when you take a stand." I tell her "No ones ever been so kind to me, and I thank you for that." she said "Here ya go, here ya go, here ya go", took her hair out a bow, and laid that ribbon in my hand.'"
I got sunny days on a track field
Laughin' hard, just me and mine
I got a great part in the spring play after all
And I got my rose pink tinted glasses
And they fit me just fine
And I'll let it go and let it go, let it go
Here we go!
Look at that lady
She carries herself right, she's singin'
Oh, ah, woah, ah, woah, ah
She's the first lady
To walk me through the night, I'm singin'
Oh, ah, woah, ah, woah, ah…
Sammy Rae & The Friends' true magic comes to life when you listen to the EP from start to finish.
While it's easy to find one or two highlights to loop on repeat, the band have cultivated in this record a series of highs and lows, ebbs and flows that dazzles the ears and stirs the heart. Yes, you can find your own intimate reckoning within "Living Room Floor" and let your hair down on the title track, but felt in full, these five songs serve to capture far more than just the imagination: Through moments of beauty and hardship, connection and isolation, Sammy Rae & The Friends tap into our souls and bring a little bit of what we've lost back to life.
"This EP and these songs were crafted in a painful and uncertain time for all of us," Rae shares. "My hope is that it helps you revisit earlier, simpler concepts of young-adult and childhood optimism. May it bring you 30 minutes of thoughtfulness and self-acceptance. You should dance to the whole thing on your living room floor. It is a joy to finally have these songs out in the world, we waited so long to record them. We waited even longer to share them in a live setting. I listen to them often, and fondly."
2022 finds us still in the throes of a pandemic, and still in dire need of music like this. Experience the full record via our below stream, and peek inside Sammy Rae & The Friends' Let's Throw a Party EP with Atwood Magazine as Sammy Rae goes track-by-track through the music and lyrics of their band's smile-inducing EP!
— —
Stream: 'Let's Throw a Party' – Sammy Rae & The Friends
:: Inside Let's Throw a Party ::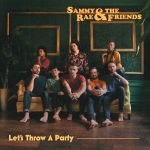 — —
"Whatever We Feel"
This is a song about loving yourself and encouraging others to do the same. There's not much more to it. This production process was about the vibe, not the lyrics.
"Jackie Onassis"
A femme empowerment song, a queer anthem. A story song about the female coming-of-age years. A love letter to young women who empower their peers.
"Living Room Floor"
A true to life retelling of pivotal moments I experienced on the living room floors of my first three apartments. A reminder that you are your own safety and your internal environment is important.
"Creo Lo Sientes"
A bilingual tune about the early stages of a budding relationship. It features a rap from CBass (our drummer) and my favorite organ patch we've ever used.
"Let's Throw A Party!"
6 minutes of organized chaos, celebrating the uncontrollable things in our life. A gentle questioning of agism and childhood. An homage to the big three: Bruce Springsteen, Freddie Mercury, and Ella Fitzgerald.
— —
— — — —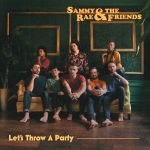 ? © 2022
:: Stream Sammy Rae & The Friends ::
---