Dua Saleh's new EP 'ROSETTA' is a dreamy queersongscape, inspired by Sister Rosetta Tharpe.
Listen: ROSETTA – Dua Saleh
---
Dua Saleh came to the fore with their 2019 project Nūr, a darkly ambitious and aggressive record, littered with a lyrical prowess that has come to define Saleh's music since. Their background in spoken-word performances and poetry-writing has shone on the music they've been making in the last two years and remains fundamental to their newest project ROSETTA.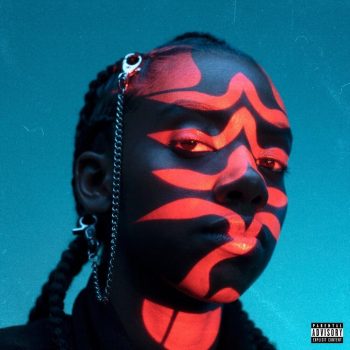 Released on the 12th of June 2020, the EP ROSETTA is named (in tribute) after and inspired by famed gospel singer and queer musical precursor of "rock and roll" Sister Rosetta Tharpe. Saleh's record follows their black-lives-matter protest song bodycast, and builds further on their exploration of blackness, queerness, love and belonging. The sharp, bare sonic landscape of Nūr is switched out for a range of sounds and experiments on ROSETTA, with one of the tracks featuring Saleh singing in Arabic for the first time. Here on ROSETTA is another version of Dua Saleh, as nebulous as the first one listeners met on Nūr and yet also entirely distinct and visible — curiously overlapping and yet marking a different time, a different sound. 
The looping melody and bass-heavy beat of "cat scratch" makes for a nifty introduction to the record and the just-under-two-minutes track ropes in Saleh's impossibly engaging vocal presence quickly, letting their singing set the pace. "cat scratch" is brimming with images — "wiser than a raptor with no teeth", "rocking them stilettos / blazing through the ghettos", "feline laughing lightly in the sun" — brought out potently by the pathos of Saleh's singing, and the precision of their writing, all of which settle perfectly into the instrumentation. Listeners will be left wanting more of this track.
"umbrellar" follows, filling in for the brevity of "cat scratch". One of the two tracks to have been released before the EP, "umbrellar" is equal parts sensual nostalgia and drunken-haze, a dreamscape rife with Saleh's trademark writing and vocal presence. They lavish "umbrellar" with mystical meaning and images, singing of "wands", "witches" and "deals", creating a kind of muddled ode to someone they're attracted to. This intensified surreality matches "umbrellar"'s incredibly angst-ridden catchy nature, with lyrics like "And I swear I'm / superstitious 'bout her sex appeal" and "All this worth that she exhume" lingering long after the track is over.
Watch: "umbrellar" – Dua Saleh
---
The longest track on ROSETTA is "smut", where the indie dream switches to electronic bareness, foregrounding Saleh's distorted vocals. The backing track pulses with synth-danger, swinging with a dallying drop, and once more, Saleh's lyricism is sharp, memorable: "licking the lozenge of lust" – "popping my veins with a camera" – "every time you take a digital, digital video / I feel me seeing into you". There's a deft sonic turn at 1:36 where Saleh's Arabic chant begins, a section that croons and hums almost as if it were a swaying wind of sound. Not only is Arabic Saleh's first language, they attempted to sing in it for the first time here so as to reach more of their Sudanese (and Arabic-speaking) audience. The Arabic section fizzles into distortion and a collapsing beat.
"windhymn" slinks in with a slow-developing intro. Harmonising vocals join the instrumentation, casting the track in ethereality. Saleh croons in disillusionment, as drums beat in the distance and the lyrics get longer as the song goes on. "windhymn" becomes an electronic seesaw of distorted vocals and growing beat, repeated simply and softly, a mellow interlude of sorts between the harsh rebukes of "smut" and the arrogance of "hellbound" which is to follow.
The second song to have been released before the EP is the mellow-turning-dark "hellbound", reverberating with a danger similar to that of "smut". The plucky and switching beat foreground Saleh's characteristic vocal style, and the lyricality is riddled with a powerful and arrogant subtext. Gems like "Jumped into the portal, call me Hades of the Grim / No, I ain't no angel, I ain't fall in from the brim" and "How you on my lips, you must be spellbound" mark Saleh's self-assured persona on the track, an exhilarating position for a queer non-binary artist to adopt. Further picked apart, as Saleh has indicated in interviews, "hellbound" serves as a subversion of the orthodox religious narrative that condemns queer persons to hell.
Watch: "hellbound" – Dua Saleh
---
ROSETTA ends with "bankrupt", another just-under-two-minutes track, symmetrically placed to mirror Cat Scratch in time. A soft wanton ballad, "bankrupt" is the most vulnerable and fragile of them all on the EP, where Saleh's writing and voice are central and stark on the bare, almost melancholic track. Alternating between a kind of plea — "I want nothing in between" — and a kind of confession — "I feel bankrupt / Need to fill the tank up" — the last track is where Dua Saleh is meditative and subdued. It is, in many ways, a near perfect ending.
The fact of ROSETTA's brilliance corresponds to and confirms Dua Saleh's continued rise in the music industry. A record that is complex, mature and confidently penned, ROSETTA is also an indication of what is to come. In recent years, there has been a welcome cultural shift in the creative spaces of hip-hop & R&B, whereby the dominant cis-het masculinist modes of expression, of monopolising the genre etc have been knocked off.
In place of these toxic binarised music cultures, we've seen the stunning and beautiful rise of womxn artists, queer artists; artists who have subverted the sexist, homophobic paradigm. So, in a way, Dua Saleh's 'place' in the industry has been a long time in the making, and yet the sheer fact of their presence, as well as the honesty of their art remain remarkable for they both exist in sociocultural spaces that run rampant with racism, misgendering, homophobia and Islamophobia. It is this remkarability that ROSETTA also exudes, as in the tradition of the woman who inspired the record, Sister Rosetta Tharpe.
Dua Saleh has not only further queered, expanded and radicalised the music industry in which they move, but has drawn a line right back, and very powerfully to an oft-forgotten queer black musician, and has thereby personalised a history for themselves, a lineage even. ROSETTA is radiant with this lineage, and promises that there is so much more to come.
— —
? © Dua Saleh 2020
:: Stream Dua Saleh ::