Dreams are strange, aren't they? You're alive, breathing and conscious, living this alternate reality life, most of the time completely oblivious to the fact that it is an alternate reality! The world turns, and you turn with it, existing and exploring the limits of your subconscious. In their brand new single "Laika," dream pop trio Mothlight offer an ethereal glimpse into our minds and our perception of the surrounding world.
So close, breath moves through the
air to fill the spaces in between
Can't speak for words don't hold meaning
as we drift in and out of sleep
Reach out and feel my way into
the warmth  of technicolor dreams
Listen: "Laika" – Mothlight
---
Atwood Magazine is proud to be premiering "Laika," the latest single from Los Angeles dream pop trio Mothlight. Named after the first animal to orbit Earth, "Laika" is a trippy exploration of sound that continues down the band's experimental sonic rabbit hole. In October, Atwood Magazine described Mothlight's previous single, "Monarch," as "a shimmering dream-pop haze with dazzling harmonies and a strong sense of purpose." Mothlight take unwavering pride in their passionate musical expansion: Matt Billings' vocal fury as he escalates from a chest voice into darling falsetto is magnificent. Keyboardist Grant Stevens and drummer Andrew Smith keep the energy high as Mothlight drive "Laika" through various melodic and rhythmic changes.
I let go
Slipping into dreams unknown
I'll awake when you're gone
And I can't escape the words stuck in my throat
And I guess we both still feel like time alone
But the way you look at me I move so slow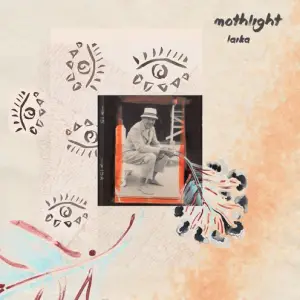 There's this sense of watching the world from a distance in Mothlight's delivery – as if the narrator's hands are tied behind his back, and things are happening to him, rather than at his behest. Reality comes into question; is this actually happening? Mothlight, who declined to comment on their song, cannot escape their environment, so they dig further into it.
I let go
Slipping into dreams unknown
I'll awake when you're gone
Perhaps it's a good thing to sometimes dwell in that dreamstate. As far as Mothlight's trance is concerned, the psychedelia of the music carries more weight than their individual words, which slip in and out of comprehension like a dream itself. Nevertheless, "Laika" is definitively Mothlight, an impressive composition that continues to advance the Los Angeles trio's bright path. Enjoy Mothlight's latest release via Atwood Magazine's exclusive premiere, and stay tuned for more from the burgeoning independent group as their dream becomes more and more a reality.
— — — —