Chiara Berardelli's emotionally arresting video for new single "Deep Space Hibernation" explores pain, solitude, and the possibilities for hope.
— —
There are music videos that compliment songs, and then there are music videos that subsume songs, that completely transform the audience's experience with them. Atwood Magazine is thrilled to be premiering the music video for Chiara Berardelli's "Deep Space Hibernation," a perfect and utterly engulfing example of the second music video. This elegantly simple yet visually striking video will leave its viewers in awe.
Watch: "Deep Space Hibernation"
---
Directed and produced by Iain Mutch and WalkerandWilliam, "Deep Space Hibernation" starts with a small snapshot of a living room. As the camera zooms into the obscure image on the TV screen, we suddenly find ourselves floating in space with Berardelli. We'll stay here in the sky with her for the rest of the video. It is a truly remarkable feat that they managed to make such a simple video—the majority centers on just Berardelli's face as she sings—that is so emotionally arresting. It wasn't until it was over that I realized I had been holding my breath.
She's a robot out in space
Been sleeping for two whole years
Resting her metal
Conserving energy for what lies ahead
Deep Space Hibernation
That's the name
The lyrics are just as breathtaking; Berardelli has a real talent as a songwriter. Her inspiration for this song came when she first heard the term "deep space hibernation" regarding the space mission of the probe Rosetta. She was taken aback by this unique term and wanted to explore what it might mean: "The probe had been 'asleep' for 2 years, out of the range of the sun, a state termed 'deep space hibernation'. I found this a very evocative phrase," she explains. And while you may expect a song about space to feel detached or distant, Berardelli also makes it extremely personal. Regarding her songwriting process she says, "at the time I was at my lowest ebb in coming to terms with not becoming a mother. The idea of going to sleep until the pain was over seemed very appealing to me and the song was born." Berardelli's willingness to be so open about such a personal struggle lends her music a uniqueness that is rare.
It's not that I want life to stop
It's more I'd like to get off
And maybe if I buy some time
I'll get back my peace of mind
The song is not all sad though. Despite the video ending with her fading into the dark, Berardelli envisions a message of hope embedded within it as well. She says, "Although it depicts sadness, I think it's an uplifting song, perhaps reflected by the analogy of space, something way bigger than ourselves… I wanted the video to carry the other-worldliness of the song whilst still portraying the strength of emotion, and have a bit of fun at the same time!" When personal pain is framed within the enormity of existence, it pushes us to think outside ourselves — if only for a moment. Berardelli gives us the space to contemplate such things with this song and its gorgeous accompanying video.
"Deep Space Hibernation" is the first single off Chiara Berardelli's sophomore LP Seamonster, independently out March 2, 2018. If the Glasgow-based singer-songwriter has more beautifully crafted, emotionally evocative songs like "Deep Space Hibernation" waiting for us, we are in for a real treat.
Chiara and band plays the Speakeasy at The Voodoo Rooms, Edinburgh on March 25 and The Glad Café, Glasgow on March 30.
— —
— — — —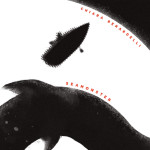 photo © Kerstin Gruenling
---
:: Stream Chiara Berardelli ::