Jordan Galland's "Down With Me" was first a catchy, lively song. Now, it's a colorful, creative music video — which Atwood Magazine is proudly premiering today. Both of these labels make it a fitting product from an independent artist who has devoted himself to both music production and filmmaking throughout his accomplished career.
Watch: "Down With Me" – Jordan Galland
A Connecticut native and New York University graduate, Galland has long been active both on the set and in the studio. He's recorded a number of solo albums– including an instrumental LP available on his SoundCloud page— while also performing with his indie rock band, Dopo Yume, throughout the last 20 years. Conversely, his credits as a movie-man include the founding of his own production company, Ravenous Films, and the release of a decent variety of independent and full-length films. Some of these are in the genre of "zombie comedy," with titles like Rosencrantz and Guildenstern are Undead.
Galland has discovered a number of ways to combine his two passions throughout his career. These include contributing to a number of independent movie scores and soundtracks, and devising many of the music videos for his own songs. Among the most recent of these is "Down With Me," one of the ten tracks of Galland's freshly-released album, New Rebels.
The song itself is a solid effort from the veteran musician. The synth-pop instrumentals are alluring, and the drum that kicks in around the 30-second mark serves as a valuable shot of energy. The lyrics touch upon the classic theme of the mutually assured destruction that a love affair can represent ("If I'm going down, I'm taking you down with me," Galland sings). The song is rather short– only 2 minutes and 30 seconds– and perhaps greater length would have allowed the singer to explore this subject matter more thoroughly. But as a swift, engaging listen, "Down With Me" does the trick.
Meanwhile, the music video expands effectively upon the song's lyrical themes, showing a green-screened Galland falling through a range of locations– the clouds, the Milky Way, the NYC subway and the floor beams his female counterpart pushes him through– all while detailing how "the game that we're playing is just this risky." All of these locations are impressively realized by Galland's animated vision, and other visual effects here– such as the way the way the main character "shimmers," and disintegrates pixel-by-pixel– stand out as well.
"The video is an animation comprised from a photo shoot by Heidi Hartwig," Galland notes. "Because I'm prepping a new feature film to shoot this summer, I had to find a way to make a video that could fit into the schedule, so working with animator made it possible."
Certainly coming from an independent artist, this is remarkable work. Animation was a key element of Galland's studies at NYU, and clearly he's kept his skills sharp since his college days. "My aim is always to tell a whole story in a song or video, or explore moments that imply a larger story at work, that started before and continues after the song is done playing," Galland has said. In this case, the general theme which the song establishes is made even more compelling when carried into the fantastic creative universe that Galland has brought to life through his skills in animation.
"The idea is just watching this person fall, fall, fall, going down, down, down through surreal landscape, as if in a dream, or perhaps after death and at various stages, he sees a kind of siren, shadow woman. Maybe she's pulling him down, guiding him into the underworld, maybe he's chasing her, maybe he's hallucinating" Galland explains. "I wanted that ambiguity in the story, to reflect how you feel when you're emotions are kinda spiraling downward. Of course, there's a sort of serene beauty as well, because for an instant you're not sure if he's floating or flying, and the sky looks pretty. The video is also a circle, so it starts where it ends, and so on."
Jordan Galland is a man of many talents, and these blend together into the compelling listening and visual experience which the song and music video of "Down With Me" respectively represent.

Watch the video for "Down With Me," exclusively on Atwood Magazine!
— — — —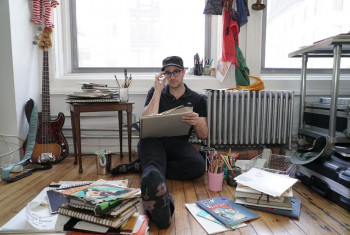 :: Down With Me ::