Intoxicatingly provocative, Dana and the Wolf's "Modern Midas" is an explosive response to sexism and sexual predation that will shake you to your core.
— —
We talkin' interest or a predatory issue?
When history students learn what happened in the United States throughout 2016, 2017 and 2018, let's hope they're told that Americans stood up to sexual violence and predation once and for all; that movements like Time's Up and #MeToo transformed into cultural revolutions that toppled the prevailing ways at the time, forever changing the social economy for the better.
Let them listen to songs like Dana and the Wolf's "Modern Midas," and know that everyone, everywhere, was taking a stand.
boy what you lookin' over here for
as if there's something over
here that might interest you
we talkin' interest or a predatory issue?
cuz there's a line for your million dollar intro
"Modern Midas" – Dana and the Wolf
[soundcloud url="https://api.soundcloud.com/tracks/425587656?secret_token=s-u7EF2″ params="color=ff5500&auto_play=true&hide_related=false&show_comments=true&show_user=true&show_reposts=false" width="100%" height="166″ iframe="true" /]
---
Atwood Magazine is proud to be premiering Dana and the Wolf new single "Modern Midas," independently released today, 4/6/2018. The songs follows February's Hype Machine chart-topping single "Got Me Poly," whose fearless mixture of hip-hop, electronic, and pop elements forms a compelling basis to a dynamic song about sexual freedom and the power we gain when we own our choices. Based in Los Angeles, Dana Hobson and Daniel Wolf describe themselves as "lovers of ten years in a polyamorous relationship," and they are open – both in their music and in regular conversation – about their desire to inspire change and "tear down societal norms."
Just because something is new to you doesn't invalidate its right to exist.
Every little thing
you're a modern midas
everything you touch go up
Any little thing
you can't fight it
you and your kind go
up up up up up up
Intoxicatingly provocative, "Modern Midas" is an explosive, infuriated response to sexism and sexual predation that will shake you to your core. Our cities, our towns, our communities still run rampant with abusive, inappopriate acts that go unchecked and unheard. Terrifying, horrible stories continue to go untold.
"Man, so many people are sexist," Dana Hobson tells Atwood Magazine. "As we grow as artists, it's amazing how many men in power think I'm going to f*** them." We hear the duo's defiance to the man with the "million dollar intro" as Hobson energetically protests:
so baby they can poor another glass of love for me
yeah I ain't ever gonna turn down booze that's free
yeah but I ain't really gnawin' at your intro
I wonder when that piece of info gonna hit you
It's amazing how many men in power think I'm going to f*** them
Venom drips from Hobson's lips as she dives deeper into psyches and stories in an impassioned rap whose motive and agenda is never lost on the listener:
dollars and dollars and dollars all day
how many dollars today
broken economy yet
you got a college degree
pride of the family tree
you're the anomaly g
you need a girl on your d
treat that thing but
boy what you lookin' over here for
you got girls who be grabbin' for that tissue
i'm talkin' bout that paper not because they miss you
I make an ass out of you and me and assume
My place is in the corner, the rich man's in the booth
Things remain heated as Wolf's rap continues the saga, speaking from his perspective as an artist dragged into going places he doesn't want to be, and engaging with people he wouldn't want to engage with – attacking them for their misgivings while boasting, "I drive a fuckin mazda and on Thursdays I-go-both-way chicks." He's "just throwing stones and sticks," to clarify, his assertion is that you need not use power to influence others and get what you want; that's no way to exist.
"The unsaid promise is if you let the Modern Midas touch you, he will bring you 'up up up' with him," Daniel Wolf explains.
Yet as we are seeing at this very moment, it is those people who use and abuse their power to take advantage of others who are, one by one, day by day, getting their due. Society is not sitting idly by and letting rape and sexual assault persist: Musicians like Dana and the Wolf are firing all they've got through their own art, excercising a passionate and persistent determination to change their world for the better through cutting words and cutting-edge music.
Stream "Modern Midas," exclusively on Atwood Magazine, and help write tomorrow's history books so that when students do study the year 2018, they learn how people like you stood up to violence and assault with a defiant NO: "Not in my community; not in my town; not in my city."
Not in my world.
— —
— — — —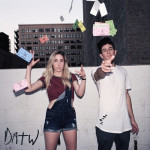 ? © Bryan Mederos
:: Stream Dana and the Wolf ::