With their fifth LP 'Bonfires,' Jimkata declare their lengthy hiatus over and reinvigorate their passion for fusing together rock and electronica.
Stream: 'Bonfires' – Jimkata
---
Oftentimes, it takes a bit of good merriment in order to confront some of life's tough topics. Indie trio Jimkata have elected for that strategy so very readily. Bonfires, their latest-full release, is structured around topics such as "overcoming personal turmoil, navigating uncertainty, [and] loss." Ordinarily, confronting such serious subject matter could cause you to feel a bit blue. When it's accompanied by such energetic, synth-drenched electro-rock as this, though? Hardly a chance.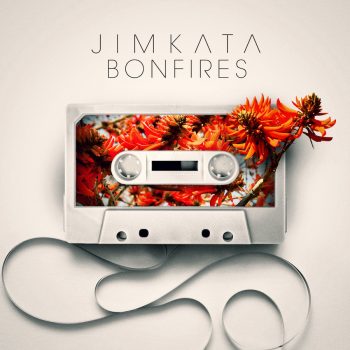 Evan Friedell, Aaron Gorsch and Packy Lunn have been kicking it since their middle school days in Ithaca, NY. They've also been operating together creatively for quite a long time, as well – their self-titled debut saw the light of day in 2007. Up until taking a recent 2.5-year breather, Jimkata continue to publish music on quite the regular basis.
About a year ago, the trio decided to re-enter the game in a strategic manner. They released one track at a time every month, with each new song also coming with its own stylish music music video. After a number of months, the entire track list was out, and fans are now capable of enjoying the Bonfires album all the way through in one sitting.
Evan Friedell spoke with Atwood about his experiences with Jimkata and how they were able to return to form through the creation of Bonfires.
https://www.youtube.com/watch?v=hjNkDdPgoPkhttps://www.youtube.com/watch?v=0Oysx7wUXQYhttps://www.youtube.com/watch?v=rq1GBTuV2Ro
A CONVERSATION WITH JIMKATA
Jimkata: Creating music is so much about communication. I think that, over the years, we've developed an ability to pick up on and even anticipate each other's ideas in an effortless way. Also, our musical tastes and abilities on our instruments have grown side-by-side, so we've kind of been on the same page for the majority of our lives. It makes it easy to reference something– whether it's an artist, a song, a film or some silly moment from touring– and we all can get it immediately.
Jimkata: We were on a roll with albums for a while, actually, with one every two years starting in 2010 and then touring the whole time in between. We got burnt out after a while and decided to take a break from the whole thing in 2017. So, this album came out of that period where we thought we were done as a band.
I always write music, though, and gradually over time had a bunch of demos that we started working on together when we found the inspiration to get back at it. By the time we actually got into the studio to record, we were more prepared than we'd ever been.
In the past, we were so busy that we'd often go into the studio with half-finished tunes that we'd been hashing out live for a little while, and then shape them into more polished songs. This time, we had several already finished songs that we could take to new levels with more time to reflect on and produce them. We wanted to let the music lead the way, rather than set artificial deadlines, since there was no tour to rush off to and no expectations from fans.
Jimkata: We felt really strongly about each of these songs and wanted to make sure they each had their moment to shine. We also felt like we needed to have a better visual representation of both the band and the music. We'd always focused so much on live shows and touring that I think we were almost a secret band, unless you'd seen us live. I think that's an asset in a lot of ways and a fun, passionate community of fans formed around that.
But we wanted to add another dimension artistically, both as a means of expression and as another potential entryway into the world of Jimkata. We've always been fans of cinematic expression and artists that utilized that medium to create iconic imagery along with their songs. The primary payoff, I guess, is just having that other point of connection for someone to understand who we are and share with friends if they find it inspiring.
Jimkata: It's really just how I felt. I felt and still feel uncertain about a lot of things in the world. In the past few years, not only was I going through big transitions in my own life– the band breaking up, moving across the country, trying to find steady work if I wasn't going to be touring, etc.– but the world at large seemed to be going haywire. And that was all before the pandemic!
There are just a lot of problems that seem to be on a trajectory for the worse, rather than getting better, and I feel more uncertain than ever about what the hell the future has in store for humanity. I've always generally been pretty optimistic, but it's been hard to maintain or justify any kind of rosy outlook.
What inspired some of the old-meets-new imagery featured in the music video for title track ''Bonfires?''
Jimkata: The song is sort of a reflection on life up until this point, so it has a hint of nostalgia. The director, Dorian Weinzimmer, picked up on this and presented this kind of period piece that reminded us a bit of some classic '80s and '90s movies. It just seemed to click without hitting the nail on the head too directly with the whole '80s retro thing.
Jimkata: Live shows!  Like I said earlier, we formed so many awesome connections with our fans over the years through playing shows, and we can't wait to get back to that. Our shows have always been fun, high energy, dance party sing-alongs, and we just can't wait to experience that again.
Jimkata: In fact, we are!  Our first show back is in Ithaca, NY as part of the Fingerlakes Grassroots concert series [it took place this past July]. It'll be outdoors with camping available, so I think it's gonna be a party!  We're hoping to play a lot more all over the place, so stay tuned…
Jimkata: It's been a journey from the start to the finish of this album, and it was formulated and released during a tenuous time in history. I'm just happy to see it going out into the world, people enjoying it, and to finally be able to connect again over live music. After getting through the depths of the pandemic, I'm just enjoying and appreciating this moment.  Thanks for covering it!
— —
— — — —
? © 2021
:: Stream Jimkata ::
---