Emily Blue's "17" is an arena-ready hair metal power ballad of epic proportions; a stunning guitar-driven force of nature burning bright with nostalgia's glow.
Stream: "17" – Emily Blue
---
I think we all long for something in our youth that we can't ever get back— especially those first, very complicated love relationships.
It's human nature to look in the rearview mirror and sigh. "Those were the days," we so often tell ourselves, waxing nostalgic about our fleeting youth and bygone romances. Life felt simpler – it always feels simpler "back then" – and so unencumbered by the complexities of whatever modern age we're now living through.
Atwood artist-to-watch Emily Blue's latest single dives headfirst into waves of wistful yearning and affection for another time, but it's so much more than a personal passion: Bombastic in the very best of ways, "17" is an arena-ready hair metal power ballad of epic proportions; a stunning guitar-driven force of nature burning bright with nostalgia's glow.
We didn't think anyone would make a song like this ever again.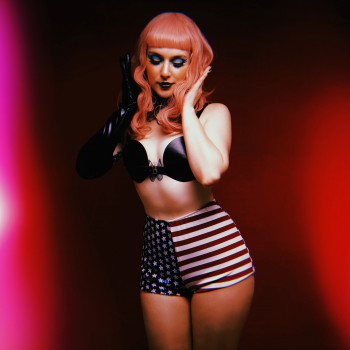 I used to sit by your side watching new DVDs
You held my hand driving down I-90
And now we are older and grown,
the highways don't seem so long
I wish that I could go
back to the beginning
when nobody could break my heart,
cause I was going to be a star
Atwood Magazine is proud to be premiering "17," the first half of Emily Blue's forthcoming dual-single "17 / Heartland." An incredible soul-shaking force highly reminiscent of '80s rock hits like Heart's "Alone" and Bonnie Tyler's "Total Eclipse of the Heart," "17" builds up from a reflective piano piece into an overdriven guitar anthem full of intense and immediate emotion.
A mainstay for Atwood Magazine since 2016 when we premiered her debut single "No Pain" and her subsequent debut album Another Angry Woman), Chicago-based Emily Blue is constantly redefining her artistry and style with a Madonna-esque level of expertise. In a relatively short period of time, she has engaged in singer/songwriter music (her debut), pop (2018's *69 EP), and now hair metal; this goes above and beyond her work fronting Illinois band Tara Terra and their unrelenting brand of indie rock.
The summer wind is so warm,
I love the way that it feels,
I love the way that it was with you baby
When the sun sets by the park,
I want to love you
like I did when I was 17,
when I still had dreams
For Blue, making different styles and sounds comes as a natural part of her musical identity. "I've really wanted to dive into every genre and musical interest of mine," she tells Atwood Magazine. "This release is just the beginning of that exploration – right now I'm recording a second record to follow this project as well, and making video pieces in the BDSM/Kink/Subversive pop category. For "17//Heartland," I have another visual coming that's super queer and super special to my heart and identity. Can't wait to show it to the world!"
This time around, that passion landed her in straight in the '80s, where she indulged in the performative extravagance that so perfectly quenches our thirst for something lying just out of reach. "Honestly, I'm truly obsessed with '80s hairmetal," Blue says. "It has this unapologetic area quality to it that always gets my blood pumping, and really allowed me to stretch my vocal range as well. I wanted to write something people could scream at the top of their lungs once the chorus hits."
Producer Max Perenchio's masterful guitar skills work wonders to give "17" that larger-than-life feeling we look for in a power ballad. Meanwhile, Blue sings her heart out in a massive, stadium-sized chorus:
I still feel like I'm 17,
in your car, windows
open in the backseat
No one's heard a thing
about me yet,
I still feel like I'm 17
Youth may be forever fleeting, but that doesn't mean we can't hold on to it for as long as possible; sure – the instant we can consciously look back on it, we're no longer "in" it; but we can still lose ourselves in love, and feel the power of a moment wash over us.
"The feeling that comes to me is nostalgia, and a sense of frustration and determination," Blue says of "17." "I think we all long for something in our youth that we can't ever get back— especially those first, very complicated love relationships. The feeling of home. Also, I think we all want growth and change, to escape from what's familiar. I picture cornfields, open roads, hair flips, that sort of thing."
She continues, "['17'] has changed my singing voice. Everything I record helps me zero in on what my body wants to create, what resonates best (literally) within me. It also showed me that genre is a spectrum, that anything goes. It's made my push myself as a writer and artist, even as a performer — in the music video it was 100 degrees out and I had to dance completely solo in a field. I got scratches, bites, and sweat all over me afterwards. The cops came up to us during the pond scene and told us to stop swimming too, haha. Super fun and challenging shoot that I wouldn't change for the world."
Directed by Morgan Paije and Matt Bordman, Blue cites the "17" music video as capturing "the beauty and tragedy of a midwestern upbringing." We watch her bask in the cradle of blissful ignorance, dancing and jetting down the highway as the lyrics exclaim, "No one's heard a thing about me yet." Oh, to be an unknown, free of life's burdens and constraints: We may feel shackled, but have we lost all the glint and glimmer of our past?
Out later this year, Blue's dual-single promises to be a musical trip down memory lane as enjoyable for teenagers as it will be for 20- and 30-somethings alike. "With '17 / Heartland' I drew from my roots to focus on classic and timeless songwriting. We combined some of my wildest favorites, Lana, Mitski, Whitesnake, Heart, Motley Crew, and put it into the vein of modern pop. I was excited to write a lot about love, the tension between love and a difficult career path, and longing to get out of what's comfortable."
This may be Emily Blue's most ambitious work yet; as usual, we can't wait to hear what's next.
An artist who never ceases to amaze, Emily Blue is truly the needle in the haystack: A powerhouse of creativity and talent, ambition and enterprise.
Earlier this year, Blue's summer single "Bad Decisions" encouraged us to loosen up, be silly, and have some fun: The frisky track signified her return following last year's uninhibited *69 EP, which explored sexual freedom through a range of expressive electro- and indie pop songs.
Whether "17" is a one-off power ballad or just the entryway to a new sonic era for the artist, Blue's latest finds her as emboldened as ever – taking yet another leap into previously uncharted waters.
Catch Emily Blue on tour with Cold Beaches this November, and get lost in the anthemically intimate nostalgia of "17" exclusively on Atwood Magazine!
Stream: "17" – Emily Blue
— — — —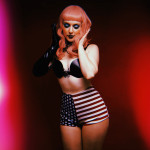 ? © Morgan Paije

:: Stream Emily Blue ::
---