A kaleidoscope of colorful sounds and deep grooves collide in Psymon Spine's "Confusion," a compelling exploration of connection and dissolution immersed in a vast pool of sweet psychedelia.
Stream: "Confusion" – Psymon Spine
---
If 2020 has felt a little dull for your ears, mind, or heart, then buckle up and look alive: Psymon Spine are gearing up to inject some much-needed energy into the air space. A kaleidoscope of colorful sounds and deep grooves collide in the Brooklyn band's new single "Confusion," a compelling exploration of connection and dissolution immersed in a vast pool of sweet psychedelia.
Anyone or anything
That has a mouth
A paper and a pen
You didn't once
But trust me now
The psychic ring
Your ears must have been
I fall down to the floor, so unaware
Tell me just where you are, I'll find you there
I may have found my own, I'm not sure
Confuse it with the old
The old way out
Atwood Magazine is proud to be premiering "Confusion," the opening track and latest single off Psymon Spine's forthcoming sophomore album Charismatic Megafauna (out February 19, 2021). Arriving nearly four years after the band's groundbreaking debut album You Are Coming to My Birthday, Psymon Spine's new record is as much a reinvention as it is a reintroduction: Much has changed for the band that Noah Prebish and Peter Spears founded some 7+ years ago, and they're eager to share this latest iteration with all the world.
In premiering You Are Coming to My Birthday back in 2017, Atwood Magazine praised the transformative record as an utterly unique, alluringly unconventional album: "Turning on Psymon Spine's debut album is like stepping into Narnia," we wrote at the time, going on to give the debut a 10/10 rating. "Fascinating colors and vibrant sounds delight the senses as we enter a brave new world. Ethereal synths envelop our ears, fat bass lines pulse through our bodies, dreamy guitars tingle our imaginations, and rich vocal melodies swim circles above us in perfect harmony."
A fitting follow-up, Charismatic Megafauna finds Psymon Spine thriving in their element while keeping things fresh and unpredictable.
The band – a four-piece which today consists of Noah Prebish, Peter Spears, Brother Michael Rudinski, and Sabine Holler – utilize a wealth of instruments and styles to concoct what they describe as a fusion of psychedelic pop and dance music. Charismatic Megafauna's previous singles "Milk" and "Modmed," the latter of which features MGMT's Andrew VanWyngarden, showcase the group's experimental approach to pop music; the music is tight, but loose; structured, yet jazz. Anything goes, yet at same time (and to Psymon Spine's credit), everything feels finely finessed: It's effortless; natural; chaos and control, combined.
Time stands still, staring blankly at you
Can't you see?
Baby boy
You're barkin' up the wrong tree
As the opening track off the forthcoming album, "Confusion" lays the groundwork for an album about human relationships and the dissolution thereof. A swirl of effected guitars and thrifty bass lines support Prebish as he sings of loss and instability, strife and uncertainty. Channeling a whirlwind of emotion into admittedly subtle lyricism, Psymon Spine give listeners the space to interpret "Confusion" at will.
For Prebish and co., "Confusion" and indeed all of Charismatic Megafauna represent a big step forward in their collective and individual artistic careers.
Prebish recently caught us up to date:
"Our first LP (You Are Coming To My Birthday) was a really important learning experience and probably the hardest thing any of us had ever done at the time," the Psymon Spine co-founder tells Atwood Magazine. "The record was around five years in the making, more if you consider that some of Peter's songs predated him and I (Noah) meeting and forming the band when we were 18. We threw literally every idea we had into the cauldron. Some of the songs had over 200 instrument tracks. After it came out we took a break for a while. I don't think it was totally conscious, and we were still meeting from time-to-time to work on music, but everyone just needed to slow down a bit and figure out what was next. We were all totally different people from when we had started. Our guitarist Devon left to do his own thing and the rest of us were doing other projects. Peter started releasing solo music under the moniker Spaer, Michael as Brother Michael, and me under my own name Noah Prebish. At some point during that downtime I met Barrie Lindsay and started working on music/playing with her, which is how I met Sabine. Sabine and I played in Barrie for about two years and it was really busy with touring etc. and we didn't have as much creative input as we wanted, so by the end we were really itching to do our own thing."
"Playing in someone else's project was a good experience and incredibly illuminating – it taught me a lot about group communication, how important it is for everyone to feel seen/heard, etc. It also highlighted what I loved about Psymon Spine and what I thought we could probably shed moving forward. By that point we were all refreshed and really excited to get back into the Spine zone. We kept talking about a phoenix rising from ashes. Peter, Michael, Nathaniel (our drummer at the time) and I were on the same page on most things. We had all gotten really into disco, new wave, house music, etc. and had a much more concise idea of what vibe we wanted for our next record. We knew roughly how we wanted to do it this time, too. We all had also gotten to know and love Sabine's solo work and I knew from experience that she and I worked well in a band, on tour, etc. We had a perfect Sabine-shaped hole in our line-up and now it's insane for me to imagine a time when she wasn't in the band."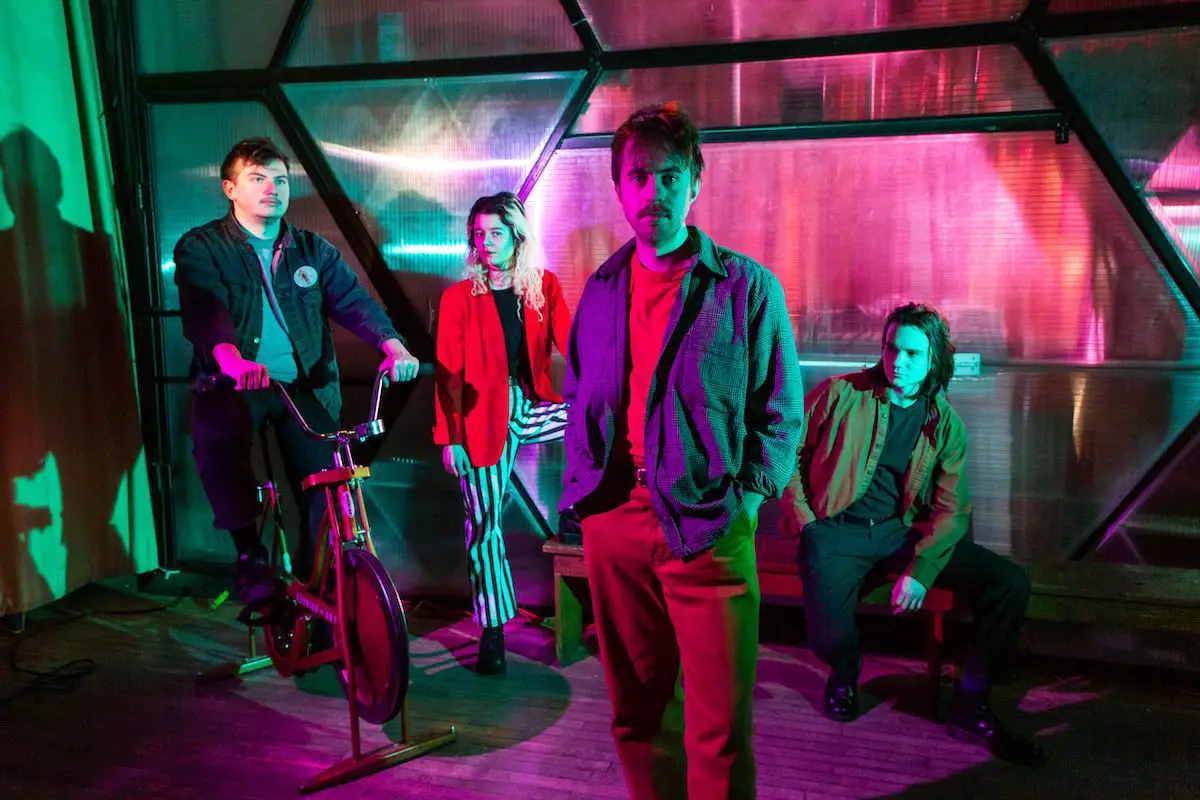 I fall down to the floor, so unaware
Tell me just where you are, I'll find you there
I may have found my own, I'm not sure
Confuse it with the old
The old way out
Conflict resolution, you put me on
I know I blew you off, that's my fault
Kindness, that's all I want
For me and mine
Confusion take its toll
The well-timed joke
Prebish continues, "I wrote the bulk of 'Confusion' in an afternoon in my apartment in Brooklyn, which is uncharacteristically fast for me. I started in my usual way, with an instrumental demo and a track of me singing jibberish over it and later filling in words that were the correct number of syllables. I like writing lyrics like that, I feel like it lets me tap into some subconscious part of my brain and it's usually only later that I understand what the lyrics are about. Sometimes I never find out. I added some synth parts on my computer later that week while I was at work, and then brought it to the rest of the band to Spine-ify it. The main synth I recorded for the demo, as well as some percussion and the really wonky guitar (which I pretty much recorded as a joke and never thought we'd keep), all ended up staying on the final version of the song."
"Our new record Charismatic Megafauna is written in classic Psymon Spine style, which is that everyone touches every song on the record in some way or another, regardless of who initially conceives it. We had a rough plan for what we wanted in terms of music and process, but had no thematic intention at all. Because everyone in the band was going through some big intense breakup (romantically and/or professionally) at the time it naturally became a break-up album. There are sad themes on the record but in general it was about us all getting together and healing and screaming into the abyss until we felt better. There's a lot of sweetness and optimism underlying the whole thing, despite some pretty heavy moments. I hope that the love and support we all feel for one-another really comes through, because it's very real."
"Confusion" is an alluring introduction a record that is sure to pique our attention and rally our inner creative. Psymon Spine's return is a long time coming, and we're excited for what the future has in store for them. Stream "Confusion" exclusively on Atwood Magazine, and pre-order Charismatic Megafauna at the link below!
Charismatic Megafauna is out February 19, 2021.
— —
Stream: "Confusion" – Psymon Spine
---
— — — —
? © Rachel Cabitt
art © Meghan Armstrong
:: Stream Psymon Spine ::
---