Easy Honey describe their genesis and journey from rocking their small college town of Sewanee, Tennessee to infiltrating Charleston's ever-growing music scene.
by guest writer Lilly Eason
Stream: 'Maritime Love Affair: II' – Easy Honey
---
Music to make love to and music to break up to.
In the quiet college town of Sewanee, Tennessee, where the acres of forest land outnumber the student population, Charleston-based band Easy Honey got together over a cooler of neon-green punch.
Seven years and three studio albums later, the group returned to their alma mater to shake the ground of downtown Sewanee. Towards the end of a long, isolating pandemic, the group became a godsend to the fatigued students and community members of an isolated town. To the band, after spending days in the studio and months in a world without live music, the return to their roots came with the joy of performance and the electric energy of a full house.
A few hours before doors opened on the downstairs patio of Sewanee's local bar, Shenanigans, singers/guitarists Selby Austin and Darby McGlone described their first meeting- at a fraternity house in the "party barn" of the Phi Society. "Selby comes up to me," Darby began with Selby chuckling next to him, "and goes 'hey man, I heard you play guitar, but do you really play guitar," since it's important to get that squared away before beginning any big project. "Then it was a mutual respect once we got into the same room."
From that initial discussion, the need to create was sparked. Drummer Charlie Holt was "commandeered," as Darby put it, from another campus band at the time. "We heard about the all-star drummer that was playing with all the seniors," Selby interjected. With the addition of the local-celebrity-drummer and a temporary bassist, Easy Honey was in their genesis, writing an entire album before the three current members reached graduation. Bassist Dan Comen joined the group when the band moved to Charleston, South Carolina, having notoriety for his "super cool pedal board" – and thus the group was formed.
The transition from local college band, easily filling a fraternity house on a Friday night, to a group of musicians in the ever-competitive professional sphere is never an easy one.
Luckily, the band had been accumulating original work for years before. This was, in part, due to the tremendous creative power between the band's members. It was also, in part, as Selby put it, because "you can't tell how shitty an original song is from a college band but everyone knows when you mess up a cover." Before moving to Charleston, the group spent a few weeks in Nashville getting their first recording done in three days. They wistfully described that week, eating Krystal burgers for breakfast, Greek food for lunch, and top-shelf margaritas for dinner.
After recording their first self-titled album, Easy Honey, they moved to Charleston and really got going. While Nashville was a great space to execute their first formal releases, they found that the scene there was oversaturated. They discovered that Charleston was a fresh, accessible, and growing scene to expand as artists. Darby mentioned that "there's a lot of groups from Charleston or went to school there, so their roots run deep in the city, and so we felt like we were transplanting into the city with little to no following, so it really just took meeting some people and seeing bands to get a feel for it."
Selby added that, "It was small enough to not be so dog-eat-dog, so it feels very communal." For a bright-eyed band fresh out of a college that's in the middle of nowhere, Easy Honey found Charleston to be an exciting new place, out of the frying pan and into a tender fire. "It's a very happy-go-lucky place," Selby added, "and our music doesn't necessarily fit the beach-rock aesthetic." This turned out to be to the band's advantage, being able to stand out.
---
When asked how the band would describe their sound, there was a mutual agreement over the phrase "music to make love to and music to break-up to," with the opposing dynamics sometimes meeting within one song. "Moncloa," for example, is one of their earlier tracks that employs duality well, with a driving guitar riff that extends throughout the song, giving an up-beat rock tone with intermediate jams throughout the song that keeps it dynamic and exciting.
Still, there are moments, specifically within the bridge that slow the rhythm down, revealing a sense of intimacy. "Body Language," from one of their most recent releases Maritime Love Affair, Pt. I, pairs softer verses with a more hard-hitting chorus, again using that juxtaposition to give the song spirit and magnetism.
"That's something we really value," Selby mentioned, "is changes within the song."
Drummer Charlie noted "change" as being a large influence in their creative process, accrediting the creation of their song "Like Glue" to simply rearranging their practice space. "It always seems to be change," bassist Dan said. "If there's something new, that's always been something that drives our creative process."
---
The dynamic of this group is one of their strongest elements, existing with an electricity and a true sense of comradery both on and off stage. "It's really good to have a great team, to be able to let your guard down," Selby noted. Their writing has always been a group effort, being a band that begins the songwriting process always with the music first. "We've known each other a long time," Darby raised, "it's not competitive, but so much time together fosters deeper creativity." When it comes to their recording versus live intentions, the two are very similar.
Live, their goal is to "really tear the place down every time we play," in Selby's words.
He mentioned that "we feel so good about as a group together, we feel confident about our stage presence and now, we know the way an Easy Honey show should feel like." In their recordings, they try to "capture us in that moment," according to Charlie. Dan said that they "want to capture the energy that's there, not doctor it," to achieve "total flow."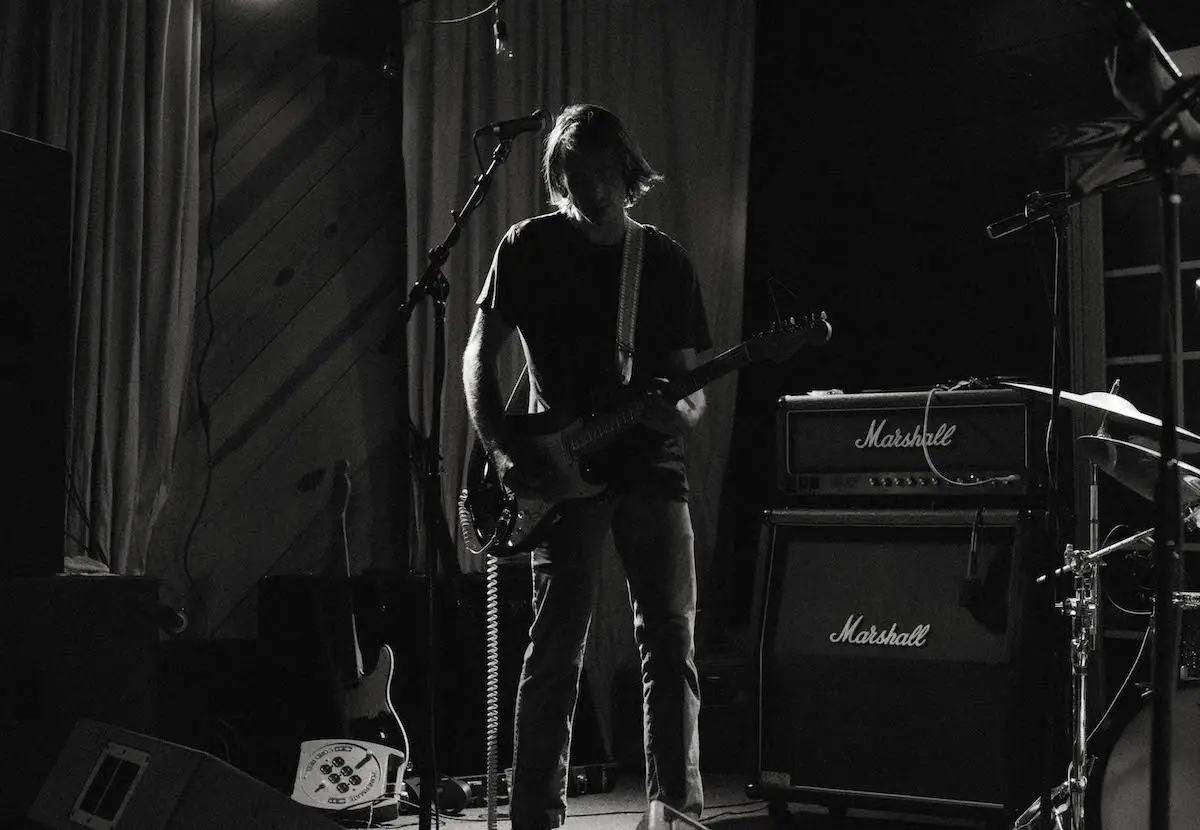 Maritime Love Affair Parts 1 & 2 are of the newest albums by Easy Honey, both released during the COVID-19 pandemic.
Originally meant to be one cohesive album, the group decided to split their releases, attempting a "singles" approach. The album was the first entirely written with the current members in Charleston. Deeply influenced by artists like The B-52s, The Beatles, and Big Star, elements of those bands such as strong harmonic vocals, pouncing rhythmic guitar, and a balance between blunt, driving rock elements and softer ballads come through really effectively.
"Love" and "our hearts" were the two quickest answers when asked what they try to channel in their work, specifically in their upcoming studio album which they're currently in the process of recording. Reeling from a pandemic that hit musicians intensely, "the darkest form of sex, love, and rock and roll" is to be expected in their upcoming work.
A new sense of darkness seems to be a theme in their new music, according to Dan. "We're doing things more like we did the first time around," Selby said, "getting the best of both worlds, one of which is playing live as a band, just trying to get the right take which is something we're really excited about."
Easy Honey can be found on Instagram at @easyhoney, on Spotify, Youtube, and at the Pour House in Charleston on June 4th.
— —
•• ••
A lover of music, writing, and literature, Lilly Eason is a senior English student at Sewanee and calls Nashville, TN home. She has an infatuation for the music and style of the 1960's, a funky bassline, and a strong cup of coffee. Can be reached by email at lilly3ason@gmail.com or on Instagram @lu_loveday99.

•• ••
— — — —
? © 2021
:: Stream Easy Honey ::
---