Achingly intimate and softly soothing, DAMOYEE's beautifully vulnerable new song "phobia" is an ethereal, soul-stirring inner reckoning of fear and love.
Stream: "phobia" – DAMOYEE
---
It chills me; I don't know if I should love and lose myself in fear of losing you…
Vulnerability is so much more than an outward expression of our innermost emotions.
While we often (and understandably so) experience raw art from an audience perspective, being vulnerable in one's art also means being vulnerable with oneself. It requires an artist to not only engage in those brutally honest conversations between their head and their heart, but to also bring those inner dialogues to life through the media of their choosing. Singer/songwriter DAMOYEE's latest single is stunningly confessional, and yet as powerful as it is to experience the vulnerability she brings to her audience, it's all the more moving to experience the vulnerability she has with herself. Achingly intimate and softly soothing, "phobia" is an ethereal, soul-stirring inner reckoning of fear and love. The artist embraces and exposes her deepest, darkest truths in a cathartic outpouring of passion and pain, hurt and hope, doubt, longing and lingering doubt.
In real time, we experience DAMOYEE's ongoing emotional tug-of-war – an internal battle with herself, for which there is no clear winner. And for all that she's chosen to share of herself with the world, there's something to be said about just how candid she's been with herself, her present feelings, and her past experiences. Truly, "phobia" is vulnerability manifest in a beautiful, heartrending song.
When you walk away, I feel afraid
you'd never wanna come back again
You caress my face, reassuring your faith
Make your way and hold it tight, my hand
Why is this like a dream, feeling too pristine?
Unbelievably too perfect for me
Atwood Magazine is proud to be premiering "phobia," DAMOYEE's third single of the year, and the fourth song of a new era that captures the young artist's present coming-of-age journey. Hailing from Dallas, Texas, and currently enrolled at Boston's Berklee College of Music, DAMOYEE is a singular and fast-rising voice of visceral self-expression. Already an Atwood Magazine Editor's Pick for her January single "BICY" (which we praised as for its "strong dance beat and soaring ethereal vocals aglow with a familiar, heavy thirst"), the singer, songwriter, multi-instrumentalist, and producer has an uncanny ability to channel life's most intense experiences and intimate moments into engaging – if not exhilarating – moments of sonic reverie.
The raw folk of "phobia" makes it an instant standout in what has largely been an electropop and R&B-leaning catalog, and yet DAMOYEE's latest single fits seamlessly within the larger context she has established for herself as a limitless, boundary-less creative spirit. Co-produced by fellow Berklee student SCayos, "phobia" is over three years in the making, and sees DAMOYEE unveiling herself to a "would-be" loved one. Falling in love isn't as easy as closing your eyes and counting to three, especially if you've known what it is to love and to lose, and all the more so if you've been hurt in that process. Love hurts; it's a risk; a gamble; an investment we're not always willing to make – and in "phobia," DAMOYEE is upfront with her conflicted emotions. "When you walk away, I feel afraid you'd never wanna come back again," she sings alongside an enchanting acoustic guitar pattern. "You caress my face, reassuring your faith. Make your way and hold it tight, my hand." But even that reassurance comes with its own set of doubts and distractions, keeping her from fully enjoying the present: "Why is this like a dream, feeling too pristine? Unbelievably too perfect for me." All the markers for love are there, but as she herself confides again and again, "I'm afraid."
Through every kiss, I'm in a state of bliss
wondering if it's truly meant to be
But I never know if you think the same things
I, I, I, I'm afraid
We don't necessarily have full control over our feelings, and more often than not, the head and the heart will come into conflict with one another. We may fall for the wrong person, or want to love someone more than we actually do. DAMOYEE picks apart her own experience through vivid songwriting that takes us right into the room with her. In that way, it's deeper than a diary – and as her voice and guitar are joined by kalimba, synths, drums, layers upon layers of vocal harmonies, and more, we feel the full weight of this song press upon us.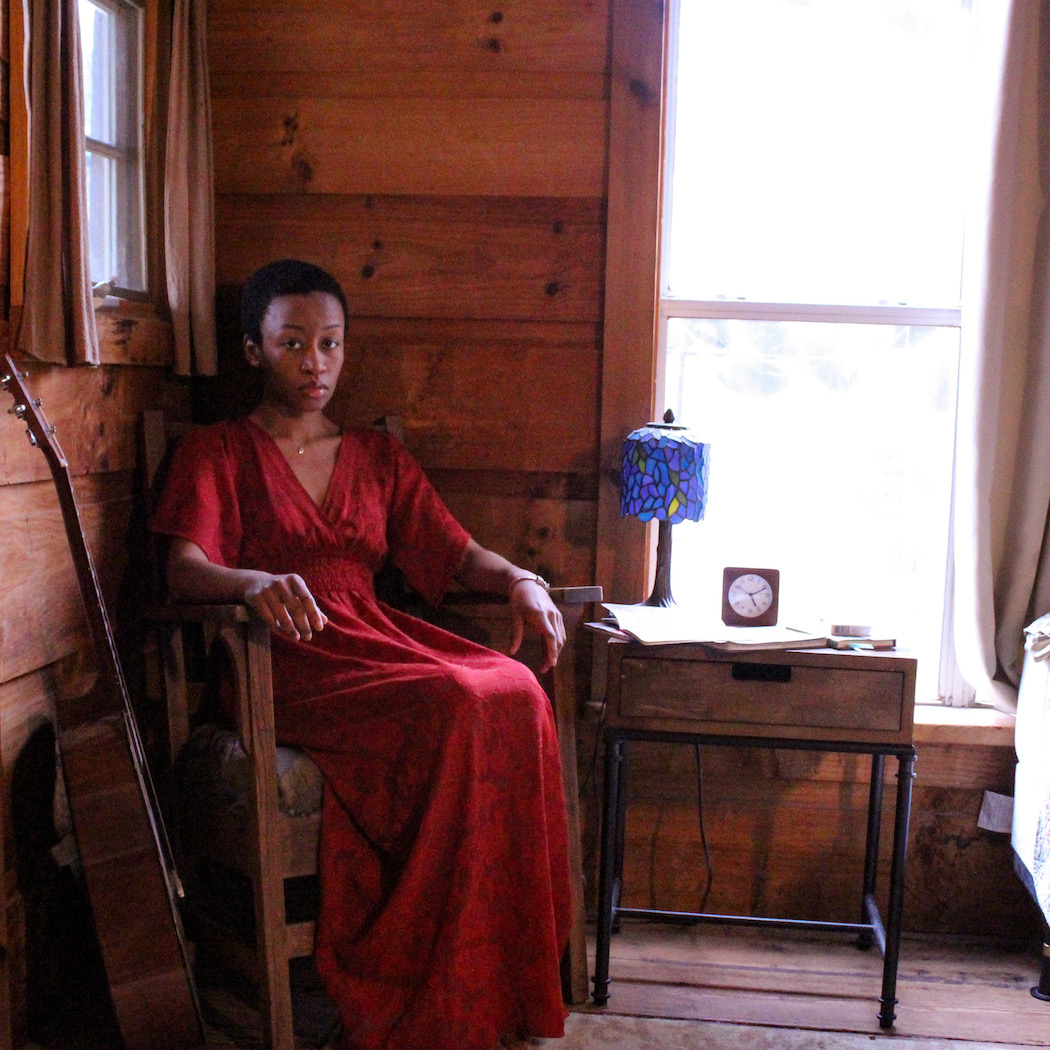 For DAMOYEE, this song is also highly indicative of her new "era" of music.
"This new era I'm in is so full of meaning and joy for me," she tells Atwood Magazine. "It's fulfilling. I love exploring new sounds and being able to express my emotions in my own way and in my own time. Even though I'm writing some songs about things that have happened in my life that have caused me sadness or pain, this whole process is also helping me reflect and learn and grow from those experiences."
"'phobia' was one of the first songs I wrote after my last album," she explains. "When I moved away from home to go to college, it was my first time being on my own. I was having the time of my life exploring and learning more about myself and others. I met and fell in love with someone, and our time together was amazing. Well, I guess things were moving too fast for him and he called off the relationship. I was devastated. Slowly, but eventually, I began feeling like myself again, and then someone new came along. I could sense that I was holding back and was more guarded than before. That's basically what "phobia" is about… this fear of falling in love again, and possibly having the same thing happen twice."
I'm obsessed with your touch
Maybe it's all too much
A voice so serene (so serene)
Maybe I'm falling deep
(I love these feelings… when you look at me)
When you come again and again
Through every attempt
successfully you dilute me of my past
And I'll always know that you think we will last
I, I, I, I'm afraid
Unapologetically real and raw, "phobia" hits at the heart of the matter with inspiring warmth and tenderness.
Fractured though she feels inside, DAMOYEE spills only light, not darkness, out through her art. Her music combines a confrontation and a confession into one uplifting exhale of cathartic wonder. Few storms come off quite as comforting, and it's yet another testament to DAMOYEE's rising star that she continues to shine this bright through heartache, fear, and doubt. Stream "phobia" exclusively on Atwood Magazine, and join DAMOYEE on this exciting new era of beautifully raw vulnerability.
I am hearing you say
I should trust, I should trust
It chills me I don't know if I should love
and lose myself in fear of losing you
I, I, I, I'm afraid
— —
Stream: "phobia" – DAMOYEE
— — — —
 © courtesy of the artist
:: Stream DAMOYEE ::
---