Leading with honesty and vulnerability, full-time hits writer Emily Warren aims to craft her own musical image.
— —
For a while, Emily Warren has been a name. She's been a writer, veiled by the extensive fame of her musical counterparts. She's been a credit on your favorite tracks, from a plethora of The Chainsmokers' releases to Dua Lipa's smash hit "New Rules." Now, the Grammy Award-winning, multi-platinum songwriter is becoming a face by her own doing. After years of bringing award-winning tracks to success, she's made the decision to lead with her own vocals and release an album of her most personal work yet.
Warren first drew artist-attention when she lent her vocals to FRENSHIP's "Capsize" in 2016, but the roots for her musicianship started early as she formed her first band to escape the rigid curriculum of her prep-school. It's in those early days Warren discovered her love of writing and eventually put her own artistry on the side to pursue a career in writing songs exclusively.
"Capsize" – Frenship & Emily Warren
---
Warren's hit songs hold a contagious pop beat and lyrics she describes as "honest." It's the goal of her work: to produce songs written with open hearts and limitless minds. In her shared work, these traits can be seen, but in Warren's first releases as a pop artist, it's clear her own work will encompass her beliefs in a new light.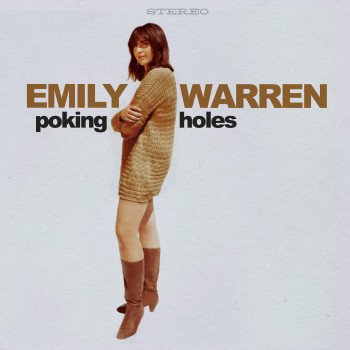 "Poking Holes," Warren's latest release, is a sweet, melodic ode to questioned love. Her vocal tone lends to the indie side of the pop genre, but instrumentally, "Poking Holes" is radio ready. Given her extensive background in the power-pop arena, it's no surprise to see Warren dominating it on her own releases. What's surprising is the soft sensitivity she's achieved in tracks that allow a personal vulnerability, so far removed from the confidence and control she's written for other artists.
"Something To Hold On To" is even more personal, a rock-ballad tone that speaks to the disconnect and eventual end of a relationship. "Hurt By You" is designed with an upbeat chorus, yet contemplates the same content. The love-driven tunes display a rare vulnerability in the pop market.
Wake up in the morning
Something's different in this light
It's like everything is perfect
You don't know what you did last night
Oh, you know the worst thing is
I don't wanna have this fight
You're saying that it's not that
You say that every time
So don't blame the liquor
For the things you say that you don't mean
The small things, get bigger
You're poking holes in you and me
– "Poking Holes," Emily Warren
The raw, emotional content displayed in Warren's releases are compelling. It's a side we've only seen from her in her wish to be totally transparent and truthful. Lyrically, Warren's releases are impressive and prove she's no rookie to the market she's aiming to impress. Musically, her tracks are simple, stripped down even with impressive production. The sound is clean and uninterrupted, which allows for all vocals to be the center stage.
Warren's new path is exciting. From her past ventures, listeners know she's got the capability to produce incredibly diverse and catchy tunes. But Warren's goal is not to be a chart topper: it's to create a collection of deep tracks, a grouping that really allows listeners to get personal with her. She wants the album to be an expose of things she's been unable to write before. And from the tastes we've had to far, it's bound to be impressive.
Atwood Magazine chatted with Watten about her prep-school upbringing, her work on some of her greatest hits, and all she wants to represent as her own musical entity.
Watch: "Poking Holes" – Emily Warren
Atwood Magazine: Can you start by talking a little bit about music in your life? How did the love of writing begin? When did you notice you were drawn to pop music?
Emily Warren: My love of music came from my dad. Although he's a lawyer, he has had a band together since college that play 60s covers around New York and were always playing in my house growing up. If not the band, my dad was playing guitar and singing to us. Eventually, a piano teacher I had named Jen Bloom, taught me about songwriting – before her I don't think I fully realized that people wrote songs. After that clicked, I became obsessed. I started really focusing on writing and noticing the writing in the music I was listening to – structure, lyrics, melody, storytelling. I've learned most of what I know from listening to music that I love.
Was it difficult to embrace your creativity in a structured schooling environment?
Emily Warren: In many ways, yes. I went to a very academically rigorous high school where it was hard to find time to make music and develop the band I had started. Although, sometimes I think that the fact that it wasn't easy is what taught me my drive and motivation. I felt like I had something to prove and that made me work ten times harder. However, I think it would, in general, serve many schools to cultivate creativity instead of trying to suppress it. Academia isn't for everyone, and I don't think that a creative career path is any less legitimate, nor should it be treated as such. Fortunately, since graduating, my school has changed a lot – I just learned that they added a songwriting program for high school students!
Can you speak on your first encounters with writing success? When did you know it was something you could really do as a career? How did that feel?
Emily Warren: I think that the first time I encountered success was when the songs that I was writing started getting cut. Although the first several songs were not particularly successful, you notice that your name gets out there and the ball starts rolling. One session leads to the next, and that's how you sort of work your way up. When I started being able to support myself off the money I was making purely from songwriting, that was a real moment. It's pretty crazy that something not only fun and exciting but in many ways necessary to my well-being, can also be a source of income. That's a crazy feeling, and to this day that is still how I would define success – being able to wake up in the morning and do what I love.
You've worked with artists like The Chainsmokers and Shawn Mendes. How have those hit song experiences shaped how you write and inspired your own artistry?
Emily Warren: I've been pretty lucky in the sense that the songs of mine that have done particularly well are those in which I was honest and vulnerable, and didn't necessarily try to chase a sound or anything like that. The benefit of this is that it's taught me to trust my instinct, and follow my gut – I try not to worry about what should work and just do what feels right.
What made you decide to release your own music and lend your vocals to some of the songs you write? Has it been a goal of yours from the start, or is it something that grew as you became a notable writer?
Emily Warren: I think deep down I always had the bug in me, since I started off as an artist and then transitioned into songwriting. But what made the transition organic and smooth was when people started leaving my voice on songs. After "Until You Were Gone" with The Chainsmokers x Tritonal, and "Capsize" with Frenship, it felt like I could start telling my story and putting out my own songs.
Your latest release, "Poking Holes," is a vocally-centered pop tune. Can you tell us a little bit about writing it and what the track means to you? Where did that inspiration come from? Was it an easy song to write?
Emily Warren: I wrote "Poking Holes" with two of my really good friends Scott Harris and Nick Ruth. We were having a long conversation (where, I think, all the best songs come from) and I said the phrase "poking holes" and we were like… hang on.. that's pretty sick. The song was fairly easy to write as it came from a very specific memory, a moment in time, and what I love about how it turned out is that I think between the melody and the production, the emotion I associate with that memory is really quite perfectly captured.
You've got a full-length album to be released in 2018. Can you talk a little bit about it?
Emily Warren: Yeah! I'm really excited! I find sometimes in a singles-based climate that in lots of cases, I miss getting an album from artists with some songs that are slower or more creatively experimental, songs that have no intention of being "hits"… the track 8's of the world. That's really what's driving me to put out an album. I want a collection of music for people to sink into, should they want to. So, while the songs all have the common thread of being honest and true stories, I hope that each track can serve a different function and that they can come together and mean something as a whole.
How do you feel about releasing your first personal LP? Do you feel it's a better representation of you personally than some of the songs you have a voice in?
Emily Warren: My approach to writing for myself and others is similar in the sense that it always starts with a conversation and in the best cases ends up landing somewhere vulnerable and honest. However, when I'm in the room with someone else, it's their story. With this album, it's mine. I do think that's largely what's driven me to do it, is that I reached a certain point where I felt like there were things I wanted to say, things I could only say myself.
What do you hope listeners get out of your songs? In your personal repertoire, is there a message you're hoping to send?
Emily Warren: What I hope to do for listeners is what music has repeatedly done for me. You know that feeling you get when you listen to a song that perfectly describes something you're going through, and you wonder how someone you've never met could know you so well, and you inherently feel less alone? That's what I'm going for.
What can listeners expect from you in the upcoming months and year?
Emily Warren: I'm still doing lots of writing with other artists, so I have a few exciting things coming out in the next few months, as well as more songs and music videos from me! We're actually shooting a music video for "Poking Holes" this month which I'm really excited about!
— —
— — — —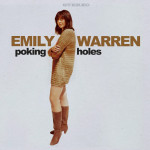 © David O'Donohue
:: Stream Emily Warren ::
---