A radiant and refreshing folk rock outpouring brimming with heart, passion, and purpose, Birdtalker's self-titled sophomore record is as beautiful as it is irresistibly evocative.
Stream: "Old Sob Story" – Birdtalker
---
A radiant and refreshing folk rock outpouring brimming with heart, passion, and purpose, Birdtalker's self-titled sophomore record is as beautiful as it is irresistibly evocative: An invitation to bask in life's highs and dwell in its lows, all while embracing our truest selves. Buoyant and rich, energizing and cathartic, Birdtalker washes over the ears and the soul like a ray of soulful, intimate light.
Everyday my life plays on
I try my best to sing along
But my mind's like a feather in the wind
Feeling good, then feeling bad
I can't get off my fucking back
Reminding myself all I've gotten wrong
Oh no, high time now
Gotta move my body to the earth's sweet sound
Gonna plant my feet
Gonna loosen my hold
On my old sob story and let it die
Released October 8, 2021 via AntiFragile Music, Birdtalker is a dazzling second effort from Nashville's Birdtalker. The follow-up to 2018's debut album One finds front-couple Zack and Dani Green making magic together with guitarist Brian Seligman, bassist Jesse Baker, and drummer Chris Wilson. Reminiscent of acts like Blind Pilot, The Head and the Heart, Gregory Alan Isakov, and Lord Huron, Birdtalker's music makes its home in-between the folk and rock worlds – with elements of soul, Americana, and more sprinkled in not for added effect, but because the band has no qualms about taking chances, pushing themselves and their artistry, exploring new sounds and embracing new instruments, and constantly redefining who they are and who they can be.
Birdtalker is, by definition, an expansion; the band's "broadened horizon," as they like to call it: A structurally cohesive, yet sonically diverse record that keeps listeners on our feet, enchanted and engaged the whole way through.
"We planned on writing in early 2020, then recording in late spring/early summer," Zack Green tells Atwood Magazine. "As circumstance would have it, it was quite an ideal time to hole up and explore what sounds, tempos, and melodies felt resonant with the people we are now. Dani and I spent a lot of time fleshing out demos in our home studio, and those songs were brought in to our friend JD Tiner's studio to be fully fleshed out with the band. It was a very collaborative process with no real sense of urgency. It was lovely and felt very honest and full of curiosity. The vision was pretty simple – to explore and find what felt good to us… It was a wonderful exercise of getting in tune with our instincts and current musical preferences. We maintained that vision through the whole process."
There's something to be said about naming an album after your band: Eponymous albums inherently gain a special kind of self-defined weight. Green is fully aware of this tendency, proudly asserting that this record is Birdtalker's boldest, truest offering to date.
"We've only released a couple projects before this one," he says. "In the experience of creating both previous projects, there was a bit more ambiguity/uncertainty about what our "sound" was, or for that matter, what we were doing. In the wake of [our song] Heavy's success, our last record, One, was written with more urgency than we would have preferred. With this record we had time and space to explore. It feels like a great (re)introduction and expression of what we make together; in the content of the songs and their musical arrangements. The question of what our "sound" is was transcended a bit – the answer now is a much more confident "whatever we made." There is more subtlety and diversity in every track than projects we've made previously. We feel proud to stamp it with our name."
From the roaring, bright opener "Right on Time" straight through to the hearty, groovy "Apes in a Daydream," Birdtalker is a wondrous and colorful world unto itself. Highlights abound, from the grit and driving beats of "Old Sob Story" and the tender, soulful glow of the mature love song "Tides," to the vivid, Fleet Foxes-esque sonic expanse of "Dawn" and the charmingly raw, unrelenting, and effervescent "Alright."
You can be heady and ready to fight, I can be head in the clouds
You can go winding your way through the night, just sit here with me once in a while
If all there is is in between, then I don't mind
Dancing like the water and the moon
You can be steady and mild, and I'll keep playing with fire
You are the cool when the flames get high, but baby don't I glow in the light?
If all there is is in between, then I don't mind
Dancing like the water and the moon
Oh we are on the right track
Chasing love to higher ground
Oh we are on the right track
Dancing like the water and the moon
For Birdtalker, it's the big and small moments alike that make this album so personal, and so special. "These fluctuate, but I love the musical interlude in 'The Dream' – it may be the most explorative and unplanned moment on the record," Green says, reflecting on his own favorite moments. "The demo for the song did not include this section. Brian, Chris, and Jesse played and explored this section in the studio and formed what this moment evolved into. Listening back, I feel what it was like being in the room with them, so present with their instruments. It was magical. I also love the big release into half-time at the end of 'Alright.' The whole song builds tension until that moment at the end of the 3rd pre-chorus – musically and lyrically, that moment embodies catharsis for me."
"I love the orchestral ingredients that were brought in to some of these songs," he adds. "During quarantine, Chris Wilson, our percussionist, and his buddy Kam Luchterhand drove to Arkansas and used a concert hall to track marimba, timpani, bass drum, gong, roto-toms, vibra-slap, vibraphone, crash cymbols, and bar chimes. Those sounds were very fun to sprinkle into the arrangements!"
Ultimately, Green says it's all about the album's closer. "'Apes in a Daydream' is my favorite song on the record," he affirms, beaming. "The melody is playful, the groove is a bop, and the sentiments resonate deeply. I love that most of the feel is coming from an electric guitar scrape with reverb and conga drums. It is a welcome and playful divergence from what we've made previously. This was the last song we wrote for the record. We were nearing the end of the recording process when this demo surfaced and we decided to include it. With all the questioning happening throughout the record, this is another song full of questions but somehow holds a sense of stability in the chaos, a sense of trust in the process but without any answers or conclusions."
Poppin' on the scene, eyes are open
The baby's talking
Growing wild, but he has to find out
What makes a thing worth crawling towards
In the morning
Laughing, talking
Stacking rings on a wooden toy
But you'll have to find out
How to keep your heart awake
For when it gets dark along the trail
Are we all just apes in a daydream
With a heart of a child
Hoping for better life
It could be
If I scream my joy like a sound
Will the echo lead me to a better way?
---
As one of the band's principle lyricists, Green goes on to cite some of his favorite lyrics as well. "Here's what finds me where I am," he explains:
Alright: "Every shadow here is alive, but they're reaching out to be held with pride" – I resonate with feeling overwhelmed with shadows (old stories, insecurities, worries, traumas, etc), and the idea all they are asking for is to be recognized and included in my story, not repressed or smothered – feels like a beautiful flip of the script.
Clear Water: "Been diggin' a hole and I fell in. Been wondering what it means to win. Been feeling like every time I finally feel the wind, it blows me down." Dani wrote this song, and I feel like these words immediately connect me to her story, as I've experienced similar feelings. The melody with these lyrics doesn't feel sorry for itself; it feels curious but exhausted. I think it's brilliant.
Apes in a Daydream: "Where to now? Are you lost, baby child?" These are my favorite lyrics on the record, as simple as they are. The voice speaking these words feels like the voice of Life, urging me with love and support to continue to find my own way. The melody that accompanies these words adds the their feeling of warmth and connection.
As one can take away just from the above lyrics, Birdtalker isn't about any single person or any one experience. It's a record of connecting (or reconnecting) with oneself on a deeper level, but it's also one of reflection, renewal and rebirth; growth, self-awareness, community, and asserting control over our own lives: Taking the reins and writing our own stories. Through sun-kissed acoustic instrumental work and sweetly stirring aural textures, buoyant, dazzling harmonies and irresistibly emotive performances, Birdtalker create for listeners a journey that both exhilarates and inspires.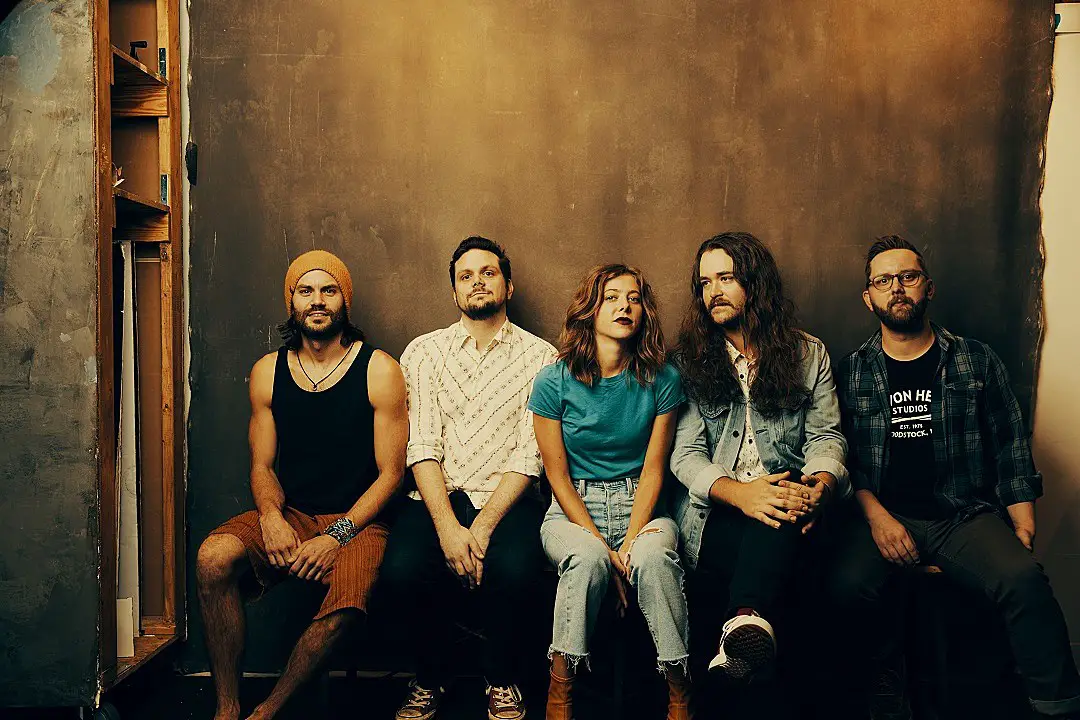 "These songs weren't written for anyone else," Zack Green shares. "They are expressions of working through our own inner dissonances and questions. That being said, my favorite experiences of receiving the art I consume (content-wise) is the feeling of being seen or understood on some level. Musically, I love when I want to keep listening through an entire song, and that the melodies and rhythms inside of it pull me along and move my body. It think that would be my hope for this music, that listeners would feel connected to themselves and to others when listening and that they feel some level of excitement or intrigue in the arrangements."
"Creating these songs only emboldened my perspective that aligning with ideas and sounds that get me excited or resonate with my instincts is the way I want to continue to make music. I'm certain my preferences and instincts will evolve over time, but that is what excites me moving forward. Already some of these songs feel dated by the person I was when they were written, but in the same breath, what a beautiful way to reflect and see how my perspective changes."
Experience the full record via our below stream, and peek inside Birdtalker's Birdtalker with Atwood Magazine as the band goes track-by-track through the music and lyrics of their eponyous album!
— —
Stream: 'Birdtalker' – Birdtalker
:: Inside Birdtalker ::
— —
Right On Time
This song is a collision of 2 ideas: the universe is sprawling and chaotic, and yet I and my lil life are somehow perfectly positioned inside of it. Zooming out can make me feel like my life is inconsequential, so this song is a reminder that yes everything is big and also yes I am exactly where I need to be within it all. – Dani
I Know
This song is a broad-brush narrative about my experience of being shaped to believe that wonder and curiosity may be a threat, and the eventual realization that those qualities in fact have led to a more grounded and vital experience of being alive. It is a song about trusting the stomach, not necessarily the uncountable programmed stories and information I received along the way. It's a simultaneously tentative and certain exclamation that I will give myself permission to listen to those fundamental pricks of the heart, and thrust they'll lead somewhere with integrity. – Zack
Better Days
This song is about being inside of a breakdown. Zack wrote the chorus, "I believe in better days," but I was feeling less optimistic than he was. So I wrote the rest of the song about the old breaking down, and having to sit with the pieces in order to know what to do next. – Dani
Clear Water
This song is just exhaustion about not having clarity in my life. I wrote it after making a tough decision and was flooded with doubt. – Dani
Old Sob Story
The song is speaking about allowing old stories that are no longer helpful to fall away, but it's got a "fuck this I'm tired of myself" vibe. Not defeated, but just done with the old and ready for the new. Getting out of the head and into the body and a deeper sense of knowing. – Dani
The Dream
This song plays it a bit fast and loose with some sweeping spiritual ideas, but that's the fun of it for me. It doesn't take itself too seriously (I hope), and I think that's because there's a lack of trust in what I was even writing. But the hope of the song is that there is some way to live that's not rooted in fear, that it's possible to be at peace with your life. Then, the musical interlude falls into this mysterious, questioning, doubtful place, and that's by far my favorite moment of the song, not only because it's musically beautiful but also because it reveals the unease underneath the lyrics. – Dani
Taking Control
It's a lil tune about codependence – moving from a place of caring more about how I am perceived to a place where I can rediscover what motivates me and what my instincts are. I love how the chorus peeks out of the co-dependent headspace by starting with "I hope you don't mind," but finishes with "I'm taking control of the skin I'm swimming in." The bridge of this one, again, feels like it reveals a bit of the hesitation behind the lyrics. – Dani
Tides
This is a "love" song about the challenge of allowing space for a partner to be exactly what they are and learning how to find balance in a relationship as you evolve together. The dance between the water and the moon describes the relationship push and pull that, it turns out, is really the only constant in the relationship. – Dani
Nothing Ever Stays
I wrote this song at a Buddhist meditation retreat as I was getting overwhelmed by the idea of impermanence. It's attempting to make peace with it and accept that everything is constantly evolving or falling away. There's a bit of sadness to it, which I like, but mostly a gung-ho OH WELL and some nature imagery to illustrate the constant flux. – Dani
Dawn
I spent a lot of my life smothering emotions I learned to be less desirable. I was terrified if I allowed them in I would be overtaken, judged, and become less desirable to be around. This simple song says exactly what I say to myself often – I don't want to fear it, I want to feel it, whatever it is. There is so much catharsis and metabolization in allowing the entire emotional spectrum to be part of my human experience, something I did not believe for a long time. I obviously still have a difficult time with this practice, but the gentle voice in the chorus, one I also have a difficult time accessing, gives space to be able to start the same work again the next day. The choral, spacious atmosphere pays satirical homage to the religious spaces I first learned to only 'be nice.' – Zack
Alright
This song comes out of my experiences with resistance. The feeling that I have far too many stories in my mind about what I should/could/might be/am to ever see through lives in this song. The tension that is built in the arrangement mirrors the tension built up in my body from years of repressing, and the disconnect I feel from how my brain so easily colloquially tells me to 'man up' or 'it's water under the bridge' or 'it's too late' etc. This song's musical and lyrical story is a painful but hopeful one. From my own experience, with patience and stillness, there is a clarity, relief, and the transformation of old fear-riddled neural pathways that at one point felt immovable. – Zack
Apes in a Daydream
Jesse, our bassist, came up with the line "apes in a daydream". I took that line and wrote the song after talking to a buddy about his experience of raising a baby and watching his son learn about… everything. We don't have kids, so I explored what I might want to share with a baby human learning how to be alive. Turns out I'd want to teach them to use their heart & their joy as a compass. And then, as I wrote it, I realized that humans are basically babies on the planet so maybe we could all use that encouragement.
— —
— — — —
? © Jeremy Cowart
:: Stream Birdtalker ::
---