Even during life's darkest moments, there is evidence of light and hope. Ruston Kelly chronicles them on his reflective, cathartic, and life-changing sophomore album 'Shape & Destroy', which serves as a hopeful reminder for 2021.
Stream: 'Shape & Destroy' – Ruston Kelly
---
Nashville singer-songwriter, Ruston Kelly, released his first full-length studio album, Dying Star, in 2018. It was a cathartic, acoustic, and bluesy record that chronicled the chapters and feelings of the artist's past journey through sobriety. With a talent for putting words to pain, heartache, and loss when the feelings are too difficult to describe, the album caught the attention of many listeners at the time. Two years later, even NPR wondered, "When your breakthrough record is a post-sobriety look back, where do you go next?"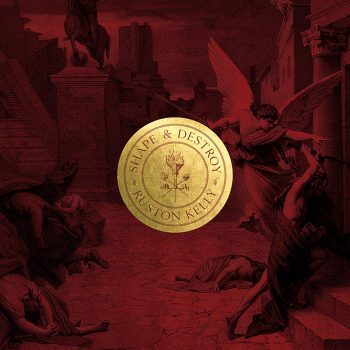 For Kelly, the answer was simple. It was about the next step on his journey. His sophomore record, Shape & Destroy, released in August of last year presents the trials and errors in a reflection of what it takes to maintain comfortable, tolerable, and sometimes even, peaceful human moments. If Dying Star was about the steps he took to achieve sobriety, Shape & Destroy was about chronicling all the trying moments Kelly had to fight through to maintain it.
"It wasn't surprising to me that getting sober was a challenge, but there were moments when it was challenging in a way I'd never experienced before," Kelly revealed in his album overview during the record's release week. "There's so much repair your brain has to do – spiritually, emotionally, physically – and at one point I really felt like I was losing my mind."
Co-produced by Kelly along with Jarrad Kritzstein, the artist said of the album's birth that it was his goal "to channel something larger than myself." On the record, Kelly writes and sings about the demons he's faced and still faces. Personifying ugly truths and the worst of human ambition, he gives listeners a glimpse at what his struggles through addiction and through his own inner monologue feel like, and then through soaring acoustics and cathartic melodies and an unyielding grip for hope, he slays them all, revealing the light that exists on the other side.
Describing his music as "dirt emo," the album's coming together is just as unique as its sound. With most of the writing done at the home of Johnny and June Carter Cash, a lot of Kelly's songs on the record reflect "self-preservation and catharsis." On the record's lead single, Kelly reflects on the idea of legacy, the uncertainty of how you'll be remembered when you're gone, and the idea that choosing light over darkness is brave in itself. "I didn't give up to the darkness / I fought with all my might / and I never took for granted / All the love in my life / That's how I hope I'm remembered when I die," he sings alone backed only by an acoustic guitar, letting the truth and profoundness of his lyrics echo on its own.
---
Kelly's gift for bringing meaning to simple life moments isn't something new, and Shape & Destroy's biggest radio hit proves just that. Inspired by beat literature and stories of Moses and the Exodus, the acoustic ballad draws upon the easier-said-than-done idea that you have to leave behind what you know in order to grow.
"You have to accept who you are," Kelly states, revealing the meaning behind the song, "not who you wish you were."
Shape the life you want by destroying what obstructs the soul.
The uncomplicated quote that inspired Kelly to give the album its title gave him enough of an epiphany to write his latest masterpiece. Through healing and in retrospect, the artist not only gives listeners a first-person glimpse into what life has been like for him, but also another way to find empathy and hope by embracing who you are, past mistakes and all. "In The Blue," sees Kelly finally, without shame, being able to say, "This is who I am." He finds solace in the morning light as he writes, "What a beautiful morning to be alive" on the album's third track. He embraces change, pushes back on pressure, and recounts every setback with a voice that isn't filled with remorse or vengeance, but with acceptance, a willingness to move forward, and with faith.
Looking back on the record, an album like Shape & Destroy reminds us in 2021 of the quiet power that sits within us when we're struggling to find light in dark places. It reminds us that one ounce of hope is the gentle, yet influential push is enough to look at optimism without scepticism, and the resounding evidence of Kelly's resilience that he shares with us through song is a reminder to remember that times of acceptance, light, and peace are yet to come and that in the in-between moments until then, there is anything and everything to still be grateful for. "Through the doubt and pain and howling rain," he sings, "I pray I'll always have the strength to say, "Hallelujah" anyway."
— — — —

? © Alexa King
:: Stream Ruston Kelly ::
---