2014 was a big year for independent record label Jellowstone Records. Founded by multi-instrumentalist, jazz musician, and hip-hop producer Devonne Harris (a.k.a. DJ Harrison) and multi-instrumentalist and producer Reginald Pace in June of 2014, the label has single handedly created one of the most exciting new music scenes in the country, based in Richmond, Virginia, with its roster full of forward thinking Jazz, Hip-Hop, R&B, and Funk acts. 2014 saw the label release four fantastic studio albums: DJ Harrison's Stashboxxx, Butcher Brown's All Purpose Music, Trio Of Justice's Without Hesitation, and PaceCadets' Virginia Up In Ya.
Butcher Brown, the label's genre defying group, which has, on different occasions, been described as "electro-soul" and "funk and rock with 5% jazz", has been making big waves in the music world in particular, from playing at prestigious jazz festivals across the country, to being the backing band on acclaimed jazz trumpeter Nicholas Payton's most recent record (Numbers), to their guitarist Keith Askey playing guitar on Kendrick Lamar's Grammy award winning single "I".
The label's next project slated for an album release is the group Kings, the first act in the Jellowstone records roster to show how the label's forward thinking sound will work through the lens of an R&B/funk record. I was lucky enough to be allowed to hear the record in advance to review it, and I also got to go over to the Jellowstone headquarters and interview Kings frontman and mastermind Kelli Strawbridge, along with Devonne Harris and Butcher Brown drummer Corey Fonville. Check that out after the review and cop the self-titled Kings album when it drops 3/3/15.
---
The Album Review
[bandcamp width=100% height=120 album=1627522036 size=large bgcol=ffffff linkcol=0687f5 tracklist=false artwork=small]

 

The album opens with some resonant and warm keys, followed by lush horns and backing vocals over a short spoken intro by Kelli Strawbridge, setting the stage for the rest of the record. The intro immediately segues into the darting bassline of the following track, "Perfect", featuring light and playful vocals by Kelli, a gorgeous, thick, and synthy hook, and some soulful saxophone playing by Richmond jazz scene figurehead and Jellowstone regular Marcus Tenney. This track and the two following it share a pretty similar feeling, all upbeat and high energy cuts, with the thumping, bassy track "Single Man Hours," in which the intensity of Kelli's at times wailing, James Brown-esque vocals starts to increase, in addition the smooth, sweet, and romantic "Innocent number" making for an exciting opening to the album.

After the synth heavy, and for lack of a better word, dreamy, "I Dream Of Genie," a track with some excellently timed, 80's reminiscent keyboards, comes one of the stand out songs on the album: the infectious single "Strange Love". Starting off with some light, airy, and upbeat chords by guitarist Keith Askey. Fast paced drums and passionate vocals soon join in, transitioning perfectly into a thumping and well executed chorus of deep, chanting, vocals and bass, and a stewing, ominous mix of horns, keys, guitars, drums, and backing vocals, with an excellent vocoded bridge to top it off; in other words, catchy as hell. The track paints a humorous and vivid sonic picture of a man in a club getting in over his head with a girl he doesn't know and the strange events that follow. This song is definitely something special, and its followed up by three of the other best cuts on the record: "Exhale", a smooth and beautiful ballad, "Creamy", a track which blends experimental hip-hop production (in the vein of new producers like Knxwledge, Ohbliv, and DJ Harrison himself) with the funkiest bassline on the record, (something that could easily find its way onto an old Bootsy Collins track), and "Stimulate", a track that showcases some beautiful reversed grooves, a lush hook, and perhaps the most passionate vocals on the entire album. Although the chorus on the final track "Sweet Serenade" is lyrically less interesting and more repetitive than many of the other choruses on the album, the soft and comforting grooves serve as a good ending for a great album.

Kings is a well sequenced album that definitely merits a front to back listen, with thick, bassy grooves, excellent production throughout, and stellar track after stellar track. Front man Kelli Strawbridge is a versatile vocalist, switching back and forth seamlessly between the smoother, more romantic cuts and the record, and the grittier, more hard hitting ones. He may not showcase the flashy, indulgent, and masturbatory runs and vocal range showboating that is expected out of the archetypal R&B singer, but he makes up for it with plenty of tone, personality, charisma, grit, and soul. As Kelli reiterates in the following interview: its about playing the music, and none of the bullshit that seems to get in the way of that nowadays.

This record manages to defy the normal expectations of what an R&B singer should sound like and what an R&B record should sound like, while simultaneously invoking the same raw and inventive feeling you get from listening to a classic R&B or funk record from the 70's or 80's. Its another win for Jellowstone, and another reason why you should be paying close attention to what this label, and Kings, will be doing in the coming years.
---
The Interview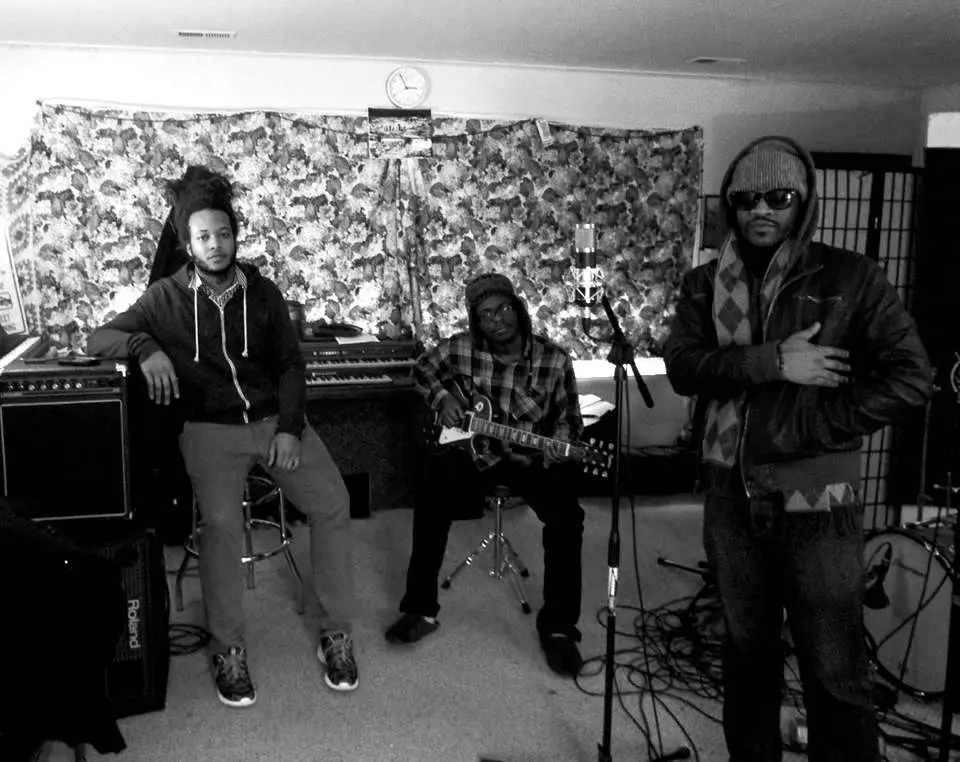 left to right: Corey Fonville, Devonne Harris, Kelli Strawbridge
If you could sum up the concept of Kings in a sentence or two how would you do it?
Kelli Strawbridge: To me it literally is a tribute to the living and also forgotten masters of R&B and funk music. They should be considered royalty. They should be considered kings, queens of it. They should be in the rock and roll hall of fame, all of the above.
What's your musical background? When did you start playing?
KS: In 1993 I got my first drum set, I was around 13 and that was the time that I switched over from being just a Michael Jackson lover to more of a listener. I became a listener of Prince, and then that's when I first got an Al Green greatest hits album, and I Want You by Marvin Gaye, so pretty much right after that I became addicted to Fender Rhodes, I became addicted to that sound. I became addicted to drums, drum machines. All of that. So that was all around 94, 95.
How did Kings start? How did you link up with all the Jellowstone dudes? Have you known them for a while?
KS: I've known Devonne for about 8 years. '07 I met you?
Devonne Harris: '06. I saw you play at that jam session '06. It was my first night that I spent in the dorms at college.
KS: Yeah I met Devonne at '06, I saw him play and everyone was already flipping out about him. Then I started hearing some of his music and I was like "ok this just isn't fair". We ended up hanging out; I ended up doing some stuff at his old studio, Jesse Jackson studios. He gave me an old beat disc with 10 of his tracks and 10 of Ohbliv's tracks, and one of them had "I Dream Of Genie" on it. And that just freaked me the fuck out. One weird drunken morning I threw some vocals on it. And then I played it for Devonne. But you should finish from here 'cause I don't remember. Is that what happened?
DH: Yeah. I mean, you played the song for me, and you said you wanted to redo the vocals [at Jellowstone] and that became the first track of the Kings record. And then you came through, you had some musical ideas on your machine, and next thing you know we just ended up chopping it up and then "Creamy" came about.
KS: And then you had "Strange Love." The thing was that it wasn't named Kings at the time, we were just getting up for sessions and hanging out and doing music, and then the concept just started coming because each song was different sounding. We were hitting the Prince stuff or we were hitting this Cameo thing, and we're hitting all these different influences of our childhood or whatever even though we're slightly different generations. I'm older than Devonne but we pretty much all came up listening to the same music from our parents, the church-
DH: All wax.
KS: And we exposed each other to a bunch of music we hadn't heard. It came about very spontaneously.
So the recording process was over a really long time? Tracks just kept piling up?
KS: Exactly. Over about two years. We started about November/October of 2012, and a lot of it came together in 2013 and the first half of 2014. And then after that we just started mixing it. Plus Devonne's just been updating the studio constantly, so by the time we finished recording, there were so many new things about Jellowstone to enhance the music that it was an awesome process just to see that all come together.
DH: And let me just add this. The sound of the record? That's totally on purpose. That's exactly what we wanted. You're gonna get the whole "clean Pro Tools" heads, and they're gonna be like "Something's sounds wrong with this record. It sounds too muddy. Its too squeezed, too compressed." And its just like, look man, that's the sound from back in the day, whether you like it or not. So that sound is totally on purpose.
What do you think makes Kings stand out from other Jellowstone projects that have come out so far?
KS: Well it's the first R&B album, if you will, from the label. It's the first one that is completely focused on vocals. There's not really any Hip-Hop on it. Maybe you could say there is a slight hip-hop influence on it, but I could say more that the record is meant to influence, if you will. So its totally based on vocals, I mean even everybody that you would know as a rapper does something musical in a whole 'nother way on the album. So you get to see a whole 'nother light, you get to see Armando [Armando Muñoz, Richmond based rapper and Jellowstone regular] in a whole different way than you would from the Mighty Monde record or whatever, because he's a great singer, and he just spits out concepts constantly. Like he's the one who came up with "Creamy," we were just listening to it and he says "it sounds so… creamy" and I was like oh! And then we went and finished it.
DH: Of course it was "it sounds so creamy" and it ended up turning into "girl you so creamy."
Corey Fonville: As you can tell the record is about… sex.
KS: Yeah, a little bit…
DH: Its not about sex, Corey, its about love!
KS: Of course you can see where Corey's mind at… skirts. Yeah, that's the basic deal of it. Its totally focused on that. Its straight up focused on songs, and it looks like that's what Jellowstone is gonna be more focused on in 2015. I don't really call myself a singer, its just more about vocals. The Butcher Brown album is probably one of the most melodic albums instrumentally to come out in years, for sure. So that's definitely what's happening with the Jellowstone label this year. More melody. And theres hopefully some melodies that people can catch in the Kings record.
CF: I always say, I was telling Kelly the other day, yeah, it's the title of the Butcher Brown album, but it really is all-purpose music. His record, you can listen to it anywhere. You can listen to it in the car, when you're chilling, cleaning up, washing clothes, doing whatever. You can listen to it. That's the kind of album that you want to put out. That's the kind of product you want. Anyone can appreciate and relate to it, whether you're a musician or not.
In a recent interview (legendary producer and rapper) DJ Quik talked about how he thinks the idea and sound of "funk" has become a novelty. What would you say about that. What is the place of funk/soul/R&B in modern music and how does Kings play a role in moving it forward?
DH: Man…
KS: That is such a fucking good question, Jesus Christ.
DH: Do you wanna take it?
KS: Nah, I just wanna say thank you for bringing up DJ Quik, because he is one of my favorites, and he's one of the only motherfuckers still doing it to tape, and that's why his shit sounds so good. He is so underrated, it's a damn shame. I'll answer that question in a second but I would love for [Devonne] to answer it.
CF: I got something to say too.
KS: We all got something to say.
DH: My whole thing is, is that everybody who's apart of this record has a tradition of coming up and listening to records that were created by people, that were mixed by people. I'm talking hand mixed. The mix was an actual thing that's been lost, it was an activity, you actually had to go and move knobs while the music was being recorded. It wasn't a thing where you just set automation or you set all your levels in a computer program and its ready to go. My whole thing with that is, yeah, the whole technology boom is great because everybody's connected to social media and everybody can have a chance to try and be a musician, but the problem with that is that everybody is going around and calling themselves musicians without doing the research and the study from the actual records and the techniques that everybody used before us. So the Kings record is just incorporating new techniques but with a lot of the older techniques in mind, like having the live band track out the whole track and having the vocal parts be one swift all away take, you know? So that element is kind of lost because you don't really have to know how to write music now a days, you can just get a computer program, and click, and all the sudden you're a DJ. And so music, that was seen as such a sacred thing, is being put off as another everyday activity, just kinda like a game or a sport. And none of us think that that's the deal at all, as far as what it means to us. This Kings record is us trying to show everyone "hey when you learn the history and have the technology that's provided for us today then you can do a lot of great things with it" and have it relate back to why people made music back in the day. Because we're just trying to bring that back, the unity, the whole human aspect, we're just trying to save that.
CF: Man, my issue with it is like, and its very similar to how I feel about a lot of traditional jazz now- and I'm not trying to be one of those jazz purist people or those funk purist cats- but I feel like the standard of being able to play funk is not what it used to be. I feel like anybody is considered funky now. Back in the day you had to be on your A-game to be considered like "Oh yeah this dude, he really has it together. They're really soulful." Being soulful back then, just like being able to sing back then, you really had to be able to sing. Now, its like anybody's a great singer. Beyonce would have been average. I'm gonna keep it real, you can keep that on there too. She would've been average back then. Especially when you had people like Chaka Kahn around at the time. Chaka Kahn was what Beyonce is now, and they're like night and day, you can't even compare them. I've noticed the same thing with jazz, with people being able to swing. What people consider swinging now its like, really? Ok. And it's the same that goes for funk. There's a couple guys keeping it alive, or who are real soulful, but I've just noticed that the stuff I've heard on the radio that people consider funk, when I hear it I'm like, "ok, this is just alright." But then when a guy like D'Angelo comes back its like "finally someone's doing it again." Its changed, man. The standard of groove isn't the same, because I think it's the lack of really studying. I think a lot the musicians haven't really studied the greats, the feel, and played along to those records and lived with that shit. So I think its very different now and that's why Quik said what he said.
KS: That's the thing, when it comes to the sound of this record. Yeah, people as you can or have already heard, are gonna be like "this doesn't sound like a funk record" or "this doesn't sound like this." Its because, these funk records, they haven't been paying attention to the sound anymore. The sound has gone out the window. Its about the look and its about all the other things that, the people who made these records that we listened to growing up, they didn't care about that. And just because you have six strings it doesn't mean you should play them all. I don't know if that's the right move, just to have more things in front of you to play.
CF: Some of the funkiest cats, one of richest drummers and one of the baddest drummers is known for using snare, kick, floor tom, and two cymbals. He has an afro, and his name is Questlove. That dude is like the funkiest cat. Chris Dave, Bernard Purdy, all the greats, going back-
KS: Chris Dave, people see that he has a whole bunch of stuff in front of him, and they don't understand that they're all snares. All he has is snares and cymbals, and he's tuned them all into different sounds, but he doesn't play them all at the same time, he doesn't do all kinds of crazy stuff with them. Like, Corey barely plays fills on most of this record, and we weren't even like "we don't want no fills," its just about playing the music. I don't understand why there's this thing about what R&B is or isn't and ladadada. I'll tell you what its not. For me, its not boring, preachy- this confessional, going all out- to just boring machine music. That's not what R&B music is. It used to be a melding of the two. A melding of the electronic and the human. It could be just all human, or it could be all mechanical, but there's still a human element to it. And that's been completely taken out of music. Its been taken out of funk music, its been taken out of soul music. You have some of these so-called real R&B singers who are out there now and they don't want to talk about the Miguels and they don't want to talk about the other guys that are doing these techniques. They're doing them. They might be way cleaner and major labely and whatever-
CF: Bruno Mars even. "Uptown Funk."
KS: Perfect example. It is what it is, but they are using those techniques.
DH: I feel like a great deal of that is Mark Ronson too.
KS: Its very much Mark Ronson. Bruno is a great name to sell the stuff, but it's the person behind it, and it's the sound. There is a sound on that record, and I'll tell you what, it didn't take more than four fucking strings to make that.
CF: Its just like Daft Punk. Nile Rogers is the brain behind a lot of that shit.
KS: Daft Punk. That's the perfect example. Why is this music selling? Why is this music making so much more of an impact? Because its been made in the way we remember and that we recognize. And people want to sterilize the music. They want to sterilize it, and literally what we're doing with the Kings record is going in the opposite direction of that. There's no autotune on it. You hear me in all kinds of vulnerable- I'll call them vulnerable- states, because in this record I was learning so much. I was learning about my voice. I think [Devonne] was learning about his techniques and he was able to experiment on so many different things. So I think that this record will hopefully let people take more chances in their funk, in their soul, period. And that it doesn't have to just be one thing. You don't have to have autotune on it. And if you do have autotune on it? Be creative with it. Do something different with it. Throw it down on tape, it might sound even better. You know what I'm saying? We just want people to take chances. Take risks. Take real risks.
CF: People tend to reject things they aren't used to hearing. Especially if they haven't heard it in a long time. If they're used to hearing this pro tools kind of stuff with this really clean sounding shit, and then they hear something more raw, that has this grit to it, they go "why does this sound so dirty?" They don't even listen to the music, they're not even paying attention to the songs or anything. They just immediately go to the sound and they aren't even giving it a chance.
KS: The thing about this album is that it is a tribute to all the things we love that have been long forgotten. This shit should be put on a higher level, not saying that we are the higher level, but we're saying that these people are, and that's what they need to be. This is to them. They are royalty to us. Kings. That's it.
---
The self-titled Kings record will be out on Jellowstone records 3/3/15, available for purchase on their bandcamp.