We must confer our congratulations to Emotional Oranges for 'The Juice, Vol 1': They've done Nineteen85 and Champagne Papi proud and somehow confounded us to liking it in spots.
— —
Nu-Disco is obliged not just to be "new," but futuristically so. That's just ascribed to it by virtue of this fashionable need to use a goddamn "u" rather than an "ew."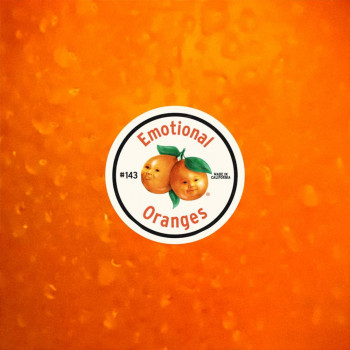 Because "ew" is whatever I think when I listen to nu-metal, given damned to the same prefixed fate as I assume nu-disco will be too (oh, how we writhe and fail and do just as our parents did!). But here's the pickle, nu-metal was able to take from radically contemporary but different genres, often pulling from rap to suffer the similarly derogatory "rap-metal," as well as throwing electronic in there, because, well why the hell not? It's new nu! Perhaps the one mark we can appreciate nu-metal for is the opinion that music has never been a sterile process (that's the rec exec's PR handjob). Go to any proper studio recording session and you'll see, it's a fucking laboratory in there!
Listen: The Juice Vol. 1 – Emotional Oranges
See, nu-metal was supposedly the idea that by taking these hardcore genres and haphazardly welding, gumming, gluing these pieces together, you'd build the rough-edged, perforated steel future of Mad Max slapped onto a CD and shrunk in a plastic wrap – what a bargain! Except I have one question for you: who the fuck still listens to Limp Bizkit anymore?
If I wanted to listen to the nineties, I'd grab a Nirvana, Garbage, or Pavement CD and go to tow. Hell, if I was feeling alternatively hard or soft, I'd just need some Pearl Jam to see my waking wet dreams for Nostalgia Town through and through. But music pegged for the future is often dated to the past, and even in the past, there was just better music, bucko. More well-endowed neo-punkisms, garage murkiness, and a palette of greys, blacks, and browns all working together cohesively where nu-metalheads were the raucous audience to a shotgun wedding.
But in concerns to sounding abrasively new, these rapscallion metal fans have this advantage over nu-disco: what exactly isn't related to disco? Rock? Not really, not if the electors of the Rock and Roll Hall of Fame have anything to say about it. Rap? Still only two degrees of separation. R&B gave way to funk and disco, while funk gave way to rap. If anything, that marriage would be just incestuous. Blues? Predates, but is still a distant grandparent, as with jazz. Electronic? Ha ha ha.
Watch: "Motion" – Emotional Oranges
---
Laughing aside, of all these partners the most relaxed alliance comes with R&B. "Well of course it does, Ben, that's like saying your most relaxed relationship is with your grandmother!" might be one response, but it's kneejerk, it doesn't develop our one-sided conversation; so I'll give you some better: "how exactly does R&B render disco a-nu? Where is your Oedipal head at? Why is electronic so funny?"
All in good time, impetuous young'uns, but let me get to 'splainin'.
Sure, all you lily-livered romantics can fantasize about how Marvin Gaye and Barry White solicited your need for erotic talk, for that voice whispering in your ear as you come harder than a thunderbolt, rolling on your every muscle and then part in the afterglow rainbow plucking petals off the daffodils wet with dew. But all your fat belly Bella sex lullaby sample sources aren't lubed up and ready to fuck with Doctor Clinton's P-Funk jelly. Seems the world at large wasn't ready until Prince cracked the recipe before waving his way to new variations of synthesizer sway as he sang "I was only 16 and only half a man/ My sister didn't give a goddamn/ She only wanted to turn me out/ She took a whip to me until I shout/ Oh, motherfucker, sister, motherfucker/Can't you understand?"
To unpackage: Giorgio Moroder and Donna Summer set the world on fire by reducing the horns sections to samples, the guitarists to synthesizers, and the drummers to taps and clicks. Nu-disco positions itself as the successor to disco when, honestly, disco has been passed over and incorporated by all its already related genre types due to its relative subject shallowness, flanked by only two muses: dancing and sex. Funk took sex, electronic took the dancing, and R&B took whatever was left. Then Disco was dead.
Watch: "Personal" – Emotional Oranges
---
By the late-eighties, hip hop was on the rise, R&B was stuck on Whitney Houston, and underground lover's rock had developed the Muzak as Prince began hitting his walls. From there, R&B began to change, drifting from rhythm and blues to electro-arrangements of rap and beats metamorphosized in full upon the coronation of Drake as our continent's leading fuckboy grâce à Views and "Hotline Bling."
Well Drake's gonna do Drake and so is apparently everyone else too; hence Emotional Oranges and their debut album The Juice: Vol. 1. Piggybacking off that Toronto sound in hogwild style that it won't surprise me when people listen to this little extended player and think, "whoa, mama, hold on to your contemporaneous self." Because if Emotional Oranges is nu-disco then where is that real kink, downhearted sensitivity aside? I've met sadboys – shit I am one – we've got as dirty a mind as any run-o'-the-mill nymphos or downbeat sex addict celebrities this side of Hollywood.
But, frankly, I'm disgusted. Not disgusted and turned on, just plain disgusted by the decision to be so dishonest with my expectations. At least FKJ, a leader if there are any in the field of new-with-a-u disco, had the honesty to at least make those synth squeals coo and come at the primo alto moments of his tracks like percussive lovetaps reaffirming an "ooh, ooh, ooh!" or a "yes, yes, yes!" It may not be outright Prince-like, but dammit, that'll do in the field of new school funk; Nu-disco by any other word is just limestone electrofunk and if this were a sane world, we would switch appellations immediately.
Watch: "Good To Me" – Emotional Oranges
---
Instead, I must confer my congratulations to Emotional Oranges: they've done Nineteen85 and Champagne Papi proud, taking their raps and their beats and his introspective sad sack celebrity lyricism to heart to make proper club filler nauseating in its righteousness. And it may surprise you, but I actually like this little package in spots, mayhap because it's not connected to Drake or DVSN in anything but sound, mayhap because producers really have programmed us professional consumers one step closer to a musical conscious collective. But I really want to say it's the lowkey "Bambi" nostalgia along with the chorus of "Hold You Back," male lead singing:
You got to know that she won't
love you back like I can.
I suppose not, my tangerine dreamboat, but I gotta admit, your lovers-rock, sleaze-swinging sound is gonna win a lot of brownie points for the college boys trying to lay the next vanilla sorority girl who walks through the doors of the frat house, what with your samples of samples and appreciation for riddim-ridden therapy words perfected for pathetic, negging seduction all along lead singles "Motion" and "Personal." Your contemporary R&B, nu-disco variation might be doomed to the same fate as System of a Down, but unlike Korn, you'll find a use in my playlists mixing the traditional and new school together, potentially "Someone Else" as the comedown to good a break-up, or "Good to Me" as the segue to the real thing.
Either way, it'll probably be Prince.
— —
— — — —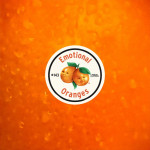 ? © 2019
The Juice Vol. 1
an album by Emotional Oranges
:: Stream Emotional Oranges ::