A moving testament to our life and times, Shook Twins' emotive 'Some Good Lives' resonates with warm energy and raw humanity as Portland-based twin sisters Lauren and Katelyn Shook embrace and transcend the folk sounds that have defined their music for over a decade.
Stream: 'Some Good Lives' – Shook Twins
---
"We can all do a little bit better," sing a pair of impassioned vocals in "What Have We Done," the groovy opener to Shook Twins' heartfelt and vibrant fourth album. Guitars inject urgency into the air as emphatic horns ignite with bluesy sparks and jazzy flares: It's a spirited jam full of feeling, and inviting us all to stand up, to count, and to be counted. A moving testament to people and places, life and times, Shook Twins' emotive Some Good Lives resonates with warm energy and raw humanity as Portland-based twin sisters Lauren and Katelyn Shook embrace and transcend the folk sounds that have defined their music for over a decade.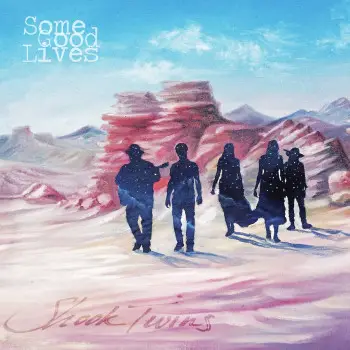 Atwood Magazine is proud to be premiering Shook Twins' fourth album Some Good Lives, out Friday, February 15, 2019 via Dutch Records. The beginning of a brave new beautiful chapter in Shook Twins' career, Some Good Lives is a record of musical and emotional maturity that goes beyond in nearly every aspect of the word.
Musically, this collection of songs reintroduces the characteristically folk-pop Shook Twins with new timbres, making new colors in different spaces. It's not just that the soft songs are softer and the loud songs are louder: Every track presents a world of its own, complete with nuanced instrumental executions that tend to go beyond the normal guitar-and-harmonized-vocals, whether by incorporating varied combinations of instruments and voicings, or by making use of the studio and production equipment. Some Good Lives remains rooted in folk tradition, yet by absorbing elements of soul, funk, psych, rock, and more, Shook Twins shake off the folk-pop label and assert a new dominance of texture and flavor.
Lyrically, Some Good Lives offers poignant thought and honest reflection at a time where impulsivity and instant gratification have never felt more present and pervasive – whether it's felt through the lens of the country's political discourse, the fast-paced and cutthroat media environment, ever-present advertising, and so on. Shook Twins take a step back through intimate observations of their world, and in particular the people who have shaped that world.
"We realized there was a theme," says Katelyn Shook in the band's press release. "Even though our minds are mostly on the women of today and wanting the monarchy to rise up, we have several men in our lives who have been such positive forces. We wanted to thank them and honor the good guys who showed us the beauty in this crazy world we live in. So, it's an album for Some Good Lives that have crossed paths with ours — and to them, we are grateful." These men range from their recently deceased grandfather to Vermont Senator Bernie Sanders ("What Have We Done"), and while this is the framework out of which much of the album was made, it is just the beginning – the blueprint for an album that at its core evokes a juxtaposed sense of comfort and disquietude, security and loss.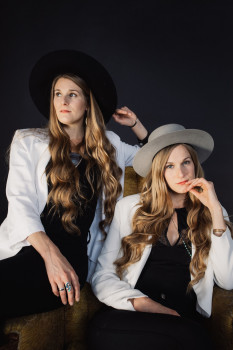 It's the feeling that one's home has changed; the feeling we get from growing up and opening our eyes to the totality of this world. There are times on Some Good Lives that Shook Twins submit themselves to the four winds and go with the breeze; and there are time where the band immerse themselves in their past – in the people and the places they've known. Just as they balance folk with a slew of new sounds and structures, Shook Twins balance the past with the present. One gleans a sense of danger and uncertainty, but just as prevalent are inspiring reaffirmations of hope and perseverance — all rooted in the depths of love.
Lauren Shook describes Some Good Lives as "acknowledgment of our thankfulness of the good life that we get to live," and indeed there is so much warmth to be felt within every song — but just as you cannot have light without darkness nor good without bad, you cannot pay tribute to all you have had without recognizing all that others have not. In the confessional "Figure It Out," Shook Twins explore big questions of identity and meaning.
"To me, it's about being lost and trying to figure 'it' out over and over again," Katelyn Shook says. "We're always going to be trying to figure things out, and that's okay."
However one ultimately experiences these songs, there is no denying the sincere love emanating throughout Shook Twins' music: Love for the sounds they are creating, and love for the people they've had the pleasure of knowing. Love comes in many forms, and Some Good Lives captures in many ways the incredible weight associated with this most powerful of feelings.
As Shook Twins expand and redefine their artistry, they invite us to do the same with our priorities: To take that step back, acknowledge those good lives in our world — the people and places, life and times — and internalize the reality that life is a marathon, not a sprint. Spread the love.
Stream Shook Twins' Some Good Lives exclusively on Atwood Magazine!
Stream: 'Some Good Lives' – Shook Twins
— —
— — — —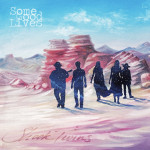 ? © Jessie McCall
:: Stream Shook Twins ::
---
:: Shook Twins Tour Dates ::
2/13 – Garden City, ID – Visual Arts Collective
2/14 – Hailey, ID – The Mint
2/15 – Missoula, MT – The Wilma
2/16 – Salt Lake City, UT – The Commonwealth Room
2/20 – Sante Fe, NM – Meow Wolf
2/22 – Aspen, CO – Belly Up Aspen
2/23-2/24 – Steamboat Springs, CO – WinterWonderGrass
2/25 – eTown Hall (Radio Show) – Boulder, CO
2/27 – Los Angeles, CA – The Moroccan Lounge
2/28 – Santa Barbara, CA – Soho Restaurant
3/1 – Morro Bay, CA – The Siren (w/ Rainbow Girls)
3/2 – Berkeley, CA – Cornerstone
3/3 – Petaluma, CA – Mystic Theatre
3/4 – Arcata, CA – Humboldt Brews
3/29 – Eugene, OR – Hull Center
3/30 – Ashland, OR – Historic Ashland Armory
4/6 – Portland, OR – Revolution Hall
4/11 – Seattle, WA – The Crocodile
4/12 – Bellingham, WA – Wild Buffalo House of Music
4/13 – Vashon, WA – Open Space for Arts and Community
7/18 – 7/21 – North Plains, OR – Northwest String Summit