Atwood Magazine is excited to share our Editor's Picks column, written and curated by Editor-in-Chief Mitch Mosk. Every week, Mitch will share a collection of songs, albums, and artists who have caught his ears, eyes, and heart. There is so much incredible music out there just waiting to be heard, and all it takes from us is an open mind and a willingness to listen. Through our Editor's Picks, we hope to shine a light on our own music discoveries and showcase a diverse array of new and recent releases.
This week's Editor's Picks features DE'WAYNE, Saint Sister, Aquagie, Years & Years, Matt Muse, & Sour Widows!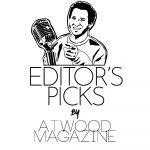 — —
"National Anthem"
DE'WAYNE
The moment I heard this song, I knew it would ultimately find its way onto this Editor's Picks list. DE'WAYNE announced his signing to Hopeless Records last summer through the turbulent "National Anthem," a resolute alt-rock anthem that sounds as fresh and fierce today as it did back when it was first released. A critique of police brutality and the state of racial prejudice in the United States, "National Anthem" is unapologetic and ruthless between its percussive beat, bursting overdriven guitars, and the artist's own unrelenting vocal performance engender a state of urgency and emergency:
It's the new national anthem
They tell you don't move and just put your hands up
I know what I do
I don't need your answers
Put a price on my head
I might throw a tantrum
– "National Anthem," DE'WAYNE
"'National Anthem' represents the America I have always experienced," DE'WAYNE shared upon his song's release on June 11 of last year. "I wrote this song in 2019 and performed it out all over the country on tour last year. I watched beautiful mixed crowds made up of so many different types of people RAGE to this unity." Listeners will recall that time to be one of mass protess and turmoil throughout the United States as, despite the ongoing pandemic, millions marched through cities around the country in support of Black Lives Matter. "National Anthem" predated those events, yet it spoke so soundly to the time at hand – echoing the sentiments many of us felt inside.
DE'WAYNE has continued to blow our minds (and speakers out) with every successive release: His songs "Radio-Active" ("explosive Nirvana energy"), "I Know Something" ("passionate alt-rock upheaval"), "Perfume," most recently "Walking to Work" continue to affirm his place as one of the year's most exciting rock artists. He's gained more and more traction with every release and his breakout is not far behind – but as great as all of these songs are (and they are each a thrill), nothing beats the truth-to-power fire coursing through "National Anthem." This song just hits home.`
"Karaoke Song"
Saint Sister
A dazzling, harmony-laden indie pop dream, Saint Sister's "Karaoke Song" instantly captivated me. Equal parts Tennis and ABBA, the Dublin-based duo of vocalist/songwriter Morgana MacIntyre and harpist/arranger Gemma Doherty paint a world of wonder in a gorgeously wistful tune about connection through song. Taken quite literally, "Karaoke Song" is about karaoke – one of my personal favorite activities to do with a big group of friends, and something we haven't been able to do in well over a year now. There's something magical about singing, to someone else, a song that means so much to you; through their soft, lilting melodies and delicate vocal harmonies, Saint Sister capture that depth and intimacy:
Somewhere in between
You and the television screen
I got down on my shaking knees
And serenaded you with a Britpop dream
And just like that the karaoke's over
Lights come on we're standing on the sofa
I wish that I could call you when I'm sober
We both know the dance
It's like we learned it in advance
Been dreaming of this all year long
Think we might have found our karaoke song
"Gemma had this gorgeous instrumental and I was trying to work in a load of grandiose lyrics that always felt clunky and out of place," Morgana MacIntyre says of this song. "At the end of a particularly tiring day spent writing, I started using the song as a way to make fun of the night we had recently shared singing karaoke. I kept thinking 'no one will take this seriously' and then I realized maybe I don't want them to – that's not the point of the song."
Playful and dreamy though it may be, there's something particularly satisfying about this song right now – when we can't all be together with our friends and loved ones. Saint Sister bask in the comfort of togetherness; they embrace that special feeling of sharing a moment in another's presence. Maybe someday we cant get back to a place where this song, like MacIntyre says, isn't taken seriously; but for now, it's a poignant testament to the longing I feel, to be back with the ones I care about the most.
And just like that the karaoke's over
Lights come on we're standing on the sofa
I wish that I could call you when I'm sober
Released in late March, "Karaoke Song" arrived with the announcement of Saint Sister's sophomore album Where I Should End, out June 25th, 2021. Ethereal and grounded, uplifting and sweet, Saint Sister have me hooked – I can't wait to hear more from this enchanting duo.
The second track off Aquagie's recently-released debut album Final Act offers a stunning glimpse at the Boston-based indie artist's vast, versatile rap and singing talents. As theatrical as it is funky, "DoomStep" soars with feel-good vibes and unrelenting passion. Aquagie's flow is impeccable, rising and falling with finesse as he invites his audiences to bask in the groove:
Yeah, 'cause you're a one-two, quick moves, doomsday-stepper
Cracked your epicenter, mountain formed your Holy Mecca
Reach your garden by December
Check your time piece
Your ark went south-east
Ain't no need for sweaters
Set your arms free
Since your legs 'gon do whatever
Sun loves to watch you move
Then makes love to the crescent moon
While lighting strikes to catch your groove
They ain't catching you
A Haitian American singer/songwriter, Aquagie released his first single three years ago and has been steadily developing his sound. Early songs like "HIGHKEY! Lowkey" and "SPIN." found him developing on moody R&B vibes – and make no mistake: Final Act is full of such sultry moments of sweetness ("DoomsDay Jive" and "100%" come to mind) – but with such high-flying anthems like the pop-driven "B2FX" and moments of utter reckoning like "Apocalypse Now!," 2021's Aquagie simple can't be put in a box. His artistry is a smorgasbord of inspiration – he cites everyone from The Beatles and Leonard Cohen, to Frank Ocean, Joni Mitchell, Ezra Koenig, Kanye West, and Kendrick Lamar as influences, and he follows through on an album that breathes with buoyant, fiery raps, mesmerizingly sweet singing, a supercharged in-the-pocket rhythm section, and more.
"I think a journey is the perfect way to describe it honestly," Aquagie recently told me over email. "I made a concerted effort on this album to make sure every beat was unique and differed from the next, while keeping the writing tight and on point as to still make them feel related to one another. I think because of that, it gave the feeling of world building and the feeling of going on a journey, from track to track."
"Doomstep" is really just the tip of an exhilarating iceberg introducing an artist with a bright and promising future. As radiant as it is catchy, it's a fantastic display of Aquagie's multimodal talents and a superb segue into his fantastic debut album!
So stop it,
Drop, bop
'Till you break a fuse
Shake and rave till your muscles ache
And Juke and Jive till the day we fly
Why?
'Cause we never die, we just multiply
Like the embers of Mount Doom
So as the heavens erupt tonight
Well then so will I, while the angels surround you
And if they dare try to steal your light, watch the stars align
As they vow to protect you
Cause when the wind seeks a gemini
Move your hips and thighs
Bare your soul, let it blow through, whoo
"Starstruck"
Years & Years
I didn't realize just how much I missed Years & Years until I heard "Starstruck" for the very first time, and was instantly moved to dance. The feel-good dance-pop jam whisks listeners into a brilliant dreamscape, tapping into that same magic that Michael Jackson did some 40 years ago with Thriller. Olly Alexander's vocal performance fills the room with contagious energy as he pours himself out in song, wearing his heart on his sleeve in an impassioned display of desire and awe:
I feel like all these people in this room
Don't shine like you
If I could bottle you up
I would sip ya like cosmic juice
So gimme that good love
Good good love all night
Don't need your cash
I got my own to spend it on ya if I like
If you wanna dance
Baby let's dance
We can dream until the sunrise
Thick bass and tempered drums steadily build up to a euphoric chorus, where Years & Years fully embrace their "starstruck" mentality, throwing caution to the wind and exploding in a joyous revelry. It's a celebration of connection; a buoyant, enthralling immersion of funk-fueled goodness.
I can't help it
I get starstruck around you
What can I do baby
I can't help it
I get starstruck around you
What can I do
"'Starstruck' came together one night at a studio in the countryside outside of London. I couldn't remember the last time I'd seen so many stars, you get used to them not being there when you live in the city," Alexander shared upon the song's release. "Since we've all had to stop, all I've wanted to do is go out and dance. So I've been putting all that pent up energy into the music. 'Starstruck' is about the rush you get when you're with somebody you're really into, it's about holding onto a good feeling and not letting it go. Like most of us I've spent the past year at home, and I wanted to create something super positive and fun for people (and myself) to bop along too. Whatever we're doing or wherever we are in life, I think we all deserve three minutes of interstellar ecstasy."
Ecstasy is the best way to describe this song. Years & Years' return brings with it all the rapture and elation one might have expected, and then some. A thrilling physical and emotional release, "Starstruck" is – as the kids say – a vibe.
Chicago's Matt Muse has me stunned with his latest addition to the hip-hop oeuvre, delivering smoldering outpouring of jazzy intimacy and connection in his songs "Rockin'" and "Bridges." The former of these two tracks, featuring Sheren Olivia and Renzell, is a feverish, impassioned recognition of everyone who's been there for Muse and helped him along the way: A testament to community and being there for his inner circle, as much as it is a raw and deserving "thank you" note. "You'll never be alone how I'm rockin' wit cha," he sings, his voice hot on the mic. From dreams of making it big to reveling in the successes he's achieved and noting the specific good deeds others have done for him along the way, Muse ignites with a hearty flame that truly evokes hip-hop's classics.
You'll never be alone how I'm rockin' witcha
Even when we say so long how could I forget cha
Better hit my phone if they out of pocket witcha
Cause you'll never be alone if I'm rockin' witcha
Rockin' witchu', and ya rockin' with me
And I ain't poppin' for true
If you ain't poppin with me
Oh they ain't rockin' witchu'? (and when I rock)
Then they ain't rockin' with me (and when I rock)
Rockin' with me (and when I rock)
"I found the joy in just writing raps to write them again as opposed to creating toward a set goal," Muse shared upon his single's release. "Now, I'm back in my bag. I've found joy in making music for the sake of creating something I love and hopefully toward sparking something in the listener as opposed to creating to get on or whatever other reason. I've realized that as an artist, I have the power to be a messenger for the times that my people are living in, a voice to cement this time in history and share the stories of those on the ground fighting for what's right."
"Rockin'" is heartfelt: A moment of humble reverie stepping out of the everyday to appreciate the life you've been given, acknowledging that much of where you are is the result of others' actions and behaviors, and not our own. Muse's sentimentality is refreshing, his performance is endearing, and his words resonate deep down inside. A slow-burner, "Rockin'" is a resounding reminder that Muse is here to stay.
"Bathroom Stall"
Sour Widows
Bay Area indie rock trio Sour Widows plunge into intimate depths on "Bathroom Stall," the breathtaking second single off their upcoming EP Crossing Over. Soothingly soft, with vast swells of feeling and raw, yet finessed harmony, "Bathroom Stall" radiates with the pain of loss – layers of grief, reflection, soul-searching, and more come to the fore as the band balance between tension and release, chaos and control.
I clean up your room
I keep it nice for you, but I leave the light on
I let the bugs come inside where it's warm
When you're not home
I can't keep track of you
I wait for a sign that you'll come home soon
And sometimes I hear you call
From the moon or the roof or a bathroom stall
A place I don't question
Space with an ending
And we're never there too long
I can't decide
"This song is about a relationship I had with someone who struggled with addiction, who very tragically passed away three years ago while we were together," songwriter Maia Sinaiko says. "It's about some moments we shared, and how it feels to walk around carrying that person and those experiences with me while the world stays normal. I wrote the song because I wanted to preserve and document what happened to me, to write out the scary stuff and just let it sit there forever. I think it's funny that it's called 'Bathroom Stall' and that it has that image in it; the song goes from heavy and dark to ordinary and totally pedestrian in a sentence, which feels absurd. And that's kind of what it's like to grieve. That's kind of what's hard to explain about grief, how absurd it is. Part of you goes to a different planet and part of you stays walking around like an alien on Earth, going to the bathroom and looking at the moon and shit."
Sinaiko doesn't just capture memories or a life lived in song; they weave listeners through a tapestry of visceral, turbulent experiences that, if we're listening properly, will shake us to the core. Sour Widows' performance feels epic, yet it's the subtleties that make this song so memorable: The way they rise to a peak, only to fall to near silence; how the effected electric guitars glisten just right against Sinaiko's vocals.
When it comes to substance, "Bathroom Stall" can't be beat. It's emotionally devastating and musically bittersweet – a tender upheaval that, if anything, reminds us to cherish the moments we're sharing with loved ones right here, right now – because they don't always last.
Do I feel you like I would if the house were on fire
And I'm taking a bath inside
You'd be the ash in the water
And I'll be the bugs burning up in the light
Do you remember it like I do
Your lips turned blue
I had my fingers in your mouth
And I couldn't get them out
Do you remember where you were
Lying on your bed when I got off of work
You were breathing like a sinkhole
Sucking down the earth
— — — —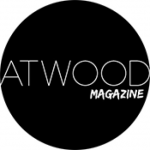 Editor's Picks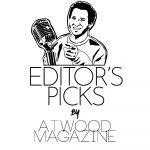 ---