Atwood Magazine is excited to share our Editor's Picks column, written and curated by Editor-in-Chief Mitch Mosk. Every week, Mitch will share a collection of songs, albums, and artists who have caught his ears, eyes, and heart. There is so much incredible music out there just waiting to be heard, and all it takes from us is an open mind and a willingness to listen. Through our Editor's Picks, we hope to shine a light on our own music discoveries and showcase a diverse array of new and recent releases.
This week's Editor's Picks features Chateau Chateau, Sky Ferreira, Sorcha Richardson, Jungle, Ruby Gill, & Sarah Kinsley!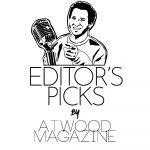 ---
With its insatiable pulse and feverish bounce, Chateau Chateau's "Pray" is the kind of song that gets stuck in your head on the very first listen. The instant standout off the Tucson indie pop band's recently-released sophomore LP Grow Up (May 6, 2022 via Kill Rock Stars) delves into the ugly side of religion, in particular Christianity and its hostility toward the LGBTQ+ community. Synths rage and cool drums strike an intoxicating dance beat as the duo of Bleu and Alex unpack Bleu's toxic relationship with her father and the religion, bible-thumping bigotry, and pure homophobia that tore her family apart. "'Cause don't you know there's no hate like Christian love?"
When I was young and my mom left my dad
He told me, "Hun, I think you're wrong, so you'll be damned"
'Cause don't you know there's no hate like Christian love?
What a cliché, but hey, it fits like a glove
And all my life he posted names on my back
The wasted time and all the love he really lacked
'Cause I'm different, so everyone, send me to hell
'Cause what you don't know really scares you, I can tell
You keep pushin', pushin' me away
You keep judgin', judgin' every day
You keep pushin' me, pushin' me away
I must be evil and you must obey
"'Pray' is one of my favorite songs from our newest LP, Grow Up," Bleu tells Atwood Magazine. "I got really honest about my upbringing with my father and my experience with religion. Which is fitting for this album, since it's all about the trauma, mental illness, addiction, and all around bad experiences I grew up with. I sat and listened every Sunday for 19 years from an outsider's perspective. It was always being convinced you're not afraid while living your life in fear."
"One of the biggest things was their attitude towards the LGBTQ+ community, which all of my family members, aside from my dad, are. I was ostracized for being different, rather than accepting me they simply told me I'm going to hell. The line "I must be evil, and you must obey" is almost jokingly saying, "It's okay, I fully understand why you have to treat me this way." And "the person you're convinced I am, doesn't exist at all" addresses the names I was called, and the assumptions my dad still makes about me, purely based on his beliefs."
Chateau Chateau perform with an incredible pop polish – albeit one with undeniable punk undertones and DIY prowess. "Pray" is a particularly raw, yet sparkling, example of this duality in action: A song that aches in all the right ways as the band lift up the hood to explore emotional wounds, scars, and all. This one goes out to all the folks who have ever caused harm in the "name of God": Who justify their hate, their malice, and their individual atrocities through the Church and religious teachings.
Give "Pray" a listen; it will cleanse you better than religion ever could.
Satanic bitch burning sage and shooting up
Summon demons, then drink all night, pour me a cup
What's in your head has to be the only truth
'Cause you don't like me and you don't think that that's abuse
You're missing out 'cause lots of people get my love
And my arms are open when you decide to open up
You keep pushin', pushin' me away
You keep judgin', judgin' every day
You keep pushin' me, pushin' me away
I must be evil and you must obey
Unaccepting, judging, hating, always proving me wrong
The person you're convinced I am doesn't exist at all
When I was young, I played along 'cause I couldn't see through your walls
My individuality broke you down, can't come around
Now you've pushed me away, you're unwound
"Don't Forget"
Sky Ferreira
Sky Ferreira was the epitome of cool to college-aged Mitch. I can't begin to count the number of late night drives or train rides spent with Night Time, My Time on an endless loop; that seamless blend of indie rock and synth-pop felt synonymous with a kind of welcoming darkness. Ferreira's debut album was a defining, grungey coming-of-age record balancing aching vulnerability with anthemic self-empowerment. It remains a symbol of passion and perseverance.
The past decade may not have been the most "eventful" for Ferreira if we're strictly going by musical releases, but she has come to be something of a cult favorite (a la Father John Misty) in indie music circles. After a few teases and seeming false starts, Sky Ferreira is back in action with a sophomore album slated for release this year, and I'm happy to say that she is just as cool in 2022 as she was in 2012.
"Tears of fire in the sky, makes me feel good to be alive," she sings triumphantly, bold drums pounding and atmospheric synths soaring in the background. "Big dreams, sick dreams, used to think God's inside us all." Released in late May, "Don't Forget" is the anthemic, charismatic, and subversive lead single off Masochism, the long-awaited follow-up to Night Time, My Time. It's a song full of fire: A rousing and resounding "Here I am, scars and all" that finds a charged Ferreira in the driver's seat, cool and confident as she charts her own course forward:
There's a fire on your street
Terrorized the whole community
Little troubled girl, you see
Burning down your house of certainty
Tears of fire in the sky, makes me feel good to be alive
Big dreams, sick dreams, used to think God's inside us all
Keep it in mind, nobody here's a friend of mine
You can't keep me in line, in case they fail to recognize that
I don't forget, oh no, I won't forget, I don't forgive
Oh no, I won't forget, oh no, I won't forget, I don't forgive
"Don't Forget" is an arena-ready upheaval of the soul. It's unapologetic, brash, explosive, and intimate all at once. In one cinematic moment of fervor and redemption, Sky Ferriera has returned and reclaimed her rightful place as the beloved bridge between the mainstream pop and alternative music worlds.
"Archie"
Sorcha Richardson
Did I start listening to Sorcha Richardson's "Archie" because I have a new puppy with the same name? Yes. Did I then cry while listening to the song's lyrics? Also yes. The Dublin-based singer/songwriter has outdone herself on her second single of the year, diving headfirst into time's unforgiving nature and the distance – both physical and emotional – that can so easily come between us. Contrasting youthful naiveté with reality's cold, unabating truth, "Archie" cuts deep into coming-of-age scars as Richardson explores a friendship's slow disintegration:
I met a boy called Archie
We were 17
He took me to a party by the cemetery
Money in the jukebox
Waited for our song
But we were in the garden
When Britney came on
he said
"If you get a way out
Call me when you land
I've been making posters
Tryna start a band
Waiting on the weekend
There's nothing for me here
So don't you be a stranger
Don't you disappear
Don't you disappear
Don't you disappear"
"'Archie' is a song about teenage hopes and dreams and about losing touch with the people who you once shared them with," Richardson tells Atwood Magazine. "I wrote the earliest version of it at a writing camp in the Spring of 2021 with some of my favorite Irish songwriters. It was the one song from the camp that I kept coming back to but I would have left it off the album if not for Alex Casnoff's influence. He was a real guiding light with this one. We recorded it at The Clinic in Dublin with my band mates Joe Furlong, Cian Hanley and Jake Curran and it's quickly become my favorite song to play live. As lame as it sounds, it makes me feel like I'm living out my teenage dreams when we play it. I think that's one of the greatest feelings you can have."
A gut-wrenching, painfully bittersweet song of nostalgia and disconnect, people growing apart, going their separate ways, and losing touch, "Archie" can't help but remind us of all the friends and loved ones once in our lives, whose presence has become an absence; who have turned into memories in our minds. Few songs capture the poignant passage of time better than "Archie" does, and while I'm not itching to make this my puppy's new theme song (in all fairness, he already has one), I truly can't wait for repeat listens and more good cries to come.
He used to call me weekly
Ask about the news
A shooting spree on 12th street
A crash in Syracuse
The band is fit to break yeah
You're giving it til spring
You play it til they wake up
But no one wants to sing, he said
"If you get a way out
Call me when you land
I've been making posters
Tryna start a band
Waiting on the weekend
There's nothing for me here
So don't you be a stranger
Don't you disappear
Don't you disappear
Don't you disappear"
From Chic and The Cars to Jamie xx, Owl City, and beyond, plenty of artists have made a mint off bottling up "Good Times" and sharing them in song. I'll admit that it can feel a bit funky to be basking in the glow of "GOOD TIMES" in the midst of a global pandemic that (to date) has claimed over 6 million lives, but maybe a cathartic spiritual cleanse, delivered in song, is just what we need to "keep calm and carry on," so-to-speak. London-based duo Jungle deliver a cinematic, smoldering, and soulful indulgence in their latest single, the two-track "GOOD TIMES / PROBLEMZ." It's a fever dream of charged passion and sun-soaked energy, channeled through that same enchanting neo-soul filter that has made Josh Lloyd-Watson and Tom McFarland's project beloved by millions over the past decade.
Good times (Don't you leave me now)
You'll find (Ooh)
Good times (Got me crying out)
Down in the street
Lights out
Super power (Super power)
You can't hide
From what you gotta do
Light up
The Eiffel Tower
It feels like there ain't nothing to lose
Flutes flutter and hearty, harmonized vocals soar as Jungle revive the Motown Sound for a summery celebration. It's a warm and welcome hurrah inviting the good times back into our lives, hoping that they'll join us and stay awhile. Most of us haven't had all that many good times lately, so take whatever it is that makes you smile and embrace it with all the heart you can muster. We only live once, and we deserve to live well: In that context, Jungle's "GOOD TIMES" is something very special indeed.
"Public Panic Attacks"
Ruby Gill
An anxiety anthem for all of us who need it, "Public Panic Attacks" leans into the sometimes ugly realities of an anxiety-prone life. Ruby Gill's second single of the year (and her fifth overall song release) finds the South African born, Melbourne-based singer/songwriter embracing the visceral experience of a panic attack, detailing both physical and emotional aspects in a catchy, soothing song with a sweet lilt and easy bounce. It's not dark; in fact, it's quite a bit peppy, threatening to put a spark in your step and have you dancing around, "rejoicing" to the vivid and unfiltered descriptions of a real panic attack.
Give me a second to breathe
All this empty space is starting to get to me
Give me a second to heave my heavy heart out
From under your fingernails
High blood pressure, second hand cigarette smoke
Public panic attacks in parking lots
Is it the party, or is it love
Public panic attacks in parking lots
Is it the party, well it has to stop
"In relationships and family spaces I often struggle to see clearly into my own brain – I get swept very quickly into other people's thinking and their constellations rule my own," Ruby Gill tells Atwood Magazine. "I think I was trying to unpack that in this song, calm the cosmos a little. Your silhouette's blocking up my telescope lens. For a long time I had assimilated anxiety as part of my identity, without questioning why it was there. And ya, that tiny act of acceptance was helpful – it stopped pathologising and let me just 'be in it'. But there was also a point where the patterns became hard to ignore. Like if you're having a panic attack every time you are with the same person or at the same party you have to start thinking hmm maybe the party has something to do with it, and it's not just the universe inside your head going rogue."
One of the many wondrous aspects of music is how a single song can simultaneously be happy and sad. Gill's lyrics find her scouring her soul for a deeper understanding of these paralyzing experiences that plague her every so often; meanwhile, her music is spirited and rousing, a singalong groove that implores us to join in and chant the chorus with her. That's what makes "Public Panic Attacks" so special: It feels good to lean into something so real.
I'll let you in on a secret
There's a universe somewhere inside my head
I know you're trying to reach it but you're messing up the cosmos
Your silhouette's blocking up the telescope lens
Oh love, this won't last
Public panic attacks in parking lots
Is it the party, or is it love
Public panic attacks in parking lots
Is it the party, well it has to stop
Am I scared of coming home
Or is it the fear of being alone
Public panic attacks in parking lots
I don't care how but it has to stop
"What Was Mine"
Sarah Kinsley
Achingly expressive and radiantly cinematic, Sarah Kinsley's "What Was Mine" is the forlorn upheaval of a heart that's been broken far too many times. The New York-based singer/songwriter soars on the lead single off her forthcoming EP Cypress, treating the ears to a warm string- and harmony-laced reverie complete with churning guitars, driving drums, and a simply stunning vocal line that sends shivers down the spine.
Lay your coat on the dirty ground
You said you'd do it for me
The air was misty, thick, and violent
You smelled like you knew you could seduce me
Placed your hands on my guitar
And played my favorite things
I wish I had known you would be gentle
Somehow the sweet ones always hurt me
"'What Was Mine' was a bright, bittersweet burst of raw confession," Kinsley tells Atwood Magazine. "I was writing of a particular, irrational fear that every time the "sweet ones" still hurt me, I believed that they took away the best parts of myself: They took "what was mine," what originally belonged to me – the love I had cultivated, nourished, and grown from and for myself. This song is a brushing off, a light smirk, a warm laugh on an imperfect day, as I dance away that fear through my twangy guitar riffs, hopping synths, and endless lyrical ponderings: the lovers I believed to be "mine" were never a part of me to begin with, and they never will be."
I've been a longtime fan of Sarah Kinsley, and quite frankly, her golden voice has never shone brighter than it does on "What Was Mine." She lets herself go, swooping and soaring in a charismatic eruption of passion and pain that ultimately enchants the ears and nourishes the soul. It's a captivating and cathartic serenade, and one that I'll be surely coming back to time and again, if only to bask in the glow of Sarah Kinsley's singular, seductive singing voice.
Laid myself all stretched out
A platter adorned for you
I guess you aren't hungry right now
For a bite of a vow or a taste of the truth
The masquerade is over
Save me the come down
Save me the drought
What do I do with the idea of you now?
— — — —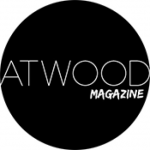 Editor's Picks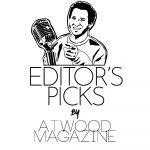 ---