Atwood Magazine is excited to share our Editor's Picks column, written and curated by Editor-in-Chief Mitch Mosk. Every week, Mitch will share a collection of songs, albums, and artists who have caught his ears, eyes, and heart. There is so much incredible music out there just waiting to be heard, and all it takes from us is an open mind and a willingness to listen. Through our Editor's Picks, we hope to shine a light on our own music discoveries and showcase a diverse array of new and recent releases.
This week's Editor's Picks features Slow Fiction, M.A.G.S., Sofia Monroy, The Rocket Summer, Steady Holiday, and Roo Panes!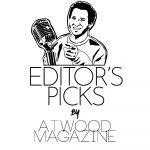 ---
"In the distance, where it doesn't matter"
by Slow Fiction
Opening with a visceral, cinematic explosion of overdriven guitars and churning drums, Slow Fiction's fifth song is utterly enthralling: A dreamy, cathartic outpouring of radiant indie rock, "In the distance, where it doesn't matter" is at once hard-hitting and intimately tender, soothing the nerves while energizing a weary soul. Independently released on January 12, the latest track off Slow Fiction's forthcoming debut EP sees the Brooklyn band – comprised of Julia Vassallo (vocals), Joseph Skimmons (guitar), Paul Knepple (guitar), Ryan Duffin (bass), and Akiva Henig (drums) – dwelling in a cerebral headspace, and soundtracking that introspective, isolated experience with a raucous sonic fracas. Inner turbulence spills out not in hushed whispers, but in soaring shouts.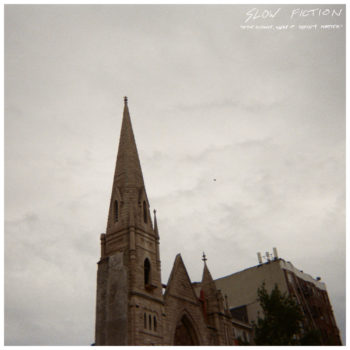 In the morning I'll be waiting
In the morning I'll be
I don't even run sometimes
I don't even run sometimes
Well the first time I met you
I tried to forget you
I call you a friend and
You're really an enemy
But I call you a friend
And the first time you met me
You tried to forget me
You call me a friend but
I'm really an enemy
I don't even run sometimes
"The title is a line from a favorite poem of mine by David Berman called 'Imagining Defeat,' vocalist Julia Vassallo explains. "I cling to poems so dearly and attach my own personal meaning to other people's words, and I love that making music allows the listener to attach themselves in the same way. Like many writers & creatives do, this song came from the emotion of living inside your own head, especially during the process of grief. I think it's fair to say when we lose someone, we mourn them, but also we mourn the person we were before. At the core of it: moving on is difficult. Originally the line was "In the mourning/morning" interchangeably, but Paramore beat us to that one."
"The song started as an idea on the guitar that Paul and I had while we were listening to a lot of New Order and their "long 2 chord" type songs (Age of Consent, Ceremony, etc)," adds guitarist Joe Skimmons. "I love these songs because they are "simple" structurally but find ways to keep you interested the whole time with different instruments, vocal variations etc. Recording this song – and the ep in general – was interesting because we started off tracking the song live as a group but then took the stems to different locations to edit them. All of the synth-type noises are actually super affected guitars that we recorded in our basement in Brooklyn. We also spent nights in Ryan's bedroom studio adding percussion and the outro effects."
Oh and it hurts so bad
So why did I end it like that
And why do I end up like that
Sometimes I just act so bad
And then I end it like that
Yeah I end up like that
Cause I'm really your enemy
In the morning I don't wait cause
In the morning
It just hurts sometimes
That I'm really your enemy
Now I don't even run sometimes
It just hurts so bad that I'm really
Your enemy
"In the distance, where it doesn't matter" is unapologetic and unrelenting; an intense intimate upheaval that leans into the fray, inspiring us to delve deeper into ourselves just as Slow Fiction do the same. It's a reckoning with oneself – one that holds nothing back, letting loose a surge of raw emotions channeled through untethered, loud instruments. In a word, this song is invigorating.
Pressing play on M.A.G.S.' first single of the year, you feel like you've been dropped into the middle of a story – and I absolutely love it: No sooner has a wall of guitars laid a thick foundation, than is Elliott Douglas unveiling himself in an intensely vulnerable display of self-awareness. Released February 3 via Smartpunk Records, "Elephant" is M.A.G.S.' first single since 2021's acclaimed sophomore album Say Things That Matter, and a searing smack-in-the-face from one of indie rock's brightest and most promising up-and-comers. It's gritty and churning; a sonic fever dream that starts on level 10, before making its way up to 20. There's no respite; no moment to breathe – just unabating passion, roaring fire, and a frenetic, caustic, all-consuming energy.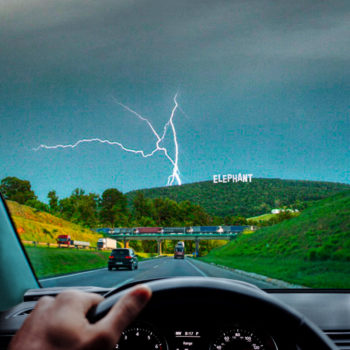 I accept apologies ahead of time
I've been down on my knees
waiting for the sun to kiss my face
but it's not time
I'll inquire for a while
then get right back on the elephant
are you even listening
"'Elephant' started out as a joke to myself to see if I could write a Weezer song without ever having listened to any of their albums," the artist tells Atwood Magazine. "I really let my imagination run wild as I was making this song. Lately I've been mastering all the different styles I've picked up over the years and blending them together to make something that is undeniably me. And I was fortunate to get to work with a producer as knowledgeable as Jay (Maas), the intuition he had for my vision allowed me to take chances and dive into areas of my sound I hadn't yet explored."
"'Elephant' is really about staying true to yourself and trusting your gut. I'm ADHD as fuck so my attention rarely stays in one place for more than a few moments, distractions can take me off my path if I'm not mindful. My brain takes me in multiple directions at once, and I tend to expel most of my energy just trying to get things done. In a lot of ways, 'Elephant' represents a peek inside my mind at any given time. "
Another unapologetically unrelenting song, "Elephant" keeps the hits coming from the moment it opens, straight through to the very end. It's a powerful display of brute force from M.A.G.S., and a surefire sign of more great things to come: M.A.G.S.' forthcoming third album Destroyer is set to release later this year. He says it's "a lot of self-reflection, a lot of questioning life and its meaning, all against a backdrop of newfound musical inspiration over the years. It throws you head-first into a realm of emotional turmoil but ends with a chin-up kind of attitude."
I'm all-in on M.A.G.S.
except you would love to
take me down that long dark road
all the hope you ever had is distant
I know you'd rather die than let them win
but you will get through this I'll make you do it
too many roads to count
I don't even know which one
I wouldn't say I'm pessimistic
but I'm praying that I make it home
let em go, let it go, let me go again
"Take the control – everything stop," Sofia Monroy sings on a hypnotic loop at the top of her latest stunner. Below her hushed voice is a striking, unrelenting drum beat that will come to define the next two and a half minutes. It's an unusual shuffle – who can remember the last time high hat was used so liberally? – and yet it works all too perfectly at forming the backdrop to an entire little musical world.
Released January 20, "Control" is as much a soaring seduction as it is an emotional surrender to forces outside our… well, control. The Stockholm, Sweden-based singer/songwriter returns at the very top of the year with an alluring blend of R&B and pop, teasing her upcoming debut EP Telenovela which capturing the pure creativity and raw passion that been hallmarks of her artistry since her debut.
Do i just say it
I'm liking what you're showing
Dont know what happened
But i like how you stormed in
Just keep it going
You know just how to work me
Can i be selfish
And show you what we could be
In a another world, our own dimension
think we could take it to the next level
don't you let me go just keep me dancing dancing
"'Control' is about the fear of losing control in connection with the longing to be someone else's everything," Monroy explains. "All of a sudden you find yourself there, tied behind and perplexed, perhaps in love or maybe just stuck." She rises to a fever pitch in an irresistibly catchy chorus, her voice radiating atop waves of intoxicating synths:
Put your time on me
with everything you say
Put your time on me
with everything you say
I'll show you better things
I like the way it is
Put your time on me
with everything you say
Glistening and layered, "Control" is an exceptional display of talent – not to mention a moving moment of intimate connection and reckoning. Sofia Monroy has us hooked as she leads up to her debut EP, and we can't wait to dive headfirst into the full breadth of her Telenovela, out this spring.
"Stuck Inside Your Light"
by The Rocket Summer
Bryce Avary's The Rocket Summer has undergone several transformations and iterations over the years – I'm an especially big fan of 2013's Christmas Madness EP, for those interested in a slew of irresistible alternative holiday anthems. The band's latest sonic adventure promises to be one of their most exciting yet, with Avary diving headfirst into indie electronica – blending the worlds of trip-hop, electro, and shoegaze with that charismatic, aching indie rock persona that has dazzled audiences for over fifteen years.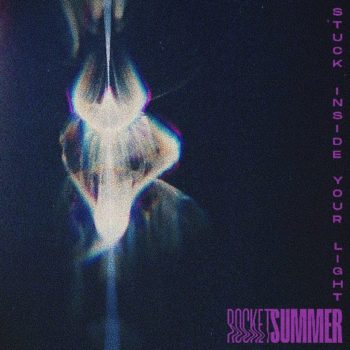 Released on January 20th, "Stuck Inside Your Light" is a hypnotic indulgence complete with ethereal, intoxicating guitar riffs and Avary's stunningly hushed, intensely evocative vocals:
You're like a spaceship,
I'm like a head trip
roaming in fields golden
You spin around me,
hover above me
got me levitating
I'm stuck inside your light,
air beneath my, air beneath my feet
Frozen in time,
am I dying?
Because here everything is beautiful to me
Beautiful to me
"'Stuck Inside Your Light' started with a burst of auditory illumination in my studio," Avary recalls, "Where, within minutes of picking this simple, darkly-ominous-but-happy melody on a Stratocaster, my favorite kinds of treasure melodies, playing a quick swung groove on an MPC and my Minimoog bass, the intro was there, blasting on loop, and I felt like I was being pulled upwards and hovering in this multi-colored spaceship of positivity. I just let the music and melodies take me where it was leading and tell me what the song was about as I floated around in my studio. It was visual, so I just read the script essentially of what the melodies were saying and wrote it down on paper. It's about the involuntary magnetic pull of something that consumes you. A different kind of love song. When you experience that kind of connection, that feeling feels like flight. I hope this song lifts people. It was fun for me to create a story within the instrumentation that sounded like the chain of events of being abducted and beamed up in flight. Living within the bright sparks of writing a new song has always been my main vice."
It's not long before the chorus' haunting lyrics, "I'm stuck inside your light, air beneath my, air beneath my feet," become a visceral mantra. Avary captures the all-consuming nature of love and connection, pulling us deep into that singular euphoria and ensuring we don't come up to breathe until the very end.
Multiple colors, sunbeams and other
shades of delirium
I think I love you,
though I never meant to
You've already took me in
I'm stuck inside your light,
air beneath my, air beneath my feet
Frozen in time,
Am I dying?
Because here everything is beautiful to me
"The Balance"
by Steady Holiday
"Love, it's a habit, it takes practice, gotta learn the balance," Steady Holiday's Dre Babinski sings wistfully and wisely in her gorgeous new single. There's something undeniably classic about "The Balance," the latest and final single taken off Steady Holiday's forthcoming sophomore album, Newfound Oxygen (out February 17). With buoyant melodies that recall a classic kind of '50s and '60s pop songwriting (think The Beatles and The Beach Boys), together with Babinski's captivating golden vocals, "The Balance" is a beautiful, inspiring musical daydream.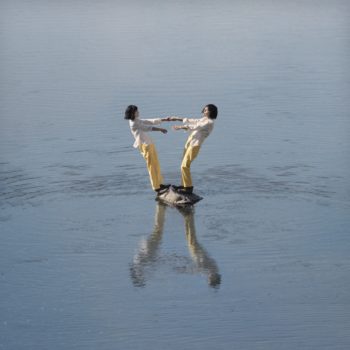 Time didn't matter a lifetime ago
I took for granted what I didn't know
Things like: time, you can't stop it
It goes one way
It's a lot to manage
Time, when you have it, take a moment
Gotta learn the balance
Love was a train wreck a lifetime ago
I didn't come back totally sure
But I know: love in a strange time
It's a challenge, it takes work and knowing
Love, it's a habit, it takes practice
Gotta learn the balance
"This song is way more wise than I am," Babinski shares. "I think I wrote these lyrics because I needed to hear them, not because I necessarily live or operate in these ways. It's aspirational. "Dreams… when you've earned them, nothing's sweeter." I want to step outside of myself and take the advice in 'The Balance.' Really internalize it. That's probably why I delivered the song in a straightforward way, too. Let it sound as simple and direct as the message itself. It's about learning from mistakes, setting boundaries and knowing your limitations. It contains a lot of universal truths that I needed to remind myself of when I wrote it, not necessarily ones I live by. It's aspirational in that way."
I'm not waiting on a miracle to come
Would you follow me into the unknown
Either way, it's gonna change
It comes out in the wash now baby
I'm not waiting on a miracle to come
Would you follow me into the unknown
Tell me straight, but either way
It comes out in the wash baby
Babinksi's lyrics are incredibly human, vulnerable, and relatable. She sings simply and straight from the heart, enveloping our ears in a vivid unveiling of her own hopes and dreams. "The Balance" is something to work toward; an always just-out-of-reach goal that we can keep chipping away at for the rest of our lives. It's emotional nirvana; a state of self-love and contentment – soundtracked here, of course, in glistening, gorgeous indie pop garb.
My dreams they would haunt me a lifetime ago
Now I'll climb a mountain with plenty of rope
Because dreams without failure never happen
Put it all together
Dreams, when you've earned them, nothing's sweeter
Cause you learned the balance
Gotta learn the balance
Hope fills the airwaves like dusty rays of warm sunlight as Roo Panes delivers one of his most uplifting, smile-inducing songs of his decade-long career. Released January 13 via Leafy Outlook, "Our Time" is a radiant acoustic folk revelry: A hushed, heartfelt celebration of intimacy and understanding that captures, in no small way, the magic little wondrous moments and movements that make up a lifetime together. With effortless grace, the British singer/songwriter creates an immersive and spellbinding ode to love itself.
Woke up this morning so excited
Laughed into my coffee couldn't hide it
'Cause all of these years that I've lived alone
Finally you and I will build a home
33 years on this planet
Don't think I'll ever understand it
If it's working out better than I planned it
Or maybe I'm coming in for landing
What shall we do with our time?
'Cause we'll do the rest together
Oh what shall we do with our lifetime?
Something we can do forever
"In the midst of many distractions, 'Our Time' is a song about priorities, profound simple feelings, periods of change, and big questions," Panes tells Atwood Magazine. "It's about the excitement of things ahead, and the big questions that come with it. I wrote 'Our Time' when I got engaged, and it was one of those songs that arrived really naturally. The words are just what was running through my mind at the time, the childish excitement, the big questions, and the taking stock of where I was in life. It's kind of a photograph of that moment in time and all it entailed. When thinking what the future could look like, I was aware that whether you like it or not it's going to be an adventure, and the question, "What should we do with our lifetime?" just kept running round my head."
Listening to this song, I can't help but get swept up in memories of my own relationship, and of of all the adventures we've already shared together over the past seven years – some big, some small, all of which I'll cherish for the rest of my days, 'cause it's our time. Love has a funny way of elevating even the most mundane activities into special moments, and in "Our Time," Roo Panes gets at the heart of what building a life together is all about: Making the ordinary, extraordinary.
Dust in the air from making changes
Let every clear morning turn the pages
When I open my eyes and you're the one I find
I will be yours and you'll be mine
'Cause it's our time, our time,
Oh it's our time, our time now
What shall we do with our time
'Cause we'll do the rest together
Oh what shall we do with our lifetime?
Something we can do forever.
— — — —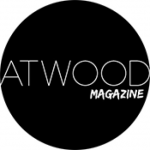 Editor's Picks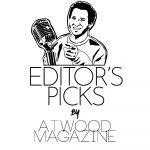 ---