"Has anyone ever told you that you're perfect?" asks Dana in the opening line of his debut single, "Feelings." Feelings: Everybody's got them, but some are easier to put into words than others. Emotions can often be complicated and hard to share, but Dana's self-expression is effortless and natural: His official entrance into the music world is a tender, reflective outpouring of love that promises to melt your heart.
Has anybody told you that you're perfect?
Has anybody told you that you're worth it?
If they haven't baby I apologize for them
Watch: "Feelings" – Dana
---
Atwood Magazine is excited and proud to be premiering "Feelings," the debut single from alternative-R&B artist Dana. The 19-year-old singer/songwriter from Pittsburgh introduces himself through an intimate, honest expression of love. He directs his words to that special person who has not only arrested his heart, but also kept him grounded, anchored in something far bigger than the two of them alone.
"It was important to me to be really honest in my debut song," admits Dana. "I wanted to let people into an emotional and conflicting time in my life, and I think "Feelings" is something people can relate to. Love can be such a waiting game! I'm really excited to share this music video and what I've been working on!"
"Feelings" finds Dana fully surrendering himself, devoting his heart, mind, and soul:
Let me know that you got my flowers 
Been sitting alone for hours 
Somehow can't get you off my mind 
Before you, fall asleep imma ring your doorbell 
Throw a rock at your window, come down 
Just have to say what's on my mind
Sincerity flows out from Dana in waves of warmth. We feel his heartache as he realizes the immeasurable impact this person has had on him and his life. Whatever transpired that separated the two – a fight, perhaps, or maybe a falling out – "Feelings" is his olive branch, an outstretched hand begging for reconciliation and promising undying commitment.
It is beautiful and poignant, a breathtaking moment of complete and utter self-sacrifice.
Directed by Jordan Taylor Wright, the "Feelings" music video is as intimate a standalone experience as the song itself: Dana sings directly to us as he is washed over in mesmerizing light patterns. The color and design matches the mood of the song, perfectly accentuating Dana's wide range of expression.
The story behind "Feelings" speaks to Dana's authenticity: He was folding clothes at Tilly's when after speaking to his former crush, he couldn't stop humming the melody. He went into the studio that day and two hours later, the lyrics were written and vocals recorded. Those raw vocals – aching with fresh vulnerability – ended up on the final version. You can't replicate genuine heartache.
Cause I can't keep
Sleeping with outta you right underneath me
Don't know what it is
I'm checking the time, you're all in my mind,
I'm all in my Feelings
Dana is the real deal: At only nineteen, he has found a way of channeling his internal and external experiences into universally relatable, catchy and meaningful art that offers both the artist, as well as the listener, an opportunity for catharsis and introspection. "Feelings" is a powerful and promising debut for the Pittsburgh artist, a song and video we can play on repeat while we wait for more from Dana Vaughns!
— — — —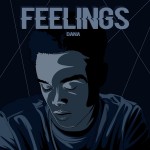 :: "Feelings" – Dana ::