Following the release of their latest EP 'Pink Haze', a glowing sad take on adolescence, EXNATIONS chat with Atwood Magazine about the enduring influence of the 1980s.
— —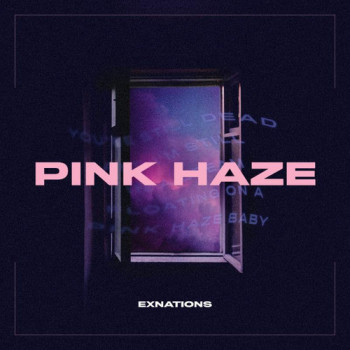 In EXNATIONS'  "John Hughes Movie Soundtrack", synth hooks and a punchy drum machine-style beat set the scene. A sumptuous moodiness akin to Simple Minds, Echo & The Bunnymen, and Orchestral Manoeuvres in the Dark, bands that have played their part in the iconic status of John Hughes' films (in this case, The Breakfast Club and Pretty in Pink), are mixed with that overall danceable glow of the new wave music the director/writer pioneered. While all unequivocally 80s, the song is less about paying homage and more of a natural extension of what EXNATIONS do. The Brooklyn-based band, made up of Sal Mastrocola, Taylor Hughes, and John O'Neill, have exemplified this in their latest EP, Pink Haze (released 28 June). A follow-up to their 2018 debut Tiny Sound in the Dark, it's a gathering of six songs glittering with nostalgia, youthfulness, first signs of love, and an air of sadness. 
Picking at her plate on a Friday night
Mom and dad are starting to wonder
Why she's got no plans
Doesn't she have friends
Running up the stairs turn the TV on
Gonna spend the night in detention
With all the pretty boys and all the pretty girls she loves
In the quiet of her room
With her headphones on
"John Hughes Movie Soundtrack,"  EXNATIONS
The lyrics read like a teen movie and the sound and accompanying visuals are like a haziness pervading reality. The pink isn't really rose-tinted, as could easily be assumed, but the luminous pinks and purples of a sensually beating heart. As Mastrocola sings yearningly in "Floating on a Pink Haze": 'New love blinding love/ Floating on a pink haze baby/ New love blinding love/ Blushing apparitions but it's still so strong today.' There's something about the colour, whether baby or garish or blending into another with ombre affect, that immediately connotes innocence. It's a theme throughout Pink Haze, not just in the title and overall mood but in the lines of songs too. For example,  'The pink fog surrounded us and everything/ I never said I'm sorry' in "Dreaming Still" which suggests a blur of young love overriding the situation. Using a colour in this way means a distinguishable aesthetic can be established as well. The cover art for each release is all neon font and immersive background, blends of black, pink and purple that are nighttime energy and technological- both of which being a retro dreaminess bringing an element of fantasy to everyday life. It's the same with music videos and a majority of Instagram posts. For the band, it's not just about the music but the appearance and marketing- Everything coincides to form an immerse experience for the listener.
I kissed you in the rain,
Your lips were cold and your eyes weren't blinking
I kissed you in the rain
The grass was wet on the cemetery green
I miss you when it rains
But in my dreams I can fix anything
And I can say I'm sorry
– "Dreaming Still," EXNATIONS
We were both 20 when I first saw you
I find a photo and the flashback's rolling
Computers in our pockets, it's all brand new
I think I like where this is going
You're looking like a dream
I see a common theme
With you and me together
– "Tether," EXNATIONS
What relevance or power does referencing the past have? As well as creating instant familiarity (even if not alive in a certain decade, people recognise the associations and can feel affiliation), there's the ease of processing stuff. Plus, 80s new wave and indie music has a way of balancing sadness with a desire to dance. It's a juxtaposition that's perhaps hard to achieve, hence the longevity of channelling this sound. In "Modern Kids", the mood shifts slightly. It's slightly more lively, a little more optimistic, when the chorus arrives and the words 'we're born innocent/ Now we're taking bets/ On which one of us is going down next' makes way for the thumping of 'we know, we know/ we know more than you think we know.' It's about living in the moment, rewinding time to put oneself in the position of youthfulness again (if now grown up). This is followed by the sparse, melancholic "Dreaming Still", a closing track that implies its not the end and that the pink haze continues towards a never ending horizon. 
The most poignant parts of life can be like a movie, or at least we can acknowledge them like a movie by detaching ourselves from the situation and replaying it in our minds. Pink Haze, altogether, is its own soundtrack to this. Atwood Magazine caught up with Sal and drummer Taylor to find out more about the EP and the influences behind it. 
Listen: Pink Haze – EXNATIONS
:: A CONVERSATION WITH EXNATIONS ::
ATWOOD MAGAZINE: YOUR MUSIC HAS A REAL '80s FEEL. WHAT IS IT ABOUT THE DECADE THAT MAKES YOU WANT TO PRESERVE THE SOUND FOR THE PRESENT DAY? Taylor: The '80s provided the world with some of the most lyrically vulnerable songs I've ever heard. I remember listening to bands like The Cure and The Smiths back in high school and relating to every single word. They just put it right out there for you. I thought it was fascinating that the music wasn't right on the nose sad. The contrast really stuck with me as a writer and a music fan. The world still needs that vulnerability, served in a dancey yet emotional way.
"JOHN HUGHES MOVIE SOUNDTRACK" IS AT THE PINNACLE OF THIS, RECALLING THE MUSIC OF BANDS THAT FEATURE IN HIS MOVIES WHILE ADDRESSING A NARRATIVE OF RELATABLE TEEN LIFE. HAVE JOHN HUGHES MOVIES ALWAYS (MAYBE SUBCONSCIOUSLY) BEEN AN INFLUENCE WHEN IT COMES TO SONGWRITING AND, IF SO, WHAT IS IT ABOUT THEM THAT'S SO ENDURING? Sal: There's nothing that crystallizes American adolescence in all its melodrama, humor, young love, et all like John Hughes movies. And the soundtracks are timeless. I discovered a whole genre of music from these movies. Back in high school when I was listening to nothing but punk, the textures and soundscapes of bands like Tears for Fears and the Cure were a breathe of fresh air. I think they're so enduring because they have this way of making you nostalgic for a past that most of us never had – almost like a surrealist, idealistic version of what it means to be a teenager in America.
IN "FLOATING ON A PINK HAZE" THERE'S A DREAMINESS COMBINED WITH MELANCHOLIC TUG OF EMOTION, SOMETHING THAT'S REPRESENTATIVE OF THE EP AS A WHOLE. AS A SELF-IDENTIFYING 'SAD' BAND, WHAT POWER DO YOU FEEL MUSIC HAS IN ADDRESSING PERIODS OF SADNESS? Sal: When I'm sad, pouring some sad music on my sadness always makes me feel better. Music has always provided me with a way to process emotion, especially when I was younger and didn't quite have the tools to process and understand the way I was feeling. As a songwriter, I aspire to be an active participant in that ritual and tradition even for just one person.
VISUALS- THE RETRO NEON- ARE A KEY PART OF EXNATIONS, ESPECIALLY THE PINK, PURPLE AND BLACK OF THIS EP. WHAT WAS THE DECISION PROCESS BEHIND THIS AND HOW IMPORTANT DO YOU FEEL AN AESTHETIC IS IN PROMOTING/ PRESENTING AN ARTIST AND THEIR MUSIC? Taylor: Sal is a creative director, I freelance and John has an amazing eye for branding and also does graphic design. More than anything, we find creating and collaborating on visuals fun. Aesthetic is such an important piece in the puzzle. The art direction for Pink Haze was born in our band text thread and it happened very quickly. John sent a photo of an airplane window then we all started sending photos of different windows we liked and where we wanted to take it. We wanted a surreal vibe, the pinky/purple oversaturated clouds fit into that naturally. We nailed it down pretty quickly after that. The lyrics on the front came last- They're from "Dreaming Still" and "Floating On a Pink Haze".
COULD YOU TALK BOUT YOUR INSTRUMENTATION/ PRODUCTION METHODS? WHAT DO YOU USE TO ACHIEVE THE '80s AURA AND HAVE YOU RESEARCHED A LOT INTO MODELS ETC THAT WERE A PART OF THE PAST? Taylor: Let's chat drums first. I layer acoustic and synthetic drums to add depth and broaden the character of the song. I primarily start with LinnDrum samples, they're one of the most iconic sounds of the 80s – Prince, New Order, etc. I like to add some dirt and blow them out with a bit of overdrive and reverb. To add a modern touch I'll use samples that you'll find in modern electronic music: 808 drops, snaps, very synthetic claps, etc. Finally I'll add a layer of acoustic drums throughout the song, adding a human touch and my personality as a drummer. Sal and I tag team synth hooks and tones- It's honestly a case by case thing. We use Logic and Massive to build our sounds, often taking inspiration from The Cure, New Order and modern artists like Jack Antonoff and Tegan and Sara's Heartthrob era. All of these artists have one synth in common: a Roland Juno. You can hear a Juno tone is almost every single one of our songs- It's definitely a staple layer for us.
THERE'S NOSTALGIA THAT DRIFTS THROUGH THE EP BUT THEN IN "MODERN KIDS" THE MOOD SHIFTS, THE CHORUS BEING SONICALLY BUOYANT AND POPPY IN A MORE 'CURRENT' WAY- SOMETHING THAT FEELS FITTING GIVEN THAT IT REFERS TO 'MODERN KIDS' AS OPPOSED TO THOSE OF RECENT PASTS. WHAT MEANING DOES THIS SONG HOLD IN COMPARISON TO THE OTHERS? Sal: This song is a love letter to youth. Not the complicated and frustrating aspects of being young but rather the raw and beautiful ones. First high. Making out in the backseat of a car. First time you put on studs and bracelets to mark yourself as "different". A lot of these moments mark the loss of youthful innocence but, when you look back on them, they feel so pure and innocent in their own way.
PINK HAZE IS THE FOLLOW-UP TO YOUR 2018 DEBUT TINY SOUND IN THE DARK. HOW HAVE THINGS CHANGED SINCE THEN IN REGARDS TO MINDSETS AND AND INSPIRATIONS? Taylor:  I feel like our inspirations have stayed true from the start but along the way we've learned how to make our sound more ownable and cohesive. Pink Haze carries a consistent mood throughout whereas Tiny Sound In The Dark was a compilation of songs that we were releasing as we wrote them so it happened quickly. Pink Haze is a much more intentional body of work, from the songs we chose, the tones, down to the flow of the tracklisting. We learned patience and how to pull all of our strengths together and make it a truly collaborative EP.
ARE THERE ANY LYRICS IN PINK HAZE THAT HOLD PARTICULAR SIGNIFICANCE OR YOU FEEL REALLY SUM UP THE MESSAGE OF THE EP? Sal:  'If living in the moment is tearing you wide open, then you've gotta look to the past' from "John Hughes Movie Soundtrack" kinda sums up the thesis of the record pretty nicely.
FINALLY, NOSTALGIA AND DREAMINESS ARE OFTEN A SATISFYING WAY OF DEALING WITH HARD TIMES. WHAT DO YOU HOPE LISTENERS GET FROM LISTENING TO PINK HAZE? ARE THERE ANY OUTLOOKS YOU HOPE THEY TAKE FORWARD WITH THEM? Sal: Nostalgia is the 'Pink Haze' that we named the album after. Its warm, hazy allure can be all enveloping, so comforting that it's easy to get lost in. But if you use it to look at the past and learn from it, you can learn a lot about who you are, see the patterns you always fall back on, both good and bad. And you can use what you learn from your past to move forward.

— —

? © Adele Sakey
:: Stream EXNATIONS ::