Fickle Friends are back with 'Are We Gonna Be Alright?,' an album that'll make you 'love them to death.' We had the pleasure of having a chat with Natti Shiner about horror movies, pre-choruses, and an unreleased song that they may be releasing in the future. Yes, you read that right.
•• •• •• ••
T he atmosphere of a party is pure magic. Dancing, singing at the top of your lungs, whispering secrets to people who may forget everything the next day. And then, the magical after hours. Some already sleep soundly, others find it hard to do so because their heart beats like crazy because of the adrenaline rush. The next day, on the other hand, awkwardness reigns. Some wake up confused because they can't remember anything about the night before. Some realize they kissed someone whose name they can't even remember. Despite everything, deep down all the guests are thinking the same exact thing. Having friends, people with whom you can share such experiences is truly the greatest treasure you could ever have. And Fickle Friends understood this very well while creating their latest album Are We Gonna Be Alright?.
This is a record with amazing energy, born from the desire to not feel alone anymore. It's also wanting to have fun, to feel dizzy and fuzzy like in the middle of a college party. We could say it's the same dizziness (in a more than positive sense) caused by listening to tracks like "Not Okay", "Pretty Great", or the Prince-esque "Love You To Death".
Are We Gonna Be Alright? is an album made of pure hedonism.
It's a way for all those in need to mentally disconnect from the stress of the last few years to let it all out. Or for those who just miss hanging out with their friends. All of this (and a lot more too) with the DIY touch that only Fickle Friends can give. Just like they did when shooting the video for "Alone", a performance video that features guitarist Jack Wilson directing. If we had to explain it in the band's own words, we can definitely say that Are We Gonna Be Alright? is so special that it gave us back our glow. Or, that we love them to death. Perhaps this one's a bit of an exaggerated metaphor, but the underlying love for their music remains the same.
"You need a distraction, go to a party
Take your mind off it, sleep when you're dead
I'll fight your battles, I'll make you breakfast
Send you a playlist, put you to bed
You need a vacation, find you a past-time
Run 'til you can't walk, outta your head
Say it's your birthday, drink on a Wednesday
Stop feeling guilty"
Yeah, you saved my life
You were just in time
Lucky just to meet you
When I was super low (I was super low)
You gave me back my glow You like me when I don't
You glued me back together
When I was super low
You gave me back my, glow
Atwood Magazine had the pleasure of having a chat with their singer, Natti Shiner. We talked about the aesthetics of 90's horror movies, the ingredients for a perfect song, and an unreleased song that they may be releasing in the future. Yes, you read that right.
Listen: 'Alone' – Fickle Friends
A CONVERSATION WITH FICKLE FRIENDS
Atwood Magazine: LET'S PRETEND YOU'RE IN FRONT OF SOMEONE THAT DOESN'T KNOW FICKLE FRIENDS AT ALL, AND YOU HAVE TO PRESENT YOUR NEW RECORD. HOW WOULD YOU DESCRIBE IT?
Natti Shiner: I would say it's an alternative indie record. Normally we're indie-pop, but we definitely ventured into the heavy side of things. I would define it as progressive indie pop, maybe. I think it's quite a hopeful record, too. They are songs that uplift you, I wrote them mostly during the lockdown. They make you feel positive but also allow you to be really emotional. If you need to cry or scream then you can, and then there are moments that can lift you up and put you in a mood for partying, to forget about the worries of the world. It's like escapism more than anything, a whirlwind experience.
YOU ALREADY STARTED DOING SOME LIVE SHOWS. WHAT'S A SONG OF YOURS THAT YOU THINK SOUNDS BETTER LIVE THAN IN THE STUDIO?
Shiner: I would say it's a song from the new album, and it's called "Not Okay". We started playing it a few festivals this summer and it just has a whole new life when we play it live! It's so much more rocky and heavy – while on the record it's like a weird pop song. So, I think it translates better live than it does listening to it in your headphones.
SPEAKING OF LIVE SHOWS, DID YOU NOTICE A CHANGE IN THE RELATIONSHIP BETWEEN YOU AND THE FANS?
Shiner: Yeah, I think I got to know people a lot better. I started doing Zooms with people and playing them some of the new songs. We started seeing familiar faces. It's a way to see the people who really stick with you, I feel like who I know the hard-core fans are now and the people who are here to stay – which is really nice. We've also got bigger, we've got a Japanese audience, we suddenly started to grow all over Asia.
YOU ALSO STARTED A FILM CLUB FOR HALLOWEEN! ARE THERE ANY MOVIES THAT SOMEHOW HAD AN IMPACT ON THIS ALBUM?
Shiner: There are lots! We collect inspiration from the 90s and 90s horror movies – I love the aesthetic of that. I also love that it can be something quite serious and quite tongue in cheek. With this album, we didn't want to take ourselves too seriously, so I'd say films like "Scream" and "Carry". I'd also mention not necessarily horror films, but my kind of 90s films like John Waters's "Crybaby". We always take a lot from those – more visually than lyrically. Although we did recently write a song called "Carry", that's not on the album. Maybe we'll release it one day…
YOU SAID YOU REALLY ENJOY WRITING WITH OR FOR OTHER ARTISTS. WHAT'S ONE THING YOU LIKE ABOUT WRITING FOR YOURSELVES AND ONE THING YOU LIKE ABOUT WORKING WITH SOMEONE ELSE?
Shiner: With ourselves, I like that there's no rules, we can literally do anything. Also the way Jack and I write, how we finish each other's sentences. We don't have to think about what's coming up next, we just do it. It's quite cool. The thing I really like about writing for other people instead is that I can completely get out of my own headspace and try and empathize with whatever the artist is feeling at moment, and then try to convert that into lyrics and melody. That's quite like a nice new challenge. It gets out of my comfort zone, out of my own head, and my own patterns.
When you write your own music, it can get quite cyclical. You start realizing you're doing the same things over and over again – using the same words, having always the same way of saying something, or using the same melody. Writing for someone else forces you to really get out of that space for someone else. You're also taking into account their needs, their thoughts, and worries. They are trusting you with that because you're creating out of them.
ABOUT LOCKDOWN TIMES, YOU SAID TO NEVER TAKE BEING WITH YOUR FRIENDS FOR GRANTED. WHAT'S SOMETHING THAT YOU THINK YOU TOOK FOR GRANTED ABOUT YOUR JOB INSTEAD?
Shiner: I don't think I took anything for granted, I just missed going to the studio and creating. We hit a bit of a brick wall before Covid with our writing, then I got trapped in my house and I just had so much to write about – and I was trying to do it by myself. I started really, really appreciating my relationship with Jack, how amazing it is to collaborate with someone else and share ideas also. It was so hard to do it on Zoom, it was pretty weird. So, now I don't take for granted getting out of London and going to the studio. It's like a magical experience for me now. Also going on tour, live shows! I thought, whenever we'd get to play gigs again, even if it's to 2 people, I'd be like "this is amazing".
ONE OF THE SONGS FROM THE ALBUM IS CALLED 'WRITE ME A SONG'. WHAT ARE FIVE THINGS THAT A SONG MUST HAVE TO MAKE YOU FALL IN LOVE WITH IT?
Shiner: For me, one is an amazing line. It needs to say something meaningful, it has to have angst. Number two, a really hooky melody or a few earworms, something that get stuck in your head forever. That's a huge thing. Number three, a pre-chorus that takes you away to a different place for a moment, a surprising one. I love pre-choruses, I love writing them because it can take you somewhere completely different, make you feel like something new is coming. Number four, and probably most importantly, it needs to make you move in some way, whether that's making your hips move or making you mosh. It just needs to make you move. Number five, if you took out all the production and just played on guitar or on the piano it has to hold up. It needs to sound amazing just without any fancy stuff around it.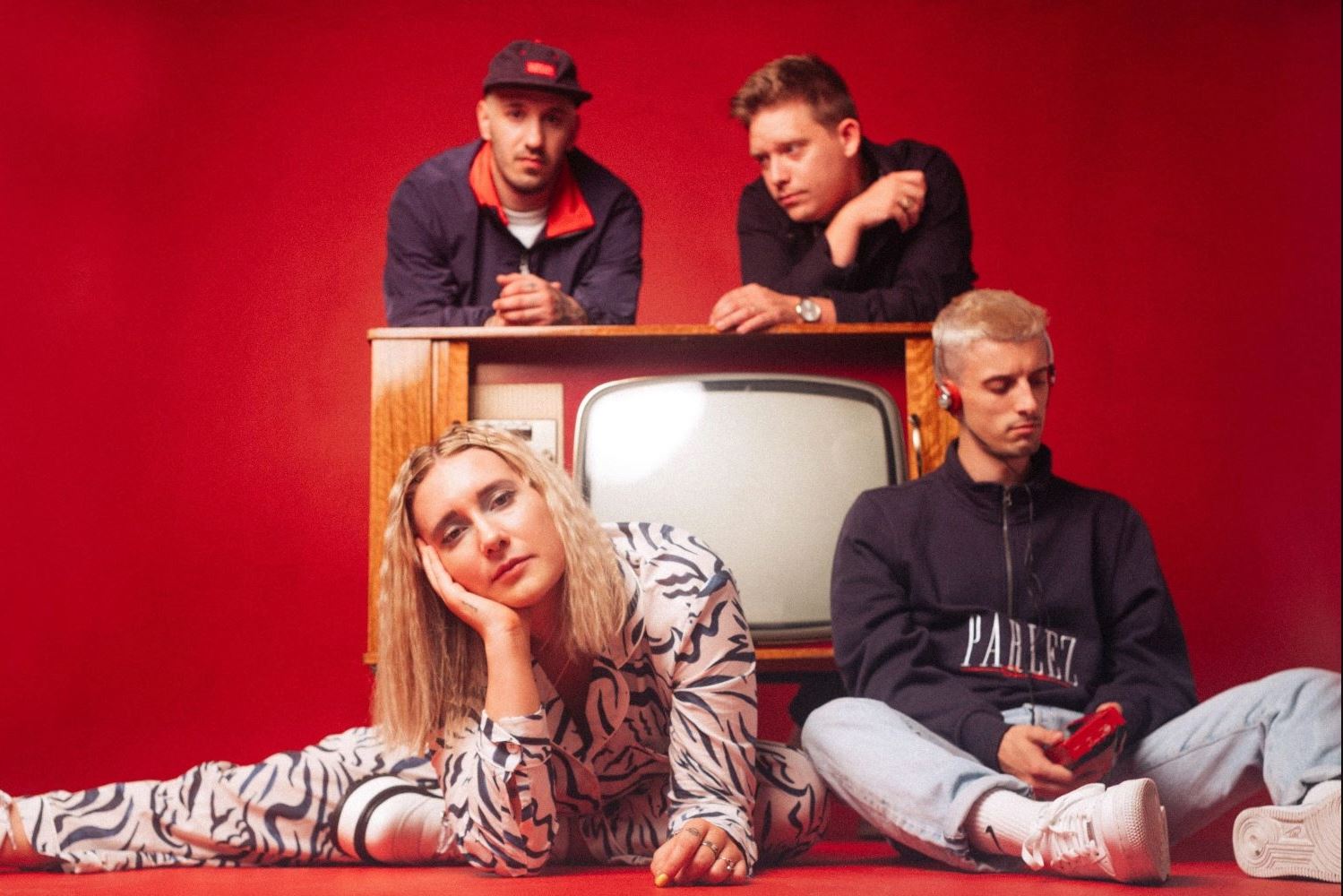 'DID I SHOW YOU JUST WHO I AM?' (''COULD BE WRONG''): WHAT'S THE SONG THAT BEST REPRESENTS WHO FICKLE FRIENDS ARE NOW?
Shiner: I'd always say the most recent thing because that's who we are now, but I guess if you're wondering what is Fickle Friends then I'd say the Glue EP. It's "Vanilla", "Sugar" and "Glue". They're all super indie-pop, super buzzy, when I think of them I think this is exactly who we are, it's the kind of stuff that we like to make, with the big pop choruses. Lyrically, though, where we're at now is more us because I definitely think about the lyrics way more now – wait, I take that back (laughs). I'll say Weird Years (Season 1).
''ONE OF THOSE MOMENTS YOU'D GO ANYWHERE, EVERYWHERE / JUST TO MAKE IT THROUGH THE EVERYDAY'' ( FROM 'COSMIC COMING OF AGE'). IF YOU COULD EXPERIENCE ONCE AGAIN ANY MOMENT FROM YOUR CAREER, WHICH ONE WOULD IT BE?
Shiner: We played a show in Holland, it was a festival called Best Kept Secret. It was just before we signed a record deal, we were really doing it all ourselves. We were touring around in our drummer's parents' family car, we drove all the way to Holland and played this festival, thinking that no one was going to turn up – well, we were wrong.
It was full, it was crazy. Also, the festival was on this lake in a safari park, so we got on a free safari. There was also free food and drink all day long, we played football, basked in the sunshine, and then stayed up in this castle drinking red wine playing the piano with all the other artists. The whole day was surreal, it was one of the best days of my whole life. I wish I could just live it over and over again, so much! I think about it all the time.
WHAT'S THE HAPPIEST MEMORY YOU HAVE ABOUT YOU KNOW ABOUT CREATING ARE WE GONNA BE ALRIGHT?
Shiner: During the summer, we were doing some writing for a few days at a house by the sea. We went swimming in the sea, hung out, and just wrote loads of ideas. The last idea we wrote was pretty special. We were literally standing there looking at the sea and I started humming the first words of a song that we then finished, and got called "Are We Gonna Be Alright?".
It wasn't like "wow, this is incredible!" at first, but in the end, when we played it back I thought that this was the song that would close the album. It was just perfect, we left the house and got ice creams, we went for a walk down the beach. It was just such a wonderful time in the summer, it was also so warm and so beautiful, there was a gorgeous sunset. It's just a really nice memory.
HOW DO YOU FEEL THIS ALBUM CHANGED YOU BOTH AS ARTISTS AND PEOPLE?
Shiner: We've become better writers, I think. The first album and the feeling of being with a big record label made us stressed all the time, we weren't writing for the love of it but because we had to keep adding songs to the album. It was just a weird process, whereas this time there was no rush. We were writing because we felt like we wanted to say something or because we'd heard a song that inspired us. I'm really proud of everything we made, it feels so much more meaningful to us. When you listen to the album, I think you can hopefully feel that we took our time, we truly cared about it more. We had all this time doing nothing so we really put the time into it.
— —
— — — —
 © Fickle Friends 2022
:: Stream Fickle Friends ::