Every Friday, Atwood Magazine's staff share what they've been listening to that week – a song, an album, an artist – whatever's been having an impact on them, in the moment.
This week's weekly roundup features music by Arlo Parks, Jimi Hendrix, ALA.NI, KennyHoopla, BLACKSTARKIDS, Celeste, Pink Sweat$, Tafari Anthony, Joy Oladokun, AMA, ALONZO, Luther Ingram, Carter Ace, MF Doom, Serena Isioma, Sun Ra, Life on Planets, Madisen Ward, binki, Hoodstock, Marvin Gaye, Sly and the Family Stone!
•• •• •• ••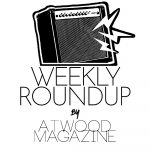 — —
—
:: "Little Wing" – Jimi Hendrix ::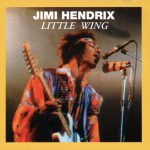 Black History Month is a study, reckoning, and celebration of past, present, and future – and one icon I felt compelled to recognize this year is the singular Jimi Hendrix. As a songwriter and as a guitarist, Jimi Hendrix has long been one of my top musical inspirations; his was the first artist biography I read as a young child getting into music, and it was through his experience of racism in the US that my suburban, sheltered eyes were first opened to some of the treacherous of the music industry, let alone our society at large.
Musically, Jimi Hendrix's songs are uncompromising and dynamic, emotive and inherently present – focused on the moment – and Axis: Bold As Love's studio version of "Little Wing" is a little piece of sun-kissed heaven the whole way through. Its iconic, evocative introduction (a personal favorite to play on the guitar) is one steeped in feeling, with every hit on the guitar a percussive, melodic moment full of tenderness and aching intent. Then there's the sweet poetry that falls gently from Hendrix's smooth, effortless vocals: An earnest expression of the kind of unencumbered, fleeting connection Hendrix experienced in his own life.
Well she's walking, through the clouds
With a circus mind that's running round
Butterflies and zebras
And moonbeams
And-a, fairytales
That's all she ever thinks about
Riding with the wind
When I'm sad, she comes to me
With a thousand smiles she gives to me free
It's alright, she said, it's alright
Take anything you want from me
Anything, anything
Fly on, little wing
Here and gone in 2 1/2 minutes, "Little Wing" soars with resilience and grace. It's bittersweet, in that it recognizes the magic of a deeper love the artist might never have. Nevertheless, it basks in a moment of reverie – accepting, for the time, that this love is here and now, present and euphoric. It's that kind of living-in-the-moment philosophy that may have been Jimi Hendrix's tragedy, but he owned it every step of the way – and we have it enshrined in the magnificence rise and fall of "Little Wing."
:: "Caroline" – Arlo Parks ::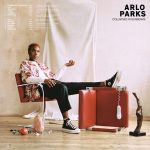 Arlo Parks has been on people's radar for a while now but with the release of her debut album Collapsed In Sunbeams (released January 29) she's gaining widespread recognition. Lo-fi, poetic, and soothing, the album is in keeping with what we've come to know from the London-based artist but with slight fluctuations in sound: the upbeat "Too Good", for example, and the opening title track which is a short poem read atop of dreamy plucks of strings. 'We're all learning to trust our bodies, making peace with our own distortions/ You shouldn't be afraid to cry in front of me. I promise' she says, the making peace and the element of trust being a theme throughout.
All the songs are wholesome, introspective, and an observing of intimate moments. A song that encompasses this is "Caroline", also released as a single at the end of last year. 'I was waiting for the bus one day/ Watched a fight between an artsy couple escalate/ Strawberry cheeks flushed with defeated rage/ Then he spilled his coffee as he frantically explained/ Maybe if you took a breath/ You would hear me when I talk to you' it begins, taking a sight that could easily go ignored and zooming in on it, capturing the humanity and creating a relatable narrative.The mood is hypnotic, slow, a hint of drama mixed amongst the gentleness. Parks' songwriting stems from her poetry and short stories and "Caroline" feels like a great representation of how a simple quotidian observation can be turned into a creative writing exercise.
:: "HIDE" – ALA.NI ::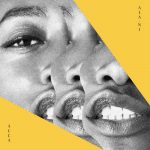 ALA.NI is an oxymoron of incomparable beauty. Her dulcet vocals, the string arrangements that coalesce with faint instrumentation are delicate to the touch, and yet every time she sings or a note is hit, they are powerhouses of force that wrap listeners up in an enthralling and emotive soundscape. 2020's ACCA exemplified this feeling is a stunning fashion, none quite as great as "HIDE." The track moves between phases in unmatched style, the strings and occasional chirping of birds acting as the guide. When her singing joins, listeners are hard-pressed not to be enveloped by its intoxicating bliss.
Backing up her vocals is a choral arrangement that adorns the melody with celestial soundwaves that are carried from start to finish, elevating the already impressive abilities of ALA.NI to a degree of grace not often seen occupied by other artists. It provides her with a unique position in that her style has no equal, some clearly seen on ACCA as a whole, and certainly on "HIDE." I discovered her and her abilities far too late, but after the first listen of her music one can't help but to fall in love.
:: "how will I rest in peace if I'm buried by a highway//" – KennyHoopla ::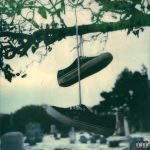 KennyHoopla's "how will I rest in peace if I'm buried by a highway//" is a whole new sound. It defies genre. Its guitar led, sparkly pop-punk leaves it feeling like a lost track from Hot Fuss—one of the highest compliments I can pay. But then its shimmering indie-pop is soon undercut by KennyHoopla delivering a throaty, desperate yell: "She's gonna cut my head off, but I don't care." This feels different to the regular delivery from Ohio's coolest kid—and it is. Gone are the autotune and the rap. Even the slow-paced calm pop-punk vocals are reserved for the bridge. "how will I rest in peace if I'm buried by a highway//" is all despair from the get-go.
And yet it never veers into anger. Rather, it's more of a pleading, a longing for this woman at any cost. While this EP may have announced his arrival as a genius with no time for genre, "how will I rest in peace if I'm buried by a highway//" stands above the rest as a showcase of the potential the 23 year old has.
:: "Dreams vs Reality" – AMA ::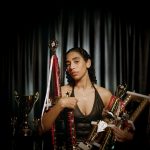 I don't know if this happened to anyone else, but 2020 made me become a little scared of dreaming. The abrupt shift in worldly dynamics, and some drastic personal life changes I had to go through due to the pandemic, made me feel like dreaming was a little useless since literally anything can happen and make my dreams seem like an impossibility.
In comes AMA, who's been actively living her dream, with "Dreams vs Reality" a song which has constantly reminded me of the importance of dreaming and working to make our dreams come true. It's especially powerful to hear her singing these words because she's someone who's put this philosophy into practice. As she so expertly questions in song: "Is it living if you ain't dreaming?"
I've personally decided that it's not, and if anyone needs reminding, I recommend letting AMA's "Dreams vs Reality" take you away.
:: "REASONS TO EXIST" – BLACKSTARKIDS ::
If you haven't discovered BLACKSTARKIDS yet, now is the time. Their sound is entirely unique. They give off an immense wave of nostalgia, but not from one specific time. There is 90s hip-hop mixed with 80s synth and even an early 2000 rock feel. Like I said, entirely unique and impossible to ignore. "Reasons to Exist" is a personal favorite with an R&B like swagger and an energy that will lighten up the darkest of moods – in music and in lyrics.
"Can I put a smile on your face, cause I know your nights are feeling kinda grey"
Check these kids out. They are a vibe in and of themselves. You won't be disappointed. Bonus Song to listen to: "BRITNEY BITCH."
:: "Strange" – Celeste ::
Emily Algar, Charlbury, Oxfordshire, UK
'Strange', a song from the British jazz and soul artist Celeste's new album Not Your Muse, gently explores the unseen moments where you and your lover go from strangers to friends to lovers and back to strangers. "Isn't it strange/ How people can change/ From strangers to friends/ Friends into lovers/ And strangers again" Celeste sings gently in a voice that is equal parts Billie Holiday, Amy Winehouse and Rebecca Ferguson.
The track is instrumentally simple, a deep piano backed by melancholy strings. The whole song is deeply sad. The more I listen, the more it feels like a conversation you'd have with yourself that accidentally became a song. At times you feel like a voyeur listening in on someone's most private thoughts. 'Strange' is an unhappy mix of longing and resignation, where you know that there is nothing else you can do to save the relationship but also knowing there is an element of you not being sure even want to.
If I could I'd pull your strings for one more dance
But I can't
:: "At My Worst" – Pink Sweat$ ft. Kehlani ::
Pink Sweat$'s dazzling outpouring of heart-on-sleeve vulnerability and intimate connection got a brilliant facelift – the kind we never knew it needed – thanks to a special, effervescent guest feature. "At My Worst" featuring Kehlani turns a lonely one person soliloquy into a bittersweet, soaring duet full of love, desire, and a very delicate kind of innocence. The remix not only heralds Pink Sweat$'s highly anticipated debut album, PINK PLANET (releasing via Atlantic Records on Friday, February 12th in time for Valentine's Day), but it also breathes fresh life into a song that deserves long legs. Simple yet utterly enchanting, "At My Worst" is deserves the title of "21st Century love song." It's a raw, unassuming outstretched hand asking for equality in partnership: To forge the kind of everlasting love that lasts a true lifetime.
Can I call you baby?
Can you be my friend?
Can you be my lover up until the very end?
Let me show you love, oh, I don't pretend
Stick by my side even when the world is givin' in, yeah
Oh, oh, oh, don't
Don't you worry
I'll be there, whenever you want me
I need somebody who can love me at my worst
No, I'm not perfect, but I hope you see my worth
'Cause it's only you, nobody new, I put you first
And for you, girl, I swear I'll do the worst
Dwelling in the depths of "At My Worst" means recognizing our faults and flaws, and accepting ourselves – and our partners – for who we are. It also means taking a break from the mayhem and madness that was 2020 (and continues to be 2021), and instead focusing more on ourselves – right here, right now. Intimate, nuanced, and sweetly seductive in all the right ways, this Pink Sweat$ clearly has the Midas touch. Kehlani's presence brings all intimacy into focus by simulating the back and forth of romance, grounding "At My Worst" and transforming it from a surrender to a celebration.
:: The Way You See Me – Tafari Anthony ::
Toronto's queer pop king graced us with his new six-track EP, The Way You See Me, late last year. From the depths of his heart and soul, Tafari Anthony dove headfirst into this release, sharing, "I feel as though this whole process has been about challenging the way people see me." Exploring themes of love, heartbreak and unapologetically revealing his true soul regardless of people's opinions; all wrapped up in a soul, pop, R&B shimmer.
Anthony's range and tone is one that leaves you in awe. His voice glides through the melodies effortlessly, enriched in a soulful tone. The backing vocals are an indulgent choir of his layered vocals that drench the music in a soulful/spiritual energy. Not only is the music uplifting and touching but truly addicting. The production takes the pop/R&B front with floating drum patterns, soothing synths and a delightfully, polished overall sound with attention to all the details. Taking the EP by storm Anthony also collaborated with female artist BLUE WILL on their sassy track "One For You." From the powerful "Centerfold," to the heart-wrenching "No Good," we can truly engross ourselves in the characterful, moreish aura of Tafari Anthony. Time to sit back, pour a glass and share an intimate moment of raw emotion – enjoy.
:: "Respect" – ALONZO ::
Pop R&B artist ALONZO demands appreciation in new single "Respect." This sassy song bursting with charisma, showcases strong confidence and affirms self-worth. Indicative of artists like Bruno Mars and Pharrell Williams, the release sucks you in immediately with a funky, feel-good sound. The infectious track is the ultimate anthem of power and soul.
ALONZO is a dedicated artist and possesses a deep passion for his craft. An America's Got Talent semi-finalist, he let it all out on the stage, displaying his raw and authentic voice. The singer was also graced with the honor by the Prince estate of singing on the 4 U Prince Tour. Selling out four tours across Asia and performing at some of LA's most prominent venues, ALONZO is a fierce force in the music scene today.
:: "(If Loving You Is Wrong) I Don't Want to Be Right" – Luther Ingram ::
Emily Algar, Charlbury, Oxfordshire, UK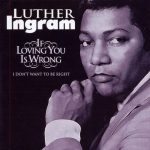 Soul music has always seemed to me the music that people need when they've been sufficiently beaten down by the world, and just need something that can put them back together again. '(If Loving You Is Wrong) I Don't Want to Be Right' is one of those songs that put you back together. You would know it anywhere, from the opening bars, to the words to the emotion wrung out at the end of each line, you just know it. You may have only heard the name or a few lines but it has become a staple siren song about forbidden love.
The song was originally written for The Emotions by Homer Banks, Carl Hampton and Raymond Jackson but to say it was made famous by Luther Ingram downplays his impact on the song both vocally and bringing his own arrangement to the song. Ingram took the tape and worked out a more mournful arrangement with a Gospel feel. He recorded the song at Muscle Shoals Sound Studios in Alabama, utilizing a Wurlitzer piano with an Echoplex unit, and also a Hammond Organ.
The song came into its own in the summer of 1972. The tension throughout the song is palpable. The electric guitar interspersed with the organ and piano; Ingram's vocals full of restraint but which dance on a knife edge, dangerously close to letting loose but each time, Ingram pulls himself back. builds and builds throughout the verses and choruses, but always leaves you with that tension, that push and pull of emotion, of doing what is right against doing what feels right.
"Are you wrong to give your love
To a married man
And am I wrong trying to hold on
To the best thing I ever had."
:: "I Think I'm Normal" – Carter Ace ::
LA hip-hop group Carter Ace, led by the ever-lively O'Neil Carter, found attention in unexpected places last year—they went viral on TikTok. The ensemble blends a groovy mix of funk, soul, rap, and jazz elements into their signature, smooth sound, akin to Steve Lacy's solo work. Co-produced by Foster the People's Isom Innis, "I Think I'm Normal" is a deceptively bouncing track on which Carter details the duel between his angst and anxieties via his stream of consciousness. Indecisively stuck between his nonchalant self-deprecation and unabashed pride, he strikes a familiar chord with young people awkwardly (and often messily) settling into adulthood. He sprinkles distant keys and playful synths over distorted guitars, punchy drums, and a killer bassline, making uncertainty sound cooler than ever. An engaging and in-sync live band, Carter Ace gigs are undoubtedly worth looking forward to.
:: "Meat Grinder"- MF Doom and Madlib (Madvillain) ::
"The worst hated God who perpetrated odd favors/demonstrated in the perforated Rod Laver's/ In all quad flavors, Lord save us"
It's sort of hard to pick any one specific MF Doom song, but since Madvillainy is perhaps one of his most famous projects,"Meat Grinder" seemed like as good a choice as any. Composed in a nkinge of weed, mushrooms, and Thai food, rapper, MF Doom, and to no lesser credit, producer, Madlib, came up with "Meat Grinder;" a short, grimy sort of track that highlights strengths of both artists. Production-wise, the song opens with a psychedelic reference to The Mothers of Invention followed by a dark, looming, and bass-heavy sample, "Hula Rock" by Lew Howard & the All-Stars, that carries the track for its entirety. As for lyrics and vocals, MF Doom's voice and persona really match the vibe of the song. Ever the villain, Doom's words and voice are deep, raspy, non-stop, and complex. For a song that just has one verse, Doom doesn't leave any sonic space unused and the space he does use is packed with dense and intricate references, easily taking and making full use of his writing. Unfortunately, MF Doom passed away in late 2020, but he left no shortage and no less impressive of a discography and an almost unreachably high bar for lyricism and rapping. Bonus reference for him rhyming the chemical name for MDMA (3,4-Methyl​enedioxy​methamphetamine) from the track "All Outta Ale," an equally, if not more menacing and villainous track.
"One for the money/two for the better green
3,4-Methylenedioxymethamphetamine"
:: "Meadows in Japan" – Serena Isioma ::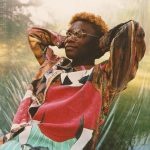 The thing with Serena Isioma's music is that it's a body of work that deals with everything, from race to self-love to sexuality. It's Isioma's boundless, euphoric Leo self on the loose, dancing with youthful defiance. "Meadows in Japan," the fifth track off their latest EP The Leo Sun Sets, is an intimate dive into the spaces we hold for love, the line between ourselves and others. Isioma begins with, "Something about you / makes me want an us," against a blend of woozy indie pop guitar melody and modern R&B, and later makes the realization of "You love me then you love me not / I love me a lot so I have to cut you off." Meanwhile, Isioma's earnest, honey-dripped vocals make pleas for a utopian land in the chorus, floating between half-singing and half-speaking.
But the knockout moment in the track lies in the casual tenderness of "So I'm gonna go back to doing me / I hope you keep doing you / Okay / I love you / Peace" in the form of a voicemail recording. It's a oft-used musical device that Isioma makes their own: rung in by a dial tone, heart-stopping bass drop, and glitched drum cut. In their sophomore EP, Isioma is already showing themself to be an irresistible songwriter that makes everything new, fashionable, and always personal. They simultaneously embody resistance to genre and convention and brim with exuberance. They make you want to listen, and they are hard to turn your ears away from.
:: "Space is the Place" – Sun Ra ::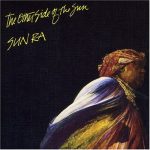 Prolific experimental jazz pioneer and Afrofuturist Sun Ra is probably your favorite artist's favorite artist. A freethinking intellectual whose spiritualism encompassed elements of various religions, philosophies, and movements, Ra's music was just as ahead of its time as he was. One of him and his Arkestra's most beloved songs, "Space is the Place" (off of 1979's The Other Side of the Sun), is a transcendent, 10-minute cacophony of moving parts—the music equivalent of an enlightened galaxy of his creation, or a transmission to Earth from that realm itself. Erratically grooving, it features some of the most innovative improvisational work ever, as the Arkestra runs free with uniquely chaotic-yet-euphonious instrumentals and noisy synths.
Five years earlier, Ra released a film of the same name—a beautifully bizarre sci-fi film about creating a Black utopia on a planet far away, one that would disregard time and use music as transportation. To him, space ("the final frontier") and sci fi carried potential not just for Black liberation, but for the liberation of all humanity towards something much more cosmically sublime. Ever-evolving and radical in his compositions, production, and distribution, Sun Ra's music is a testament to his life and beliefs, transcending time, space, and genres. He was truly from the future, or some other time or place far from that which we know.
https://www.youtube.com/watch?v=bCalqwsicls
:: "Grateful" – Life on Planets ::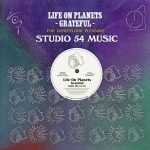 Life on Planets is pretty much the ideal artist to be listening to during Black History Month. Born Phil Celeste, he's largely divided his life between Brooklyn and Baltimore, and has absorbed the strong African-American cultural landscape in both cities. He's also been committed to serving the Black community through activism, donating a decent amount of his music sales and touring revenue to Black Lives Matter and Campaign Zero.
Perhaps most notably, Life on Planets is now a leading artist for Studio 54 Music, a less-than-year-old music label stemming from the famed NYC theatre. Life on Planets seems keen on honoring the African-American music of Studio 54's 1970's nightclub era, with records like "Grateful" and "Man U Need" channeling both the disco of that period as well as early hip-hop records like "Rapper's Delight." All the while, the music sounds impressively futuristic, laced with contemporary production and intelligent incorporation of Soul/R&B, leading to a sound that will be ready for the nightclubs of today… when the time comes.
For a heightened sense as to where Black music was, is, and will be heading next, there is great value in exploring Life on Planets' discography.
:: "Crackle Lyn Wood" – Madisen Ward and the Mama Bear ::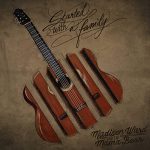 Let me tell you about this beautiful ballad I heard a while back, "Crackle Lyn Wood," written and recorded by Madisen Ward and the Mama Bear, the mother and son whose individual music careers merged into a folk duo. An acoustic guitar plays minor chords at a slow trot while the duo sing lyrical shards of a tragic narrative about a young runaway. What happens to Crackle Lyn, they never say, but they do end the song on an unresolved major chord. The music video follows the intrepid Crackle Lyn (played by Gab Fanning) as she scours some southern town—probably the Ward's hometown of Independence, MO—for a place to rest. Carrying a wooden walking stick, she treks first to an overgrown ball field, then a lush cemetery, then a large backyard treehouse—and passes them all up. Onward she goes into the night before building herself a campfire on an anonymous front lawn, a place to sit but not to rest.
Folk music comes from the land. "Crackle Lyn Wood" exemplifies the genre's ability to connect people, whatever their stage in life, with their natural surroundings. In doing so, the song (and video) challenges, as Dr. Carolyn Finney states, the "racialized perception that when it comes to concern for the great outdoors, participation in outdoor recreation in our forests and parks, and the environmental movement in general, African Americans and other nondominant groups are on the outside looking in." The story told in "Crackle Lyn Wood" takes us outside the bounds of this deleterious norm to a place that feels rooted, if unresolved. It's a great song from the inside out, and if you're in the mood for some fireside type music, you can't do much better than Madisen Ward and the Mama Bear.
:: "Sea Sick" – binki ::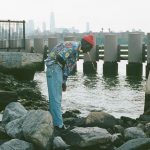 You know when you discover an artist who's so talented that you want everyone to know them? That's exactly how I felt listening to binki's catchy, funky, tracks. Hip hop and disco mixed together never sounded so good, just listen to 'Sea Sick' or 'Wiggle' to see what I'm trying to say. It's that kind of music that makes you want to dance till the sunrise in a club or spend an evening on the beach with lifelong friends, over music and beer.
Unfortunately, binki hasn't appeared on the music scene since 2019, although his glory days seem to be very close. Will we see more of him in 2021? We don't know, but we surely couldn't be more excited about it.
:: "Tout Recommencer" – Hoodstock  ::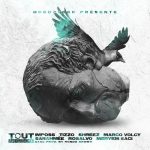 Hoodstock is an organization founded and based in the Montreal-Nord borough of Montreal with the mission to generate spaces and dialogues helping combat systemic racism. Founded in 2018 following a shooting by police, its presence has only become more prominent over the years as injustices and anger tragically grow. "Tout Recommencer" is a song put out by the organization in December, composed of the artists Imposs, Shreez, Tizzo, Sarahmée, Marco Volcy, Rosalvo, and Meryem Saci.
Not only is the song a protest against universal police brutality, timely (lines such as 'Watch ton back, efficace, on s'protège avec un masque' and 'Ensemble, on est la force, yeah/ Six pieds, c'est la distance, yeah' making reference to Covid) and timeless ('On oublie pas tous ceux qui ont perdu la vie/ Au front, tous les jours, pour sauver des vies/ Y'a pas d'justice sans égalité/ Faut qu'on s'unisse, qu'on s'unisse/ Solidarité') but it's also a coming together of names making an impact in the Montreal rap scene.
:: "wish you the best" – Joy Oladokun ft. Jensen McRae ::
Nashville-based artist-to-watch Joy Oladokun emerged as a potent force of nature with last year's album in defense of my own happiness (vol. 1), but it's the past few months' lead up to her follow-up, vol. 2 – a series of soaring, stunning, and breathtakingly beautiful songs – that has had me on the edge of my seat all fall and winter long. "if you got a problem," "i see america," "look up," "mighty die young," and now "wish you the best" – a duet with fellow singer/songwriter Jensen McRae – have all earned a special place in my heart, showcasing the depth and diversity of an incredibly powerful new voice.
I remember searching, watching, waiting
For the end of days to come
Thinking God had made me something special
For living on the run
I remember when I moved out, moved on
With nothing good to say to you, ooh
Now I'm just a little older, kinder
My bitter days are through
My bitter days are through
Even when your bag is empty
Even when your ego's bruised
I will never come down swinging
I still want the best for you
I still want the best for you
Oh, ooh-ooh-ooh
"wish you the best" is a particularly hypnotizing piece, with a lilting guitar line continuously cascading up and down throughout. Oladokun and McRae share the spotlight in a poignant, bittersweet letter to a flame long gone. In it, they recognize the remnants of love: A desire to see one's ex succeed in spite of het damage they left in their wake. It's so simple, and yet Oladokun's performance brings such vivid energy and emotion to the fore: She projects a raw mix of pain and a mature kind of love that goes beyond minute-by-minute feelings, speaking to a greater desire for we as individuals to be our best selves and excel at life.
Oladokun is once in a generation: A truly brilliant artist with limitless potential – and she has proved herself yet again with this tender, shiver-inducing overhaul.
:: Here, My Dear – Marvin Gaye ::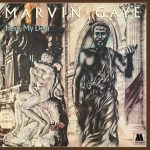 Ah, breakup albums.  They're commonplace these days, but back in 1978 they were virtually unheard of.  Enter "Prince of Soul" Marvin Gaye.  Having signed to Motown's subsidiary label Tamla in the early 1960's, Gaye became a global superstar and sexual icon after breaking out later in that decade, and he spent the 70's releasing several groundbreaking albums.  Somewhere in that mix, Gaye married Motown founder Berry Gordy's sister, Anna Gordy Gaye.  In 1977, after several infidelities on Marvin's end, as well as having to endure his famously erratic behavior and occasional drug use, Gordy Gaye filed for divorce and sued him for child support and alimony.  To make matters worse for Marvin, his reckless spending habits had rendered him flat broke.  To settle his debts, he decided to write and record an album and share half of the royalties with his ex-wife.  At first intending for it to be a "quickie" and a throwaway to spite her, he changed course and decided to unleash his uncontrolled feelings of pain, passion and longing onto the record that had plagued him throughout the divorce proceedings.  The result was Here, My Dear, a landmark album that feels like the most sensational memoir you'll ever read, an unintended sociological study on obsession and the effects of romantic uncoupling on the soul.
To quote Jay Kay, frontman of acid jazz band Jamiroquai, "it's almost like the same song being changed ten different ways".  The album is basically a funky song cycle, with a stable of jazz players and Gaye's silky, quadruply-layered voice giving it a warmth and a deeply soulful feel that makes it extremely easy on the ears.  Songs like "When Did You Stop Loving Me, When Did I Stop Loving You" and "Anger" are so brutally straightforward in tone and specificity that you'd think you were eavesdropping on a private conversation between Gaye and his ex-wife, with only Gaye's side coming into focus.  Gaye takes the no holds barred approach, applying minimal changes musically across the record to let it play out like one nightmarish groove, letting his voice convulse, shriek, gasp, and wail as he divulges more of his side of the story and shadowboxes with his ego.  Though it may be one of his odder, more experimental albums, Gaye threw his entire chaotic and passionate soul into it.  That's arguably the crux of Marvin Gaye's powerful musical legacy, that no matter what he did it was always special, and even if it came from a place of profound darkness, it radiated a beauty that you'd never experienced before and would likely never experience again.  Here, My Dear is a shining example of that.
:: "Thank You For Talkin' To Me, Africa" – Sly and the Family Stone ::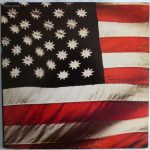 "Flamin' eyes of people fear
Burnin' into you
Many men are missin' much
Hatin' what they do
Youth and truth are makin' love
Dig it for a starter
Dyin' young is hard to take
Sellin' out is harder"
A slowed down, muddled rework of "Thank You (Falettinme Be Mice Elf Agin)," the concept before Sylvester Stewart isolated himself for There's a Riot Goin' On, the whole album was to continue his upbeat street funk sound he developed on Stand. Instead the artist known as Sly Stone wrote a record seemingly fuelled by deteriorating band relationships, drug addiction and the death of the Sixties per Miles Marshall Lewis. The whole album is a dense, redubbed reflection of an America wracked by interracial tensions after victories for the Civil Rights movement, the assassinations of Martin Luther King, Jr and Robert Kennedy and just as the forced busing attempts of the Seventies were getting started. Much of the tumultuous decade had come to, more or less, a political and cultural bookend, with Richard Nixon elected on a law and order mandate–if the Sixties were ripe for satire, the Seventies were built for irony– and Christopher Gray posited "[Stone's] quest for post-stardom identity mirrored black America's quest for post-Sixties purpose."
The title itself responds to Marvin Gaye's call for peace and communication on What's Going On, plainly stating "There's a Riot Goin' On," and plays with waxen wah-wah guitars, distant organs, stripped down horns. Band members feature on certain songs, but most of it was performed by Sly Stone in stormy, multi day sessions before a miniature hibernation. In an image, it is a once-bright candle, now burning low. By "Thank You for Talkin' to Me, Africa," the lofi funk had achieved full form: the bass wobbles, the guitar chops and shakes, the chorus slogs, Stone growls and howls, the organ shrieks, the drums slap and thump. But it's in the blurred bridges that everyday people hear just what Stone muses on: what do we do now? The Summer of Love finished, the Rainbow Coalitions unaccomplished and the Youth Movement sputtered, Stone landed on an asphalt reality and would not leave this precarious position until Fresh but it's generally agreed nothing later would match the low, intense flame of its predecessor. If the Sixties ever needed a musical bookend, then Sylvester Stewart provided it.
— — — —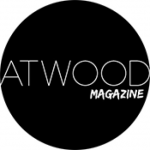 :: Weekly Roundup ::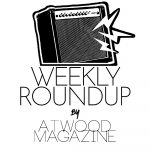 ---
:: This Week's Features ::
---