Raw fuzz and psychedelic rock pour forth from The Florets' immersive debut EP 'Friction Made Fiction,' a rich introduction to the Melbourne band.
Stream: 'Friction Made Fiction' – The Florets
---
Heaps of fuzz pours forth from warm, dynamic amplifiers in The Florets' immersive debut EP. Writhing with a heavy dose of psychedelic rock, Friction Made Fiction is a rich, driving introduction to a band we can't wait to follow into the future.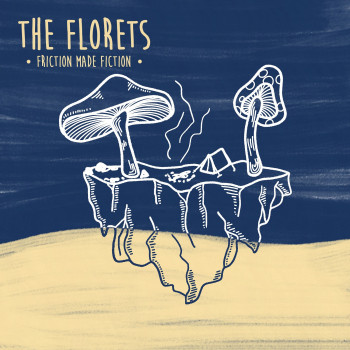 Atwood Magazine is proud to be premiering The Florets' debut EP Friction Made Fiction, out everywhere August 30, 2019. The Melbourne, Australia-based four-piece of Nicholas Dawes, Josh Dawes, Amitay Moody, and Alec Cimera, The Florets introduced their Strokesy brand of indie haze last year with debut single "Sleep."
Following more recent pre-release singles "Just Coast" and "Shapeshift," Friction Made Fiction captures the full range of The Florets' unhinged sound. Their vibe is akin to mid-aughts The Black Keys, albeit more colorful and subdued. The Aussie band's bluesy inclinations take on new hues through an equally-visceral penchant for haunting vocal harmonies ("Gentrify") and a jangling, almost surf rock shine akin to the likes of Real Estate.
In other words, The Florets are well on their way to establishing themselves with a distinct molding of styles and sounds.
"We are absolutely stoked to be releasing our first body of work to the world a year after forming," the band tells Atwood Magazine. "… The EP has a really nice rhythm to it. Starting punchy and short, afterwards showing the importance of space in music and then slowly building into a heavy hitting outro."
Experience the full record via our exclusive stream, and peek inside The Florets' Friction Made Fiction EP with Atwood Magazine as the band provide their personal take on the music and lyrics of their five-track debut!
Stream: 'Friction Made Fiction' – The Florets
:: Inside Friction Made Fiction :
— —
Five Foot Vice
We had a lot of fun in the studio bringing this one to life. It's a tricky song to play live so being able to layer it piece by piece was a real treat. The lyrics encapsulate those legends around us that help us when we need guidance and keep our heads in check.
Gentrify
This track is super important within the debut EP as it shows the value of space within music. Parts of this EP have sections with a shit ton ton of noise and notes being smooshed into each section so it was paramount that we stripped this track back to its raw bones and rely on the sound between the noise. The lyrics are about inner city living becoming too expensive and slowly pushing lower income earners out of the main hub. It talks about older generations disapproval of youth within their sleepy suburbs and cultural clashes that come about from this.
Just Coast
Washed out guitars & a bopping bass line. Just Coast is definitely one for a lazy day in the sun. "Just Coast" sums up my struggle with the necessity for everything to align before pursuing them, making excuses for every dream before acting. This is the first project I have ever sung for and the lyrics to this track are about just going for it, even if it turns out sounding rubbish.
Force Fed Hand
Heading towards the end of the EP things start getting a bit gritty. Our old school blues rock 'n' roll influences get a turn at the hot seat. The song is pretty much recorded & mixed around a rock emphasised Hip Hop beat on the drums. The guitars stay pretty chill and let the vocal line push the song forward.
Shapeshift
If we were ever going to make a jangle for a racing car ad this would be it haha. Everything is all out in the open with this one. We couldn't have our debut body of work not honour the ghosts of the blues legends that made us want to play. The lyrics are about plastic surgery and peoples' necessity for constant reassurance.
— —
Stream: 'Friction Made Fiction' – The Florets
— — — —
? © 2019
:: Stream The Florets ::
---