Sweeping and stirring, Cincinnati artist Abby Holliday's debut album 'WHEN WE'RE FAR APART I FALL APART' is a breathtakingly beautiful dive into the depths of raw humanity.
Stream: "8 Hours" – Abby Holliday
---
Ultimately, I hope you find comfort in the stories that are told here, and that you know that you're not alone in the way that you feel and think. These songs are unapologetically "me."
Sweeping and stirring, Abby Holliday's debut album is a breathtakingly beautiful dive into the sweet depths of raw humanity. Blending heartfelt indie folk with indie pop wonder, WHEN WE'RE FAR APART I FALL APART explores matters of the heart and soul with dazzling candidness, passion, and honesty. It's one person's journey of reckoning and self-discovery, captured in real time for all to see, hear, and feel with striking intimacy and immediacy.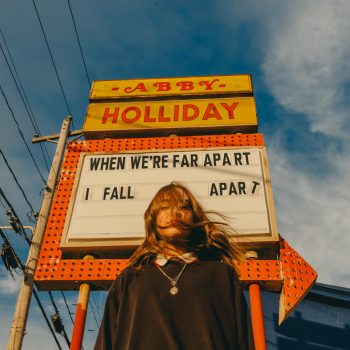 Grandma is drinkin' again
I'm feelin' foolish, 'cause I thought she would quit
Is it something I did?
Something I did?
Best friend and I don't talk anymore
One day I woke up and it felt different
Is it something I said?
Or something I did?
Can we pretend that everything's alright?
And that none of it keeps us up at night
Can we pretend that everything's alright?
Like we're getting 8 hours
8 hours of sleep at night
Independently released July 16, 2021, WHEN WE'RE FAR APART I FALL APART isn't a cry in to the darkness; rather, it's a sweet unveiling in the light. Radiant and unapologetic, Abby Holliday's debut album finds the 24-year-old singer/songwriter from Cincinnati soaring through songs full of emotion and warmth.
An Atwood Magazine artist to watch, Holliday debuted on April 1st of this year with her first single "April Fools," a sentimental and heartfelt tune also featuring Tyler Jarvis and Jack Price. Whereas that song adopted a lighthearted, laid-back vibe (think Josie Dunne), Holliday's sophomore single "8 Hours" and its parent album immerses the senses in radiant guitars, hushed vocals, and heavier beats more reminiscent of Julien Baker, Phoebe Bridgers, Snail Mail, and fellow Atwood artist-to-watch Leah Capelle.
"The album focuses a lot on distance… distance between myself and romantic partners, friends, and God. I created the distance, and so did they," Holliday tells Atwood Magazine. "I had a hard time deciding which songs would fit cohesively on an album. Originally, I fell in love with the idea of creating a concept album, so I started going down the route of writing sort of a "break up" album. In the end, I just picked the songs that my team and I were most proud of, and it still sort of ended up being a concept album, just not in the way I had intended. I think these songs do a great job of showing a lot of different sides of who I am, rather than just break up songs."
"To be honest, my vision was mostly as simple as this: Making songs that are real, and that make people feel something deeply. My favorite songs are the ones that feel like a punch to the gut. The idea that my lyrics can cause someone to have an emotional reaction continues to blow my mind. I think we did a great job of expanding that vision in the studio with the production elements we used to accompany the lyrics. My songs are very personal to my life and circumstances, but I think they're also relatable to others."
WHEN WE'RE FAR APART I FALL APART is most definitely a resounding gut punch.
Holliday's first effort finds her dwelling on intimate questions of identity, purpose, connection, presence, desire, and more. It's an overall cohesive effort bound together in substance – one that makes a journey out of exploring multiple styles and various sounds along the way. "I'm comfortable in exploring my emotions through art," the artist says. "I think the album flows well as a whole, but there are also tastes of different genres throughout the album. Overall, I'm more committed to creating a compelling song, rather than fitting an expected mold of what my sound should be. I think there is more consistency in the emotional aspects of my songs, rather than the genre of the song. In general, I sing about what I'm feeling, because that's way easier than talking about it."
The album shares its title with a hushed, lo-fi two-minute enchantment that hits halfway through the record's 24-minute run. Speaking to her decision, Holliday explains how that song is one of her oldest, and how that lyric always resonated with her.
"When I was preparing for the creation of this album, I was going back and forth between album titles. It felt like I was struggling with a lack of vision. "When we're far apart, I fall apart" was a lyric from one of the first songs I ever wrote. It sounded like a cool album title, but I didn't know if I was totally sold on it. I'm also not great at making big decisions, which my friends know all too well. One day my best friend Elise and I were driving somewhere and she looked at me and said, "We're going to take a quick detour." She pulls down Short Vine in Cincinnati and drives me to Bogart's, which is a music venue that I've seen many of my favorite artists perform at. We pull up to the venue, and this is on the sign:
"She went there without me knowing and asked if they could put it up, just so I could see what it would look like, and to see if it felt right as an album title. It was one of the kindest things anyone has ever done for me. I decided on that day that I was going to record an album, and it would be called 'WHEN WE'RE FAR APART I FALL APART.'"
Pull back, you're a little too close for comfort
I wanna keep up but
I can't ever seem to catch my breath
You keep planning our life together
I wanna be there but
I just can't afford to be your mess
My low pain tolerance is bringing you down
Only a matter of time before you figure it out
You're lookin' at me like you want me to stay
I'd rather run away, run away
– "Low Pain Tolerance," Abby Holliday
The stage is instantly set for a powerful experience via album opener "Low Pain Tolerance," a visceral and vulnerable confessional (about commitment and connecting with others on a deeper level) that glistens through groovy, shimmering guitars, vivid, dreamy vocals, and driving beats.
---
It's the perfect, no-holds-barred preview of what's to come, as well a great setup for lead single "8 Hours," which continues to be an album highlight: Glistening chords shimmer and swoon around the ears as Holliday paints a portrait of the tension and strain going on within and around her. The song's verses speak to a myriad of troubling situations ("Grandma is drinkin' again," "Best friend and I don't talk anymore,") while in the song's thrilling chorus she, quite understandably, expresses her struggle sleeping – of getting those long-sought after eight hours of rest and having oneself a good night's sleep.
"I wrote '8 Hours' towards the beginning of quarantine," Abby Holiday previously told Atwood Magazine. "I moved back home with my family for the time being, which in many ways was great. I've always been really close with my family. But it also came with new challenges. I was having a hard time sleeping the first month I moved home with them, mainly because my mental health wasn't great, and there was just a lot on my mind. I didn't really tell anyone… it felt like it would be a burden, or I would just be complaining. Sometimes it's just easier to go about our lives on our own… or at least that's what we tell ourselves. I'm a deep feeler, and there were some heavy life events that were hitting me hard. That's when the song just bursted out of me."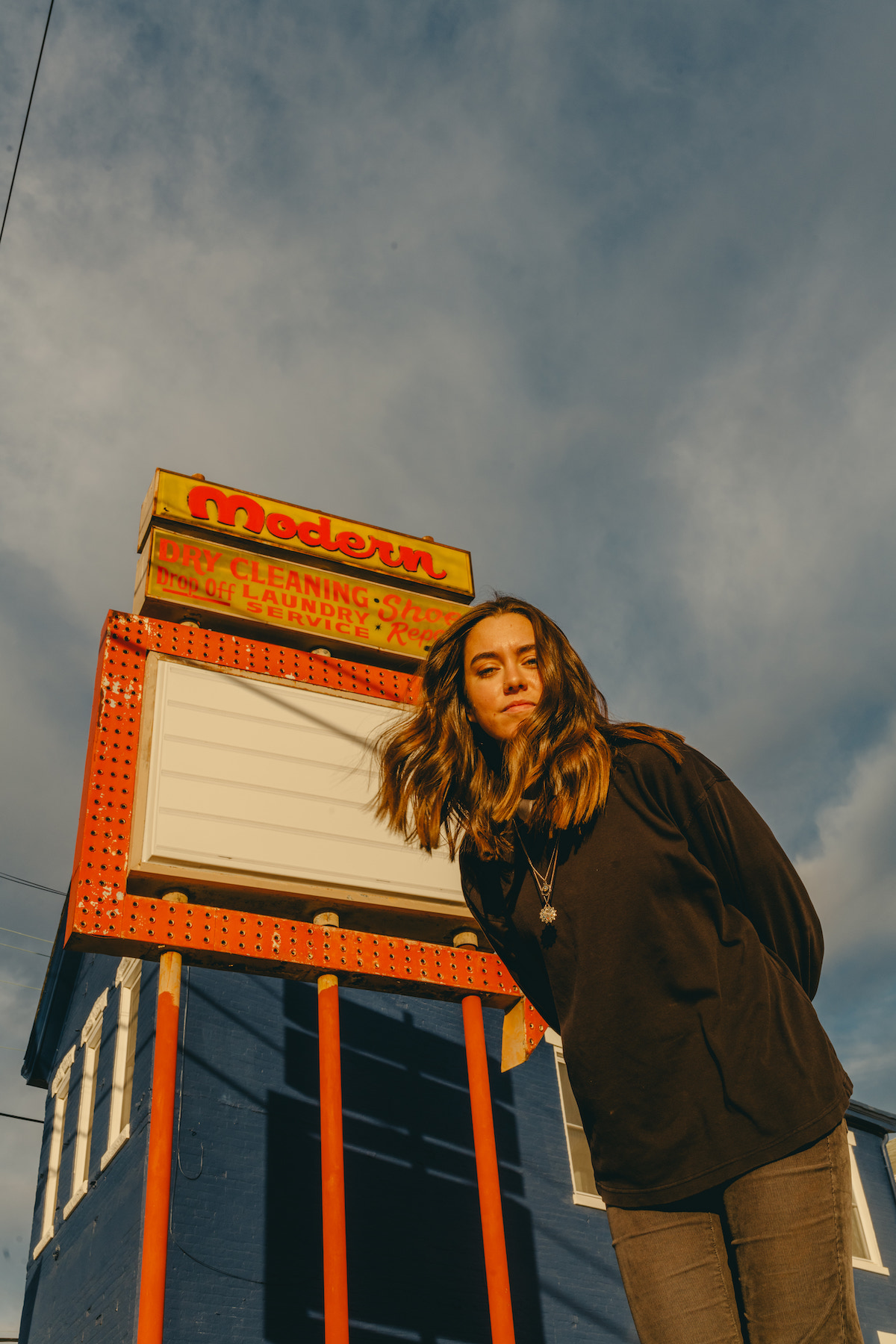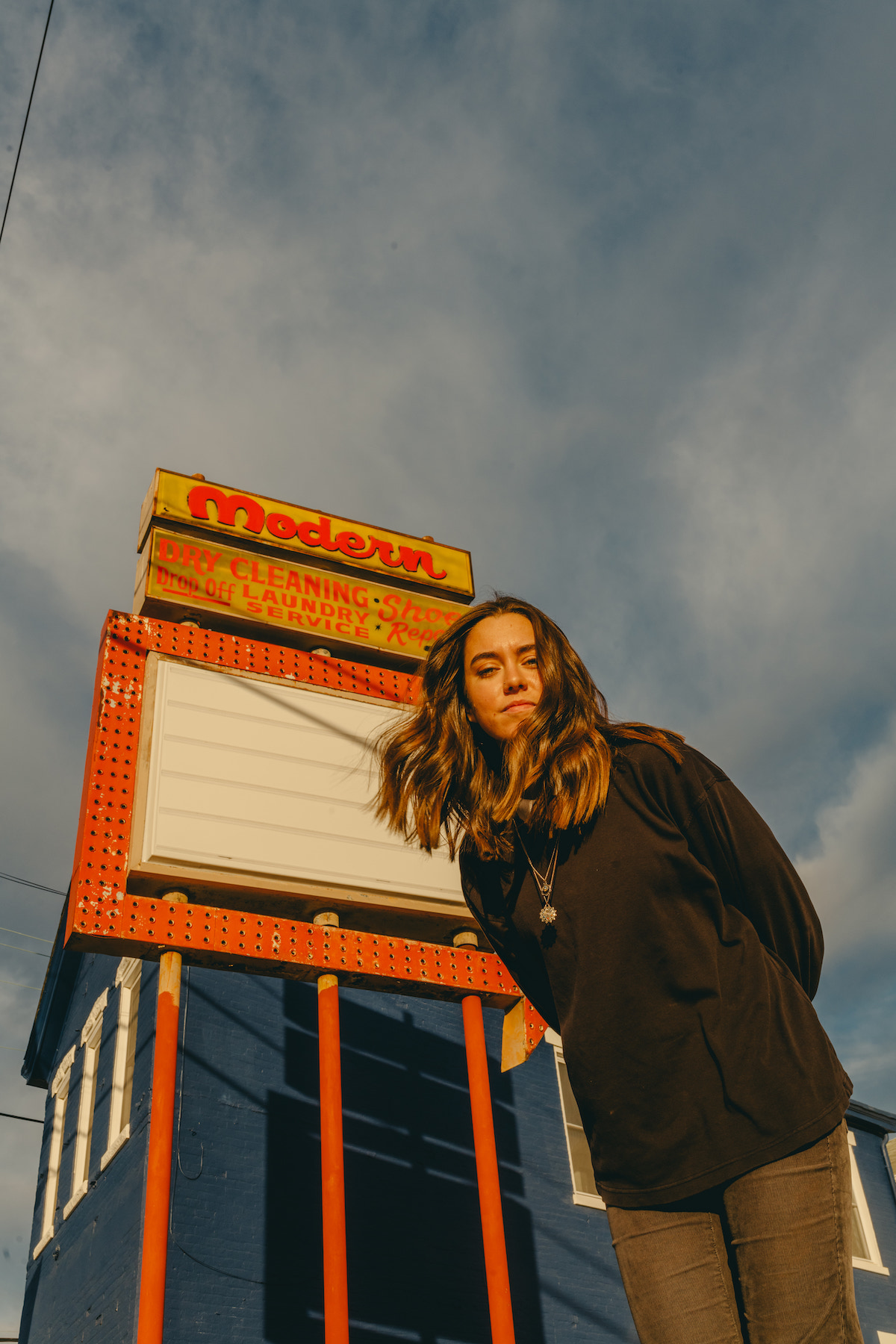 In premiering "8 Hours" earlier this year, Atwood praised Holliday's exceptional musical tapestry and personal lyricism: "Fueled by mesmerizing harmonies and Holliday's rich, evocative vocal performance, it's a beautifully moving overhaul of feverish feelings – the kind of surrender we need in order to move on," we wrote at the time. "With so much movement and such effortless polish, it's hard to believe this is only the beginning for Abby Holliday."
Lately my songs have been lazy
Susan at the table from my neighbors
And their skeleton dog
My train of thought travels
at the speed of lightning or something faster
I wonder what it means
I'm gonna go to sleep
And I'll dream
Distract me
So I don't notice my teeth are falling out
Build a wall around me
To keep the eels out of my bedroom
I will praise the god in white jeans
Fall down before him
And watch the land turn to sea
And the beauty turn to ashes
And I will scream my songs so loudly
That I lose my voice and no one even hears me
I wonder what it means
I'm gonna go to sleep and dream
– "Dreams," Abby Holliday
WHEN WE'RE FAR APART I FALL APART is worth listening to in full from start to finish, but it is not without its obvious highlights. Holliday cites the song "Dreams" as her personal favorite off the record. "I haven't written anything quite like it before or since then. It feels really trippy, and I'm a huge fan of that," she says. "We very intentionally laid out the order of these songs. The section in the middle of the album might be my favorite ('Dreams', 'when we're far apart i fall apart', and 'Split Ends'). Abby Gundersen played strings on 'Dreams', 'Worth It', and 'Nothing From Me'. Working with her was a huge highlight. The parts she played are some of my favorite parts of the record."
---
As a lyrically forward artist as well, Holliday goes on to note some of her favorite lines in these songs.
"'Wake up, and feel your front teeth' — Out of context, this lyric is very strange. I love the weird lyrics in "Dreams." I never thought I'd be singing about teeth, but here we are. 'You've got a holy kind of hold on me' — This feels like the strongest bridge to me on the album. I love the journey that this song takes to get to this lyric. 'Saviors and sons stuck in a dream, we fell asleep down on our knees…' — I love the imagery in this song."
It's been 3 months since I left our house
You said it was too heavy with me around
I believe you because you're better off
You ask me, "How do you know I'm better off?"
Honey, I see it in your smile
It's in the way that you walk and how you talk so softly now
'Cause we're older
And we're farther
Are you better
Off without me?
– "Split Ends," Abby Holliday
Whether you're whisked away into a sort of la la land slumber through the majesty and ethereal grace of "Dreams," brought to your own introspective and humbling moment of silence through "Split Ends," or inspired and energized by the dynamic "Worth It," Abby Holliday is sure to leave listeners wide eyed and satisfied. By the time closer "Nothing From Me" comes to its stunning conclusion, the only thing left to do is press play and start the album all over again.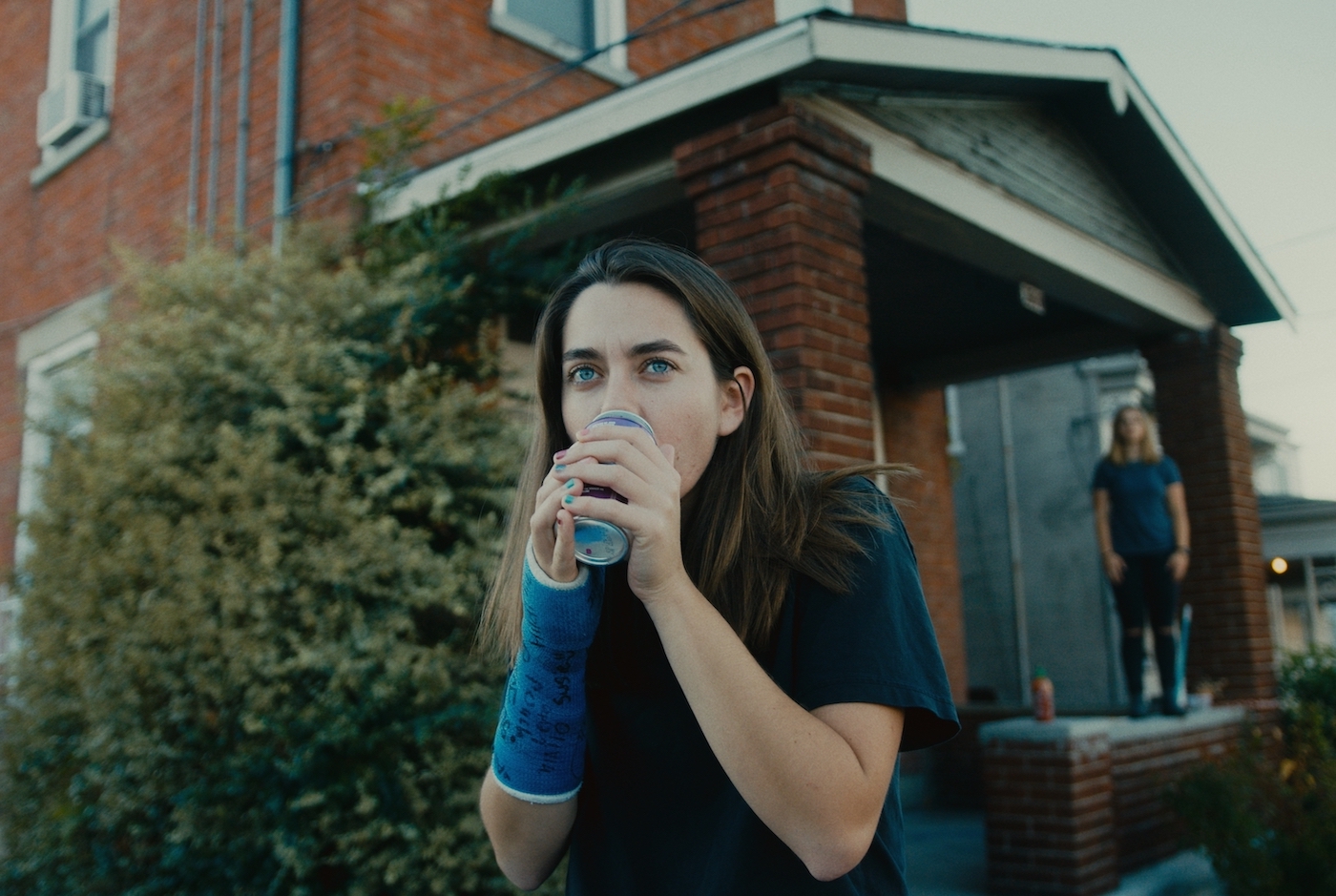 Releasing this project kinda feels like I ripped my heart out and now it's available for purchase on iTunes or something… These seven songs are so personal to me, and it's a wild feeling to hear how you are being touched by the songs.
Holliday just hopes listeners get whatever they need to out of these songs. "A lot of times I feel very isolated in the way that I think and process life. I hope that people listen to these songs and feel known, understood, and maybe even challenged in some ways," she shares. She also says her own takeaway is more complicated and nuanced – tied up with the piece of her soul she embedded within this music.
"Time and time again, I'm reminded that I can't do any of this on my own," she notes. "These songs started with me and my guitar, but to bring an album to life took a team of incredible people. I don't think I knew what I was getting myself into when I first started this process (heck, I still don't know). I'm just stoked to be here, and I'm honored that people want to listen to my music. I've learned that writing vulnerable music is one thing, but releasing it is another. I kind of feel like I've ripped my heart out and now it's available for purchase on iTunes and stuff."
"When I was choosing which songs would be on the record, I journaled what I liked and didn't like about all of them. It's really funny to look back on that journal because next to most songs I wrote "Is it too brutal..?" or "Too sad?" I was scared to release these songs because they felt too real to me. When in reality, that's a huge part of what makes them what they are, and what has the potential to set me apart from other artists. When I look at some of my favorite artists, and the music they're putting out, their brutal honesty impacted me more than they'll know, and they inspired me to write songs, even when some of them feel a little devastating."
One of the more dreamy, intimately expressive introductions released this year, this record is not to be missed. Experience the full album via our below stream, and peek inside Abby Holliday's WHEN WE'RE FAR APART I FALL APART with Atwood Magazine as the singer/songwriter goes track-by-track through the music and lyrics of her debut LP!
— —
'WHEN WE'RE FAR APART I FALL APART' – Abby Holliday
:: Inside WHEN WE'RE FAR APART I FALL APART ::
— —
Low Pain Tolerance
This song is comically and painfully "me." Relationships scare me so bad a lot of times and I usually feel alone in that. I have a really big fear of feeling trapped in them. And then I usually find some way to blame myself for feeling that way… We're working on that.
8 Hours
I wrote "8 Hours" very quickly. It kind of just poured out of me one afternoon. I remember crying while writing it. As soon as I finished it, I knew it was special. I love that at first listen, it sounds so fun, but it's actually very sad.
Dreams
I remember my dreams often, and they're usually very weird. I've always wanted to write a song about them. When we created this song, we also wanted it to feel like a dream. I think we accomplished that.
when we're far apart i fall apart
This song, and title of the album, originally existed as a bridge of one of the first songs I ever wrote. I didn't write the bridge until 2019, and now it's the title of the record. I love how things like that come full circle.
Split Ends
"Split Ends" was almost titled "Better Off." The line at the end about split ends was a last minute addition to the song, and I'm so glad it's there. I hadn't seen a friend in a while, and once we saw each other again, I noticed their hair had grown so much… which obviously is a natural thing that happens… but I started thinking about the parallel of that with the way that life tends to change how maybe I was holding them back when we were close.
Worth It
"Worth It" is about trying not to get back together with someone, even if you want to… actually, especially if you want to. It takes the listener through those super fun and painful back and forth aspects of a relationship.
Nothing From Me
This was the last song I wrote for this album and I think it's the perfect closer. It's a look into my faith, and the idea of what it means to become stagnant in it.
— —
— — — —
? © Abby Holliday
:: Stream Abby Holliday ::
---