Atwood Magazine is excited to share our Editor's Picks column, written and curated by Editor-in-Chief Mitch Mosk. Every week, Mitch will share a collection of songs, albums, and artists who have caught his ears, eyes, and heart. There is so much incredible music out there just waiting to be heard, and all it takes from us is an open mind and a willingness to listen. Through our Editor's Picks, we hope to shine a light on our own music discoveries and showcase a diverse array of new and recent releases.
To celebrate his 100th Editor's Picks, Mitch has highlighted some of his favorite people in music today! This week's Editor's Picks features Noah Kahan, Joy Oladokun, OTNES, BAILEN, Alexz Johnson, Young the Giant, Brian Dunne, Charli Adams, and Overcoats!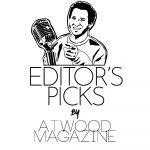 ---
Stick Season
by Noah Kahan
The very first thing I wrote about Noah Kahan was, "great songwriters make great songs." It's fun to see your predictions pan out, but that wasn't even a prediction! His 2018 debut EP Hurt Somebody is passionate, down-to-earth, and alarmingly catchy; a "perfect storm for the ideal introduction," I wrote at the time (and continue to stand by): "What makes him stand out is his incredible delivery: His ability to weave a story through song, teasing powerful emotions out of unsuspecting listeners like a magician pulling rabbits from a hat."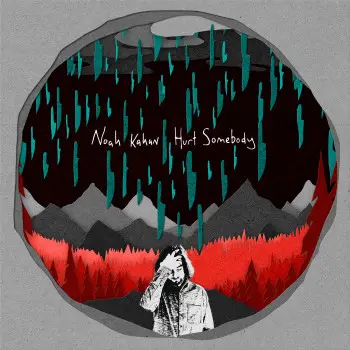 I've had the pleasure of connecting and reconnecting with Kahan around every successive album and EP release over the past five years, and can honestly say that he is not only one of my favorite singer/songwriters of our day, but that he's also one of my favorite people in the music industry in general – and that's not just because we're both fanboys of Philly's Mt. Joy (one of the best indie rock bands of our time – and also great people!), although it definitely doesn't hurt.
Kahan is unafraid of sharing his truest self, both in song and in person: "The more success you have, the more your career becomes your life. If you allow yourself to be fully immersed in your career and let that become your entire personality, you start to lose, I think, a little bit of what you had before — and that's really scary for me," he told me earlier on in his own career, ahead of his 2019 debut album, Busy Head. "I get really scared of changing, and of losing a part of myself. I think I try to explore that feeling in songwriting, so I can at least be cognizant of it."
And while time changes us all in little (and sometimes big) ways, every time I reconnect with Noah Kahan, I really do feel like I'm talking to – more so, catching up with – the same guy: A singer/songwriter from Strafford, Vermont who considers honesty and his ability to write songs from the heart to be his greatest assets.
It's especially refreshing, considering that he's increasingly becoming a household name to so many: His third album Stick Season, released in October 2022, has been a resounding success, not to mention his most impactful release to date. Propelled by its breakout title track (which hit #1 on the AAA Radio Chart), Stick Season debuted at #14 on the Billboard 200 Chart, #4 on Billboard's Top Alternative Albums Chart, #5 on Billboard's Top Rock Albums Chart, and #5 on Billboard's Top Rock & Alternative Albums Chart. The album also hit #6 on Spotify's Weekly Top Albums USA Chart, and six of its songs landed on Spotify's Viral 100 Chart – which, as of this writing, is the most of any artist on the chart.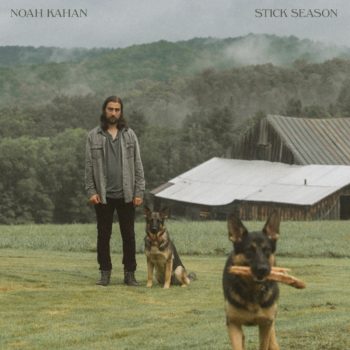 Stick Season sees Kahan at his most vulnerable, his most intimate, and his most authentic. "This album is for the folks who stuck around, out of choice or out of responsibility," he shared the day of its release. "This album is for the restless dreamers, creating universes in their heads. I hope these stories mean to you what they do to me."
Kahan did all this by rejecting the "tried and true" and following his heart, which led him to write songs more in line with the folk tradition that he'd grown up around. For him, this album represents the rebirth for his artistry: All of his songs are still catchy as hell, but there's a greater focus throughout Stick Season on storytelling, connection, and world-building, and less of an inclination toward the big, pop-friendly topline melodies of his past records.
That's not to take away the beauty of his greater discography: 2019's debut LP Busyhead delivered "an intense outpouring of emotions through breathtaking melodies and equally moving lyrics," 2020's acoustic EP Cape Elizabeth presented him in a raw, intimate, and unplugged pandemic-inspired setting, and 2022's sophomore LP I Was / I Am found Kahan reckoning through moments of intense personal growth and unyielding self-reflection with some of his catchiest songwriting.
Through every stage of his career thus far, he has proved me right when I first wrote that "Noah Kahan and his music are a stirring reminder that great songwriters make great songs."
That said, Stick Season truly is something special. From the intimate inner reckoning of album opener "Northern Attitude" and the unapologetic ownership and raw ache of title track "Stick Season," to the visceral, heart-on-sleeve plea of "Come Over," the unfiltered emotion, radiant charm, and pointed critique of "New Perspective," (my current favorite), the soul-stirring passion of "Everywhere, Everything," and the breathtaking eruption on "Orange Juice," Kahan's third album is an intimate and expansive triumph: A folk-pop masterpiece from a still very-much evolving singer/songwriter.
And as my Jewish community says more typically on Passover, dayenu: It "would have been enough!" Kahan recently announced an extended version that will add seven more tracks to the already 56-minute long record. The 21-song Stick Season (We'll All Be Here Forever) is set to release June 9th via Mercury Records/Republic Records, and promises to fill out even further an album I already consider to be a spirited, vulnerable, and emotionally raw sensation.
Noah Kahan isn't just one of my favorite artists because he's a great songwriter; he's one of my all-time favorites because he lives with no pretenses, no airs, no façades. Who you see is who you get, and who you get is a candid and deeply self-reflective New Englander making songs to quell his nerves and calm his busy head.
That they just so happen to fill an arena is an added bonus.
Proof of Life
by Joy Oladokun
Nashville singer/songwriter (and Atwood Magazine Editor's Pick) Joy Oladokun has proved herself a voice of a generation time and again these past few years through intimate songs full of warmth, raw emotion, vulnerability, honesty, and passion. Her music is equal parts catchy, cathartic, and comforting, and nowhere does she shine brighter than on her uplifting, inspiring third album, Proof of Life (released April 28 via Republic Records / EMI Records UK).
I've been listening to Proof of Life on repeat ever since its release, and the best way I can describe this record is thus: If Oladokun was looking up (that's a play on her song, "look up") on her last LP, in defense of my own happiness, she's now looking straight ahead. Oladokun is just trying to live her best life and sing about the highs and lows along the way, as she establishes right from the get-go on album opener, "Keeping the Light On" (a personal favorite):
I grew up out in the desert
Where I learned to thrive alone
Lived in L.A. 'til it broke me
Oh, I rolled on like a stone
Found a girl and found a job
Just like they say good people do
But every now and then
I turn to salt inside her wounds
Oh and all I know is we can't, we won't let go
Keeping the light on, the light on, ain't easy
Keeping the fight on, for so long, is hard to do
For all the times you feel the weight
There might just be a better way
Won't deny that it feels so hard
Whеn the night gets so dark
Keep keeping the light on…
What struck me the moment I first met Oladokun was her authenticity. "My entire life I have been trying to bridge the spiritual and the physical," she explained in a conversation back in 2021. "I have existed too much in my head and in my heart at times, and forgotten that I am a human being with limits and flaws… I think the biggest thing I have learned is that I don't have to be in my head all the time, I don't have to over-analyze things; I can look at something and say, 'that is bad.'"
Proof of Life makes it abundantly clear that Oladokun has been practicing what she preached. Lyrically, the record is an up close and personal look at what it takes to get by on a daily basis. She opens up about conversations with herself, while diving deep into her relationships with friends and loved ones alike.
"This album is evidence of how I live," Oladokun shared upon its release. "I hope these are helpful anthems. I started making music because I wasn't hearing from the 'everyday human being' on the radio. I hope this resonates with anybody who feels normal and needs a little musical boost to get through the day. I'm average. I do this job because I love what I do. I put so much care, craft, and intention into it. I'm making music to live to."
These days, something's always turnin' into
Nothin' will change, I'm just tryna find a
Way up when I'm down
It don't makes sense to me now
We're all gonna die tryna figure it out
We're all getting high any way we know how
We're over our heads, so I'll say it out loud
We're all gonna die tryna figure it out
We're all gonna die
I write a song, it's got a couple deep lines
It's bullshit, don't it make me sound sort of wise?
But I'm pissin' in the dark and hopin' I hit the bowl
I'm afraid of what I can't control
– "We're All Gonna Die," Joy Oladokun ft. Noah Kahan
It feels good to feel seen, let alone heard. From the candid, hopeful opening track "Keeping the Light On" and the glistening, heart-on-sleeve confessional "Changes" (a personal highlight) to the enchantingly intimate "Friends" (featuring Mt. Joy), the emotionally charged headbanger "We're All Gonna Die" (featuring Noah Kahan) and the impassioned, soaring outpouring "The Hard Way," every one of these thirteen songs is a nugget of cozy, smile-inducing folk-pop wonder.
Oladokun has created in Proof of Life a spirited, sweetly stirring soundtrack to everyday living full of love. It's no wonder I want her to be the voice of a generation.
"LIGHT AS A FEATHER"
by OTNES
I've known OTNES, formerly Emily Blue, for the better part of the past seven years – ever since her team reach out to Atwood Magazine for a premiere of her hauntingly beautiful debut single, "No Pain," a song that, together with its parent album Another Angry Woman, sought to break the silence of rape culture. "With her debut album, Emily Blue successfully addresses the importance of feminism for everyone," Atwood's staff wrote in our 2016 album premiere. "This record is a symbol for true feminist ideals, and aims to show that the pervasiveness of feminism is in fact permeating within society — whether or not it is actually ever truly acknowledged as such… Emily Blue and Another Angry Woman aims to give a voice to those who might feel voiceless; it is a soundtrack for us all." Long before we started our "artist to watch" series, Emily Blue was quite clearly our very first artist to watch.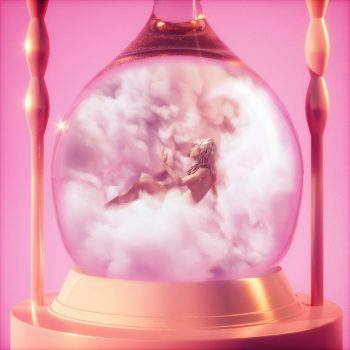 And what a journey it's been. At the time, she was also fronting Champaign, Illinois-based indie rock band Tara Terra, whose 2017 sophomore album Where's Your Light? and 2019 EP Couch Surfer, Lover remain two personal favorite records to this day (the band's final single, 2020's intensely vulnerable "T-Shirt," was also one of my 43rd Editor's Picks). Blue concurrently built out an impressive solo career during that time, finding her footing first in a left-of-center alternative/electropop space first defined by 2018's *69, and later built into the buoyant and bold indie pop landscape that defined her final album, 2022's The Afterlove.
Emily Blue was "retired" later that year, and in her place we were introduced to OTNES, an instant artist-to-watch in her own right. Following several life changes, including a move from Chicago to Nashville, OTNES represents an important rebirth for the musician (born Emily Otnes) – one that grants her a renewed sense of identity, freedom, and artistic possibility.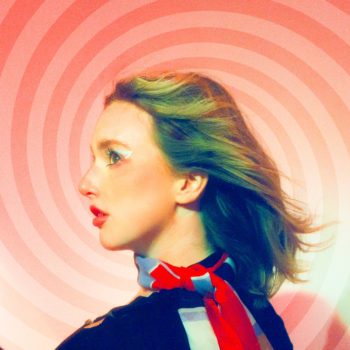 "During COVID I spent so much time with myself and realized that I have changed so significantly as a person since the Emily Blue project was born," she told Atwood Magazine last year. "Not only my gender identity (now going by they/she pronouns), but also my priorities as an artist, the trials and tribulations of going through a pandemic, and really looking inward. Emily Blue is gone for good, only in the sense that I no longer am her… OTNES feels so true to my heart (it's my real last name) and also more androgynous, so I can truly lean into my fluidity. I feel like a weight has been lifted off of me and can't wait to see where this leads."
After a one-off collaboration with Disney – releasing a version of the Alan Menken-penned Hercules song "Go the Distance" as a part of their Reimagine Tomorrow series – OTNES formally debuted last November with "SPIN," a sweetly synth-soaked song that captures everything we loved about Emily Blue, while importantly establishing OTNES as an indie pop phenomenon in her own right and an undeniable artist to watch in 2023. "As beautifully bittersweet as it is buoyant and utterly breathtaking, the dreamy, glistening "SPIN" is the perfect (re)introduction," I wrote at the time.
This past March saw the release of OTNES' intimate sophomore single "LIGHT AS A FEATHER," a vulnerable, heartrending eruption of inner pain halfway between shiver-inducing softness and unrelenting turmoil. An achingly raw reckoning with love, loss, and loneliness, "LIGHT AS A FEATHER" brings grief to life in a radiant blaze of beautifully cathartic indie pop.
I don't know how to miss you
Under grey skies
I'm thinking of you still
They don't tell you how to lose
Someone who walked beside you
And always held you through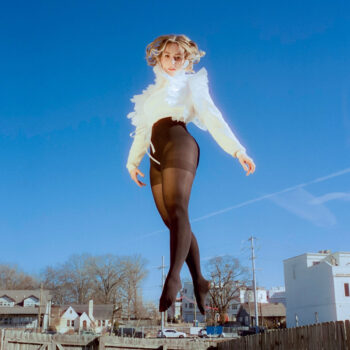 "They don't tell you how to lose someone who walked beside you and always held you through," OTNES sings in her opening verse, dwelling in the dark depths of her own grief. Her hushed voice aches with tender, turbulent emotion as she pours a heavy heart out in song: "Wish I could empty all these memories from my brain, but I know there is no other way to bring you back…"
It's the gut-wrenching upheaval we'll all experience at least once in our lives, and in so viscerally expressing it through song, OTNES not only manifests her own therapeutic release, but she also reminds us – everyone and anyone who needs to hear it – that we're not alone in our mourning, and we're not alone in our grief, no matter how lonely it can feel.
While the "LIGHT AS A FEATHER" verses tell a story of sadness and longing, the song's vibrant chorus is a space of emotional enlightenment:
But the you that's in my mind
He lasts forever
And all of our wasted time
It made me better
And the heaviness of life
Is light as a feather
Through this song, we hear OTNES' spirit rising up through the darkness and out into the light. We feel her finding the strength to continue progressing with her own life. It's not "moving on," per se; it's moving forward. Through heartache and healing, mourning and memory, soaring sonics and captivating melodies, "LIGHT AS A FEATHER" helps us in turn cope with loss, grief, and a loved one's absence.
OTNES isn't just the "rebirth" of Emily Blue; it's an elevation of an artistry I (and so many others) have cherished and admired for quite some time – and while I've enjoyed the past seven-year journey with Emily Otnes' various musical projects and endeavors, I'm even more excited about the next seven years ahead.
BAILEN's long-awaited sophomore album is a smoldering, soul-stirring enchantment. Achingly intimate and beautifully raw moments of truth are easy to come by on Tired Hearts as the New York-based sibling trio spill their souls through passionate indie pop melodies and heart-rending harmonies.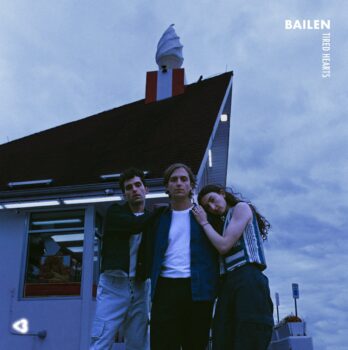 Arriving four long years after the band's 2019 debut album Thrilled to Be Here, Tired Hearts is an evolution in every sense of the word. We're all older, sure, and as New Yorkers, we've all been traumatized (to some degree) by what the COVID-19 pandemic did to our own lives and to our city; but Tired Hearts dives even deeper than that. Julia, Daniel, and David Bailen wear their hearts on their sleeves as they sing about love, about illness, about family, and about carrying life's heavy burdens on their shoulders and in their souls. Working together with producer Brad Cook (Bon Iver, Snail Mail, Waxahatchee), BAILEN reach a new musical high while plunging unapologetically into their lows.
This is a record reckoning with inner and outer turmoil; one confronting the turbulence in our immediate lives and the friction we've experienced at a national level. Passionate, heartfelt declarations about women's rights and empowerment share a space with songs of healing and songs of hope as BAILEN navigate their late 20s, in the 2020s.
Highlights range from the radiant, spirited anthem "Call It Like It Is" and the breathtakingly dreamy, vividly dramatic title track "Tired Hearts," to more nuanced moments like "Nothing Left to Give," an uplifting mantra of perspective and perseverance (and one of my more recent Editor's Picks). "I know I'll make it out of this alive, so don't stop me from trying to enjoy the ride," Julia Bailen sings at the song's start, a sense of urgency, intimacy, and raw determination radiating off her voice. "Gotta keep from burning out before I hit my stride." A personal favorite is the hauntingly beautiful "BRCA (Nothing Takes Me Down)," whose titled is derived from the breast cancer gene Julia shares with her mother, a breast cancer survivor. I actually also have the BRCA gene, and never before have I felt so close to an artist in the way that I feel for Bailen when I listen to this gut-wrenching, sweetly soothing song.
It's all just an uphill battle
You shoulder the brunt because
You wish it wasn't mine
But I'd take it every time
You've given the best you could give
And I know that I wouldn't change it now
Oh nothing takes me down…
Nothing takes me down
And it won't change my plans
I'll still live like I'm dying
But I won't let it take me down
"In 2019 I got genetic testing done and received a diagnosis for a gene mutation that makes me extremely likely to get breast cancer at some point in my life," Julia explains. "The gene is called BRCA and it's a hereditary mutation that my mother has, her father before her carried, and now I have. My mom is a breast cancer survivor and expressed a lot of guilt when I learned that I too had the gene mutation – guilt that I tried to assuage many, many times. In 2021 right before we were set to record this record, I came up with the melody for this chorus but never had any lyrics for it and I tried to write them but they just kept coming out pithy. Between pre-production and recording the record I felt a small pea-sized lump in by breast that was unfamiliar to me in my self-check. I quickly called my doctor and went in for an examination and she sent me to get an ultra sound. In the cab ride home and in the day or so while I waited to hear if I would need further testing the lyrics to this song just poured out."
"The verse lyrics came out over a melody that David had sung in preproduction and the song became a letter to my mom saying how much I wouldn't trade this gene mutation for all of the other genes she gave me and the beautiful relationship we have, to assure her that there are worse things in this world and that I'm happy that I have the power of knowledge and access to screenings and technology that make this a survivable cancer. I also wanted to use this song as a way to tell my mom and remind myself that I am determined to not let this diagnosis impact how I live my life. The mental weight of wondering when the proverbial cancer shoe is going to drop has, in the past (and sometimes now), given me a lot of anxiety and for a while made it hard to justify the intense and chaotic lifestyle of being in a band – but somewhere in this journey I decided (and the pandemic was a powerful reminder) to live my life like I'm dying and not let the dying part get in the way of living. The lump that I felt turned out to be a cyst and was harmless – but I'm glad I made sure!"
This is a prime example of an artist channeling their pain and darkness into beauty, and it's just one twelve magic moments that light the way through Tired Hearts. BAILEN haven't just upped the ante with this album; they've absolutely outdone themselves.
A lot of people know Alexz Johnson for two television shows, Instant Star and So Weird, that aired in the mid-2000s. I, on the other hand, know her for the phenomenal music she's put out over the past decade. After first connecting to premiere her 2018 live album, Live From a Stranger Time, Johnson and I have stayed close over the past five years, swapping stories and perspectives on our respective experiences in the music industry and lending one another support where we could.
Throughout that time, she has taken her raw and unfiltered artistry to incredible heights through two incredibly intimate and deeply cathartic studio albums. 2020's emotionally charged Still Alive found the musician and actress bringing to life a set of songs that were meant to comprise her debut album, but were shelved by her major label over a decade ago, alongside an equally compelling set of new compositions.
And then came Seasons, a record of reckoning and redemption; of loss, perseverance, and hope; of the beauty, and the pain, of our very existence. Independently released April 7, 2023, Johnson's fifth studio album is a soundtrack to life itself, rooted in accepting the ebb and flow of the natural order – recognizing our own individual agency to impact and change our world, as well as all those things that are out of our control. "There's a season to lose, a season for truth, a season to cry, there's a season to die. There's no reason to hide what you're feeling inside; there's a reason in the seasons of your life."
Johnson finds her voice anew in a powerfully moving and mature collection of songs dealing with the raw facts of life – death; loss; birth; growth; change – and in doing so, she embraces the circle of life itself. Seismic in scope yet intimate by nature, Seasons is a beacon of light. The NYC and Toronto-based singer/songwriter and actress shining boldly and brightly, creating something beautiful out of her own hardship whilst at the same time finding meaning in the aspects of existence that so often seem meaningless.
"I created this album from home and hearth to heal my grief, heal my relationship with music, and regain the confidence to remember why I started doing this in the first place," Johnson explains. "Freedom is how I would define this musical season of my life. Mirroring how the seasons are free to be what they are, when they are. Just as life will break you, mold you, take from you, and give to you, this album is a compilation of songs from my own seasons…death, birth, growth and pain. Now, free from corporate chains, I've created this music from my home, in hopes that when people listen to this album, it can be a source of healing throughout all the climates of their emotions, as it's healing me through mine."
The full ten-track album sees Johnson navigating life's turbulent, murky waters while building bridges of human connection. Lead single "Hurt Me" is a heartrending outpouring of acceptance and unconditional love that welcomes pain as an essential part of life. "Don't leave!" she cries, her charismatic, passionate vocals hitting heavily alongside tender piano and plaintive guitars. "What kind of friend would I be? You can tear up my heart while I stand here and bleed. Give all of your demons to me, and hurt me…"
The soulful, cathartic title track "Seasons" serves as the record's thesis statement. The buoyant, gospel-inspired "Borderline" (a current favorite) is the musical manifestation of an outstretched hand, with Johnson creating a space of comfort, solace, and support to anyone in distress: "You don't know what you're gonna find, you won't know til you make it to the borderline," she reassures. "Don't be scared, you'll be just fine. Take my hand as we make it through the borderline."
Much in the same way that she's sparked a light in the dark on her new album, Johnson herself is an incredibly empathic and engaged person in real life. Seldom have I met such a down-to-earth, genuinely thoughtful and caring songwriter who seeks a deeper connection with those who are, in theory at least, there to interview her. Every conversation we've ever had has been a two-way dialogue, and she never fails to dive deep not only into what she herself is going through, but also what others around her are experiencing as well.
Seasons is in so many ways Alexz Johnson's greatest musical achievement to date, in large part because it's the apotheosis of who she is as a human being.
American Bollywood
by Young the Giant
"Mitch, why are you including Young the Giant, a world-renowned rock band, on your hundredth Editor's Picks?" Because frontman Sameer Gadhia is one of the most interesting people I have ever spoken with, and I have learned more from our three hour-long conversations over the past seven years than I have from any other artist I've interviewed in my nearly decade-long career in music journalism. "Cough Syrup" and Young the Giant's self-titled debut album will always hold a special place in my heart (I lovingly called it that LP "an illustrious set of rock songs rife with angsty tension and youthful energy" in our breakdown of the decade), but it's Young the Giant's most recent records that have proved their most interesting, their most challenging, and their most thought-provoking.
Speaking to me around Young the Giant's third and fourth records, Gadhia described 2016's Home of the Strange as "an external search for your place in the world and your place in the narrative of America," and 2018's Mirror Master as "an internal reflection of self, and where you fit in with your own versions and your own ideas of who you are, especially in what America is now."
Both albums sparked fascinating discussions around Gadhia's ongoing exploration of his external and internal identities, what it meant to call a place your "home" in this world, what it meant to be an immigrant and to be the son of immigrants, and so on. These were bolstered even further by intimate talks about mental health, self-perception, and acceptance – all of which are explored thoroughly in Young the Giant's music.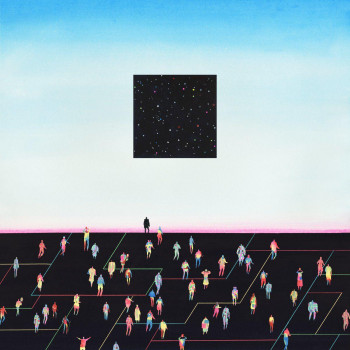 "People look at themselves in the mirror: We have the physical mirror; obviously, every day in the morning we wake up and see who we are. We see different versions and shades of who we are, not just the one-dimensional reflection of who we are on our Instagram page and on social media," Gadhia said back in 2018. "I think Mirror Master is kind of embracing all of those concepts, all those shades of who you are, because each person is within any given day, like 100 different people. This record is embracing every part of ourselves, in order to be able to affect and change, and maybe even understand the world and how we got to this point."
"Ok, sure, Gadhia is a deep thinker and a good conversationalist," you might retort. "Why does the band make your Editor's Picks?"
Because their fifth album is one of the most ambitious records I've ever experienced, and I believe in my heart of hearts that it did not get its due. Epic doesn't even begin to describe American Bollywood: Seismic in scope and intimate in nature, Young the Giant's latest LP is a massive artistic statement, as well as their most intentional and substantial record yet: A musical thesis so vast, they decided to break its sixteen tracks up into four acts, like a movie or a screenplay.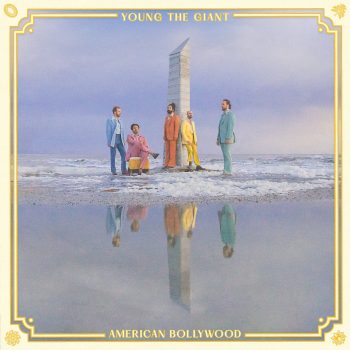 "At its face, it's the multi-generational saga of the immigrant in America," Gadhia explained to me in our most recent call, late last year. "We still look back at Home of the Strange as the beginning moment of when I felt emboldened to tell this story. I took it from a zoomed-out place, and I took it from a place of fiction. Now with this [new] record, I felt emboldened to root it in my actual experience in my life. American Bollywood is the unifier of those ideas into a place of spiritual understanding of where we are in the world, but then also rooting that into culture and a truly personal experience, and a telling of my family's story, and my relationship with my parents, and generational trauma. In some ways it encapsulates all of where we've been at this point and is kind of the crowning piece, I think, for what has been our career up until this point."
He was also quick to add that "this is not just the story of an Indian-American caught in between two worlds; it's also our universal search to find meaning in chaos."
Identity, belonging, home, finding meaning in chaos. On the surface, these themes feel dense and overwhelming, but American Bollywood breaks everything down into digestible songs that tell a loose story of the wayward individual finding his place in the world. The album itself is broken into four acts – Origins, Exile, Battle, and Denouement – the flow of which is loosely based off the narrative of the Mahabharata, an ancient Indian epic that has been popularly described as the longest poem ever written.
American Bollywood is also a musical beast, with Young the Giant seeking to expand the bounds of alternative rock through the incorporation of more South Asian influences and instruments on their recordings than ever before. Instruments like the sitar, tabla, harmonium, tanpura, are present throughout the album; some instances obvious and overt, whilst others are more subtle.
And of course, something must be said of the songs and the songwriting – for at its core, American Bollywood is truly a collection of hits in the making. From the fiery beats and smoldering guitar work of lead single (and Atwood Magazine Editor's Pick) "Wake Up" – a fever dream that speaks to the longing deep inside us all – to the enchanting, beautiful, harmony rich textures of "Commotion" and "My Way," the searing, feverish churn of "Dollar $tore" and "Otherside," and the achingly intimate warmth and heartfelt wonder of "The Walk Home," American Bollywood adds several catchy and cathartic "classics" to Young the Giant's catalog.
A track deep in the throes of inner reckoning and self-discovery, "The Walk Home" has stuck with me ever since American Bollywood's release, becoming my favorite Young the Giant song out of an extensive and exhilarating discography.
Still, it's just one of the sixteen songs that make American Bollywood an intimate and resounding triumph, as well as a beautiful and noteworthy achievement, for Young the Giant. And while I always look forward to more music from this singular band, I mostly look forward to my chats with Sameer Gadhia.
Is anyone out there listening?
I've lost myself
Deep in the algorithm of someone else
And under new conditions
I might find that I was always perfectly alone
Can somebody walk me home?
To pearly gates the universe becomes a wave
And crashes down, forever's not enough
And under new conditions, you are not alone
Can somebody walk me home?
Can somebody walk me home?
Loser on the Ropes
by Brian Dunne
He's a New Yorker, I'm a New Yorker. We're both in our early thirties. We're both over-thinkers, critical of both ourselves and our greater surroundings. Singer/songwriter Brian Dunne and I have quite a few things in common, and while I've learned that through our conversations together, it's really borne out in his music.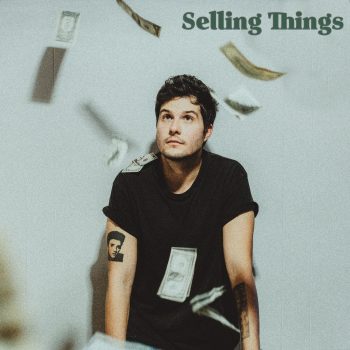 I boldly declared his third solo album Selling Things "a new timeless classic" upon its release in 2020 (it was also listed on our 2020 Albums of the Year feature). Much to my ears' joy, Dunne went and topped it on his brutally raw fourth album, the recently-released Loser on the Ropes, which he candidly describes as a "celebration of failure."
"I felt like, especially during the pandemic, everyone I knew was feeling like they had failed in some way, which was so ironic to me because the world was failing them on such a catastrophic and global level, and yet most of the people I knew, if I sat down and had a drink with them, were saying things like, 'Oh God, I gotta get my life together. I got to get in shape. I got to work harder. I got to try harder. I'm not doing enough,'" Dunne shared with me earlier this year. "I wanted this record to be a pacifier for my friends, because I felt like I wanted at once to send a message to say like, 'Don't be so hard on yourself,' and to send up a signal flare to anyone who felt that way, who felt like a loser on the ropes, like their back was to the wall and they were one hit away from going down. But I also was trying to signal that we are all unified in our feelings of failure and our shortcomings."
His first LP with legendary indie label Kill Rock Stars finds Dunne building upon Selling Things both musically and thematically. His writing is sharper than ever and his music bolder than ever as he spills himself into eleven sonically and emotionally charged songs, uncovering quite a few raw facts of life in the process.
"My first goal with this record was to take the subject matters on Selling Things, which was sort of these little vignettes of tripping through the capitalist arm of the world and being slapped by it, and take it to an even more dramatic level, which is that the world is setting you up for failure. To survive right now is to succeed, and I feel that that has never been more true – and people don't feel that way because we're living on the internet, where everybody is made to feel bad about themselves."
Dunne has always been the kind of artist who wears his heart unapologetically on his sleeve, and Loser On The Ropes is an embodiment of that character at work: A bold, sincere, and ultimately optimistic album, the record as a whole sees him dwelling around life's darker edges, yet finding his way out into the light. Songs like the warm and wondrous "Sometime After This," the liberating and lively anthem "Bad Luck," "Rockaway," "It's a Miracle," the achingly heartfelt "Optimist," and the album's hopeful closer "Something to Live For" are all exhilarating examples of this sentiment at work.
"'Optimist' is probably the most personal song on the record," Dunne says of one of my current favorites. "I think that when we don't feel good, we try on a lot of different personalities, and that's what that song is about. For a little while I thought maybe I was a nihilist or maybe I was a pessimist, or maybe I was an asshole, or maybe I was a drunk… Just trying anything on, and to get to the end of that rainbow and realize, I think I'm just a person who wants to feel good about my life – I'm just very bad at it. I'm just standing in front of a sunset trying to feel good about it. It's kind of a disappointing moment in life where you go, "Oh God, it's so regular." I think it was a personal realization; that song is saying, "I think that's what I've been chasing all these years, and I've just been trying not to say it."
Thought I was Nietzsche for at least three hours
But it didn't help
'Cause it turns out no one needs me
To make a fool of myself
Now I'm tryna shake out of the shape I'm in
Trying to believe in belief
And I'm tryna make friends with my life again
But it's harder than it used to be
I'm tryna find a way to be an optimist
Searching on my hands and knees
'Cause a cold, calloused heart's seen a lot, I guess
And it's harder than it used to be
Yes, it's harder than it used to be
A longtime Atwood Magazine artist to watch and Editor's Pick, Brian Dunne is one of the best contemporary singer/songwriters of his generation, and he's proved it all over again with Loser on the Ropes – easily one of the year's musical highlights.
"na na na song"
by Charli Adams
Charli Adams' first song in two years is a charming, cathartic, sonically and emotionally charged embrace of love, and we wouldn't have it any other way. Released today, "na na na song" is equal parts light and heavy, impassioned and exposed. It's a captivating follow-up to 2021's stunning debut album Bullseye, which was one of Atwood Magazine's albums of the year (I called it "the breathtaking soundtrack to Adams' very own liberation" at the time). An achingly raw alternative anthem, it's about as close to "euphoria" as I imagine Charli Adams' songwriting can get: The Nashville-based singer/songwriter is brutally honest and unfiltered as she lets herself lean into the warmth and comfort, the safety and security, the connection, and the sense of home and belonging we get from being together with the one we love:
Saw you, now I see it in color
Storming so we run for the covers
Oh my god, you remind me of home when you talk like that
Queen bed at the mountain motel
Playing cards and show and tell
You know and I know, yeah, we talk like that
When everything was going black
"I wanted 'na na na song' as my first single back, as it acts as a bit of a lighthearted bridge into my new music," Adams explains. "My album Bullseye was on the heavier side, so I wrote this upcoming project after I had done some healing and I think you can hear that in the music. This song is about falling in love as a peaceful experience unlike some relationships past. I find the song a bit cheesy, and it feels right that I gave myself the freedom to do that. I've never released a happy love song, so I leaned into it with this one."
Adams' pre-chorus and chorus capture a moment of tenderness and intimacy as she allows herself to sink deeper into love:
You came in like a soft early morning
Blue as the way it's been going
I'm just riding along
And you all the words to my favorite songs
And we go na-na-na-na-na-na-na-na-na-na
Na-na-na-na-na-na-na-na-na-na
"I wrote the chorus of 'na na na song' in my living room back in Nashville," she says, adding that it's "the realisation that I could live in the good without anticipating the bad around the corner. I wanted the song to sound as easy as falling in love is when you're being treated kindly and softly – and the song the other person "knows all the words to" is a nod to 'A Long December' by Counting Crows."
Great choice.
"na na na song" is the anthem of a weary heart and soul on the mend. It's the perfect blend of inner reckoning and reverie: "I know when you go, you always come right back," Adams sings, "And I'm just getting used to that." She's learning to let love in, in real time, and she's taken us along for that ride. Bullseye has been one of my best (musical) friends over the past two years, and "na na na song" has me endlessly excited for whatever Adams has in store.
Closed out at the brand new arcade
You're the best when I'm having a bad day
And I know when you go, you always come right back
And I'm just getting used to that
You came in like a soft early morning
Blue as thе way it's been going
I'm just riding along
And you all the words to my favorite songs
And we go na-na-na-na-na-na-na-na-na-na
Na-na-na-na-na-na-na-na-na-na
Three songs into their third album, Overcoats have already established quite a few key principles: That there's a real power in raw emotion; that their combined voices continue to spark a singular magic in this world; and that it's okay to change (and keep changing), to make mistakes, to still be figuring your life out, and to not know everything all of the time. "Changed my mind, it's not right, now I want you back," the pair sing on their album opener "Want You Back," their voices soaring with radiant energy and heartfelt emotion. "I feel like a Gemini, always changing my mind, never picking a side," they reflect on "New Suede Shoes." And on "Never Let You Go": "I don't have the answers, I don't know what's right. I know that it seems crazy to always change my mind."
Being open to change is an important theme on Overcoats' new album, and it's a meaningful reminder that life is a long and winding road: We don't need to do it all at once. Accepting that truth and allowing ourselves to keep on changing, with or without regret, is just one of the many ways in which we can all be winners in this life – and ultimately, that's what it's all about: A spirited, soaring record of reflection and reckoning, liberation and connection, Overcoats' Winner is an inspiring collection of songs navigating the highs and the lows of everyday life.
Released April 7, 2023 via Overcoats' own new record label Never Fall Back Records (and distributed by Thirty Tigers), Winner is a resounding triumph. Following 2020's acclaimed and empowering sophomore album The Fight and 2021's Used to Be Scared of the Dark EP, Overcoats' captivating third studio album captures JJ Mitchell and Hana Elion at their very best, collaborating with two-time GRAMMY-winning producer Daniel Tashian as they blend their soul-stirring voices together in a melting pop of raw vulnerability and indie pop wonder.
From their earliest recordings to their latest material, Overcoats have long been a source of cathartic light and inspiration. I'm the proud owner of a little-known self-titled acoustic EP the duo released at the very start of their career; its five songs are no longer available to the public, but they nevertheless laid the foundation for what has come to be one of our generation's most dynamic duos. Overcoats' achingly intimate lyrics and breathtaking vocal harmonies, all set against a backdrop of warm organic and electronic arrangements, never cease to amaze and enchant.
From its buoyant opener "Want You Back" to the heated, tender finale "Vagabond," Winner's songs are especially breathtaking: The album's lead single "Horsegirl" dwells in a cathartic space of reflection and renewal, finding Mitchell and Elion's voices shimmering over a radiant, dreamy, emotionally-drenched backdrop that feels as heavy as it does sweet. "Never Let You Go," injects deep, smoldering indie pop grooves into a pure expression of unbridled passion and untethered emotion; the pair have never sounded as visceral as they do here, their voices unleashed in near-perfect unison as they dwell in the mess of love and heartbreak. "New Suede Shoes" is an empowering, groovy, and glistening track that takes a long, hard look in the mirror – ultimately finding any number of reasons to stand tall and shine bright.
Blending pain and hope, the impassioned title track "Winner" is a beautiful ballad of empowerment that shines through a spirited, uplifting chorus: "And every ending has a new beginning. There's always space out there for something different. I'm on my way to find it," Overcoats declare.
You might think I'm a loser baby but you would be wrong
'Cause I found parts of me that I thought were gone
Think you had to leave me for me to move on
I was never gonna end it
'Cause I've spent enough time without living
I had to walk alone across the line
To know I'm winning
And there's no bad blood running here between us
Thought that I'd be broken but I get back up
And every ending has a new beginning
There's always space out there for something different
I'm on my way to find it
Another round, another ride
Another chance to get it right
Another round, another ride
Just me myself and I
You'll never know if you don't try
Wherever you press play, Winner promises to deliver both warm, wondrous music, as well as plenty of moving words of wisdom. Home to the boldest, rawest, and most vulnerable work of their entire career, it's a beautiful, comforting companion to everyday living. A record of unfiltered honesty, connection, spiritual reckoning and liberation, Winner is a reminder that we can keep changing our minds as many times as we like, and no matter what we choose to do or who we choose to be, we're winners because we're doing it for us.
— — — —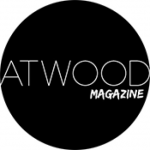 Editor's Picks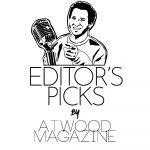 ---