Pony Girl's 'King of the Country Club' is an eccentric, synthetic track that examines the feeble hierarchies of privilege.
Stream: "King of The Country Club" – Pony Girl
---
Disfigurement can be an incredibly alluring image.
There's a sense of mundanity in something wholly together, something unbroken, something one-note. Yet when there's something broken, beauty can be drawn from its fractures, from its harrowed experiences. "How can everything be so beautiful and broken at the same time?" says Pascal Huot, singer/songwriter/guitarist for Canadian band Pony Girl. "I think everybody feels that or is exposed to that just by looking out their window. It's funny and it's sad. And I think that's it, I think I like exploring things that are both funny and sad."
Atwood Magazine is proud to premiere "King of the Country Club," Pony Girl's newest single off their upcoming album, Enny One Wil Love You, out October 14th. The multi-genre synth-pop-indie-surrealist group – comprised of Huot, Yolande Laroche, Julien Dussault, Greggory Clark, and Jeff Kingsbury – is slated to debut its first album in nearly seven years, a testament to time spent growing and becoming reacquainted with their love of creating. "Around 2017 we decided to take a break having come off a lot of touring," says Huot. "For the first time we had a ton of shows booked many months in advance and it was getting increasingly difficult to be excited about it. I felt like we were a cover band for our own music."
But after some time apart with space to breathe and grow individually, the spark was reignited within the group, manifesting in an album that is as stunning as it is raw.
"It's been interesting to see everybody be in a better place, in every sense of the word like just personally and artistically, and it really reflects our dynamic as a group… because I think for me, I wasn't so much into it [music] anymore and I just needed time to fall in love with it again. And I think now, I'm in a place where I just have a better relationship with music and my friends because ultimately, these are all my friends. So it was just about finding that balance."
"King of The Country Club" centers itself on that duality of the "sad and funny," the country club image stirring contradicting ideas of both the pleasure of privilege and the benign social hierarchies that infect those privileged circles. The music video illustrates these nuances, showing a synthetic and surreal metaverse-esque rendition of a cyberspace country club. It travels from an uncanny golf course to an acid-infused prison of social redundancy, ruled by the king of the country club who's choking on his own chocolatey riches. The video is a campy, dystopian visual aid to the themes of ego and bitterness present in both the single and throughout the album.
The overtly auto-tuned vocals are also demonstrative of the insincerity of the social hierarchies discussed in the song and creates this disfigured character who feels part person, part machine. Though the instrumentation feels straightforward, the intentional sonic choices add depth to the already deeply nuanced track.
"This character, that's their voice. It's genuine whether you like it or not, that's just who they are. [King of the] Country Club is definitely a reflection on privilege…and I wanted to contrast these more serious topics with music that's a little bit wacky. And that was kind of fun because on the surface you're just like 'oh this feels fun and lighthearted,' but then we start digging a bit deeper. There'll be that contrast a little bit where the lyrics create a bit of friction with the color of the music."
"King of the Country Club" and Pony Girl's third album Enny One Wil Love You are set to release on October 14th. Stream the single exclusively on Atwood Magazine!
— —
Stream: "King of The Country Club" – Pony Girl
— — — —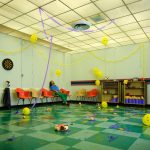 ? © Curtis Perry
:: Stream Pony Girl ::
---