A radiant record of sun-soaked sounds and feel-good vibes, Brooklyn duo Gilligan Moss' debut album shines with an irresistible and buoyant depth.
Stream: "Slow Down" – Gilligan Moss
---
Summer 2021 is nearly upon as, and as we previously wrote earlier this spring, Gilligan Moss have given us the perfect soundtrack to our euphoric days and nights ahead: A radiant record of sun-soaked sounds and feel-good vibes, the Brooklyn duo's self-titled debut album shines with an irresistible and buoyant depth. Whether you sink into the grooves or slip away with their melodies, Gilligan Moss will get you smiling, relaxed, and in the moment.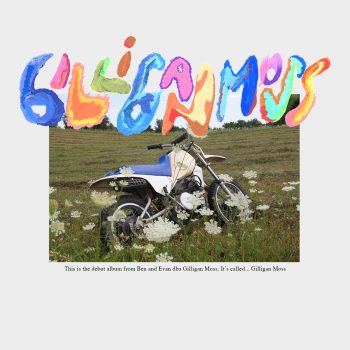 Released April 9 via Foreign Family Collective, Gilligan Moss is a seductive, sweet, and sunny hypnosis: An album that blurs the lines between pop and electronica, with dazzling injections of disco, funk, and even folk thrown in to keep things fresh and exciting. It's a magnificent introductory record to Gilligan Moss, whose members Ben Cronin and Evan Dorfman first met years ago at preschool in Chicago, and now reside in the same Brooklyn neighborhood. Since debuting over five years ago, Gilligan Moss has toured with artists such as Glass Animals (listen to their popular "Gooey" remix here), Toro Y Moi, and Tourist, and played major festivals like Coachella and Electric Forest.
While they've been active for years now, Cronin and Dorfman are confident that this LP is the best encapsulation of their artistry and sound to date.
"We really wanted to bridge our love of well produced '70s album-music with modern dance records that we love – something that felt a bit timeless and drew more from a sunny afternoon than a dark basement, but still made our bodies want to move," Gilligan Moss tell Atwood Magazine. "We started by opening up the windows, stepping outside and cranking tunes – I think a formative moment was listening to ELO's "Jungle." Our vision stayed pretty true throughout the process."
---
"The path to alignment isn't always easy, but we tried to make sure every song felt spiritually in line with the rest, even if the timbres or the instruments changed. There are some tools we're better at using than others, and by sticking to those and keeping the spirit and energy of the album as our main guidepost, it allowed the space for the album to be built. Also it was helpful to write a ton, so that we had a pile of things to choose from."
"Above all, I think the record captures a certain sunniness and a playful spirit," Cronin adds. "It's not a confessional record per se, but I think there's a lot of our personality imbued across the album. Our influences are threadbare on each track, and we crack little jokes to ourselves throughout it. We wanted to communicate that warmth through the visual elements too, which Nejc Prah (our designer) did a great job with."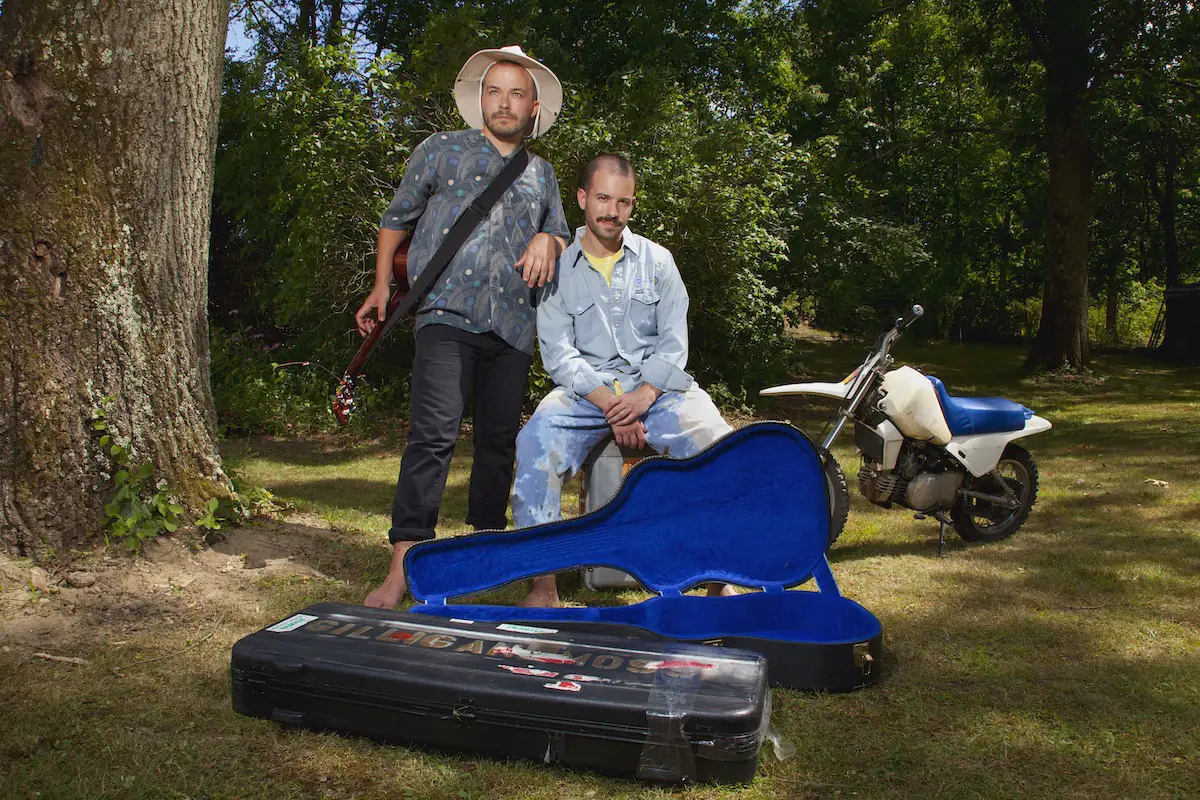 Cronin goes on to describe the band's relationship with electronic and organic/acoustic music as "polyamorous and deeply intimate"; it's not often you find a band that can so seamlessly blend these two elements into one. "I think we hold both in our hands at the same time, and take equally from both," he says. "People think of electronic music as having aggressive drums, but have you listened to Fleetwood Mac? They smack. I think we leaned more heavily on '70s feeling progressions + timbres, but kept our eyes trained on our favorite modern synth sounds, and also sampling- which most elegantly bridges the two. And, like always, making sure the drums are turned to 11 helps to keep us rooted in modern electronic music."
The world of dance music has, at times, had an on-again, off-again relationship with vocals – but Gilligan Moss effortlessly blaze past this construct.
"Ben is singing on a few songs – "Slow Down," "Vibe Check," and "Joy 2 the World." Evan sings on "GM from GM" and little bits and bops throughout. We also had help from some of our friends, and partners too. It can be tough to toe the line between proper pop writing and a more traditional 'dance' track, but through deep meditation, juice cleanses, and self-editing we usually arrive at a place that feels good."
---
For their long-awaited debut, Cronin and Dorfman opened up the floodgates in thirteen expansive songs, each of which is its own world of sound, style, texture, and color.
Some tracks, like the sunny opener "GM from GM :)," "Ultraparadiso," and "Slow Down," feel specially tailored to the dance-floor and anywhere that brings you peace and joie de vivre. Dive a little deeper into the album's depths, however, and songs like the breathtakingly heartfelt "UknolknoUkno," "Lee's Last Dance," and "Vibe Check" reveal the extent to which this project dares to go – in terms of scope, sound, style, and more. It's so much more than a 50-minute DJ set; similar to the music of Parcels, Daft Punk, and Jamie xx, Gilligan Moss are as much aural sculptors as they are storytellers in their own right.
Following the release of their claymation "Slow Down" music video and the "Special Thing" visualizer this spring, the band's latest addition to the Gilligan Moss album catalog is the cinematic Zach Stone-directed music video for "World Service," one of the album's final tracks featuring artist Betsy.
Here we go, what a vibe from this town
You say you're not gonna run and leave me again
In your eyes, I can see what you want it too
But I don't want you too
I'm so high when I'm lost in love
But I've loved and lost
I don't know why, but I get too much
I can't hide what I feel about us
Feel about us
But I can only try
Don't you give up, please stay with me
Cause I'm fighting all the pain inside
There's a demon in my soul
But I won't let you go, won't let you go
---
"We had an extremely sublime collaborative moment at the outset of this track," the duo say of this song. "We were shacked up in a freezing cold house on an island, and we had built the instrumental + as Evan was flipping through some vocals we had, the Betsy one popped up and the pre-chorus felt amazing popping into the hook. I think we listened to it on loop for hours, it felt like magic."
The video elevates that magic with a storyline of its own: "We basically told [our director Zach Stone] what we like: "old men, nature/the outdoors, and dirt bikes," and he quarter-backed the rest. He came up with a really great narrative to tie our themes together. It really is amazing to see the music alongside such rich visuals – I think it did such a service to the track, and hope we can work with Zach and his team again in the future."
From the beautiful jungle sounds of "Special Thing" to the stirring vocals on "Ferris Wheel," highlights abound for Gilligan Moss' first full-length work – and while the journey from "GM from GM' to "Time for Bed" is an intoxicating trip in its own right, sometimes it's okay to also pick your favorites.
"'Ultraparadiso,' I think, is our album baby," Cronin says, citing the album's glistening, "dreamy" third track as his and Dorfman's first pick. "I think it's the first thing we wrote and actually performed before it was finished, though it took a long time to actually finish. I think it's the best marriage of our personal listening tastes and has a complex emotion to it that feels unique to us. Performing is amazing; it feels like in some ways we're just custodians of the song, if that makes sense."
The duo may not always employ lyrics, but when they do, they use words tastefully and creatively. "The lyrics to "Lee's Last Dance" are probably the most affective," the pair share. "We worked on them with the singer a bit, and I think they communicate some tender emotions without being ham-fisted." Easily one the album's most intimate moments, "Lee's Last Dance" showcases the softer, emotional and vulnerable side of Gilligan Moss' artistry:
So it's the last dance
My only chance to pick you
This is my one short
I'll take any chance or forget you
So it's the last dance
My only chance to get you
And now the band blows their final note
Can your hear it too
I think you know I need you
But can't you see it clearer
I've been waiting here all night
But now I gotta take this chance
Take this dance tonight
So now my heart spoke
Will it overflow if I'm near you
Another landslide
I will step aside if it falls through
I've got my eyes blurred
So I'd like a word or a read-through
Step from side to side
And dim the tidе when I'm with you
---
Whatever brings you into Gillligan Moss' music, there's no denying the breadth, scope, and sheer passion for music expressed throughout this vibrant, multi-faceted work.
Gilligan Moss are not to be messed with, nor are they to be missed. They're ready to get the world moving and grooving, thinking and feeling through an irresistible set of sunny songs tailor-made to get us smiling and in touch with our deeper selves. "We hope this record brightens their spirits," Cronin and Dorfman share. "The timing feels good with the emergence from a strange year, and moving into summer. We had a lot of unadulterated joy making this record, and we hope listeners can experience it too."
This really is a perfect summer album. Listen to the full record via our below stream, and peek inside Gilligan Moss's Gilligan Moss with Atwood Magazine as the band goes track-by-track through the music and lyrics of their debut album!
— —
Stream: 'Gilligan Moss' – Gilligan Moss
:: Inside Gilligan Moss ::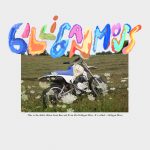 — —
GM from GM
We wanted a playful, whimsical opener to the album – from day one, we had this marked as the album opener. We were listening to a bunch of HNNY at the time, so the beginnings of this song are a bit of an ode to him. Everything came together pretty quickly – this was one of those songs where we just kept finding nice melodies and sounds to layer in.
Leaving the Station
We wrote this at the same time as GM from GM – we always thought of this as the darker, evil twin of GM from GM. It's really inspired by this one epic Justice DJ set- they put on an edit of "Genesis" and it's so twisted and menacing, the whole club kind of explodes. We wrote the vocal line a bit later and got connected with some local singers- Jessie Arlen and Adeline Petricien.
Ultraparadiso
This was probably one of the first songs we made for the record. We've always been in love with early John Talabot stuff, and wanted to create a daytime, summertime stomper. We had the main bones of the song in place for a long time, and then later in the album making process we had our friend Greg lay down a bunch of acoustic guitar parts in the back half of the song – I think we unintentionally nailed a pretty solid Rusted Root impression.
Slow Down
This happened in like four or five chunks- we started collaboratively in Brooklyn and nailed down a drum loop and bassline, then Evan wrote the vocal melody. Ben built out the instrumental and hook zone a bit further, but for the longest time we couldn't figure out who we wanted to sing on it. Ben gave it a shot and texted Evan "If ever there was a time I felt confident about my voice on a song, it's this one," and the rest was history as they say. 
Special Thing 
This was the last song we made before turning the album in. We felt like the one thing the album was missing was a peak-time floor filler. This one is definitely inspired by our robot heroes. Ben also saved this one from Evan's trash pile, which is the benefit of collaboration.
UknoIknoUkno
Love song alert! We wanted to make an unassuming love song – something that captured domestic cozyness. Shoutout to Evan's life partner Allie on the vocals on this one – the whole thing came together over the course of one night.
Ferris Wheel
This is the most controversial record and probably the oldest on the record, to be honest! We wrote the instrumental together a few years back in Evan's old apartment and left it on the shelf for a while. It was always in the back of our heads and late one night on a later trip we truly blasted it and convinced ourselves it had to be part of the record. When Rebecca & Fiona sent back their vocals we knew it was a gem.
Vibe Check
Got the inspiration for this one after a DJ set at Mexico 2000 in Brooklyn one night- probably the only time that's happened for us. A particular blend of Jon Talabot + Four Tet and a gating effect created this really jittery feeling 16-note club stomper, and we wanted to recreate something of our own that could do that too, but it ended up a little softer than that. Lyrically, it was written with Ben's fiance in mind while she was in phoneland on the couch.
Lee's Last Dance
Wrote the instrumental for this during a massive storm upstate. We really wanted to construct something for the record that felt like a tune from a different era- almost as if we licensed it. The singer is kind of a mystery. 
Joy 2 the World
This tune is the moon to Slow Down's sun. This one emerged late at night actually, and when Evan cracked the code on the middle of the record we listened to that on loop for a good long while. Felt like a piece of sonic ear wash.
World Service 
This started as something different- the mallets were more center-stage, there wasn't a bassline and it functioned more like a dance track. We were tooling around on it late night hours, and while scrolling through some vocals we had, the Betsy prechorus bit end up fitting really well, so we pursued a different direction.
Big Lovin'
This was one that Ben had started as a short little 16 bar idea that sat around for a while. I (Evan) had to push for this one to be on the album – it felt like the perfect palette cleanser before the end of the record. We did some sculpting on it, included a voicemail from one of our good friends, Champagne Hans, and call it a day.
Time 4 Bed
Really wanted to reprise a lot of the ideas from the record, and this immediately felt like an album closer. It borrows from a lot of the tunes over the course of the album- the Slow Down vocal, drums from Ultraparadiso, some little GM from GM noises, and more bits. It was still missing something, and on a sample-hunting mission we found the Catherine Howe sample, and everything sort of clicked together.
— —
— — — —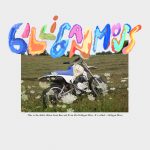 ? © Thatcher Keats
:: Stream Gilligan Moss ::
---