Classic and cosy, "Woke Up Late" by singer/songwriter Geoffroy highlights how the world can seemingly revolve around being immersed in good company.
— —
There are days when time moves slowly; when you feel no need to rush or be forced into things. Pressures of commitment may be placed upon you but you just want to shake them off with a wince, head to somewhere familiar with familiar people and allow yourself to live in the moment.
Woke up late, feeling lazy, sun in my face
Got to smoking too early, like any other day
Heard my baby call my name
Just wanted coffee and some space
But she pulled it out of me so easy, I barely got to play
Atwood Magazine is proud to be premiering the video for "Woke Up Late", the latest single by Montréal-based singer-songwriter Geoffroy (released August 22). Set in a country home tinged with golden tones and homeliness, the camera slowly traverses through each room in one succinct motion so that everyone involved, viewer included, becomes fully immersed. There are multiple forms of Geoffroy and his band doing chilled out things like sipping on coffee, pouring a glass of wine, and jamming with instruments, creating the impression that there's more liveliness than what there actually is. This is the effect that bonding with people has; the world seemingly revolves around the company.
From the instant "Woke Up Late" begins, a slinky drumbeat sets the tone and continues throughout. This is combined with an air of romance and Geoffroy's soft slurring vocals, all of which compliment the 1970s wallpaper of the house's interior and the array of houseplants standing in each room. It feels classic, somewhat sophisticated, and hints at a new direction.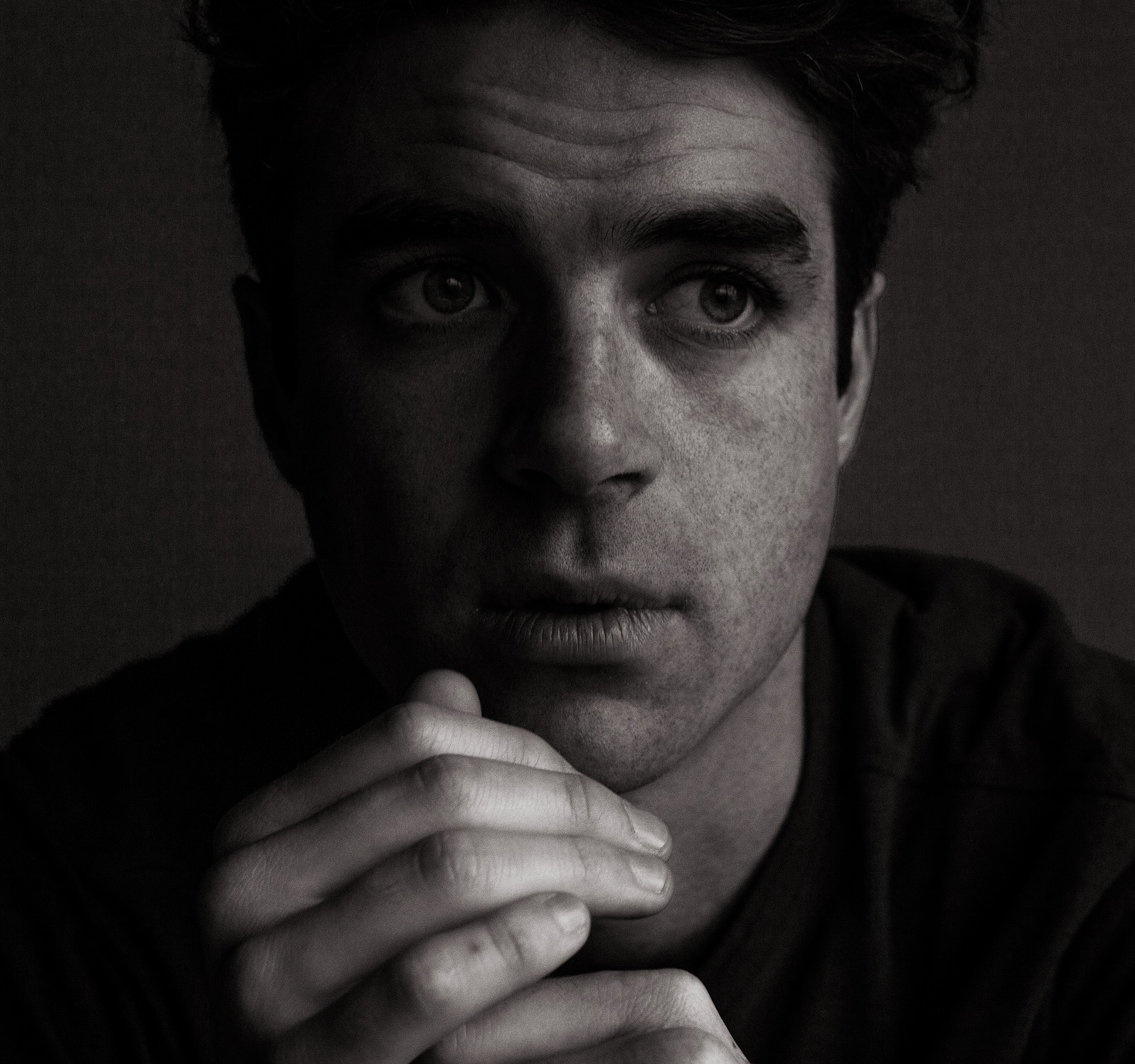 Geoffroy, whose full name is Geoffroy Sauvé, released his electronically bubbling debut album Coastline in 2017. "21 Days" (released last month) follows a similar kind of style but there's emphasis placed upon the laid-back and the lyrics, expressing the desire to be with somebody while on the road somewhere, bounce along like the constant movement of feet in an adventuresome destination. The accompanying video is like a mini documentary of India, mingling with local life and riding across a desert. The text on the screen at the start states 'In June 2019, Geoffroy's label gave us money to shoot a video. We decided to fly somewhere, again' and the result is taking advantage of this opportunity to create something intended to be visually arresting. It's an approach that's central to Geoffroy's videos. In "Raised by Wolves" the drama of the song is set to the following of one-legged dog musher Harry Okpik in the snowy sparseness of Quaqtaq, Nunavik, while "Sleeping on my Own" is a combination of first-hand footage (travelling on a aeroplane, walking through streets and the wilderness with rucksack upon the back) and the more staged (drenching oneself emotionally with water, sprinting through a lack of daylight, flashes of an event around a campfire) during a trip to Mexico.
I won't keep up with your love
Mine sneaks out every time
Slowing, slowing down
I won't keep up with your love
Yet I keep trying every time
So slow it, slow it down
Call it luck but I'll get lost at this pace
I'm so easily tempted
I'll find myself a reason to walk out again
"Woke Up Late", in contrast to this, feels simple. The song addresses the intimacies of a relationship, made more so by the sensualness of the sound, plus the personal feeling of having a lack of commitment and being accustomed to space. The temptation to be with other people, however, doesn't necessarily mean romantically but just the natural need to be socially around those closest to you. As the video implies, space can be achieved through retreating with a group of friends.
Last week (15 August), Geoffroy performed a short set as part of Montreal's Pride festival, closing the night in casual style. "Woke Up Late" is the kind of song that transfers well to a laid-back gathering when the sun's gone down, its jazzy undertones forming a dimly glowing atmosphere. The band member's dance moves present in the video are present on stage also but this is no surprise when the audio combined with video is a live take intended to be as close to the real thing as possible.
Stream "Woke Up Late" exclusively on Atwood Magazine and read our interview with Geoffroy below. We sat down with him prior to his set in order to discover more about his approach to music videos.
Stream: "Woke Up Late" – Geoffroy
:: A CONVERSATION WITH GEOFFROY ::
ATWOOD MAGAZINE: YOUR NEW SINGLE "WOKE UP LATE" FEELS A SLIGHTLY DIFFERENT SOUND TO YOUR PREVIOUS STUFF- LESS ELECTRONIC AND A LITTLE MORE JAZZY. IS THIS A HINT AT A NEW DIRECTION YOU'RE HEADING IN?
Geoffroy: I think so. I think it just happened naturally. I've been very tight with the band and being tight with the band means we can practice more together and ideas form. We were thinking of instruments for everyone when we were writing so I think it's all organic now and that's the direction I want to keep on taking.
IS IT THE SAME BAND AS COASTLINE?
Geoffroy: It's the same band, yeah. So that whole tour helped us become better friends and know each other as musicians. Now when we transfer a song from the studio to live, it sounds more natural.
THE VIDEO WAS FILMED IN YOUR BANDMATE'S LATE GRANDFATHER'S HOUSE. DOES CLEMENT HAVE A CLOSE RELATIONSHIP WITH THE HOUSE?
Geoffroy: He did have a close connection. It's a house he's visited his whole life, he'd go to family dinners and parties so it had a lot of sentimental value to him. The house was on the market for a little amount of time and we took that opportunity to like freeze it in time and immortalise the house. It was the perfect kind of place for us to shoot. We did a fake one take where we're cutting in-between rooms so that we are in every room. The idea came because we wanted to just have a live take and demonstrate the live aspect and our vibe as a band to the public. From that we knew we could film in the house and use every room going around the house instead of just one live take. I'm pretty stoked about that video.
IT LOOKS REALLY GOOD.
Geoffroy: Thanks!
HOW DID THE VIDEO CONCEPT COME ABOUT? THE INTERIOR IS REALLY ARTSY AND CLASSIC SO IT COMPLIMENTS THE SONG'S SOUND REALLY WELL.
Geoffroy: I brought all of my shit from my house there, like all of my frames and plants, to make it very homely and in my world. The house was just perfect for it initially, it just had a nice 70s look. We're real lucky. And it was a nice day. It's on the water so we just hung out for a few days.
WHERE IS THE HOUSE?
Geoffroy: It's in Léry ,Quebec, about 45 minutes from Montréal. So we all slept there for the weekend, propped it and then the next day shot it.
YEAH BECAUSE YOU SAID ORIGINALLY ABOUT THROWING A PARTY FOR THE SONG'S VIDEO
Geoffroy: Yeah for another song.
BUT I LOVE THE HOMELINESS OF THIS ONE BECAUSE IT REALLY HIGHLIGHTS YOU AND THE BAND'S TOGETHERNESS.
Geoffroy: It does, yeah. The party idea was for another song. Same house. I don't know if you've seen the Gucci commercial where they're all dancing in the 70s outfits.
YEAH!
Geoffroy: That was the reference point with like a drone coming in slow but we have four videos now so that's good before the release of the album.
NICE. VIDEO ASIDE, COULD YOU TALK A LITTLE ABOUT THE CONCEPT OF THE SONG AND THE STORY BEHIND THE LYRICS.
Geoffroy: Yeah, it's just a song I was writing about everyday life. I wanted to write about something very simple. I'm not going to analyse the song line by line.
THAT'S MY JOB TO DO.
Geoffroy: It's just about fear of attachment and trouble of commitment. Not fear but just not wanting to commit and just enjoy the moment.
HOW IMPORTANT DO YOU FEEL MUSIC VIDEOS ARE IN PRESENTING A SONG? WITH "WOKE UP LATE" YOU'VE KEPT THE LIVE RECORDING FOR ITS SOUND WHICH IS A SWEET TOUCH.
Geoffroy: Yeah that was the idea behind it because it's easy to always use the music that's been done in a studio but we really wanted to showcase what we can do live organically. Releasing a song with a video to me is the highest impact you can have. It's another way to explain to people who you are and the meaning behind the music. It's a way to pick into an artist's brain a little deeper. It's also about creating a history of videos, like when you discover an artist you go and check out their videos. I'm not necessarily going to follow and go as soon as they release it but if I'm really digging an artist I'll go back through their catalogue of videos.
ARE THERE ANY ARTISTS THAT YOU PARTICULARLY LIKE FROM THEIR VIDEOS?
Geoffroy: Yeah, plenty. Jungle, Chet Faker before the Nick Murphy era. Mac Miller- I had a good vibe with his videos. Lots of live videos too like the NPR Tiny Desk Concerts.
AHH, YEAH YEAH. I LOVE THOSE. THE SUPERORGANISM ONE IS GREAT AT SHOWING HOW A BAND WORKS.
Geoffroy: The Mac Miller one was great.
— —
? © Jérémy Dionne
:: Stream Geoffroy ::
---