Atwood Magazine's writers discuss Harry Styles' self-titled debut album and what the new music says about his burgeoning artistry.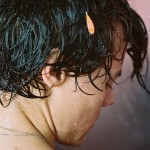 — —
Initial Thoughts
Mitch: I think the album wouldn't be a hit had Styles not already been a pop music star… But I can't help but like it! It's brooding, melancholic and very reflective in its search for place and purpose. Styles jumps pretty ambivalently between classic rock, indie folk, easy listening, and arena rock, which is as much a result of different production teams as it is, I think, telling of his own uncertainty towards the future. I think he is very much in a post-"pop band" phase, sticking to what he knows stylistically (standard verse/chorus songcraft) while trying to open doors in as many different directions as he can, to branch out and discover what sounds work for him. Harry Styles is no longer bound to anyone but himself, and as a result he takes his freedom to the extreme, testing the waters as a newly emerged solo artist with great potential.
Nicole: I failed to find Styles' identity as an artist on the album. I think that in an attempt to shred his boy band image and be taken seriously by the industry, he made a record that references and evokes lots of big names in music – "Sign of the Times" being compared to Bowie, and most articles released on the album speak about his influences also being The Beatles and 60s and 70s music – but on his album it feels like he is emulating these artists instead of using their influence and making something that is his own. It's not a bad record, it just doesn't feel original at all. Debut albums are the artist's chance to introduce themselves and their vision to the world, and this just feels like a missed opportunity – instead of showing us who he is, he showed us who he listens to.
Kelly: I think it's interesting, especially coming from him. He's doing classic rock which not many people are doing authentically at this point in time. That being said, I agree with Nicole that it does feel a bit borrowed. Still, there are some real standouts. I personally love the last track, "From The Dinner Table," but all of my friends who were long time 1D fans hate it.
Jimmy: After a few listens, it's not as exciting as the first listen, but I do enjoy it. There's a lot of songs that seem really vulnerable and emotive ("Sign of the Times" and "Two Ghosts"). A couple of the more upbeat tracks I thought were pretty forgettable, but when he puts his all into a song it's really cool. Styles is obviously very much influenced by 70's giants like Queen and Fleetwood Mac, and he not only provides the arena-ready rock but the emotional wait that those artists bring to the table, especially on a song like "Ever Since New York."
Christine: Didn't like it. Which is such a shame because "Sign of the Times" held such promise as a lead single, but the album as a whole was a complete let down. It jumps from genre to genre without much commitment to developing any one sound. After marketing himself as a fresh, alternative solo artist with an aesthetic not too dissimilar to that of The 1975, "Sign of the Times" was the only track that adhered to that. The album was lacking in terms of depth and, while I admire his efforts in trying to shed the whole boyband past, it didn't really work out. Personally I think the only genuinely original track was "From The Dining Table."
Favorite & Standout Tracks
Nicole: "Meet Me in the Hallway" – I like that he starts the album off quietly, and both his voice and the guitar sound great. It's a simple track, very stripped back, and I like its simplicity. If more tracks on the album sounded like this, instead of being hugely produced, I think I would have enjoyed it more.
"From the Dining Table" – probably the same reasons as "Meet Me in the Hallway." I like the sentimentality in the track too, and the lyric "even my phone misses your call." It feels genuine and I love the extra strings and layered vocals that come in at the end of the song.
Kelly: I really liked "Carolina" because of its upbeat nature. I think it's a good example of Styles' attempt at classic rock, yet in this case, he does bring it to a modern place which feels exempt from too much classic-artist influence. It's a rock direction I can picture his excelling in.
"Ever Since New York" is also a favorite of mine. I think its simplicity in both lyricism and instrumentals is calculated and creates an easygoing, yet powerful combination. I know there was some controversy around the song, which I honestly didn't read up on much, but not comparing it to anything, I think it's really well done. I almost feel like the base of the song has a psychedelic rock influence which is something I wouldn't have expected from Styles, but it's something I want to hear more of. I think it's in songs like this, with more of the mellow rock sound, that Styles excels. There are a few tracks on this album in which he tries a little too hard to be a rock god, take "Kiwi" for example, which sounds like an odd redo of some textbook classic track, with lyrics that don't really seem alluring. It's very White Stripes, but it's all wrong.
"From the Dining Table" has to be my favorite track on the album. I think it's classic folk-rock, but it's a style that will never be tired. He pays hommage to the classics, but the stripped down simplicity being a Styles design is refreshing and inviting. As a newer listener, this caught my attention because of it's lyrical success. Much of the album's lyrics, in my opinion, fell flat. This feels like a complete, well-thought track. It's perhaps the only song on the album that has the ability to pull the listener into the story rather than sit and listen, trying to relate to the new Harry Styles.
Christine: "From the Dining Table" is not only a foolproof, formula-bred track, but it also marks the first time Styles steps into any sort of a comfort zone since his departure from One Direction. The track is mature, but not suspiciously or artificially so. Styles' soft, haunting vocals are a pleasure to listen to, serving as a blissful finish to the album. "From The Dining Table" is perhaps the only believable track on the album in terms of emotional experience and originality. "From The Dining Table," in my opinion, would be an ideal definition of Styles' future solo career. Whether Styles himself recognises this is a whole other issue.
Jimmy: "Two Ghosts" is an easy favorite, especially following his performance on The Late Late Show.  The stripped down mournful ballad is a tried and true formula, but there's a strong sense of warmth that resonates from "Two Ghosts," which is a sweet contradiction from what one would expect from an apparition metaphor.  It's also definitely in the running for best break up song of 2017.
Mitch: For me, "From the Dining Table" establishes Harry Styles' credibility as an artist. It's simple, yet incredibly evocative: The acoustic guitar's traditional folk melody catches your attention, and then Styles dives in with this raw vocal line and heartwrenching lyrics to seal the deal. It's intimate, it feels genuine and real, and it works. I love that he chose to close the album this way, and I hope he continues in that direction.
Additional standouts are "Meet Me in the Hallway" and "Carolina." I appreciate the fact that he bookends his album with acoustic guitar-driven songs, and "Meet Me in the Hallway" has such a strong melody that I don't mind its repetition. As a huge Beatles and Bowie fan, I love "Carolina," and as an Eagles and John Mayer fan, I appreciate "Two Ghosts." Together, I think they feel disjointed, but the songs hold up on their own.
Has Harry Styles managed to stand out as a solo artist?
Christine: Most definitely. With no thanks to the graveyard of past, snippet sounds One Direction that is Harry Styles. The originality of his solo career stems only from Styles' redefining of himself as an artist. This he achieved, constructing an entirely new aesthetic and persona for himself. Even if it doesn't quite match the album content, it's certainly a strong start to the gruelling process of boyband disassociation.
Jimmy: Debatable, as someone who stopped follow One Direction after "The Best Song Ever" came out, I'd be more inclined to listen to this than anything off of Made in the A.M.  That being said, there are a number of artists making more interesting classic rock and singer/songwriter flavored music like Father John Misty or Kevin Devine, but since Styles has a massive following to begin with, it will be interesting to see if he helps expand the genre to a younger, wider fanbase.
Kelly: I think new artists in any position have a little bit of a problem defining themselves. Being the number one boy band member in previous years, Styles has a bit of a post-Disney Channel awakening on his hands. He's being heavily judged, his moves closely watched, so the only way for him to get to the place he hopes to evolve in is to jump very far very fast. I think that's why some of the tracks on this album do seem so heavily related to classic rock tracks in the past. I wouldn't say Styles is a dead on copycat, but I think he wanted to integrate some of these influences in order to solidify the direction he was aiming, no questions asked.
I think the situation gives a little leniency, as long as his next collection takes the styles he's experimented with here to the next level. We need more "This is Harry Styles" rather than "This is Bowie, this is the Beatles."
I do think Styles is standing out as a solo artist. There's no doubt he will be successful because of his extensive fan base. But past that, he is drawing new fans because he is taking a rock route little traveled at the moment. When is the last time we compared someone to Bowie? Styles is making classic cool again, and if he continues to find his own voice in the genre, he's going to make a name for himself even larger than the one thrust on him by One Direction.
Nicole: To be fair, I think what he produced on his debut album is so much better than anything One Direction has ever released, so I would say so. He shows potential, and I personally like the direction he seems to be going in (I promise this was not a pun) since I'm all for someone bringing classic rock back into the mainstream, but I think this was a taster of what he has to offer. Right now, he's the former boy band member who released a solo rock album. I think once he grows more confident and really finds his voice, he'll shine.
Mitch: It's hard to know if Harry Styles actually thought this album sounded cohesive, or if he intended for it to be this… "flavorful." I can understand the reason a pre-established entity might reintroduce himself like this, but in the end, I think this debut falls flat of providing an artistic identity – and that's a major transgression, in my opinion. Harry Styles is not "Harry Styles"; it's "Harry Styles' long-winded attempt to define Harry Styles," an untethered and disjointed combination of nice songs that sound good on their own, but fail to tell a story. Do I think he stands out? I'm not sure; he's certainly trying. Again, I think the album wouldn't be a hit had Styles not already been a pop music star – that being said, songs like "From the Dining Table," "Sign of the Times," and "Meet Me in the Hallway" show a lot of potential. I hope he got it all out of his system on this album, so that he can move forward in one direction and stop second-guessing himself. Just be yourself, Harry.
— —
— — — —
Harry Styles – Harry Styles