fanclubwallet's Hannah Judge dives into the angst and charm of her debut album 'You Have Got to Be Kidding Me', a beautifully cathartic pop-fueled chaos
Stream: "Gr8 Timing!" – fanclubwallet
---
The whole thing was written during times I felt really unsure about myself; I think the record's a bit of one big identity crisis.
fanclubwallet's Hannah Judge is among the most unfiltered and unadulterated artists on the indie scene today.
She wears her heart on her sleeve and spills her soul in every song, using music not only as a form of therapy, but also as an alternate lens through which to experience, process, and understand her world. This intimate and honest approach served her well on last year's enchanting debut EP Hurt Is Boring, and it once again allows her to stand out from the crowd on her brand new debut album. A feverish outpouring of angsty alternative and slacker bedroom rock, You Have Got to Be Kidding Me is a beautifully cathartic pop-fueled chaos.
I deserve to be
With someone that hurts me
So I'll just spend
All of my time with myself
I don't need anybody else's help
Is it that easy
For you to see through me
Now that I've gone and shown myself
To somebody else
Not great timing on your part
Nice till it's proven you're not
Not sure how I was convinced
You're not like him
– "Gr8 Timing!," fanclubwallet
Sometimes life outright sucks. Released May 20, 2022 via AWAL, You Have Got to Be Kidding Me knows exactly how that feels: fanclubwallet's full-length debut is a soundtrack to the peaks and troughs of this rollercoaster ride we're all on. It's an attempt to make sense of things, and to better understand ourselves in the process. Most of all, it's a conscious, considerate effort to do more than go through the motions: To live with intent and dwell in moments that matter, regardless of how big or small, long or short they are. It's an empathetic collection of soothing implosions and tender turmoil; of tiny upheavals and impassioned overhauls from our deepest, darkest depths. Whether or not you're reeling through the years, there's something about fanclubwallet's stirring mix of tension and tranquility that makes this record intoxicating and irresistible.
The artist moniker for Ottawa-based Hannah Judge, fanclubwallet debuted in March 2020 and, despite an untimely start (we all know what happened that month), has quickly amassed a repertoire that breathes with a wondrous, multifaceted light. Judge describes her style as "writing emo shit that doesn't sound emo," and both her EP and album live up to that promise. In naming her song "Car Crash in G Major" to Atwood's Editor's Picks column earlier this year, I praised fanclubwallet's warmth and purity: "Low-key sonics, hushed vocals, and sweet poetry coalesce in a beautiful marriage that feels welcoming and familiar, like you're listening to a friend's demo tape together with them for the very first time, every time."
Born in life's heaviest moments, You Have Got to Be Kidding Me is an aching, vulnerable, and visceral reckoning.
Judge's lyrics explore coming-of-age turbulence and relatable growing pains; she dives into everything from loneliness and longing to intimacy, loss, and more. All of this comes to life against a captivating sonic soundscape the artist has coined "slacker bedroom rock."
"The record was kind of written in bursts, a little bit here and a little bit there," Hannah Judge tells Atwood Magazine. "The whole thing was written during times I felt really unsure about myself; I think the record's a bit of one big identity crisis. We recorded some of it at home, some of it at a loft I was staying at in MTL and some at Port William Sound in Frontenac Ontario. I knew that I wanted to create something a little more synthy, and just lean into my influences a bit more. I don't think I quite had a vision for the record until about halfway through writing it, after I made "That I Won't Do" I was like, 'Okay, yeah this is what it should sound like.' When we first started recording I went into it thinking I wanted to make a lot of upbeat danceable songs, which I guess I kind of did – but I also ended up getting super depressed and writing way more sad songs than I expected. So that was a bit of a change."
"I think this record really expands on what fanclubwallet can be in a sonic sense," she adds. "I think you see a couple sides of fanclubwallet that you don't see on the EP while still sticking with the general fun tongue-and-cheek-ness of the EP."
While the record's title is a nod to the final song of the same name, it also fittingly captures the overarching angst, exasperation, and general vibe of these songs. "I was just feeling that way a lot," Judge recalls. "Writing about a lot of the same topics, so being like, 'Wow, you gotta be kidding me, THIS again?'"
I thought I got away
Unscathed by what you had to say
I guess you lied to me
When you said you would stay
I said I would stay
And now the party breaks
You have got to be kidding me
And can I catch a break
You don't see me that way
You don't see me that way
I'm just kidding
No need to overreact
I don't like the way you're acting
Tell me who made you like that?
---
Highlights abound throughout fanclubwallet's intensely emotive, tastefully eruptive twelve-track set. Standout sounds include the driving rocker "Gr8 Timing!," the moody and subdued "Go out," the propulsive "National Tv," and the final two tracks "Jar" and "You Have Got to Be Kidding Me."
For Judge, the latter title track and the ethereal, atmospheric "Fell Through" are two definitive favorites. "I'm just the most proud of how those ones sound and how they make me feel," she explains. Lyrically, she cites these two lines as her proudest moments: "You came to my house/opened all the jars and left them out/ i guess that makes/ us and them past the expiration date" and "I'm just kidding/ no need to overreact/ I don't like the way you're acting/ tell me who made you like that."
"I just hope what I always hope for when I put out music, which is that someone listens and feels like they can either relate somehow, or dance," Judge shares. "I think personally writing this album made me a much better musician in a technical sense. Also learnt that putting out an album is really stressful."
Experience the full record via our exclusive stream, and peek inside fanclubwallet's You Have Got To Be Kidding Me with Atwood Magazine as Hannah Judge goes track-by-track through the music and lyrics of her debut album! You can catch fanclubwallet on tour with with Penelope Scott and Yot Club this June (more info here).
— —
Stream: 'You Have Got To Be Kidding Me' – fanclubwallet
:: Inside You Have Got to Be Kidding Me ::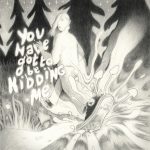 — —
Solid Ground
Solid ground was written when I first started working in a more professional part of the music industry, I was worried I wasn't good enough and sort of freaking out. But then I wrote this song and I was like "okay you know what I like how my music sounds so who cares!"
Gr8 Timing!
I took some stuff that was said to me during a bad breakup and just put it in a song. This one is honestly just me going over that breakup and what went down that day, but to a groovy beat. Not sure why I wanted to make such a groovy song for a sad subject.
Fell Through
This one isn't about anything at all, more so about just a feeling. It was made all in one day after I made a cool loop on logic and ended up being one of my favourite songs.
Toast
Toast was written while I was just starting to recover from a Crohn's flareup. I talk about "I haven't learnt a thing all damn year it doesn't really matter since I disappeared" because I hadn't really seen any of my friends or anyone in a year. I was feeling very much like I didn't exist because I was stuck inside.
Trying to Be Nice
I wrote this song sort of broken up into chunks over a few years, all at times I was going through big changes. You can tell it's a pretty old song because I mention Facebook haha. I used to change my name on Facebook all the time and I think it really confused people. But that's how I feel in this song, like a bunch of different people at once.
55
I used to make music like this all the time in highschool, so it's awesome there's a song like it on the album. It just happened because my SK-1 keyboard started making a crazy loop, so I decided to build on that!
Go out
I had just moved to Montreal and left a lot of people behind in Ottawa, and I wasn't really sure if I had made the right move. Maybe I was trying to escape something, who knows really. I was listening to a lot of duster when I made this.
That I Won't Do
"That I Won't Do" is all about realizing maybe certain people aren't good for you. I was super depressed when I made this song; I was also listening to a lot of the band Teen Suicide.
National TV
This song actually ended up replacing another song on the album I didn't like as much. I had heard a song that I was pretty sure was about me and I was just feeling really sick and tired of hearing songs about myself haha. So this is just me ranting about that.
Coming Over
Coming over is really old, I think it's like the third or fourth Fanclubwallet song ever written. I wrote it after walking my partners dog and thinking about how much I missed my old house. People think this is a love song for a person but it's just about my old house.
Jar
I was losing my mind when I wrote jar, I wrote it during a huge heatwave. I don't really remember what it's about but I love this song.
You Have Got to Be Kidding Me
This is the last song we made for the album, I wrote most of it at this studio called Port William Sound out in the woods. It's about gaslighting. I know that word gets thrown around a lot but it's really about that.
— —
— — — —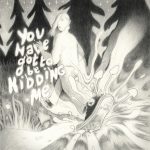 ? © Ian Filipovic
:: Stream fanclubwallet ::
---