Atwood Magazine is excited to announce a partnership with LiveSyphon to showcase live music from across the country! The latest in our LiveSyphon series features Chicago band Santah.
If one were to tell you to listen to a band named Santah, you might assume their music would be festive, their aesthetic related to Christmas, and their lead singer a bearded old man who only wears red.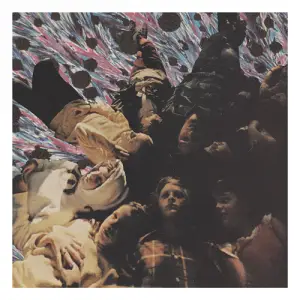 That couldn't be farther from the truth. The five-person band, who met at the University of Illinois at Urbana-Champaign, creates music which somehow travels back in time while still being progressive and forward-thinking. The start of their song "I Love the Way You Seal a Deal" could easily have opened a Beatles song, but then vocalist Stanton McConnell takes you a little further forward to the '80s, and when the song reaches the chorus we arrive at present day.
It's a challenge to make music that spans across such a wide time frame, but Santah make it work. Their appeal also spans across generations: After playing at real high school proms in Chicago, they decided to host a prom for adults and so created Prom-A-Llama, which was held for the second time this year.
It's a woody watery dance floor up in here.
– Stanton McConnell, Santah
Santah are no strangers to challenge – they decided to, when making their second album Chico, open a PledgeMusic page and ask the fans to donate money so the album could be completed. In exchange for the fan's donations, they offered a wide array of material, from t-shirts and CDs, to a Kraut class with band member Vivian McConnell, to clocks handmade by Mike Winegardner, the band's bassist, and even a private concert. They managed to collect the funds necessary to finish the album's production while offering fans an intimate opportunity to be a part of Santah''s world – and their music.
Hear all my bells, here is my wealth
Laden in shells
Here is my bonnet, here are my bees
Loud around town, sleeping up in the trees
I don't need to live forever anymore

We should thank their fans – it was only due to their dedication that Chico was released, and in Chico we find "Here Are My Shells," whose live video Atwood Magazine is proud to present in partnership with LiveSyphon. This song will catch you from its first ten seconds – the drum's build-up creates a sense of anticipation, which is relieved with a sun-kissed melody and Stanton's vocals. The song explores the band's sounds and showcases its strength; it's a perfect representative of the spirit of Santah. Atwood Magazine had the opportunity to talk to Santah about their music, being a Chicago band, their live show and more: Check out what they had to say and enjoy their LiveSyphon performance of "Here Are My Shells."
Meet Santah
Atwood Magazine: Where did your band name come from?
Santah: Santah is the nondenominational version of its festive and nocturnal namesake. It's spiritual and open-ended to us.
Stan, you said that Chico was about "seeing the other side of yourself," looking at the people you surround yourself with and "realising that you're close to being the same person," what made all of you want to write a record with this as its central theme?
Santah: I wrote these songs trying to find my way into adulthood, and I think looking at those around you is a natural part of self-examination and self-actualization. Seeing others as my "twins" helped me establish trust.
There aren't too many songs about shells out there. What symbolic significance do you think you convey with the song's title and the lyrics "here are my shells, take all my beads?"
Santah: The song is about passing along your whole self – your beads, your shells, your songs, your dreams – to your child, which is yet another version of yourself. In the end, it's all you've got. But it's a lot.
Could you share the idea behind the "Here Are My Shells" video?
Santah: We wanted to explore individuality, showing freedom in a rather institutional setting.
Watch: "Here Are My Shells" – Santah
Lighting clearly plays a huge role in your performances. What is your group's perspective on the power of stage lighting (and that blue lighting in particular)? How has that relationship evolved and influenced your performances over time?
Santah: Over time, we realized that the darker and moodier the lighting, the more people feel comfortable being themselves and getting weird on the dance floor. The blue and purple lighting makes us feel like we're swimming underwater.
Your live performances are packed with energy. How has your show evolved over time?
Santah: We've become more comfortable and patient in our own skin. I've learned to breathe.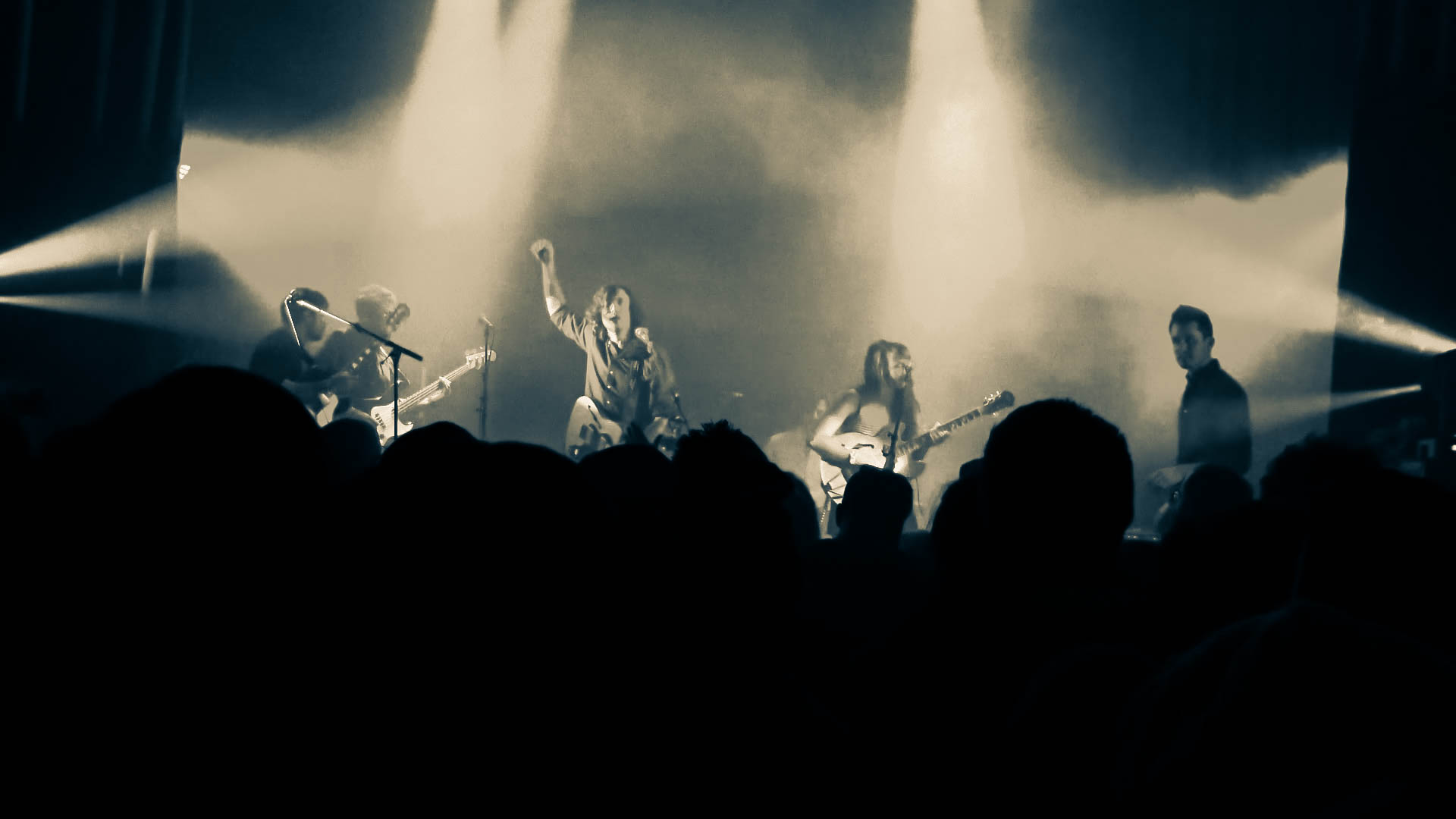 During your PledgeMusic campaign you offered a range of different items for people to buy, from handmade clocks, to t-shirts, to a private concert. It seemed like you were allowing us into your world and allowing us to take a little piece of it home with us. If you could describe Santah's world, what would you say?
Santah: It's a woody watery dance floor up in here.
You have played at actual high school proms, helped host Prom-a-Llama, an adult prom, and your "Here Are My Shells" video is set in high school. Why do you think there seems to be such a strong relationship between Santah and the high school experience?
Santah: I've never thought about that before. I think it's easier for the young to access their emotions and be moved by art, so maybe that's led us to try to transport some of our fans to a youthful setting. I'm really not sure.
Where is your favorite place to write music and why?
Santah: I love looking at something infinite – oceans, mountains, forests – and I love being alone. That vastness makes you feel small; but being alone enfranchises you to speak your mind and feel freely self-important.
Curious about your relationship with Chicago. In some instances you seem excited about live shows and the possibilities they present, mainly being able to bring communities together. With the idea of fame, is your goal to get bigger or do you feel like getting bigger would hurt some of the community element that you seem to have had success with by still being a local, smaller band?
Santah: I'm not afraid of fame diluting our message or impacting our honesty in any way. We will always treasure the opportunity to perform and treat each venue as its own community, regardless of the size.
How do you keep your artistic morale up while living in a large city and maybe having to work day jobs?
Santah: We get pretty hopped up on good headphones and good coffee. We love ourselves and acknowledge that we have a lot to be thankful for. Personally, I try to keep learning. I do a lot of yoga and I try not to listen when people tell me I'm strange.
What's coming up for Santah in the rest of 2016?
Santah: We're writing the next record. It's going to be fun.
— —
:: Watch: "Here Are My Shells" – Santah ::
---
Discover more from Santah