As False Heads' debut album 'It's All There but You're Dreaming' is physically re-released almost one year after it originally dropped, vocalist and guitarist Luke Griffiths takes a look back on the year the band has had and the road to releasing the album.
• written by Lindsay Teske •
Stream: 'It's All There but You're Dreaming' – False Heads
---
This time last year, everything was falling into place for East London rock trio False Heads. The band (composed of Luke Griffiths on lead vocals and guitar, Barney Nash on drums and vocals, and Jake Elliott on bass) were gearing up to release their heavily anticipated debut album, It's All There but You're Dreaming. The album was meant to be accompanied by a foray into the United States and a national tour, but It's All There but You're Dreaming was due to be released on March 13th, 2020. That it was, but under circumstances no one could have possibly anticipated.
Days later, as we're all painfully aware, the world went into lockdown. This derailed all of our lives to a degree, and in the case of False Heads, it placed them among the first group of artists to have a release cycle be immediately impacted by the pandemic.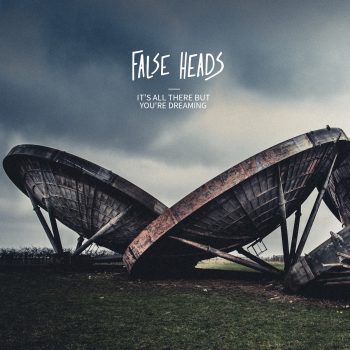 While things may not have gone according to plan, False Heads ended up releasing their debut album into the world at a time where it was needed most.
It's All There but You're Dreaming ended up acting as a helping hand and a lifeline as the world processed a sudden onset of collective trauma. For many, these twelve songs became a guiding light as we navigated through the havoc of the pandemic. They were songs to cry to, rejoice to, and feel lifted and seen by. No one has had an easy time, and the album's lyrical openness in addressing topics such as mental health and societal toxicity – both of which many have experienced and/or ruminated on this past year especially – catalyzed connection amidst the chaos.
Whether people jogged around their local park to the sonic thunderclap that is "Rabbit Hole," found catharsis listening to "Comfort Consumption" in their quiet bedrooms as dark broke into day, or felt galvanized to persevere on through each time they tuned into "Help Yourself," It's All There but You're Dreaming soundtracked countless individual journeys of difficulty and growth, therefore cementing its place in the hearts of all who were fortunate enough to come across it.
As it turned out, False Heads delivered a deeply human album at a time where people needed to connect with the idea of humanity – both within themselves and each other – more than ever.
This made it pack one hell of a punch for a debut album, to say the least.  Now, mere days after the album's physical re-release and nearly one year after its debut, we caught up with Luke Griffiths to reflect on the year False Heads has had since, how bands can navigate through unexpected circumstances, as well as what listeners can look forward to this year.
A CONVERSATION WITH FALSE HEADS
Atwood Magazine: First of all, congratulations on It's All There but You're Dreaming's physical re-release and forthcoming one year anniversary. How does it feel to have had the album out for nearly a year now?
Luke Griffiths: Thank you! Yeah, it feels good but weird. We've really been able to tie that period off, it's a weird gap to have. You build like four years to get to a point where you can release an album, but then obviously because of covid, it just shut it down. So if I'm honest with you, it sort of doesn't feel like it's been out for a year. Time has warped.
The re-release will likely attract the ears of new listeners. For those who are just now being introduced to your work, is there anything you'd like them to know about you all as a band or the album itself?
Luke Griffiths: It's an expression of energy and emotion of extremities I would say. It weaves in and out of introspection and extrospection, and I think the music stands by those things. We also got described as hardcore indie before so that might pique your interest.
It's All There but You're Dreaming was released mere days before the world shut down last March. What was that week like for you?
Luke Griffiths: I don't want to moan too much because people have had it so much worse than us, and I get genuinely sick of that sort of faux-compassion people put out on the internet before turning the camera around and playing woe is me. I don't trust it and for someone who has suffered heavily from pretty serious mental health issues, I think it's dangerous (sorry tangent haha). But yeah it was fucking shit basically. Every plan got cancelled: SXSW, NY, our TV debut, and even getting some of the stock of the album. Our whole PR campaign stopped. We just sort of let it lie for a few months, and I think it's frustrating because the music industry is just like the House of Lords now ain't it? It's just shit handed down. Every other band, journalist etc is just the kid of someone famous or in the industry, or they're super posh and from a family of millionaires. We've all worked shit full-time jobs for five years to get to a point where we could properly release our debut album. We were just a bit like "fuck this" but then through word of mouth and some social media campaigns and shit, the album started doing well. The amount of kids covering our tunes was where it made me feel a bit emotional, you know? Like that was me learning "Karma Police" when I was 15 because I was desperate to play it. Then, we just got back into writing and our manager who is just a don started putting stuff in place to re-release it, so really it worked out — first week and few months were proper wank though.
After being among the first group of artists to be immediately impacted by the onset of the pandemic, do you have any advice for other artists who may be dealing with some form of unexpected circumstances?
Luke Griffiths: There are financial things out there like PRS for Music grants and other bits and bobs you can apply for. There's great advice on the Musician's Union. Outside of that, just genuinely try to use the time for positive reasons, it's all you can do. I tried to write as much as possible. Make sure you're in good touch with your band/management/agent, and make sure everyone is pulling in the right direction. We had an awful agent who didn't give a fuck, and after he went and we signed to Rob McGee at FMLY Agency. You can just see night and day the difference. Try and surround yourself with positive but honest people. It's a good time to cut away the deadwood.
Releasing a debut album is an incredible accomplishment that is often preceded by years of hard work and ups and downs behind the scenes. Now that False Heads is nearly a year past checking that box, is there anything you'd like people to know about what that process is really like?
Luke Griffiths: Thank you very much. They are very kind words. Well, the industry is for the upper-middle classes and children spawned from celebrities or people in the industry. It's depressing. It feels like every other band is a posh son or daughter of "so and so." Kids move to Shoreditch and Hackney with no money and price out working class kids in unpaid internships. It's awful. We've all worked as delivery drivers, cold calling, door canvassing, labouring and in pubs. The industry is just different now and that's the reality. You have to graft for years and years and do it purely for the love. It is surreal to think we've released an album and it's being played on Radio 1 etc, but it's a different industry now it's a lot of work. It's weird as well — Jake, Barney, and I are all from similar backgrounds. We're from  working-class backgrounds with families that moved into more middle-class areas. Barney grew up in East Ham, Jake in Seven Kings, and my whole family are from Canning Town. So, we bridge that weird social mobility gap. We were all the first generation to go to university, and I was the first kid in my whole family history as far back we know to go to uni. We still had, thanks to our parents, (by and large) comfortable upbringings alongside working-class values. But, there's virtually no way anyone on the bread line could really last years doing it anymore. I find it depressing. People keep talking about rock and roll dying, and the biggest reason is the absolute lack of class diversity in 99 percent of it. Some of my favourite bands (Radiohead) are from private school; I think if you make amazing music it literally doesn't fucking matter where you're from, but I find it frustrating that we have this intense and almost mechanical focus on diversity that mainly comes from people that are pricing out anyone who isn't from a very privileged background. They've built the mansion and pretend the bed in the bath is the penthouse suite when you ask to rent a room. You will see journalists, magazines, and papers talk about lack of diversity in the music industry whilst pushing the same four posh melts in some wank indie band that's come straight off the conveyor belt.
It's All There but You're Dreaming is a really unique album title. What's the story behind how you all came to select it?
Luke Griffiths: It's the chorus line in "Fall Around." The whole lyric for me just sort of embodied that double meaning and danger of dreaming. You could fall into a normal boring like that's set out for you and fall into that cycle, or you could dream of something better (which is a beautiful thing). On the other hand, when it comes to the amount of people that have horrible tribalistic thinking — like there's evidence of something under your nose and you're still dreaming of something else — you won't change your mind, which isn't so beautiful. A big part of my life was around the same time I got into music, I really got into politics. Christopher Hitchens was a big thing for me then, and realising how horrible religion and nationalism as ideologies were was a big part of my life. I suppose the title was a reference to that (in the non-beauty side of the phrase haha) but that's putting it bluntly. Lots of the album is about how there are like mini-religions that spring up all over the political, social, and sort of mental spectrum all the time and how you deal with them. It's the danger of tribal thinking and how it will send you mad if you only need faith, but also if you're too regimented in life and don't dream, you're going to sleepwalk straight into your grave.
Is there any facet of the album you haven't been asked about yet that you'd like to speak on?
Luke Griffiths: I don't think so in all honestly haha but thanks for asking.
Is there anything that even longtime listeners would be surprised to know about It's All There but You're Dreaming?
Luke Griffiths: Barney played the solos on "Slew" and "Help Yourself," and I'm probably the worst guitarist in the band. I wrote the lyrics to "Comfort Consumption" at university when I had a fucking awful time at some terrible club in Bognor Regis.
Which components of bringing It's All There but You're Dreaming to life are among the most meaningful to you?
Luke Griffiths: Writing it over the four years of us being together, recording out in the sticks with [engineer and producer]  Matty Moon, and staying there so you're always immersed in that environment. A lot of the lyrics are quite personal to me and my struggles with mental health and addiction, and others are just sarcastic venom that I use as therapy, so to see it develop and then record it in such a seamless way with my two bandmates and longtime school friends was a beautiful thing. Three scruffy wronguns making a powerful album.
Lastly, is there anything you'd like to share regarding what False Heads will be up to in 2021?
Luke Griffiths: We're finishing writing album two and we will begin recording it ASAP. There will be some shows at some point.
— —
To see False Heads live this Thursday, January 28 (remotely, of course) for their Independent Venue Week performance, click here to learn how you can tune into their stream at 8:00 pm Greenwich Mean Time. To buy physical copies of the album and other merch that may suit your fancy, click here.
— —
Lindsay Teske is a music journalist and publicist who is probably trying to convince herself not to get Taco Bell right now. She currently writes for Consequence of Sound and RAMzine, and is delighted to now be counting Atwood among them after having been a longtime reader. Lindsay has her own PR agency, Carnival of Oddities, which she launched upon graduating with a MA in Creative and Cultural Entrepreneurship from Goldsmiths, University of London. Email her at lindsayteske@gmail.com
— —
— — — —
? © False Heads
:: Stream False Heads ::
---