HANNIE profess infatuation and desire in their intimate anthem "Low Key," an infectious outpouring of passionate pop energy and intense emotion.
— —
It's so hard to stay cool when you feel so passionately about someone – and that's okay! Certain folks like to play the game, but deep down, most of us would rather cut straight to the chase. What are we doing here? Are you serious about us?
What if everyone just told it like it was, and spoke their truths rather than beating around the bush? That wouldn't be so bad now, would it? Fast-emerging duo HANNIE profess infatuation and desire in their intimate new single "Low Key" (featuring Carys Selvey), an infectious outpouring of passionate pop energy and intense emotion.
I hope it keeps on speeding up
It won't slow down
I was fine; yeah I was feeling okay
'til you came around…
Listen: "Low Key" – HANNIE ft Carys Selvey
https://www.youtube.com/watch?v=aiZyH5cxB3k
---
It's hard to stay low key when we're so hyped about HANNIE. Formed in 2017, the East London-based duo consists of multi-instrumentalists Hannah Koppenburg and Annie Wagstaff — Hannah + Annie = HANNIE. The pair met while studying at The Academy of Contemporary Music, and got their start uploading cover songs filmed in their living room. They released their debut single "Cosmic Bound" (feat. Carys Selvey) in February of this year, following it up with "Target" (feat. Ralph) in April; respectively, these songs have amassed over 200,000 and 400,000 plays just on Spotify alone. Not bad for a brand new band!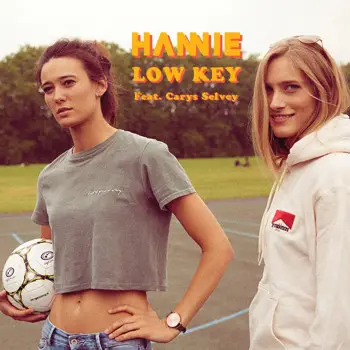 To put it better, HANNIE are the textbook definition of buzz band, and the heat keeps rising with every release. Their dazzling, catchy brand of pulsing pop and soft-rock is highly reminiscent of contemporary acts HAIM, COIN, and Fickle Friends – bands that toe the fine line between pop and rock, using driving rock guitars and shimmering keys to create massive, stadium-sized melodies that get stuck in your head for weeks on end.
Are you reading all my signs
I'm trying to catch your eye,
if so…
I'm so into you 'cause
I'm falling apart
If you wanna make a start, say so
when you're ready – let's go!
Written with English singer/songwriter Carys Selvey, "Low Key" channels bliss and magnetic desire into an irresistible, grooving dance-pop experience. As HANNIE tell Atwood Magazine, "We've all been there – when you're in the beginning of a relationship where everything is super easygoing and fun, but you're actually really infatuated with the person. Trying to play it cool and keep it chill but you just really want to know if it's a mutual thing."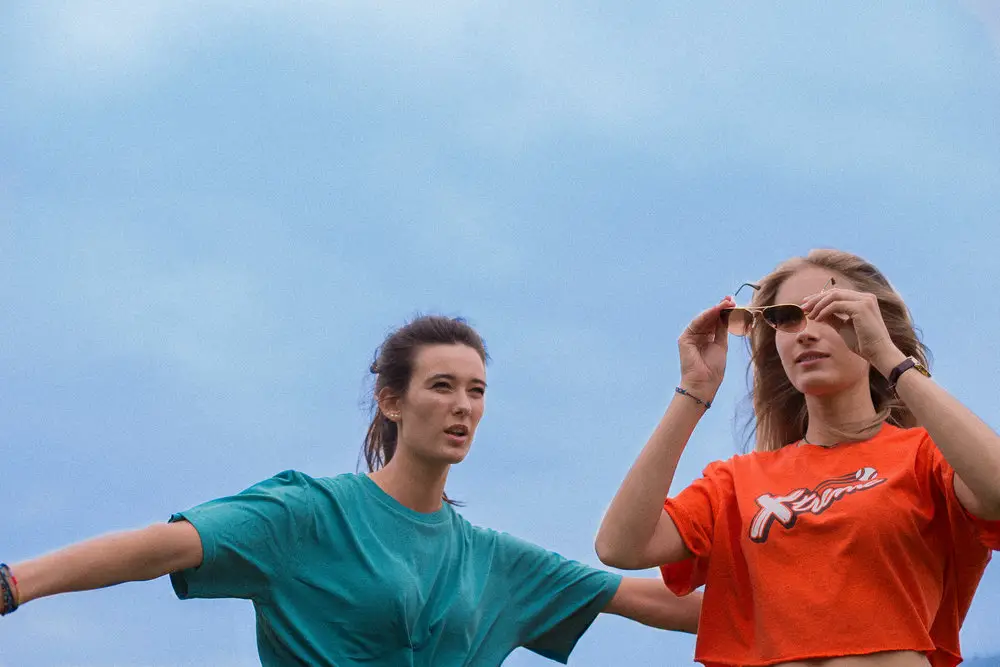 Rather than keep those feelings to themselves, HANNIE shed all pretense and open up for the world to see, hear, and feel what they feel. Intensity might be the eney of the "suave," but who cares when you're in love? When you're in love, you want to shout it from the top of the mountains – you want the world to know just how amazing your life is right in that moment. There's nothing like those butterflies… except when you know your love is shared. To feel so strongly about someone, and to know they feel the same way about you – isn't that what most of us are seeking in life? Once you have that, the rest of the world just seems to fall into place.
But it has to start somewhere – and that requires honesty between both parties. "Low Key" overflows with euphoria and longing as HANNIE seal the deal with a remarkable chorus:
I just wanna know
Baby how do – you feel about me
Getting lost with you
Every night, every night
We could keep it low key
When I'm with you, wanna
Step over lines
Break all the rules
Come out of line
Every night, every night, we could keep it low key
A summer song if ever there was one, "Low Key" has that sweet, vibing warmth we can listen to for ages on repeat, blasting in the car or at home to get our groove on. It's buoyance in a bottle – an ray of sunshine that lights a fire inside. Youthful and effervescent, "Low Key" promises to be the high note of your summer, let alone the rest of the year.
Get high with HANNIE's new single, out now, and get to know this promising Atwood artist-to-watch better in our exclusive interview (conducted by Atwood's Kelly McCafferty)!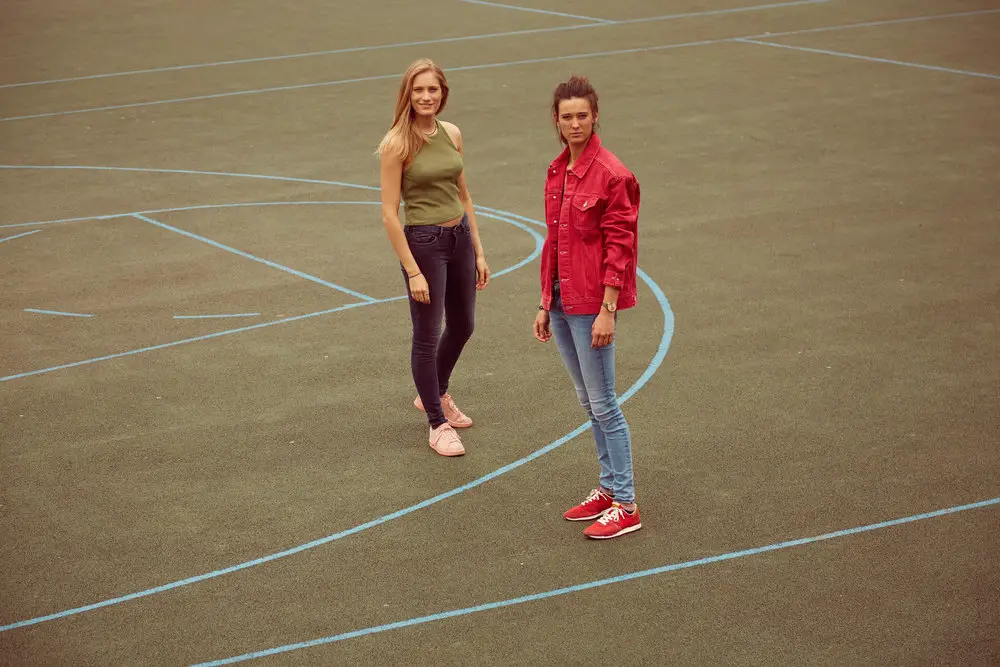 MEET HANNIE
Atwood Magazine: Hi HANNIE, thanks so much for chatting! Musically, both of you are incredibly talented - where did this passion begin for each of you?
HANNIE: Thank you! We both started playing at about 7 and had lessons from the get go. We just played every free moment we had and the better we got the more we love to play.
Hannah: I started a band with my friends when I was about 13 and we were gigging all around our hometown which was so much fun. We really thought we'd make it as a band. Looking back we were really bad but we had so much fun and I think that's when I really started to get passionate about music.
Annie: I would spend ages practicing as a kid, then I went to a part time music course where we were put in bands and had to perform songs together and I just thought damnnn I've got to find a way to make this my job!
How long before you realized you wanted to make this your life?
Annie: I realised I wanted to make music my life when I was about 14. I went through phases with what area of music though, I'm really interested in the business side of things wanting to go into A&R for a while. Then I realised that playing is what I really love and I went to study guitar at uni, I was totally set on being the best guitarist I could be and being a session musician. And now I'm doing the artist thing and I absolutely love it, it's definitely what I'm meant to do but going through those other areas has grown me so much and given me a solid understanding of the industry in general, which I think is really important to be clued up on.
Hannah: Music was always a really big part of my life and playing in a band made me realise that I wish I could do this forever. It wasn't until I started studying that I thought I should try to make it my job. I was also sure that I wanted to be a session player. Then our videos and the HANNIE project came a bit later on but happened so fast for us, it was amazing how things changed so quickly. I'm only just starting to realise that I really do this full-time and as my job and it's amazing.
https://www.instagram.com/p/BfTctBdlsmu/?taken-by=hannieplays
Your Instagram videos really sparked your fan base and following (I love them, by the way). What's it like to go from that kind of platform to putting out and performing your own music live?
HANNIE: Thanks! It's super cool to be able to release our own music and have people listen to it! It's very different to what we do on Instagram, which is very instrument based as we put lots of content up each week. Whereas it take a lot more time to write a full song and get it finished and ready to release so it feels like a lot more of a big deal when you finally let people listen to what you have been working on. Playing live is a totally different story, getting to play your own songs and watch people react and be able to interact with them is amazing. Live for us is really about putting on a show and we cannot wait to do this!
When I listen to your music I feel so many different influences, honestly from Stevie Wonder to the Spice Girls and even DNCE and HAIM as more current acts - are any these accurate? Who would you say are your biggest music influencers?
HANNIE: Yes 100%, we love all of them! I think a mix between DNCE and HAIM is pretty accurate. Nile Rogers guitar playing is also a huge influence, the funk vibes really come through in our tracks.
https://www.youtube.com/watch?v=Ttr4mCcVN6Y
"Low Key" is such a jam! What inspired this song?
HANNIE: We (us and Carys Selvey) just got together to do some writing, we weren't really sure what we were going to write about, then we started just chatting and this concept came up. I mean, we've all been there, when you're in the beginning of a relationship where everything is super easygoing and fun, but you're actually really infatuated with the person. Trying to play it cool and keep it chill but you just really want to know if it's a mutual thing.
It has a similar vibe as your first two original songs "Target" and "Cosmic Bound," with a little more of an upbeat, funky vibe - was this intentional or did the musicality just kind of come with writing the song?
HANNIE: Yeah it just came with the writing of the song. We definitely wanted to keep it as upbeat as the others and we both have a style of playing so this is is something that is always in common with our songs.
What's next for HANNIE - live shows? An EP? Full-length album?
HANNIE: Live shows for suuuuure! We're rehearsing at the moment and it's SO much fun, we cannot wait to get out there playing to you guys!! We've got a few acoustic gigs booked in for August so keep an eye out. And more songs, loads more songs, watch this space! 😀
https://www.youtube.com/watch?v=aiZyH5cxB3k
— —
— — — —
? © 2018
:: Stream HANNIE ::